In the biggest step forward since it was announced a few years ago, Disney's D23 Expo in Japan has revealed huge news and concept art for the all new Avatar Land at Disney's Animal Kingdom. Disney had previously announced that they were working with James Cameron to bring the world of Pandora to life, based on the world's top grossing movie of all times. While it's been quite a while since we've heard any details about the project, the first ever D23 Expo had some exciting details to reveal.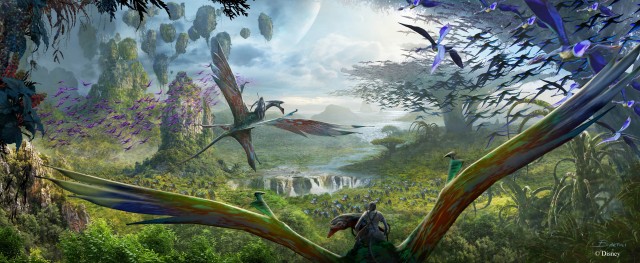 Tom Skaggs took to the stage in the huge announcement, showing off pieces of concept art that shows guests walking through bioluminescent gardens, and riding on Banshees.
"From the moment AVATAR was released," said Skaggs "people were captivated by the mythical world of Pandora. When we announced that we'd be working with James Cameron and Lightstorm Entertainment to bring this world to life in our parks, we felt certain that this partnership and combination of talent and imagination would produce an experience unlike any other ever created."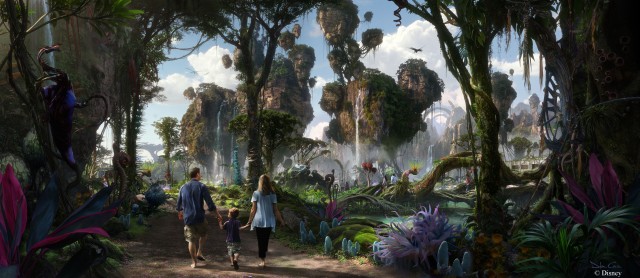 Floating mountains, soaring beasts and tropical rain forests filled with glowing plants are all part of the huge new expansion that will mark the largest expansion to date at Disney's Animal Kingdom which opened in 1998. The last major expansion to the park came with the opening of Expedition:Everest, a wild coaster that brings you face to face with a Yeti…sort of.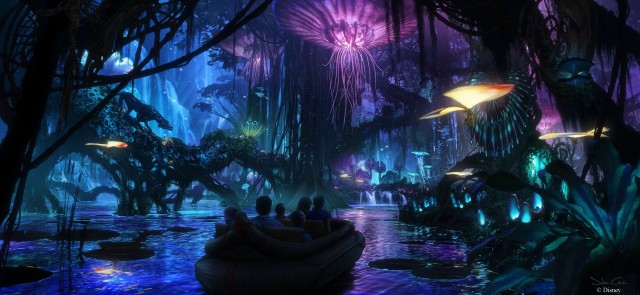 Another new feature of Avatar land will be a boat ride through a light up rain forest. Imagineers are working hard with the filmmakers to make the world of Avatar come to life, and extend what the first film has shown us.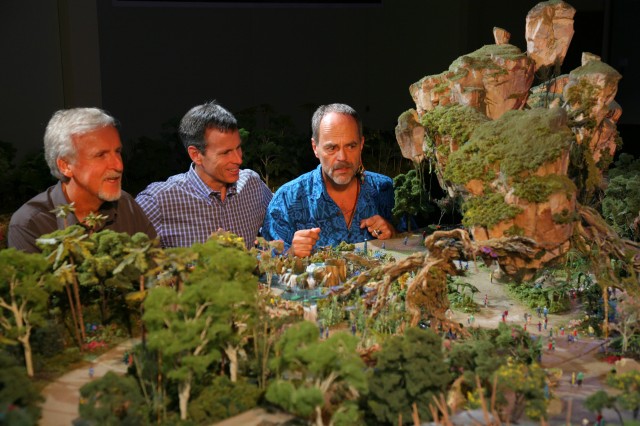 Joe Rhode, James Cameron and Tom Skaggs look at a model of the all new Avatar land, which while some detailed art has been released, no major details on just what we can expect to see have been released just yet. We can speculate what some of the new attractions will feature, based on the concept art and descriptions. "Guests will be able to soar into the sky riding a banshee" could mean that we're going to see a banshee flight simulator. Huge screens with a flying beast underneath you could be the way you get to fly one of the huge mythical dragons. Speaking of dragons, the flying, fire breathing dragon we saw at the opening of the New Fantasyland could also be used in the new attractions as Na'vi come flying in from all directions.
The new Avatar-themed land will be located between Africa and the Oasis and will encompass and expand beyond the area currently known as Camp Minnie-Mickey. The Festival of the Lion King is moving its tribal celebration to an all-new theater in the Africa section of the park.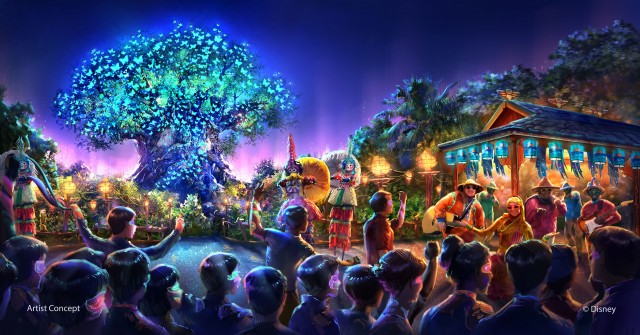 All new night time offerings will also come to the traditionally early closing park with an all new night time show that uses the Tree of Life, glowing lanterns and live music. Floating lanterns, water screens, and animal images are all part of a new planned show on Discovery River that will cap off the day at Animal Kingdom. The glowing tree of life is very similar to the tree that is the center of the Na'vi world, and could also be used for Avatar land. Discovery Island will feature live performers, and an all new night time version of Kilimanjaro Safari's which will most likely change the story line and give a look at animals that are more active at night.
The original announcement was made back in 2011, and with the way that Disney has been doing their openings, we can probably expect to see Avatar opening in phases. The New Fantasyland, which opened in 2012, still isn't complete, with the new mine train coaster expected to open sometime in late 2014.
Update
Disney Parks Blog has released an all new video showcasing the project, with James Cameron and Joe Rhode talking about everything they are bringing to life. There's even what looks to be ride footage near the end.
The ride footage seems to be on a huge screen, with point of view simulations. This could be how guests will go "Soarin over Pandora" on the backs of banshees.
Keep your tails tucked, and stay tuned for more information. Be sure to follow along with us on Twitter @BehindThrills for the latest.
For more information about Disney's Animal Kingdom, including tickets, visit the official website by clicking here!