Are you tired of walking through Halloween mazes that smell like plywood and paint, filled with monsters brought to you by the local community college? Do you want more than just another maze? An interactive experience that doesn't include being tied up, water boarded and tortured? Well there is a haunt in Southern California that excels at straying for the norm so well, it easily earned its way into many "Best Of" lists after just its first year. The haunt is called Delusion, and its continuing to change the way people experience Halloween.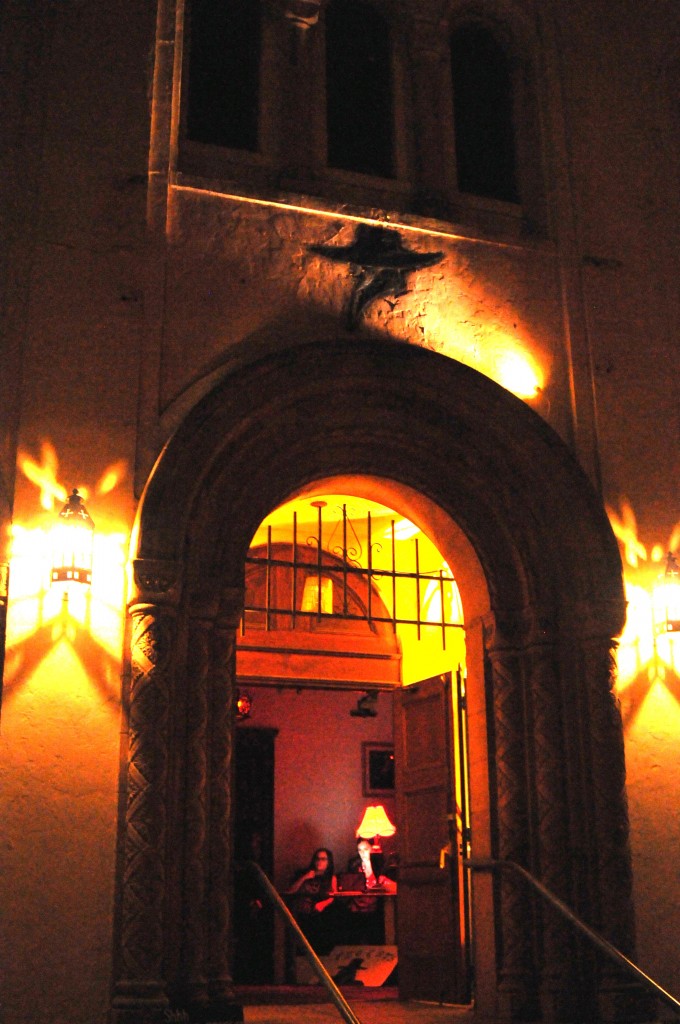 Housed inside of a creep old, abandoned church this year (last year was inside of an abandoned mansion) delusion puts you inside of a world that feels less like a haunted attraction and more like the setting of a horror video game. You're immersed inside this world and interaction with characters is key because the progression of the story depends on it. That's a short way to introduce the concept of Delusion. Its one of those things that too difficult to explain without spoiling the whole experience, and we cherished this trip so much that we wouldn't dare spill a single juicy bit of the main portion of this attraction. But we can spill the beans on the setup.
Once you enter this church, you are guided to a lounge area. Inside is a bar for you to mingle, talk amongst others about what on earth is going on in the halls around you.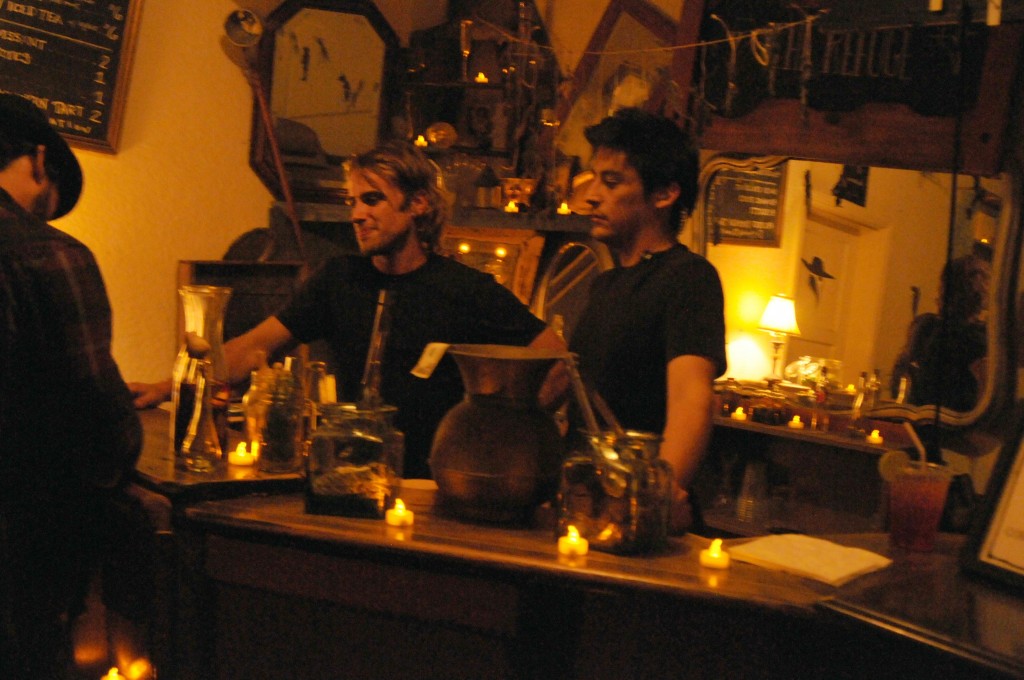 Sharp-eyed folks will notice hints and clues about the story inside of the lounge area, but they're very cleverly hidden.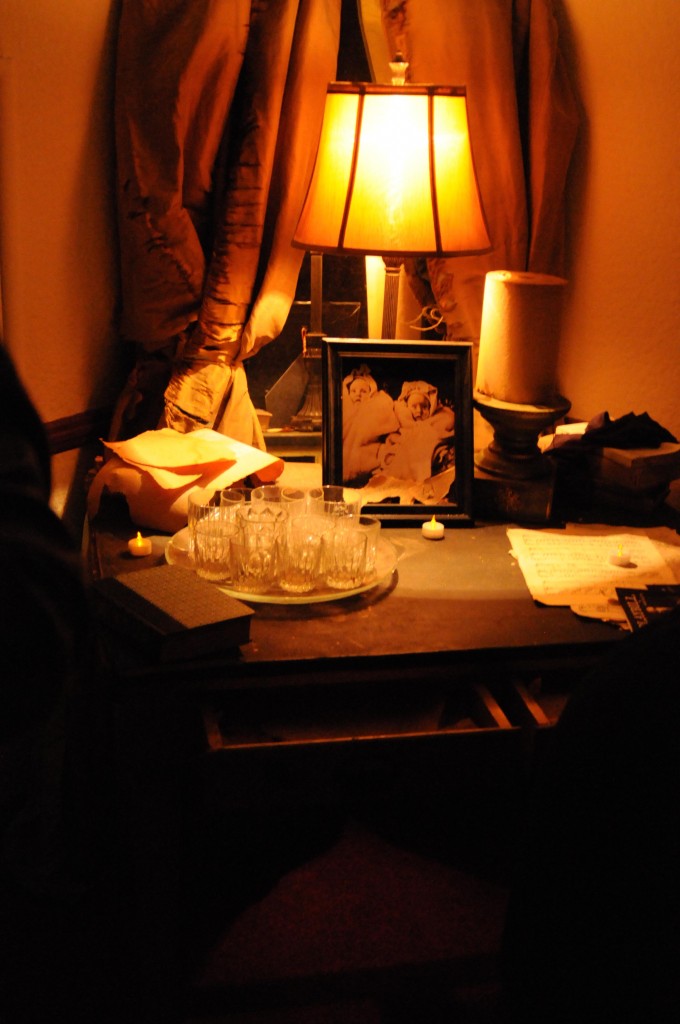 You are then called into a small back room with a group of people who share your same number (you're given a number once you enter the church). Each group runs about 10-12 people, it's a very low capacity event, a couple of groups being called in per hour. You are then asked to act natural and are given a bit of back story. A plague has returned to Los Angeles in the mid 1930's and the Doctors want to rid of any survivors due to any risk they may bring. The Doctors are a cult like entity who work under the supervision of The Bishop (remember there are many church related things in this play), and you want to at all cost avoid these Doctors. I personally had a run in with the Doctors that was a bit frightening and rather horrifying the more I think about what it was that happened to me. During the actual play I spent most of the time thinking back in my head "This is awesome!" and nerding out too hard to really comprehend what on earth I was witnessing inside of Delusion. It eventually sank in during my sleepless night after I went through it.
What was I witnessing? Delusion isn't just a haunt, it's a tapestry of performers weaving guests through rooms, corridors secrete passages and other locations in order to not only tell a story, but bring this story to life in ways that no other attraction has even attempted. It get's bigger and bigger as it progresses to a point where you're really not sure what to expect next. A feeling I've haven't experiences since I started attending theme parks in my early youth. The acting is top notch. These aren't just kids running around in costumes. These are professional Hollywood trained Broadway actors and stuntmen. This is a performance after all. The fear is real in their eyes and it only takes a few moments until they make Delusion feel less like a haunt and more like what is happening around you real, and it all is. There's no projections or TV screen effects. EVERYTHING is practical, otherwise the story would not work.
The maze runs about an hour but it goes by very quickly. The level of interactivity in the attraction is seemingly unmatched. You are asked to solve puzzles, find clues, hide from coming enemy's, and much much more. Most of the encounters were simple to solve, they are very video game-like situations. Sometimes you are separated from the group and have a personal scene or two that helps personalize the haunt. What each person experiences is different and believe me everyone in a single group will be engaged in the story. If you're not the type of person who likes to be put on the spot they seemingly cater the story to help progress it.
If you're looking for one new thing to experience this Halloween season in the Los Angeles area. Delusion should be it. There is truly nothing quite like it anywhere else on the planet. These guys know what they're doing and the price of $60 is more than justified with the end product. You will not leave disappointed, and chances are you will not sleep for many nights after being a part of this event. Go see it. Now.
That does it for this review of Delusion: Masque of Mortality, be sure to buy your tickets at www.hauntedplay.com and follow us on twitter @BehindThrills