Horror in Orlando has morphed forms and venues over the past few decades, and has taken visitors on nightmarish journeys varying in scale and terror. Year round horror venues have given way to a seasonal binge every year on chainsaws, evil clowns and sometimes horror figures of an iconic nature. But what happens when Halloween ends, and October fades? Well, most of the most dedicated horror fans go dormant, donning Christmas gear and beads, counting down the days until the smell of fog can once again fill their lungs. Legends, however, have a way of sticking around. Growing month after month. Legends have a way of changing from person to person, and never really going away. There's a new Legend in the haunt industry, and this time they are "digging up" business in Old Town.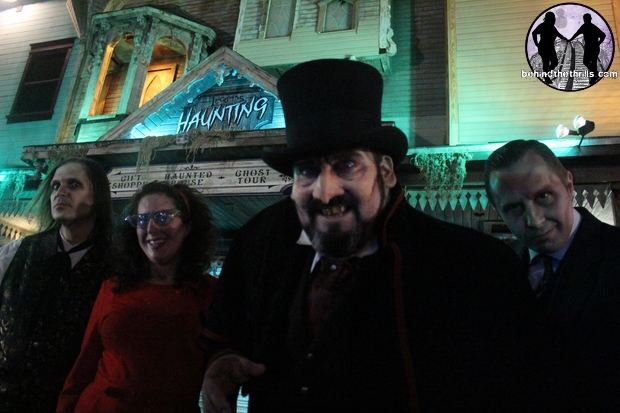 Legends-A Haunting in Old Town is a passion project for owners Jim Shackelford, Dan Carro and Jay Westerman. The three hand picked many of the creative team as well as the cast for the haunt show. Unlike other haunted attractions in the area, it's not really appropriate to call A Haunting in Old Town a haunted house, or a maze. It's a show. From the moment you walk outside and spot the cemetery that will be teeming with the undead on weekends, until you walk out of the attraction, you are witnessing a show. It's a show that takes place in a haunted house, and you can definitely get lost in the maze-like corridors, but make no mistake about it, A Haunting in Old Town is a very well crafted, well acted show that puts you right in the middle of the story.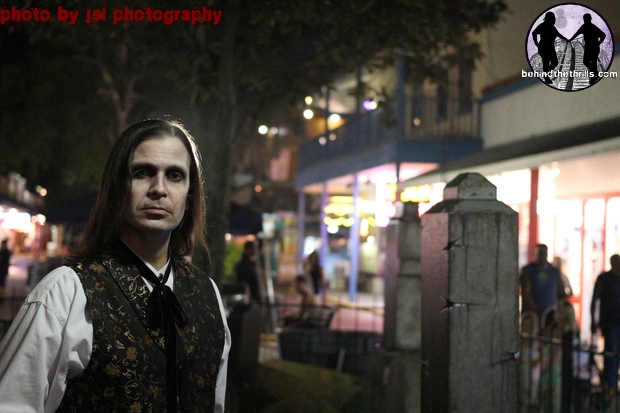 The show starts outside with a Victorian Era family, who owns a local mortuary. Ashdown and Sons have offered affordable, high quality funeral services to the good people of Old Town since 1889. The good people of Old Town were a healthy lot, and unfortunately for the Ashdown family, healthy people are bad for business.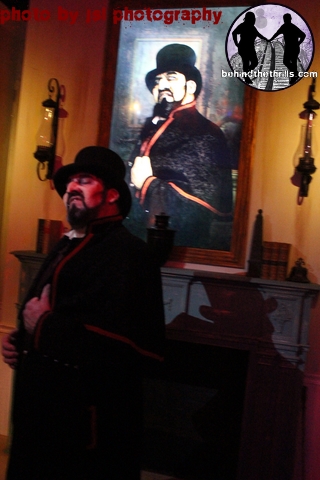 Once inside you are told the tale about the late, Archibald Ashdown, the caretaker of Ashdown and Sons and taken on a tour to dispel the nasty rumors that have spread about the Ashdown family, and the business. The awful rumors spread that Archibald Ashdown and his family of morticians used unscrupulous means to make sure business stays good, after all, everyone dies…the problem is that in Old Town, they were dying sooner, rather than later.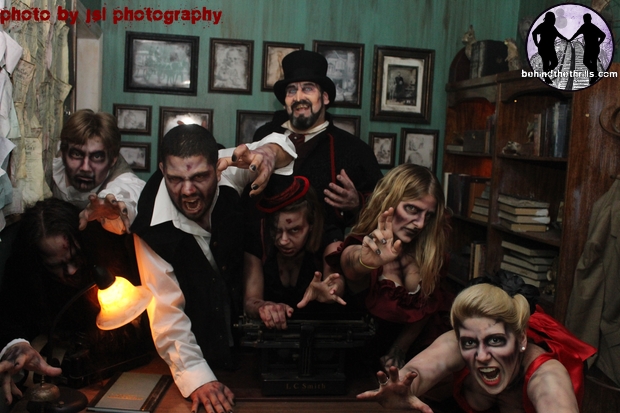 So what happens, exactly, inside? Well…we've promised to tell, and trust me, Mr. Ashdown is not someone that you want to break a contract with. You might find your cornflakes tasting of cyanide one morning.
Take a look at this week's BTTWeekly ti get a small glimpse if what's going inside

What we can tell you is that from room to room, upstairs and down you are taken into different show scenes. Each scene brings you interactions with demented creatures, maniacs and more. There are tons of animatronic scares, as well as some really intricate screens that mix perfectly with the scene to bring you deeper into the story, and chase you deeper into the house.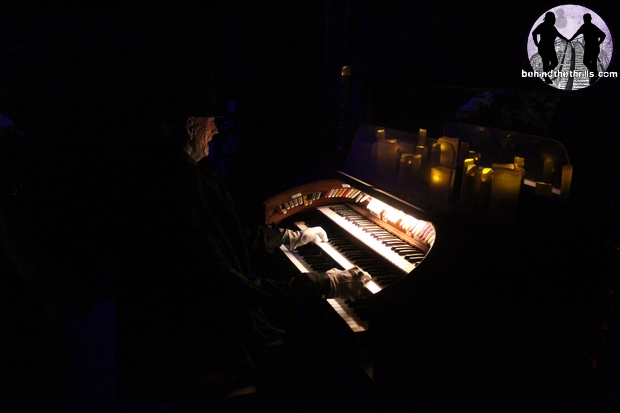 While the animatronics, and even some of the screens are things that you've seen at haunt shows and different haunted attractions before, what you haven't seen is everything used in this way. Each piece tells a story, and they are only in the show if they push the show forward. All of the set pieces were designed and built in house, giving it an authentic look that makes everything really feel like it belongs in the show.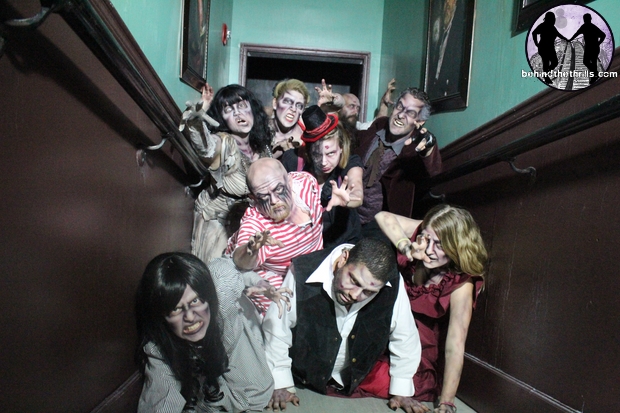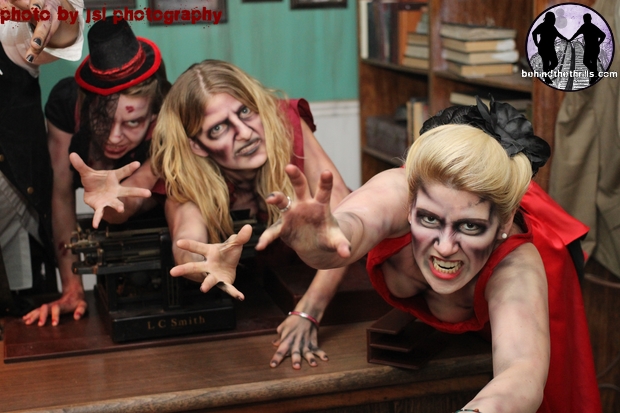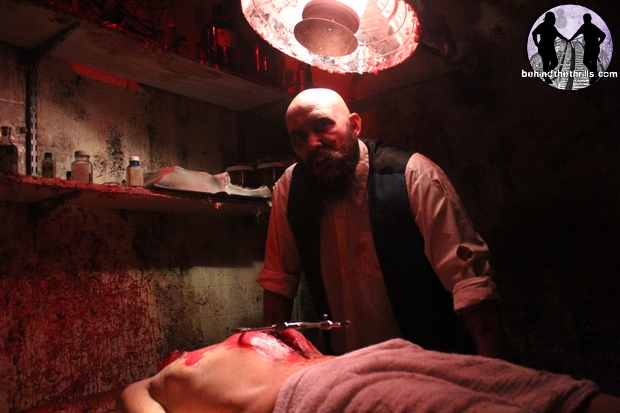 While you can add the most detailed set pieces, and have the most technologically advanced animatronics, none of it matters if you don't have a cast that can pull it off. The cast has come from all manner of haunted attractions, and have worked at attractions like Skull Kingdom, Terror on Church Street, Howl O Scream at Busch Gardens Tampa and even Halloween Horror Nights at Universal Orlando. These are dedicated and talented people who love what they do, and it shows.
They put everything they have into the show, never once breaking character. They could sense every fear that you had, and played on it. Dodging in and out of the shadows, getting in your face and even following you from scene to scene.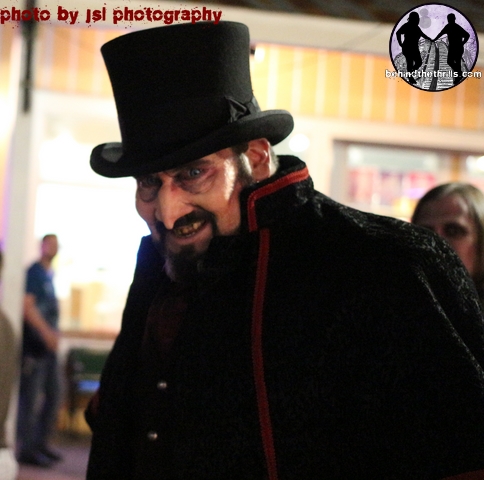 Archibald Ashdown is played by one of the owners and producers of the show. We won't tell you which one, and neither will he. From the time we entered the building, until we were saying our good byes, he never broke character. He is Archibald Ashdown, mortician and founder of Ashdown and Sons.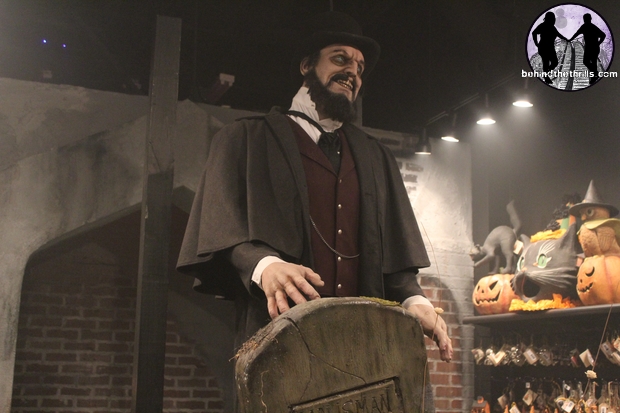 Now, in true Orlando fashion, you leave the attraction and are put right into the gift shop. It's a taste of Halloween all year round, with unique collectibles, masks and one of the coolest animatronics you've seen. Archibald Ashdown was featured in animatronic form on The Travel Channel's Making Monsters. You can see it, live and in person, and it will scare the hell out of you.
Everything is designed to take you into the story, all the way down to the gift shop. Speaking of, you won't see any lines of people walking through the houses. Guests are taken through in groups of no more than 6, and are pushed through every five minutes. This gives ample time to experience everything that Ashdown and Sons has to offer. While most haunts are trying to push you through as fast as they can, here the experience is just the opposite and you are meant to feel like a mouse being chased by a cat, in a giant mouse trap.  Just like on a roller coaster, you'll want to experience the haunt in different positions in line. Because of the nature of the house, your group is pretty much in a single file line. While you definitely get a lot of great scares first in the front of the line, the back of the line gives you an altogether different feel. As I was walking through, I could hear footsteps behind me, yet no one there. The giggles of actors that we had already passed echoed through the halls behind me, and at one point I turned to find a horde of "Twitchlings" following behind, making my heart stop, and pace quicken. It's because of the small groups going through that the cast is allowed to play with the guests like that.
Check out even more pictures from inside A Haunting at Old Town:

Having trouble viewing the slideshow? Click here for more picture goodness!
Things to know:
Legends-A Haunting in Old Town is not for the faint of heart. It's definitely a PG-13 show, and not intended for small children
Tickets are $15 dollars and can be purchased at the box office, or online
Groups are no larger that 6 people, and smaller groups may be placed with others
The attraction takes about 15 minutes to walk through
A Haunting in Old Town is closed on Mondays, and is open Tuesday-Sundays from 7p.m. until Midnight, the gift shop is open the same hours
The owners and producers of the haunt see this area as being a stage for testing new ideas, and routines. You can expect to see the haunt change from time to time in order to keep things fresh. Different themes and layouts have been considered, and will most likely be used in the future, so there will be a reason to keep coming back.
In November, there will be a new experience coming to Legends-A Haunting in Old Town. Lantern lit ghost tours will be available after hours, and will take you on a tour of the haunted history of Old Town, Central Florida and will give you a look at several Victorian era funeral artifacts. It will add real history to an already scary story.
We will have several videos coming very soon, so be sure to check back. Be sure to follow along with us on Twitter @BehindThrills for all the latest updates! Special thanks to JSL Photography for many of the pictures.
For more information about Legends-A Haunting in Old Town, visit the official website by clicking here!