The shadows have grown weary on the grim old house that time forgot in Old Town. It's been deserted for years now, and no one dared to enter. However, with the changing seasons, and the demented creatures filling the air around Old Town in Kissimmee, the time is right for new Legends to take over. Are you ready to meet the new owners? Archibald Ashdown and sons are looking to…dig…up new business, and you look like you'll do just fine.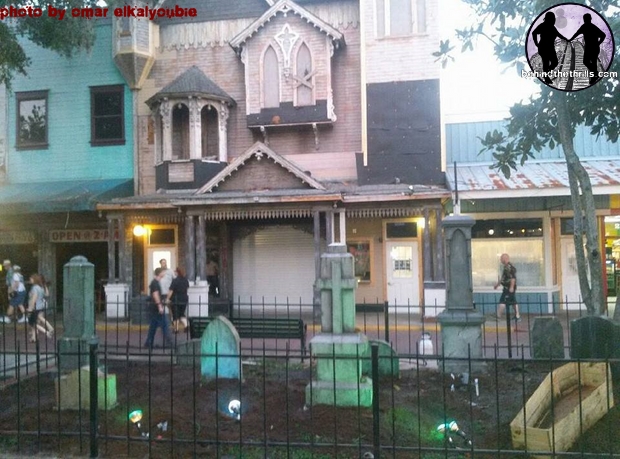 An all new Legend kicks off Halloween at Oldtown, with the opening of Legends:A Haunting at Old Town. Legends Dark Amusements, already a huge name in the haunted attraction industry opened up the all new Legends:A Haunting at Old Town, taking a location familiar with the sounds of screams and bringing new life to a deadly head with a huge new attraction. While we can't take you inside, just yet, we can tell you a little about it.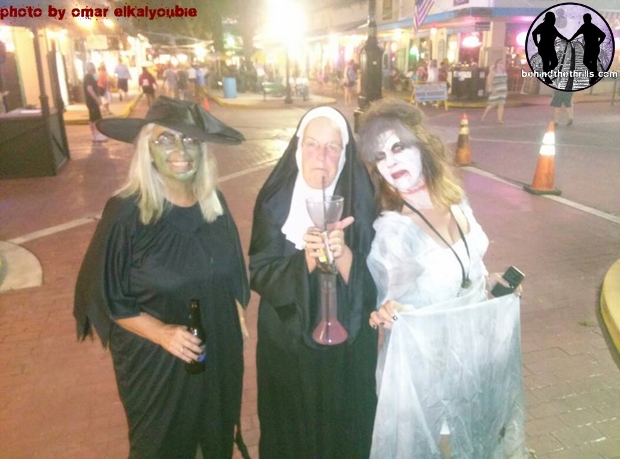 First, however, is Old Town's Halloween celebration. The event started a few years back and has grown to include some of the biggest Halloween celebrations in the area. The best part about it, it's free! Guests are encouraged to dress up, with Old Town hosting costume contests. Live music is also in the air and there's tons of cool stuff to check out in the various shops, and restaurants. Old Town also features a huge midway with tons of rides, and games for all ages.
While the event is family friendly, there are scares to be had. Actors do not hide in the shadows, or stalk you. Instead there are several different themed "plots". The plots are fenced off and covered in props and fog. The actors stay (for the most part) in the themed plots behind a fence. There's not a lot of chasing guests down and making kids cry. The actors are there mostly for pictures and interaction, scaring isn't at a premium here.
If you're looking for scares, you'll need to check out Legend's Haunting in Old Town. Tickets run about $15 dollars per person, but unlike seasonal theme park attractions, you'll be able to find Legends year round. The attraction is open Tuesday through Sunday and closed Mondays.
The story of the new haunt goes, Old Town was a healthy and wealthy little town. That was find and good for the residents of Old Town, but not so good for the town's local morticians, Ashdown and Sons. Death is their business, and business wasn't so good until Archibald Ashdown had a brilliant idea. Put bodies in the caskets, no matter what….even if they're still alive. Ashdown and Son's offered a good clean funeral parlor at an affordable price. Business was to die for, mostly because the Ashdowns became the number one cause of death in Old Town.
Now, things aren't so good. The Ashdowns have a little problem, the dead just won't stay dead. They're angry, and want to take out their wrath on the living. Trapped in a world where they can't move on until there's justice, they take it out on whomever happens to wonder into the ground of Ashdown and Sons. The other problem is the Ashdowns themselves. Business hasn't been good since they've had their little…problem. So, now anyone who wanders in, is stuck between being the next customer, and the next victim of vengeance.
The all new haunt is designed by Legends Dark Amusements, veterans to the haunt industry. They've been featured on the Travel Channel's Making Monsters, and several haunted attraction specials. The haunt itself is very detailed and full of special little features. Every single body in the caskets that you are actually made from casts of staff members. The pictures in the haunts of dead bodies, are from actual bodies post mortem…yes, they are real dead bodies. Most of the actors are veterans of the business as well, having worked at other local haunts like Skull Kingdom and Terror on Church Street, as well as other areas.
We won't tell you all the details, or give you a full review…yet. We will tell you that there are some amazing uses of animatronics, and great effects happening here. It's very unique to the area, and unlike anything you've seen at theme park haunts. Just like at any haunted attraction, the life blood that scares the life out of you are the actors. Haunting at Old Town has some of the best. While the effects, make up and animatronics are top notch, it's the actors that push things over the edge and take it from a good haunt, to an amazing haunt.
Check out even more pictures from A Haunting in Old Town.
The attraction will soon feature a Ghost Tour, which will take guests through stories of Old Town's haunted history, as well as local ghost stories. They will also get an after hours tour of the haunted attraction, and learn some Victorian funeral customs as well.
The attraction features "Stuff of Legends" gift shop, which will give you a chance to take a little haunted piece home with you.
The haunt is open nightly from 7p.m. to midnight, Tuesday through Sunday. The Old Town Haunted Halloween runs Friday and Saturday nights in October.
Be sure to stay tuned as we dive deeper into Ashdown and Sons murderous ways very….very soon. Be sure to follow along on Twitter @BehindThrills!
For more information about Legends:A Haunting at Old Town, including tickets, visit the official Legends Old Town Website by clicking here!
This review was written by Omar Elkalyoubie, disco dancer and haunt fan extraordinaire. Omar writes for Behind the Thrills in his spare time between fighting zombies, and the horrible fashions of the 70's.