I always have hated Mondays, ever since I was a little kid. Garfield, was an automatic love for me ever since I was a little kid because of that reason, and because he ate lasagna like a champ. The fat striped orange cat that has been a staple of comic strips, cartoon shows and even two huge movies could be making a move very soon towards theme parks with an all new partnership.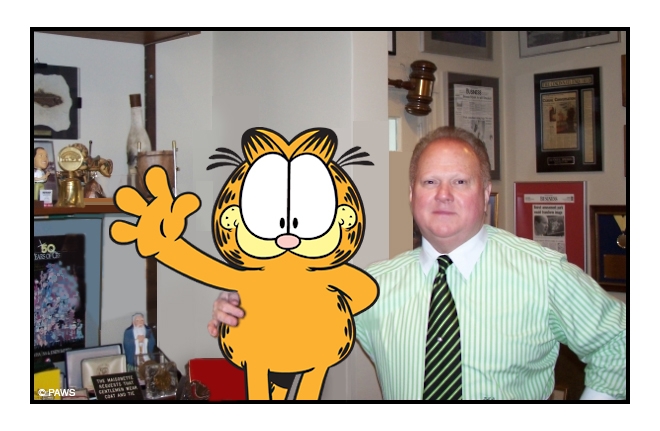 Garfield creator, Jim Davis and his PAWS Inc. has partnered with International Theme Park Services to bring the world of Garfield to life in both domestic and international theme parks.
Said cartoonist Jim Davis, creator of Garfield, "Few things are more fun than amusement parks, and "fun" is Garfield's middle name; uh…..Gar-fun-field.  We are really looking forward to growing Garfield's presence in the theme park industry with the help of ITPS and my old friend, Dennis Speigel.  With our brand in their capable hands, we're confident that Garfield will be perfectly groomed to suit any venue's entertainment needs.  We will be introducing the new program at IAAPA, and Garfield will be strutting his stuff.  So, food vendors, don't say that I didn't warn you….."

Dennis Speigel, ITPS president, said, "ITPS is thrilled to be representing Paws, Inc., licensor of Garfield and the Garfield characters. Their greatly entertaining and well-known character has an international presence and can, I believe, bring tremendous branding and marketing advantage to any theme park.  We have already seen interest from several major players in the theme park world, and I can't wait to see the impact that Garfield has on our industry, not just in marketing but also in commercial appeal through merchandising."
While there is no word on where, or who will be taking on Garfield, the character will have a huge roll out at this year's IAAPA Expo in November when it takes over the Orange County (appropriate) Convention Center in November. If Garfield wanted to make a huge hit, he would paint the entire convention center orange and black.
The fat cat with a hatred for Mondays and a love for lasagna has been around for 35 years. What took him so long to become a staple in the theme park world? No answer yet, but let's hope we don't have to wait much longer. Where would you like to see Garfield call home? Personally, Toon Lagoon at Islands of Adventure seems like a perfect fit, with a huge new water ride, a walk around character and of course a fern shop that sells lasagna.
Stay tuned as we learn more information, and be sure to follow along with us on Twitter @BehindThrills for the latest info!