Talk about bad luck. Ten people are currently stuck on Hollywood Rip Ride Rockit at Universal Orlando. While coaster closures are rare, they aren't so rare that it's a huge emergency. This instance, however, is enough to give people people more nightmares than a night at Halloween Horror Nights. The riders are stuck on the lift hill.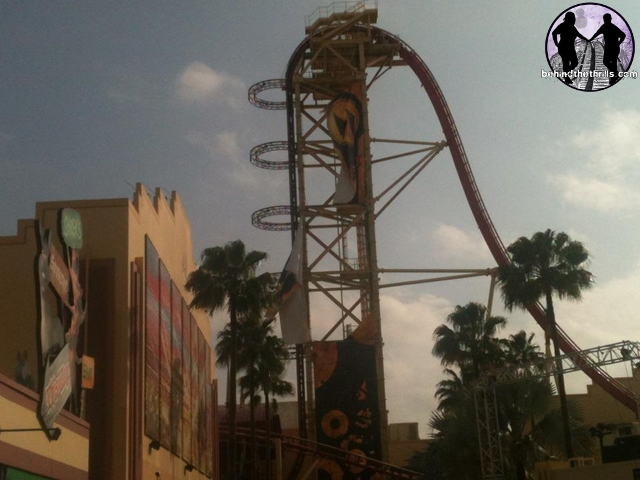 Hollywood Rip Ride Rockit, pictured above, opened in late 2009. The coaster features a 167 foot vertical lift that goes into a huge drop. Right near the top of that vertical lift, where the hill crests, is where the coaster is stuck. About 10 people are on the coaster, and only the back car is still on the vertical lift.
According to WFTV there was a safety glitch in the ride's computer that caused the ride to stop. While it's not clear what caused the glitch, the only restraint on the coaster is a lap bar.
According to several news sources, riders were being evacuated from Rockit just before 9p.m, and all riders were safely removed from the ride before 10 p.m. No one was injured.  The coaster is one of the most popular attractions in the park, though this is not the first time the ride has had issues. In August a lady had minor injuries when the ride stopped suddenly. Earlier this year a storm ripped the banner off of the attraction. The ride will remain closed until workers can determine what caused the problem.
Universal made an announcement via their official Facebook page:
We're happy that our guests are safely off Hollywood Rip Ride Rockit. We will work to understand what happened and will reopen the ride as soon as we can.

Special thanks to the Orlando Fire Department for their hard work tonight.
While this particular situation is rare, coaster and ride malfunctions do occasionally happen. Here are some tips just in case it happens to you.
Stay seated-Don't try to get up and leave that attraction on your own. Things could restart suddenly, and you could be in danger
Listen to all safety instructions-Pay attention to what people are telling you so that nothing goes wrong
Don't panic-Stay calm, and don't worry, help is on the way. Theme park rides and attractions are closely monitored, and if something is going wrong, someone knows about it.
Look on the bright side-One of our favorite things about getting stuck on a ride is that you usually get to see areas behind the scenes. It's a perk to an otherwisw scary situation. The other perk is that the parks will usually give you a front of the line pass to ride again, or some other perk to make up for it…so it's not always bad.
Ride safety is a theme park's number one concern. The park will not intentionally put people at risk. While things such as break downs and accidents have been in the news a lot lately, keep in mind that theme park rides, and roller coasters are statistically safer than driving a car, and even changing a light bulb.

*Update
According to fansite Orlando United, Hollywood Rip Ride Rockit has reopened to guests, less than 24 hours after the incident. That tells us that the shutdown was just a fluke, amd everything checked out alright.

Stay tuned for the latest as we hear it. Be sure to follow along with us on Twitter @BehindThrills for the latest updates!