Rob Zombie is one of America's greatest musicians of the current age. He's also one demented cat, which is completely evident from his career as a film director.Now we mean demented in the nicest possible way. The director has brought us some of the most hardcore, visceral horror films of our time. He's also one of the largest fans of horror that has ever existed. We were invited to the grand opening of Rob Zombie's highly anticipated new haunt, 'The Great American Nightmare'. Does it deliver? Or does it leave us begging for more?
DISCLAIMER! This is based on an opening night, so what we saw may not be the same in the weeks to come. Without further ado, let's enter Rob Zombie's Nightmare.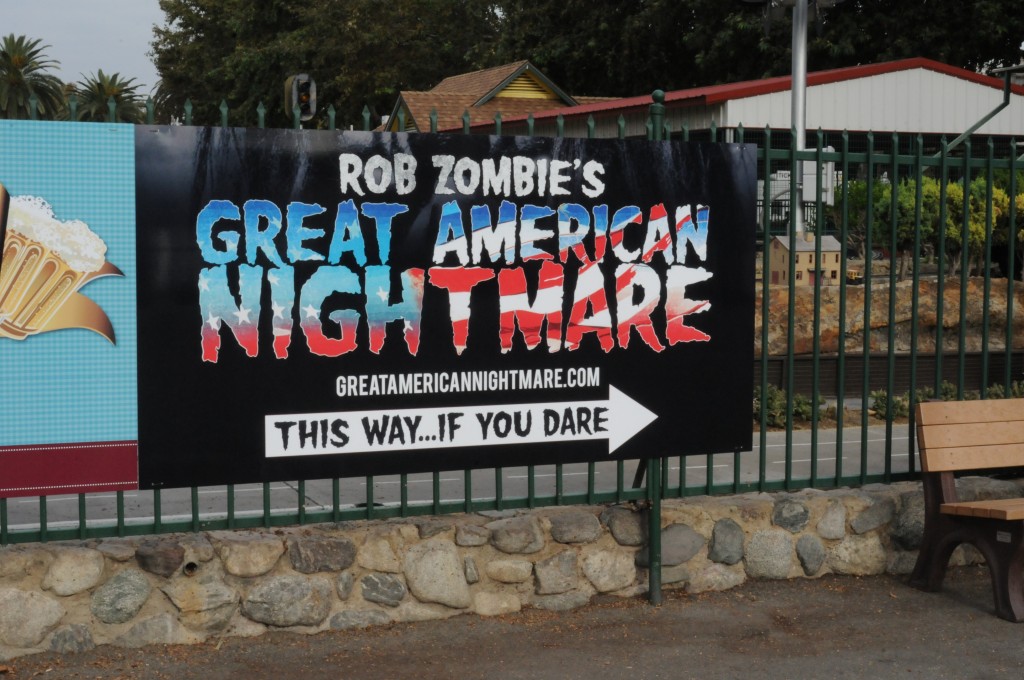 The event is held this year at the Pomona Fairplex, also known as the FEARplex during the month of October. Host to smaller known haunts in the industry, at least until this year. The footprint of RZGAN (which is what we will be referring the event to for the rest of this review) is pretty small, fitted between two massive convention spaces. One which holds the concert venue, and the other which holds the 3 brand new houses. A scare zone as well as Bloody BLVD are fitted between the two large buildings. It doesn't try to overwhelm you with a massive sized event, it's quite the perfect size for what it is set out to accomplish and features enough entertainment, food and more for a night's worth of good ol' horror filled entertainment.
The three houses that opened with the event are The Lords of Salem, El Superbeasto – 3D, and Haunt of 1000 Corpses. Let's take a closer look at each.
LORDS OF SALEM: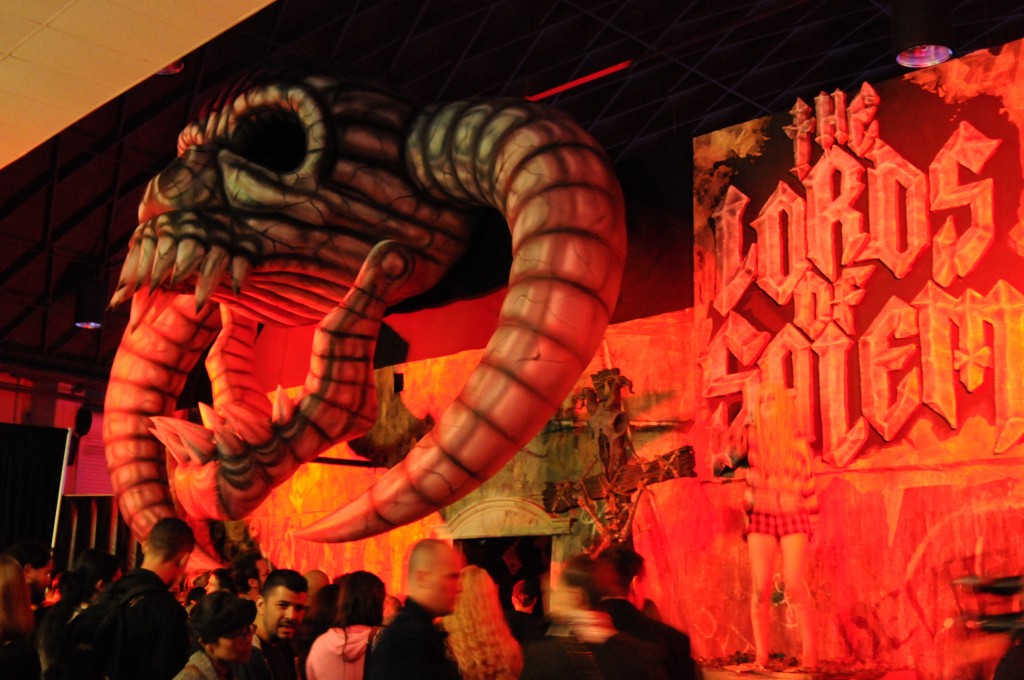 The Façade of TLOS does a wonderful job of setting up a distinct environment and theme. Having never seen the film, I was not sure what to expect. Now that I have gone through the maze, I still have no idea what The Lords of Salem is about. The maze itself features a single themed room at the end, where as the rest of the entire house you are wearing a dark bag over your head and forced to navigate the walls in the dark, feeling around sometimes running into monsters, sometimes getting shocked by electrified walls. These were all neat things, but the house never did anything to enhance the fact that you are being sensory deprived. What I would expect to see in a blackout inspired maze are textures, smells, things that can easily exploit your remaining senses, not just feel around in the dark and get shocked. It seemed like it was a hit or miss for most guests, and definitely in need of some fine tuning. Again, not having seen The Lords of Salem, there is no way of knowing if this is something that was featured in the film, or this was just a sinister thing to do, that goes with a sinister sounding film.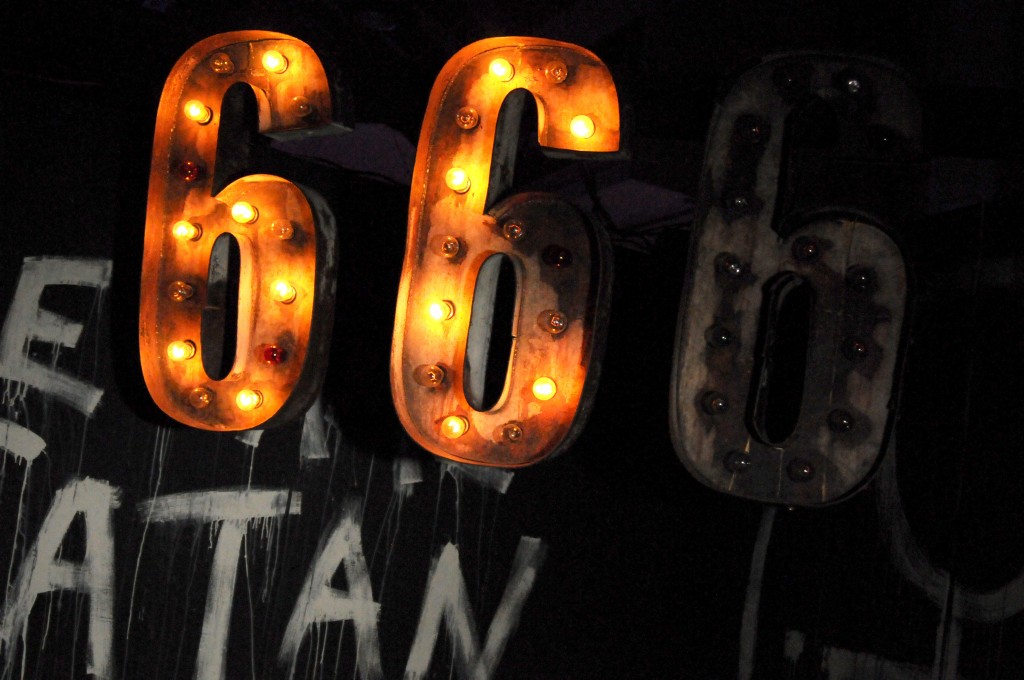 The highlight of the maze was the soundtrack, a very eerie, very dark sound that fits the concept of a black out perfectly. The scares in this house are low, it hopes that most of the horror comes from inside your own mind instead of providing the horror for you. There was some talent in the maze, but I only heard a few scares happening here and there. It wasn't a monster fest like the next two mazes. Luckily things get better from here.
Having seen El Superbeasto and House of 1000 Corpses I can say without a doubt that the rest of the haunt was much more enjoyable.
EL SUPERBEASTO 3D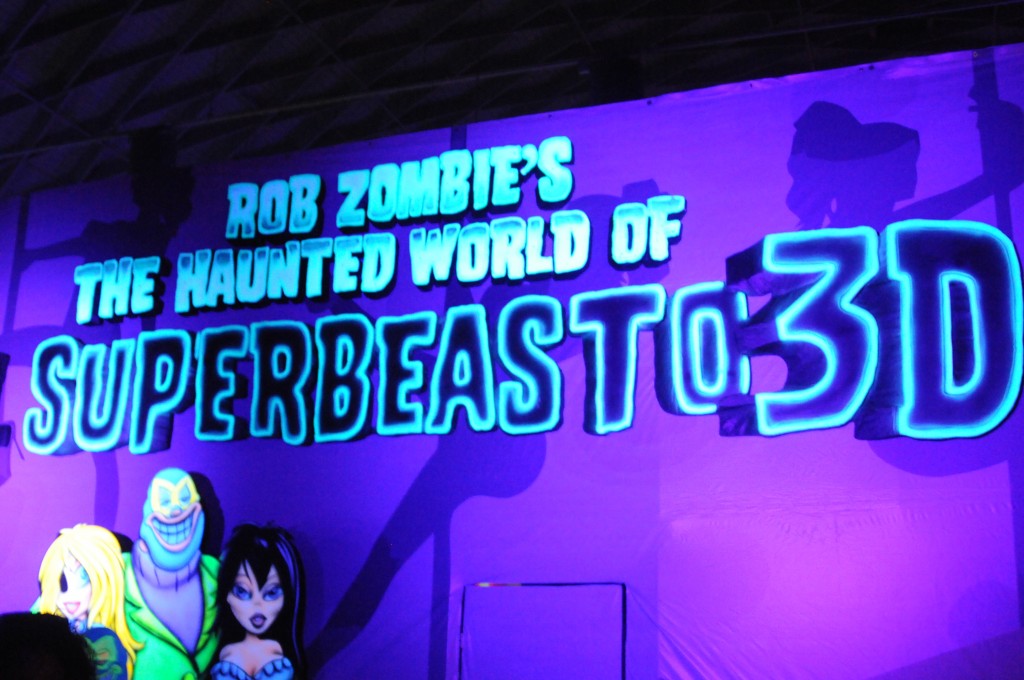 If you are a fan of the movie then you will undoubtly be a fan of this maze. Every bit as raunchy and perverted as the film it's based off of. Based on the main entrance itself you know you are entering an adult world based on the classic film and the 3D is some of the best I've seen. I'm usually not a fan of 3D mazes, but it worked extremely well in this house. It added depth to the walls, and make the characters really pop out at you. In some cases literally. The attraction façade itself is sending shockwaves through the haunt industry which is to be expected with the name Rob Zombie attached to it.
As you can clearly tell from the main entrance to this maze that is not something meant for kids. In fact the event as a whole isn't really meant for kids despite the 13+ age limit. The moment you enter the maze you are given a pair of hard shelled 3D glasses (not the normal paper ones you get at most other theme parks) and are tasted with walking through a series of rooms and obstacles. Fans from the film will notice a multiple moments taken from the film including a dildo-crucifix scene, and the bar scene from the film.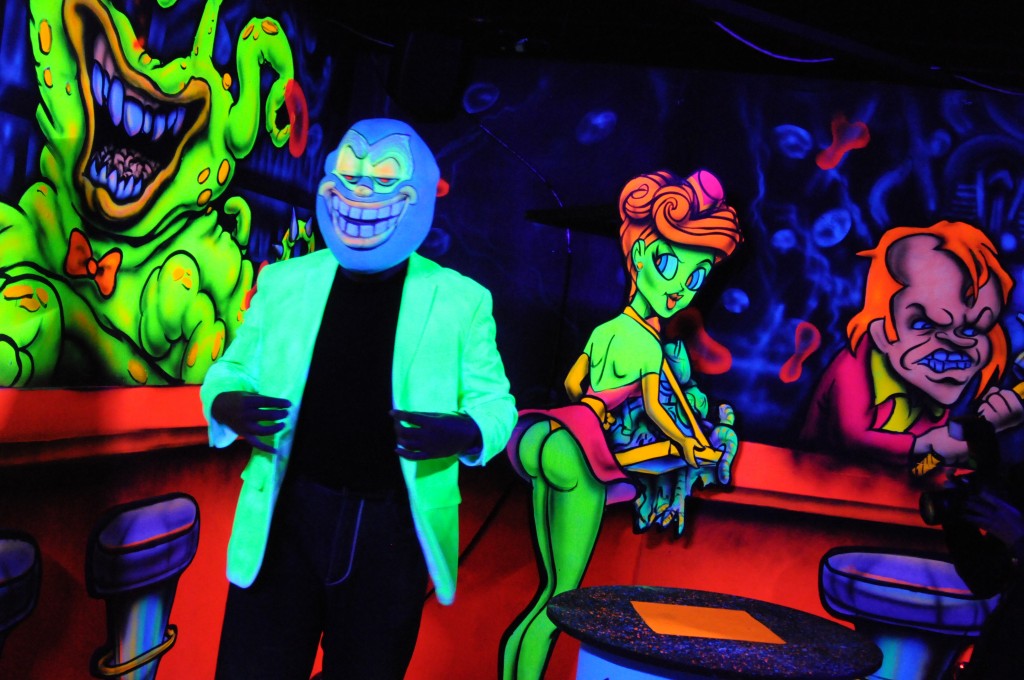 The 3D is solid and I couldn't think of a better theme for a 3D maze than El SuperBeasto. It doesn't try too be in your face, or obnoxious, it adds depths to the characters and sets, and it's all it really needs to do.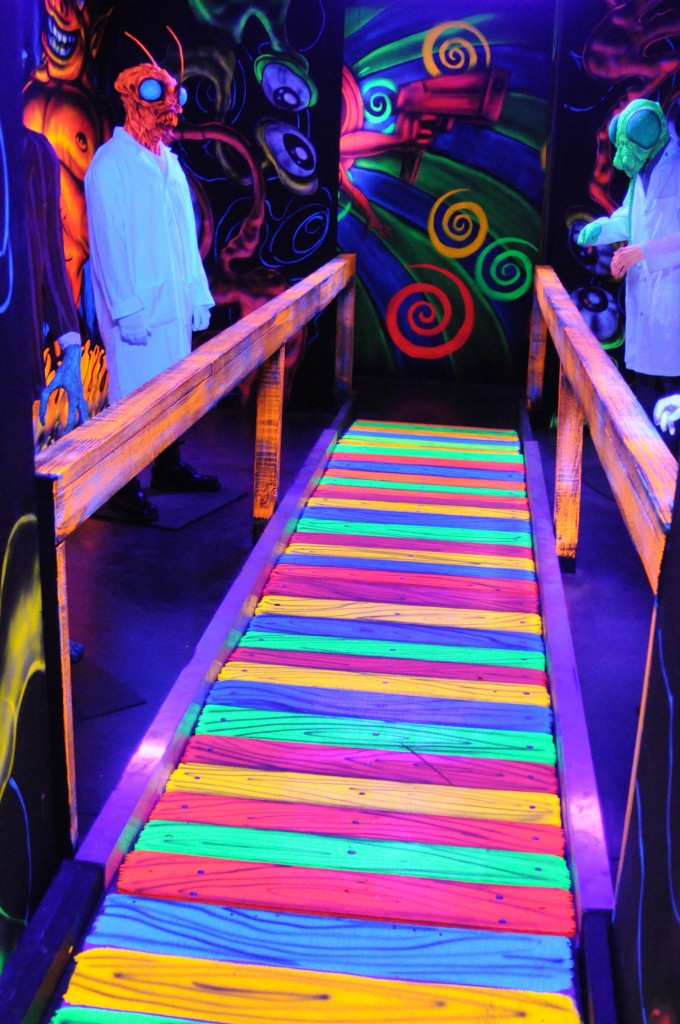 Overall El Superbeasto is a very enjoyable fun 3D attraction. It's definitely more adult than any other haunted attraction, and definitely is a sexual romp of nightmarish proportions. This maze demonstrates why this event is not for kids, or anyone uncomfortable with dealing with sexual situations in a public setting.
Watch a section of El Super Beasto in 3D
[youtube=http://www.youtube.com/watch?v=SJmKPNhJqZE]
Haunt of a 1000 Corpses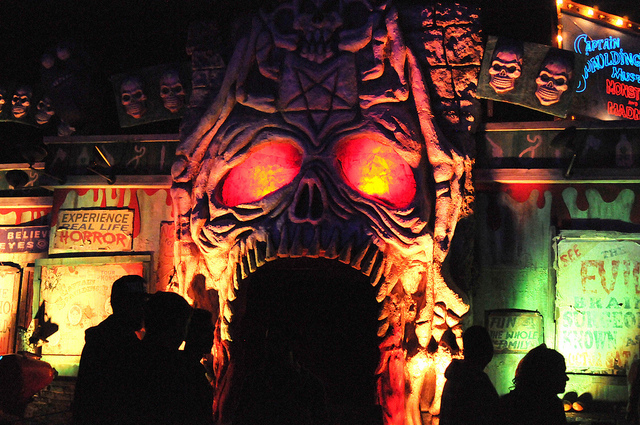 House of 1,000 Corpses is one of the most translated films to haunts that we've seen. For two years it was part of Halloween Horror Nights in Hollywood.  It's clearly evident that Rob Zombie took what he learned at Halloween Horror Nights and expanded on it. The facade is the best work that we've seen, possibly ever. It takes you right into the film, right into Captain Spauldings Store and into the Murder Ride. In fact, that's the biggest difference right off the bat. It's doesn't take place in the film, unlike other iterations. This one expands on the film and takes place in the Murder Ride. In fact, it takes the murder ride concept and expands on that.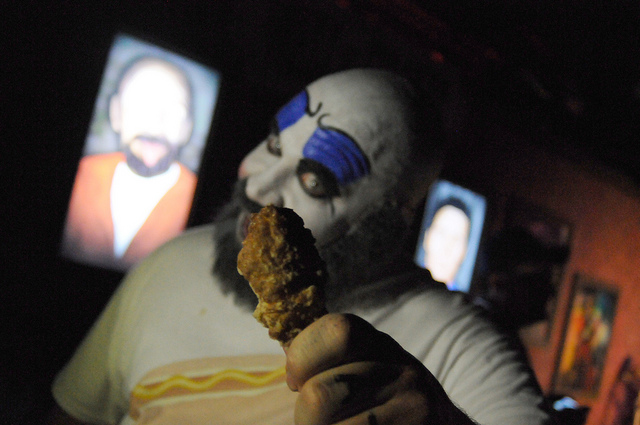 Of course everyone's favorite chicken eating clown is here, and so is the entire cast. We see Tiny, Otis, and Baby all wreaking havoc on guests. The actual scares themselves aren't really scary, as much as they are gory. It's a thing of beauty watching the actors interact with the death scenes. One actor does something to a corpse with a gun that is pretty damn hilarious, and disturbing at the same time. In fact the house isn't really as gory as it is realistic. That's the one thing that it has over everything else, it's a realistic ride of murder and chaos through the eyes of a boogeyman. You see more blood than we've seen before in a Rob Zombie house, and more serial killers. John Wayne Gacy, Jack the Ripper and more throughout history are here in fine form.
Take a walk through Haunt of 1,000 Corpses!
http://www.youtube.com/watch?v=sgoo9xDq5wc
While the scares are scarce, it's definitely more intense than any house that bears the name House of 1,000 Corpses.
Scare Zones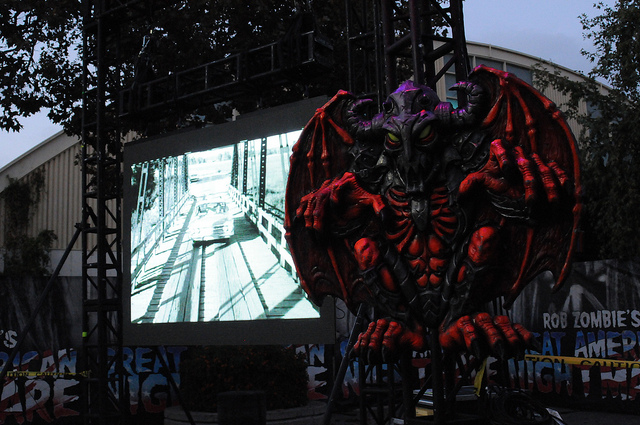 The Scare Zones and Blood Blvd are a very mixed bag. One of the coolest things about the entire thing is the feel of an out of control carnival from hell. The movies playing throughout the night are a nice touch, and a bit of a testament to the low grade carnival feel to everything.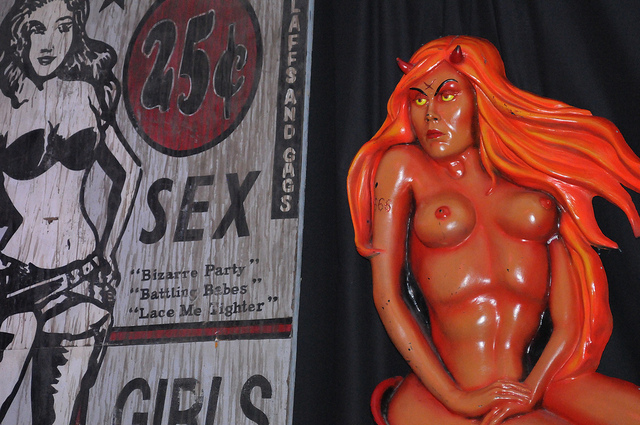 Half freak show, half sideshow, there's plenty going on. Of course, fitting in with the theme of everything else, nothing is really kid friendly, or even safe for work. It's a mash up of sex, creatures and dirty carnies.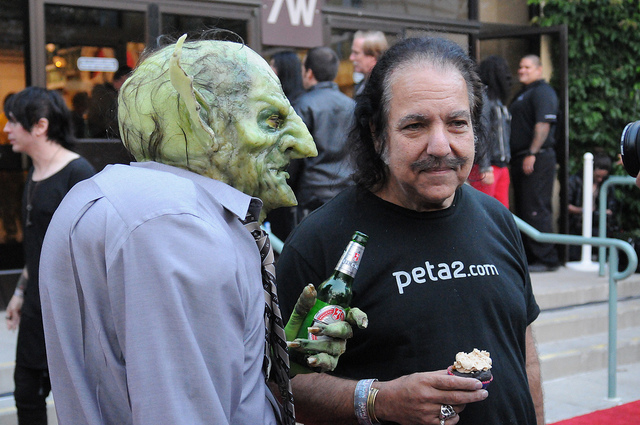 Speaking of dirty carnies, you never know who you might run into walking through the scare zones. Being opening night, it was a star studded affair…and Ron Jeremy was there! It's kind of surreal feeling to see one of the adult film industry legends having a beer with a goblin. Hey, it's LA!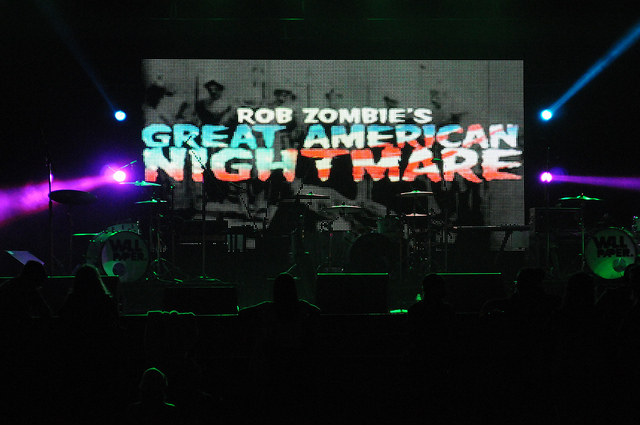 The main highlight every night is a concert from some of the biggest names in metal. The concerts are absolutely free with paid admission, and will feature everything from Reel Big Fish all the way to the man himself Rob Zombie on the final night.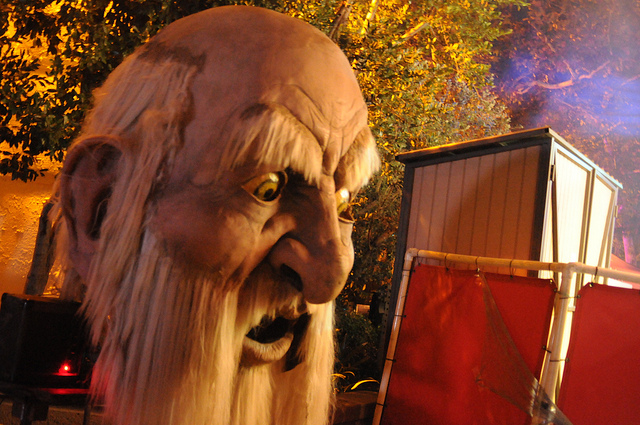 The actual scare zone itself is kind of a big mess. It looked as if everything was still being put together, and that they really needed more time. Keep in mind that this is opening weekend, and things are likely to change and progress before November 2nd. While it definitely kept a carny theme, it was a mash up of all kinds of different themes. It felt as if there just wasn't enough time or energy to commit to the full theme, and left things feeling a tad generic..  Southern California haunt fans will definitely see some familiar monsters here. There's also a ton of animatronics, but at the time of our visit, half of them just weren't working right or at all.
Still, for the atmosphere that they were aiming for, it was good enough. The key to any good haunt is the actors, and they were definitely coming unglued the way they are supposed to, in order to make guests scream.
Take a walk through the scare zones:
Need more Great American Nightmare? Check out our full picture gallery, chock full of gore, guts, ass and chicken!

Overall, the haunt needs a little more TLC to get things right, but it's a definite fun ride. If you're going expecting something like a theme park haunt, you're going to be sorely disappointed and offended. The haunt is overly sexual, and depicts very graphic violent images. It's definitely unique, and something that you must see. We really liked the over the top sexuality of El Super Beasto, and the raw violence and unapologetic blood letting of Haunt of 1,000 Corpses. It's a definite must see haunt this haunt season, but go more for the party, and the Rob Zombie brand of X Rated twisted content, and less for the familiar scares you know.
Stay tuned for more gory goodness this haunt season! Be sure to follow along with us on Twitter @BehindThrills for the latest!
For more information about Rob Zombie's Great American Nightmare, visit the official website by clicking here!