Rob Zombie is no stranger to horror, having carved a very distinct voice as a director in the genre, often with a very rusty knife, and to the sounds of blood rushing. With his music, his films, and even his involvement with Halloween Horror Nights Hollywood, he's been only hinting at the madness trapped inside his head, not really able to unleash all the insanity of his films into the real world. That is, until now. Rob Zombie's Great American Nightmare is kicking off this weekend, and it's all true. The Boogeyman is real, and you found him.
Three of Rob Zombie's films have come to life in the all new haunt, but Rob Zombie's Great American Nightmare is a lot more than just the haunted attractions. Every Thursday, Friday and Saturday night in October, there will be tons of carnage on the streets as well, as Bloody Boulevard takes shape. Vendors, food, and of course free screenings of some of the most legendary horror films ever made.
Classic horror films including The Phantom of the Opera, Horror Hotel, The Last Man On Earth, Carnival Of Souls, House On Haunted Hill, White Zombie Nosferatu and The Lords of Salem will all be shown in outdoor screenings on Bloody Boulevard. If that's not enough, there will be Celebrity Signings…not only will you get to mingle with the celebs, but they'll be on hand to talk to you and sign stuff!
Here's the Confirm list of happenings on Bloody Blvd.
Thursday, October 10

8pm-10:30pm

Kerry King of Slayer

Saturday, October 12

8pm-10:30pm

Sons Of Anarchy cast members Michael Ornstein("Chucky"), Rusty Coones (Rane Quinn), and Niko Nicotera (Ratboy)

Phantom Coaches Hearse Club on display (www.phantomcoaches.org)

Saturday, October 26

8pm-10:30pm

Photographer Jeremy Saffer signing his new book Till Death… A Guide To Love And Loss

Saturday, November 2

Phantom Coaches Hearse Club on display (www.phantomcoaches.org)
And there's more to come later. In addition to the celebrities, there will be a huge concert every night, with Rob Zombie himself performing on the final night, November 2nd.
For the full band line up, visit the official website by clicking here!
Now, on to what you really want…no Ice Cream in your future.
The first house is based on Rob Zombie's first film, House of 1000 Corpses. It's called, Haunt of 1000 Corpses. It takes the "Murder Ride" concept a step further, and includes tons more serial killers and mayhem.
Lords of Salem in Total Black Out is based on the most recent film, and it's the only haunted attraction in North America that you enter wearing a hood. Not really sure how this is going to work, but it's sure to be demented and amazing.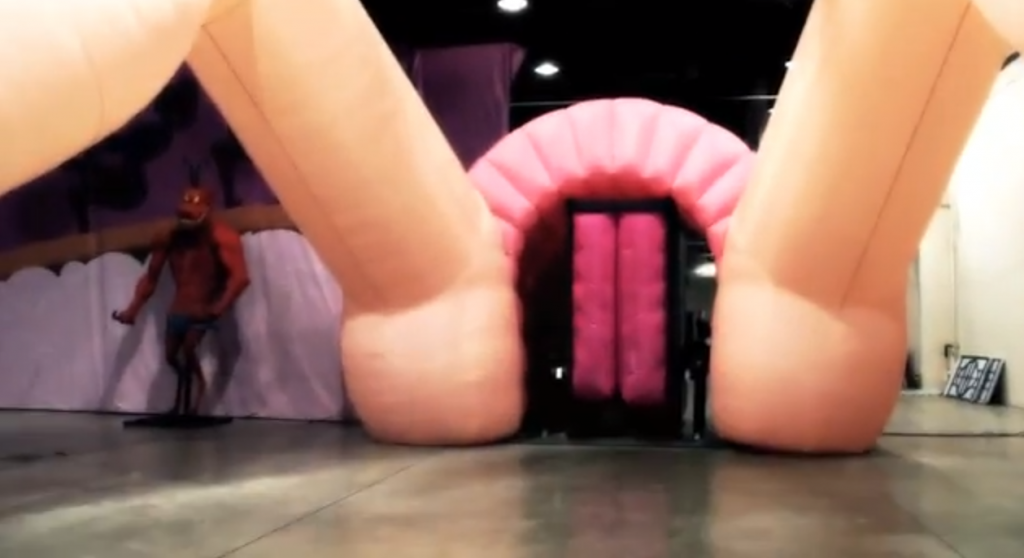 The Haunted World of El Super Beasto in 3D is going to be one very inappropriate trip into madness. With lots of color and things coming at you from all different directions. The house is based on the animated film, written and directed by Rob Zombie. And yes…the entrance is not very kid friendly…but isn't it amazing?
Get a more in depth sneak peak at Rob Zombie's Great American Nightmare!
The full map of the event has been released via their official Twitter @RobZombiesGAN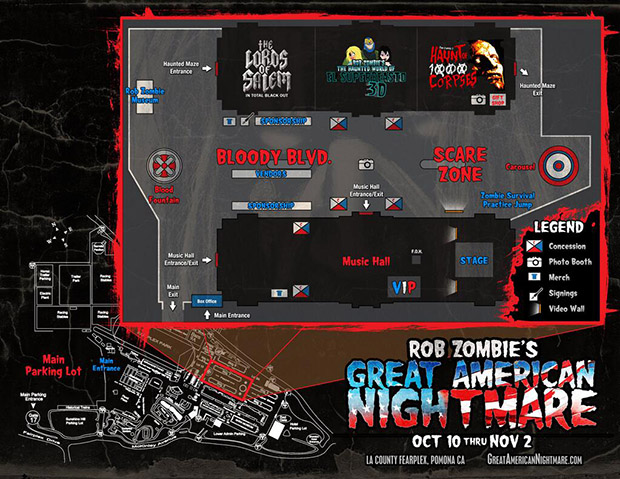 Be sure to follow along with us on Twitter @BehindThrills for more very soon from Rob Zombie's Great American Nightmare!
For more information, including tickets and special discounts, be sure to check out the official website by clicking here!