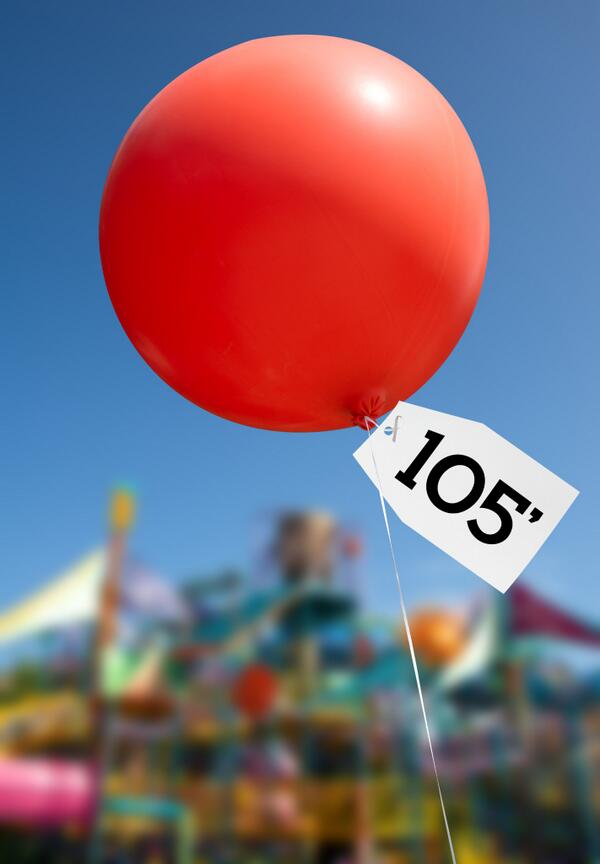 SeaWorld Orlando has confirmed they will be expanding Aquatica for the 2014 season with #NothingTaller. A couple of weeks ago, a height test balloon was spotted at Aquatica, testing the height of the attraction. The actual height of that balloon was 105′, which is how tall the new attraction coming to Aquatica Orlando will be.
Details on the actual attraction have not yet been announced, but SeaWorld has confirmed the attraction will be the tallest water thrill ride of it's type in Orlando and it will be coming for 2014.
So what could we see? Here's a few theories based in chatter we've heard.
Orlando's first looping slide: One thing there isn't enough of is looping waterslides. We could see a huge looping slide with a massive drop
Family Tube: The family ride is always a popular attraction. Why not duplicate the zero g wall that sister park in San Antonio has with their version of Walhalla Wave. It's thrilling and HUGE!
Stingray Falls: Aquatica San Antonio has a great slide amd animal attraction with Stingray falls. Its a family ride, but you can definitely change that dynamic up by making a speed slide version. Of course, going through a stingray tank at wedgie inducing speeds seems redundant…but still fun!
We're thinking it probably won't be a speed slide, however. The height of the Aquatica slide is 105′ tall and Summit Plummet at Disney's Blizzard Beach is 120′ tall. SeaWorld has confirmed it will be the "tallest of it's kind". I think that pretty much rules out a speed slide.
Updated 10-22
SeaWorld has released an all new video that gives a "scream peek" at the new slide.
Based on that little tease, and the single rider dropping out of view, it's looking like the new atrraction will be a 105′ drop slide. There has to be something unique to this slide, because 105′ is not the tallest drop slide in Orlando. There has to be more dropping in later…but our guess is that this ride will drop riders through a tank of some kind.
Stay tuned for more details!
Get social with us!
Follow us on Twitter @BehindThrills and like us on Facebook @BehindThrills.
Need to get tickets? Click the banner below to get your tickets today!