October in Orlando is frighteningly busy for Horror and Halloween fans. First, of course, you have Halloween Horror Nights at Universal Orlando. Then there's the dozen or so other Halloween events at the other theme parks, shopping centers and malls. The granddaddy of them all, however, is the Ultimate Horror Weekend that brings together some of the most legendary names in the horror business, and combines it with zombie walks, huge parties and more horror movies that you can shake a chainsaw at. Spooky Empire-The Ultimate Horror Weekend returns in just a few short weeks to Orlando, with an all new location and a huge horror party that is not to be missed.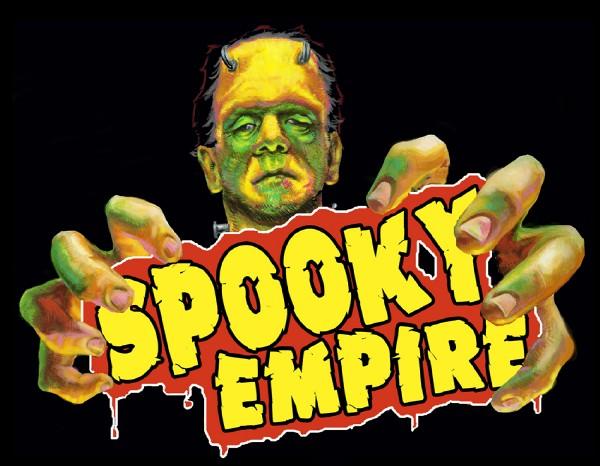 During the weekend of October 25th through the 27th, the convention is one of the largest horror gatherings in the south, with celebritiy signings, authors,bands, and a tattoo festival. This weekend of mayhem kicks off with a parade of the undead — the Zombie Walk, a Spooky Empire tradition in which the undead rise up and feast on the flesh of those walking the streets of Orlando.
The Zombie Walk is the opening tradition for the event, and will take place outside the Double Tree Hotel on Friday afternoon at 4 p.m. But walkers begin to gather earlier for photos and fun and you can even get zombified by a professional face painter. Hundreds of zombies stagger and stumble there way toward the host hotel where the party begins.
The convention itself begins at 5 p.m with the opening of the vendor room, tattoo room, and rooms featuring authors, artists, and Media Guests. The Double Tree Resort is just a stone's throw from Universal's Halloween Horror Nights, and an all new home for the event. This year Legendary Horror director George A. Romero will be in attendance, and three HUGE cast reunions beginning with the largest cast reunion of the original Texas Chainsaw Massacre ever with Gunnar Hansen, Marilyn Burns, Edwin Neal, Teri McMinn, Allen Danziger, William Vail, and Ed Gunn.
Next up is the cast reunion of the Wes Craven Classic The People Under the Stairs including Brandon Adams, Sean Whalen, and Yan Birch. Finally, from Repo the Genetic Opera Bill Moseley, Alexa Vega (also from Spy Kids and the upcoming Michete Kills), and Ogre.
Rock legends Peter Criss from Kiss and Dee Snider of Twisted Sister, not to mention perenial favorites Alex Vincent (Child's Play), Danielle Harris (Halloween), Kane Hodder (Friday the 13th), Mike Christopher (Dawn of the Dead), and Pinhead himself Doug Bradley.
In addition from the classic Universal Monster movie Creature from the Black Lagoon Julie Adams and Ricou Browning. Also Meg Foster, Ginger Lynn, Sybil Danning, Lisa Marie, Twiggy Ramirez, Lisa Loring, Suzanna Leigh, Jason Mewes,Eugene Clark, and Sonya Thompson.
To round out the list, Academy Award Winning make-up artist and Face Off Judge Ve Neil, Face Off Judge and make-up artist Glen Hetrick, and Horror make-up gurus Barry Anderson, and Tom Savini. All of the celebrities will be available to take photos and sign autographs (for an additional fee). The weekend will consist of a horror film festival, celebrity Q&A's, professional photo ops, and plenty to see in the vendor room! On Friday and Saturday nights there are also the infamous Spooky Empire Pool Parties.
Also this year, Mucklebones will return with a Tribute to one of the coolest year round haunted attractions, Disney's Haunted Mansion. You'll be able to walk through the attraction like never before with unique music, lighting and wicked interpretations of all your favorite scenes and characters from the attraction! The walkthrough tribute is free with Spooky Empire admission, and though it's recommended for guests of all ages, you should beware of hitchhiking ghosts.
For more information about this year's Spooky Empire, including tickets, visit the official website by clicking here!
This article is written by Omar Elkalyoubie. His quest for adventure, horror and blood is about as difficult to tame as his last name is to pronounce!