October is here, and of course with it comes Halloween! Besides the one day of the year that people get to dress up in costume, and ransack the neighborhood for free candy, it also means that Haunt Season is here! Haunt Season is that magical time of year where theme parks go from being family friendly, to bloody and gory. Haunted houses, mazes and attractions pop up everywhere, and the sounds and smells of summer are replaced by the blood curdling screams of the unsuspecting and the smells of fog and chainsaw oil! With the onslaught of haunted attractions, we've put together our list of must see, and most haunted attractions that you just can't miss. It's a mix of theme park, and stand alone attractions that chill us to the very bone for one reason or another.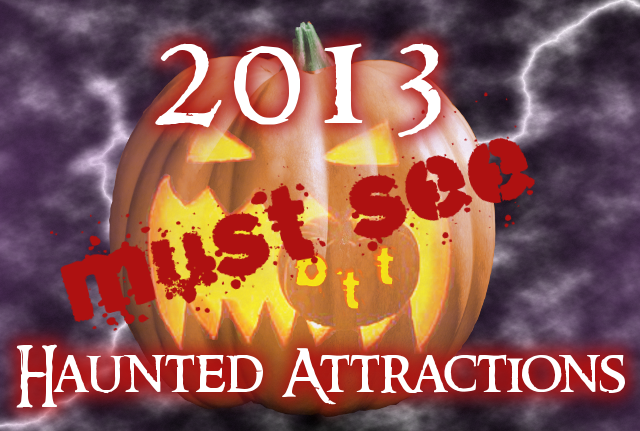 We've got our top 13 must see haunted attractions of 2013. Which made the list, and which made the top of the list? The list was compiled by search engines, awards and interest shown on BehindTheThrills.com as well. No matter what haunted attractions are on the list, if one pops near you, you need to attend! Tis the season for good horror filled spooky fun!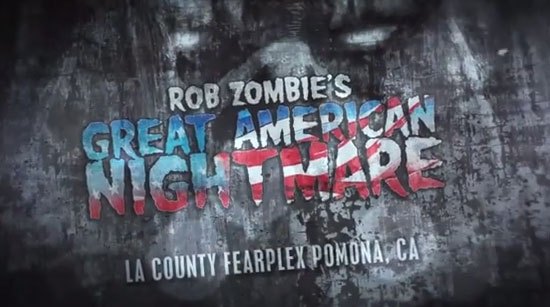 13.Rob Zombie's Great American Nightmare-Los Angeles, California
Rob Zombie has already proven that he knows a thing or two about horror with his five feature films, and an animated film…all going through varying degrees of terror. He's worked with Halloween Horror Nights before, and now he's brought his own special brand of hell to life with three mazes. House of a Thousand Corpses, El SuperBeasto in 3D and Lords of Salem all promise to be spins on the titles you've known, and the traditional haunted houses that he's been working with for the past few years. Plus there's a different concert every night, with Rob Zombie himself performing!
12.Haunted Hollywood Sports-Hollywood, California
Only in their 2nd year as a major haunted attraction, Haunted Hollywood Sports has grown in leaps and bounds and has made themselves a name in bringing zombies back to life…only for you to kill them again.
Check out our video tour of Haunted Hollywood Sports!

The haunt features three haunted mazes, two scare zones and three zombie kill houses where you use airsoft guns to blast zombies away.
Click here for more information!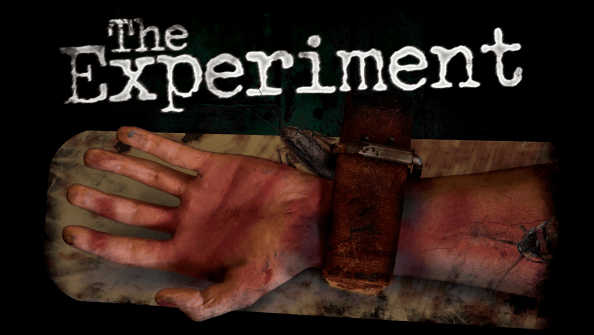 11.Howl O Scream at Busch Gardens Tampa
This year Busch Gardens Tampa unleashes the 13 on it's unsuspecting guests. There are 13 of the most unsavory characters in history that come out once every hundred years, on the 13th year to wreak havoc. The park also brings two all new haunted houses, Death Water Bayou and The Basement.
Watch as our innocent victim screams his way through Death Water Bayou:
The biggest news this year out of Howl O Scream at Busch Gardens Tampa is The Experiment. It's an upcharge house, meaning it's not included with admission, but it's an in your face psychological test of your resolve that has gotten under the skin of some of the toughest critics.
10.Scarehouse-Etna, Pennsylvania
One of the consistently top rated haunted attractions has gotten a little worse. Three haunts all under one roof, and this year..if you dare, go under the floors to The Basement. Another upcharge house, but this one gets more than a little personal as you will be grabbed, bound and brought in alone. No more than two people are taken down to the basement, and even fewer come out. Plus this year, follow the bunny.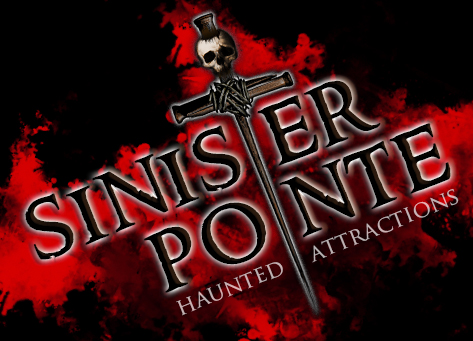 9.Sinister Pointe-Brea, California
10,000 square feet of interactive scares. A maze that has you choose your own path, and places where you can actually get lost. You can return multiple times and experience multiple rooms. It's very possible that no two times at Sinister Pointe will ever be the same. In fact, Sinister Pointe took home the crown for the non theme park King of Halloween in the Behind the Thrills Thrill Weekly Polls!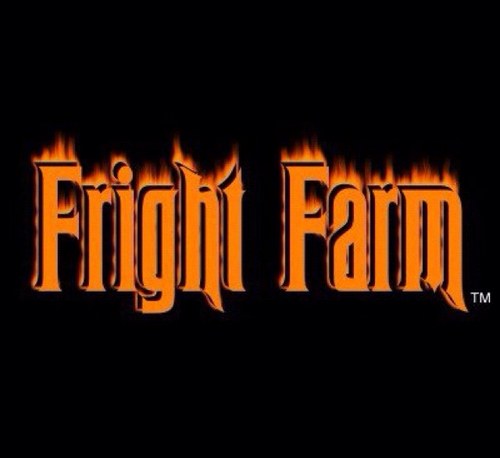 8.Fright Farm-Smithfield, Pennsylvania
Every year Fright Farm has three main attractions, the haunted hayride, the terror maze and the haunted mansion. Every year there is a new theme and some new features added. This year the theme is a Victorian hell. There are swamps, underground mausoleums, and tons of carnage. Fright Farm has a huge following and always has tons of surprises waiting for you at every turn.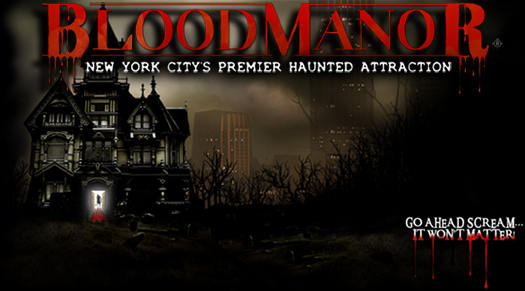 7.Blood Manor-New York City, New York
Three all new attractions, including a sick experiment gone wrong, a demented carnival and jungle caves…of doom. Blood Manor is the premiere haunted attraction in New York City and consistently rated high among many different websites and polls

6.Howl O Scream at SeaWorld San Antonio
Howl O Scream at SeaWorld San Antonio is fast becoming a fan favorite event. The event is less bloody than the Tampa counterpart, and has less houses than it's Virginia sister park…but that doesn't stop Howl O Scream from being scary as hell. The park does do the kid friendly thing during the day, but then you get into the magic hour of 7 and it transforms into menacing scarecrows, vampires and zombies. This year the park is amping it up with an all new bar, four haunts and scare zones. Not to mention, the chance to ride Steel Eel in the dark!
5.Netherworld-Atlanta, Georgia
Netherworld is consistently rated a top haunt by those who like to get the hell scared out of them. This year they've changed things up, yet again, and have unleashed "The Dead Ones" and "The Boogeyman". Where other haunts will have you walk through the legends, these guys make you live the legends in gory reality. It's one of Georgia's biggest haunted attractions, and consistently sends people screaming for their lives.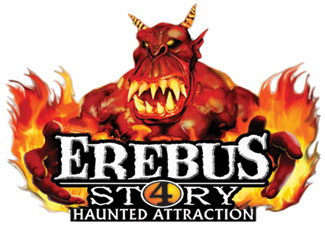 4.Erebus-Pontiac, Michigan
Four stories of horror, piled on top of one another. Erebus in Pontiac Michigan once held the world record for the longest haunt in the world, and while that title is now someone else's it's still one hell of a nightmare to get through. Huge interactive monster props, special effects, and that special "reach out and touch you" feel..yes props touch you, make Erebus one unique attraction that you can't miss for Halloween.
Click here for the official site!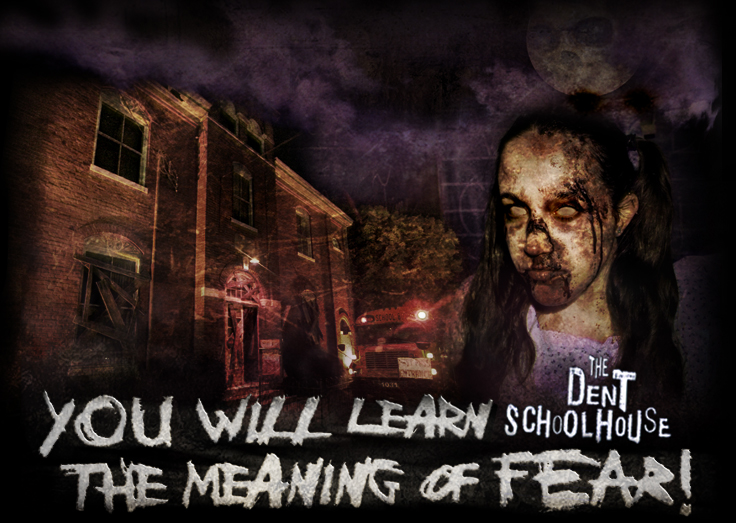 3.Dent Schoolhouse-Cincinnati, Ohio
We don't know if it's real history, or history made up for the haunt, but the Dent Schoolhouse was a real schoolhouse. The story goes that 30 children slowly disappeared from the school. No one suspected anything being involved at the school…but when the rotting smell came up, the janitor dismissed it as a pipe back up. After 7 more students went missing, a mob stormed the school and discovered the bodies of all the missing children in the basement. Now we're not sure if that story is real…but dammit does it make for an intense tale about a haunted house. That tale carries over to two main haunts and some of the scariest, most frightening experiences you'll ever have.
Visit the official site for more!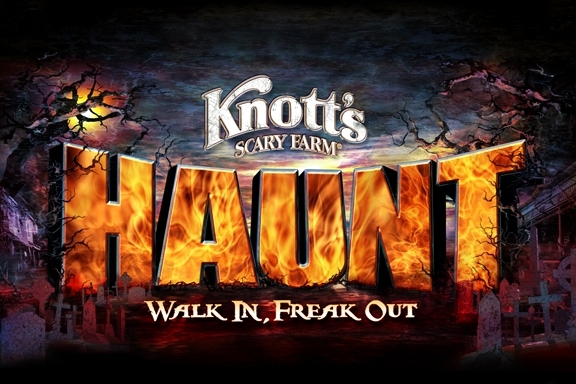 2. Knott's Scary Farm
For 41 years Knott's Scary Farm has been scaring the spit out of guests who think they're at Disneyland. With tons of haunted mazes, loads of scary and funny shows…and this year Elvira and her big and bouncy…personality makes Knott's one of the most see haunts, that's so big you can't do it all in just one night! Read our review here!
But what set's Knott's apart this year are the huge new haunted mazes. Take a look at one of their best, Black Magic

Knott's has been doing so many different haunts for so many years, that they set the standard in techniques and attractions a long time ago.
Visit the official Knott's Site for more info! 
1.Halloween Horror Nights Orlando
We've made it. You're finally at the end…but that's not always the best thing, because here at the end you see what evil has taken root. This year Halloween Horror Nights 23 at Universal Orlando features 8 of the most inventive, and must see haunts. From American Werewolf in London, to the Cabin in the Woods and The Walking Dead, even the haunting tale of La Llorona, each one of these houses are must sees.
Take a look at the undead in The Walking Dead:No Safe Haven with our full house POV walkthrough!

But it's not only the houses. This year the street experience is crawling with The Walking Dead. Watch as survivors get eaten alive by Walkers in the streets of Atlanta.

While this year has no defined story, no icon linking everything together, it IS the houses that make the difference this year.
Read our full review here!
Add in Bill&Ted, Rocky Horror Picture show, and houses that change every year and you can see why they have won the Golden Ticket Award for best haunt six years running.
Visit the official site here!
So what haunts are on your Must see list this year? Let us know in the comments below!
Be sure to follow along with us on Twitter @BehindThrills for the latest info!