It's the most wonderful time of year at theme parks around the world, each showing off their beautiful holiday décor, and SeaWorld San Diego is no acceptation. The entire park has had it's halls decked out for the holidays despite heavy construction on the all new 2014 addition of Explorer's Reef. We were invited to come down and visit the park on Friday evening to check out the Holiday offerings for this year as well being given a preview of some of the food offerings hosted by the parks Executive Chef Axel Dirolf. SeaWorld SD is known for having a menu that far exceeds most typical theme park offerings and this holiday season the chef has premiered some all new dishes for the parks guests to enjoy. While at the park we attended an intimate dinner where we were able to directly interact and talk with the chef about many of the offerings.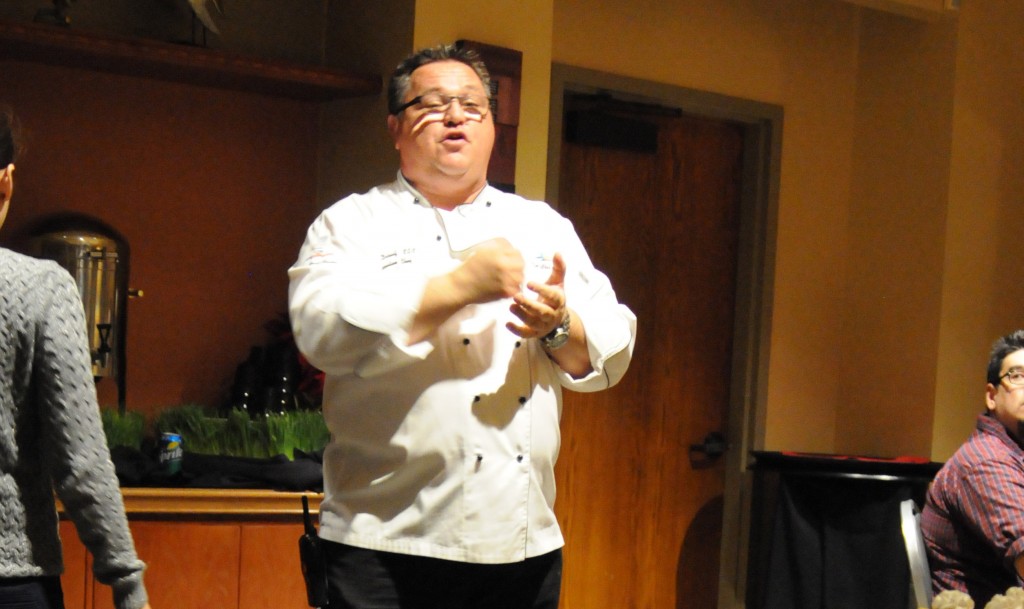 At the private dinner, various media and bloggers were offered an array of gourmet food offerings including pulled pork sandwiches, multiple variations of mac and cheese, pork skewers, duck rolls which can all be found in various locations throughout the park. It's no wonder SeaWorld San Diego has such high standards when it comes to food. It seems that Chef Axel Dirolf will settle for nothing but the best and that is very evident in the food we were offered. It's not what you would expect from a theme park. "Everything found in the park is fresh and made directly in front of the guests, we don't hide anything", the chef told members of the media Friday night when he was describing his influences on park food.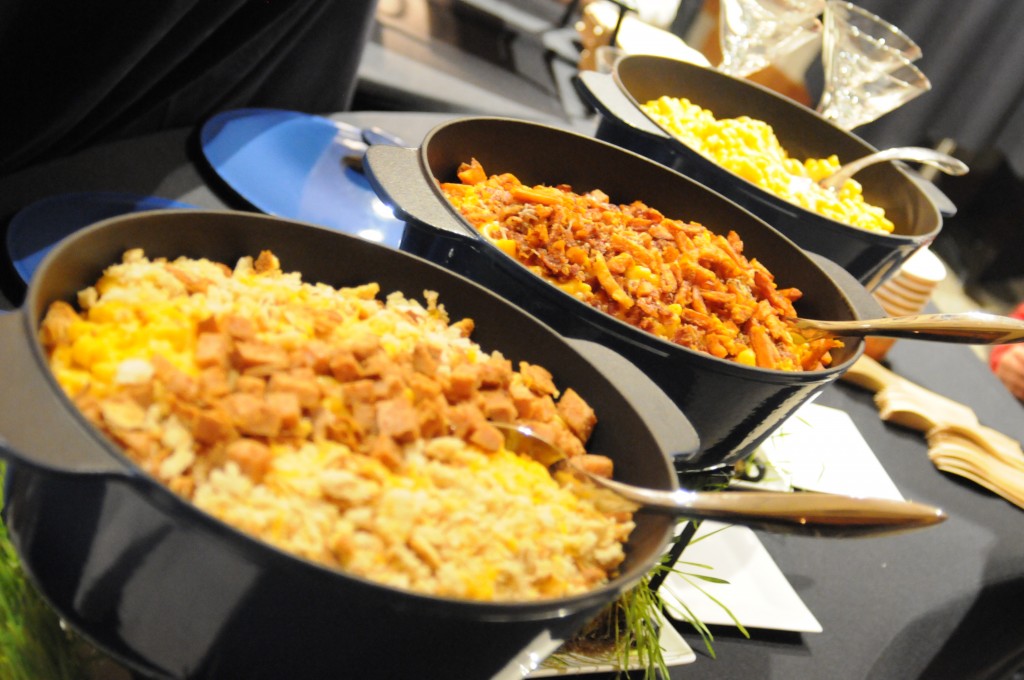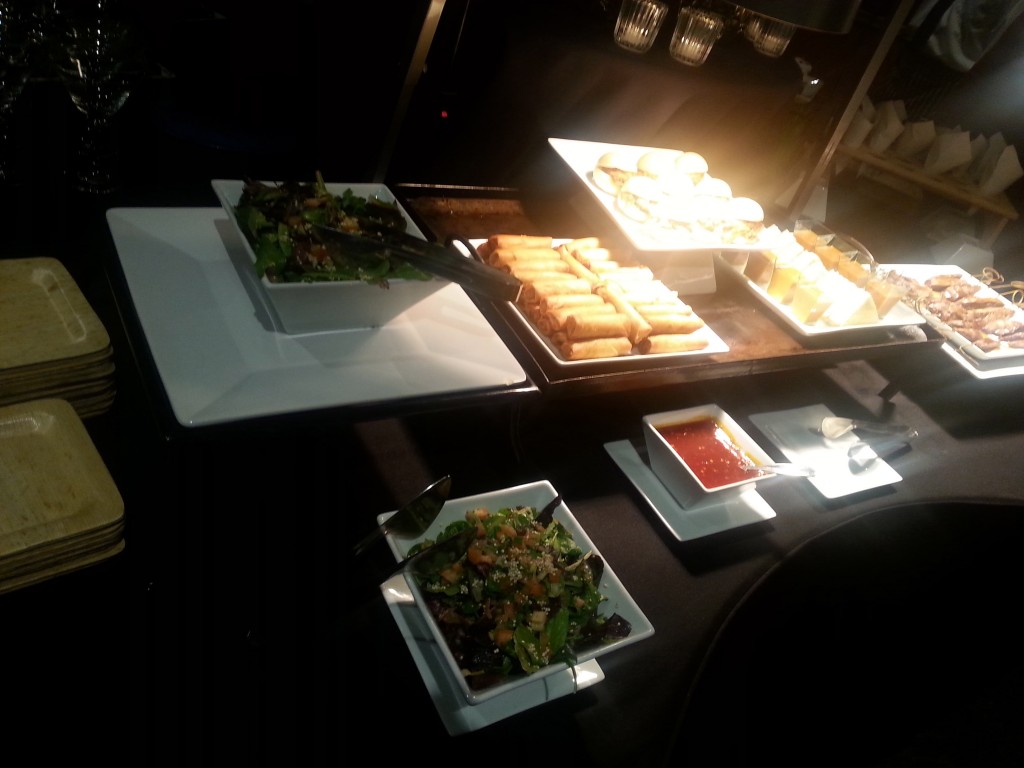 Of course it wouldn't be a proper dinner without desert! Cupcakes and an assortment of fudges were given to us and they were all very good!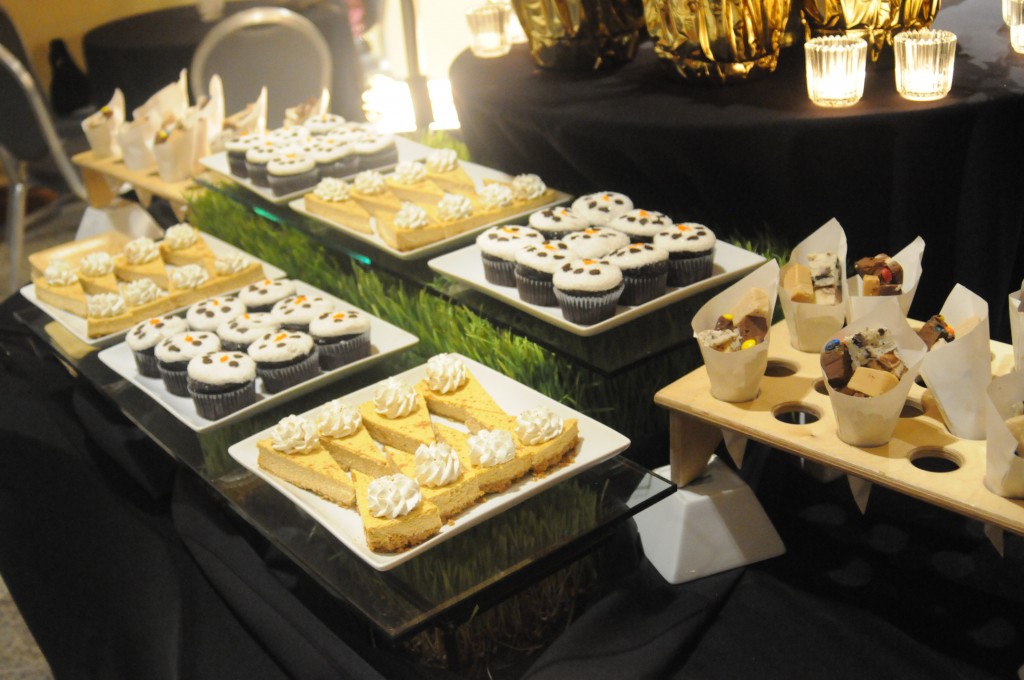 The dinner was short and sweet and we were allowed to explore and check out the holiday offerings for the rest of the night. Even the park's temporary entrance has been adorned by garland.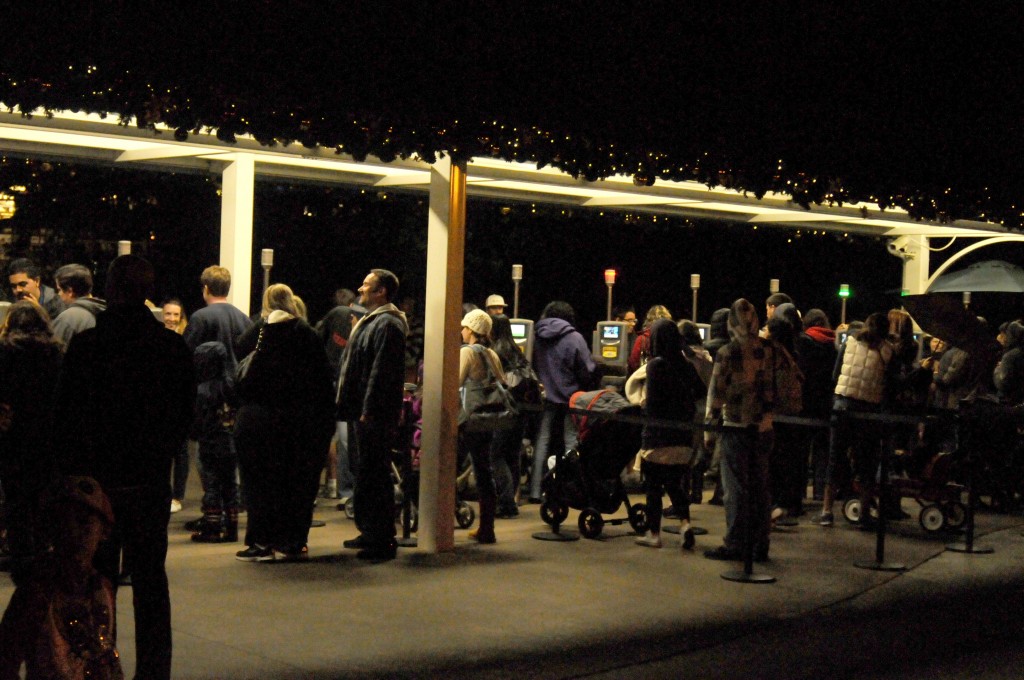 Once you enter the park you're greeted by a very fun musical LED Christmas tree.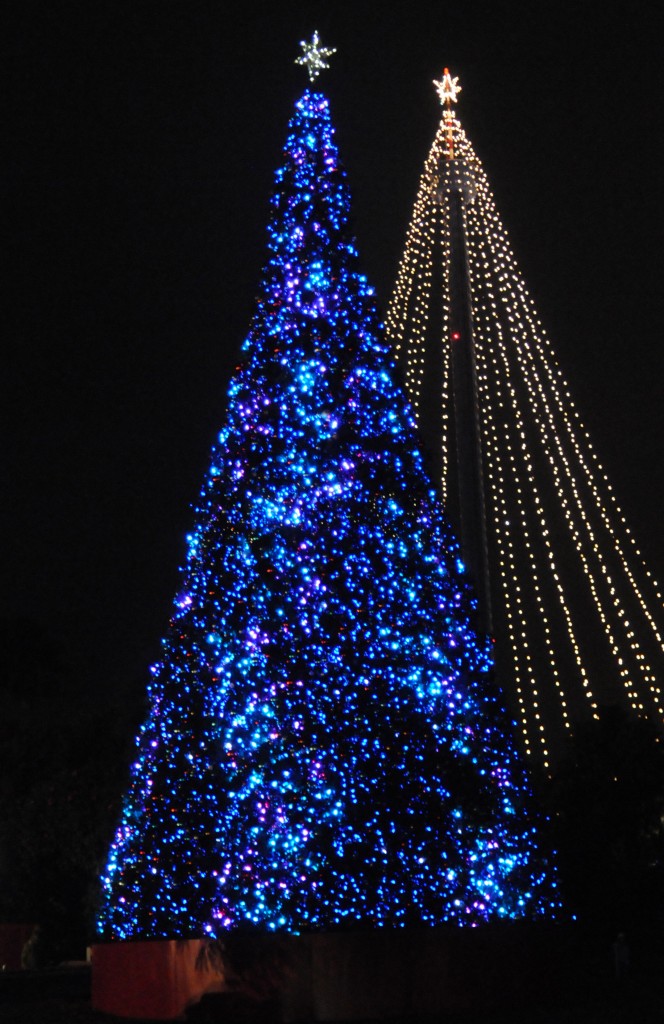 Enjoy a clip of the musical tree here.
www.youtube.com/watch?v=2KFVK2E9gfs
The park has been literally decked out for the holidays. There isn't a single spot where you don't see the influences of Christmas.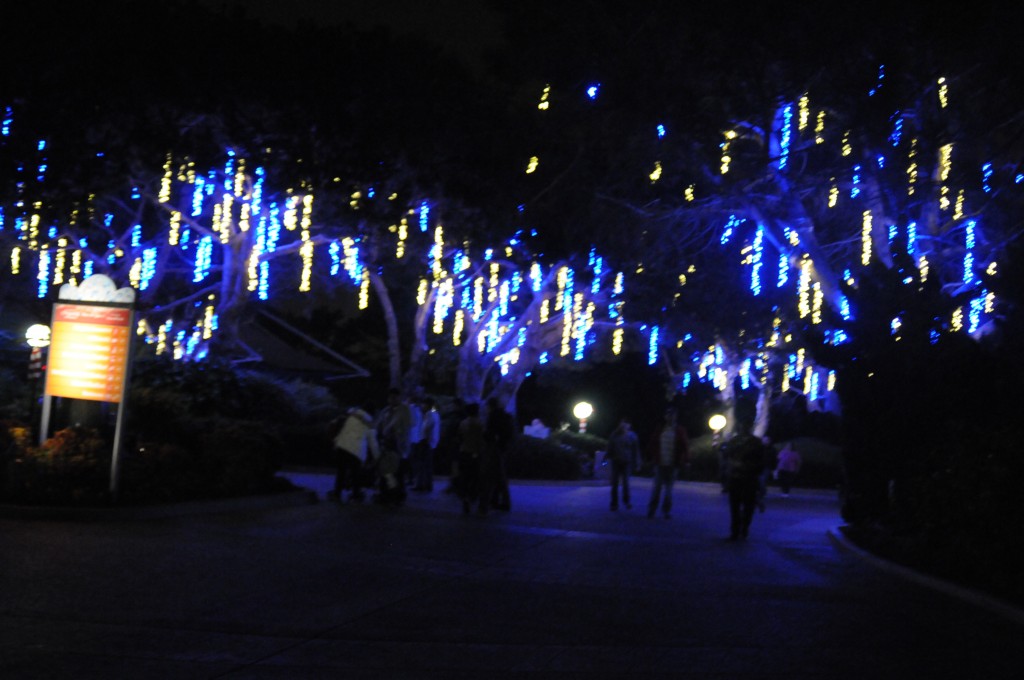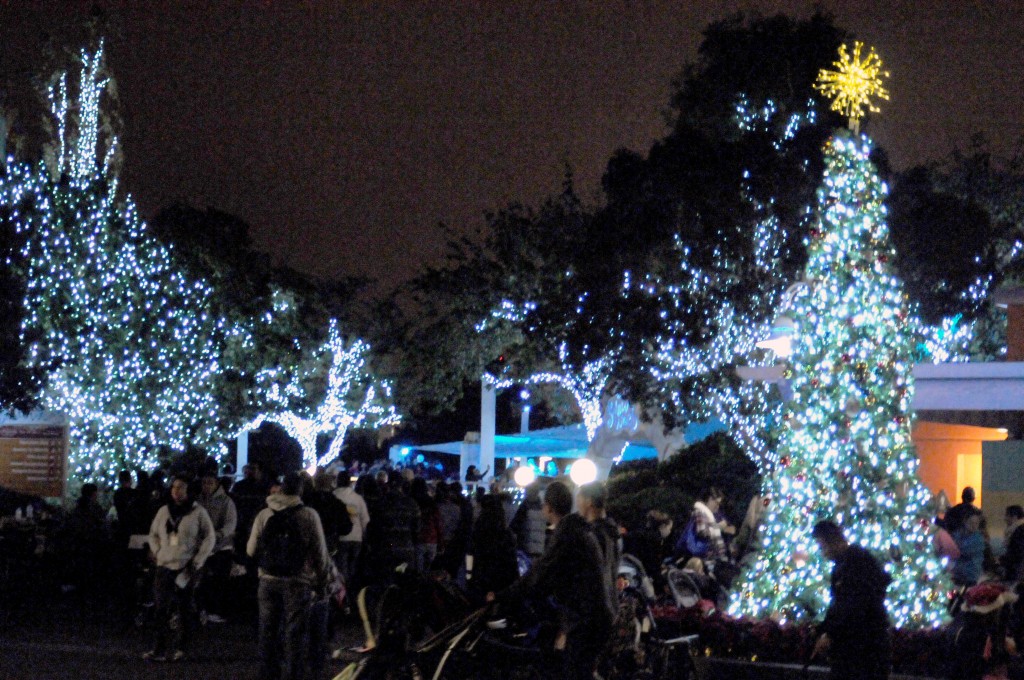 From the gift shops to the midways, even Manta has become a slightly new holiday experience as hundreds of Christmas Trees line the back section of the track.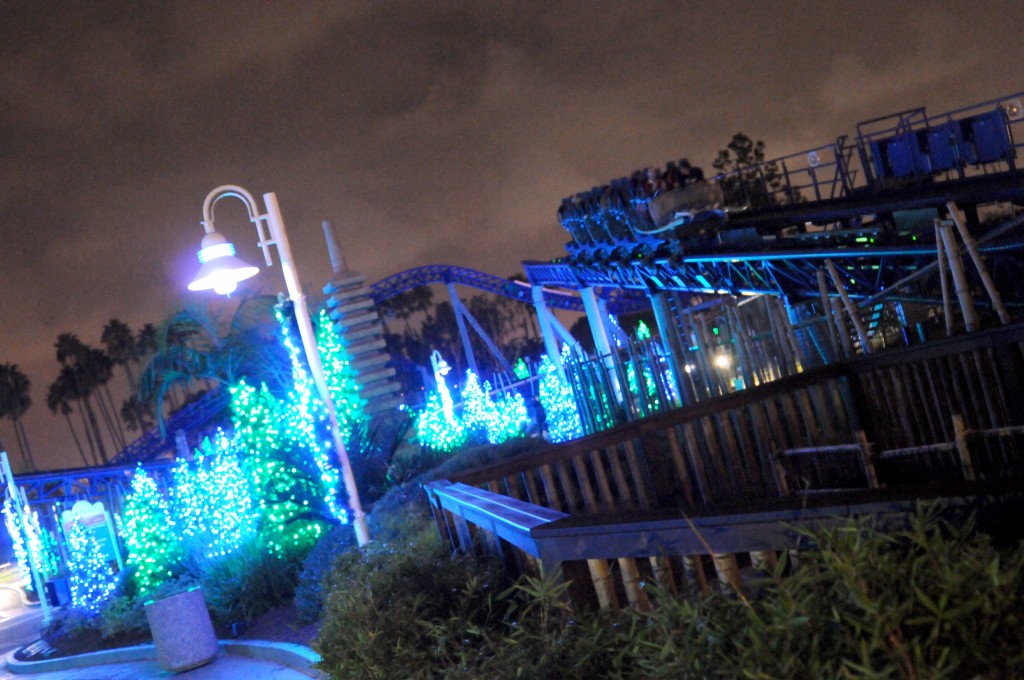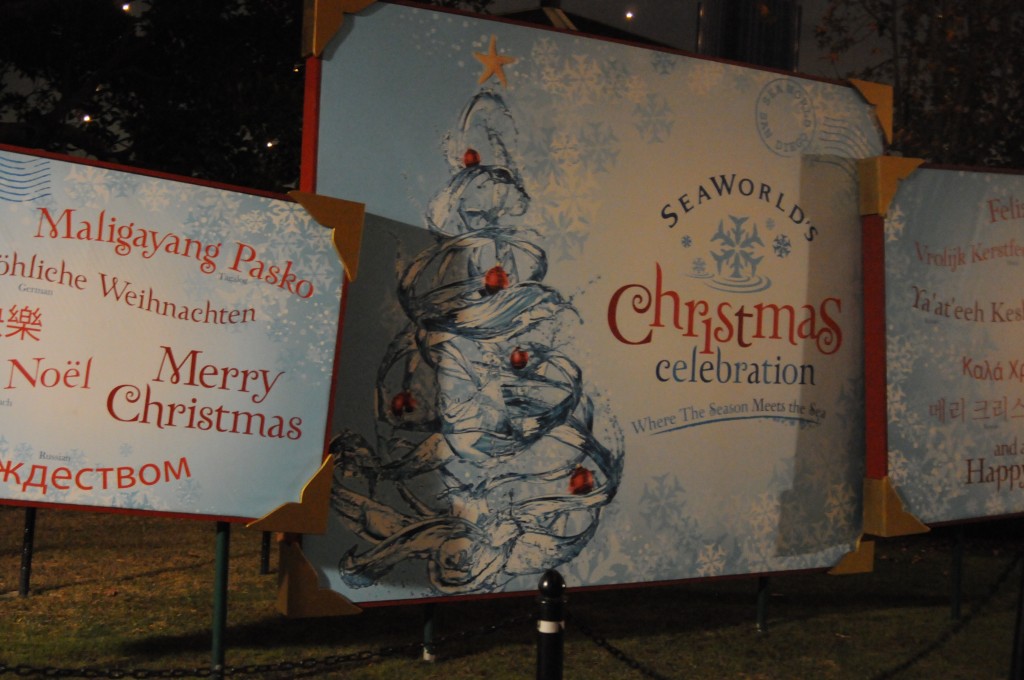 Lots of holiday cheer to be had during the holidays including the iconic 320-foot Tree of Lights.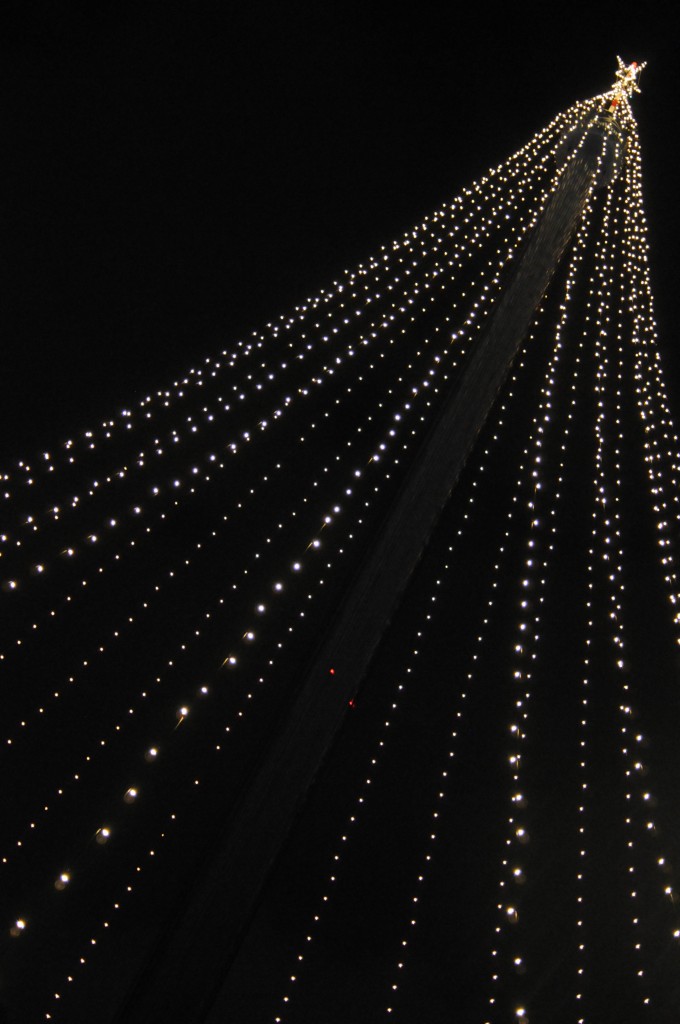 Two highlights of the Christmas Celebration at SeaWorld are Santa's Cottage and Snow World. Upon entering the park you come across Santa's Cottage, a very European inspired mini-land surrounded by live Christmas Trees. The area features Santa's reindeer In training, meet and greets with various characters A Santa's sleigh photo op, cookie baking and of coarse a meet and greet with the big man himself.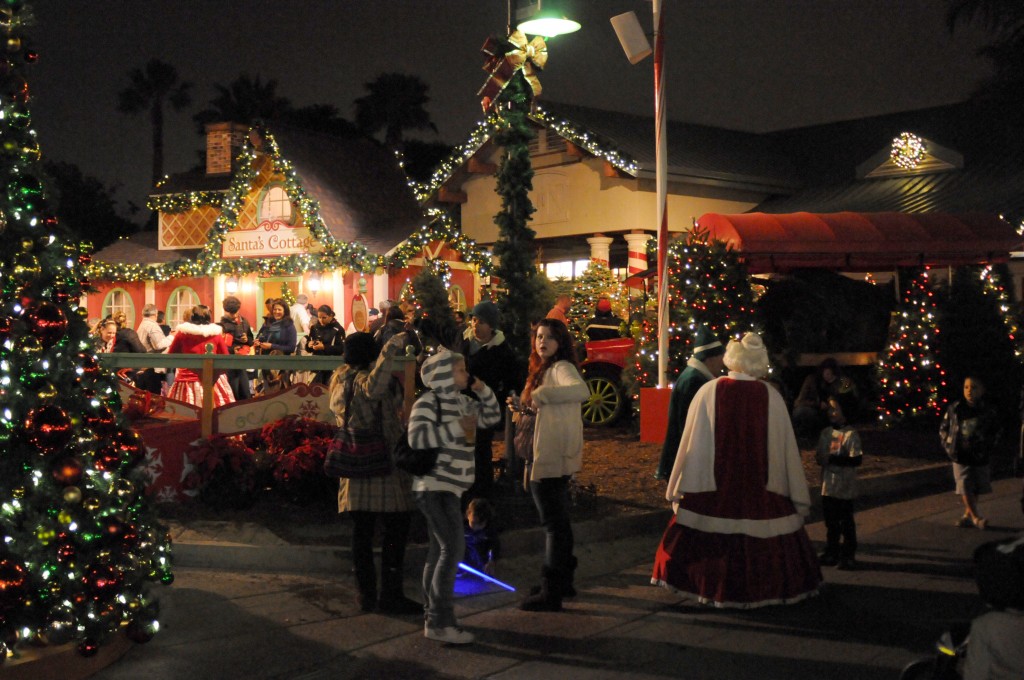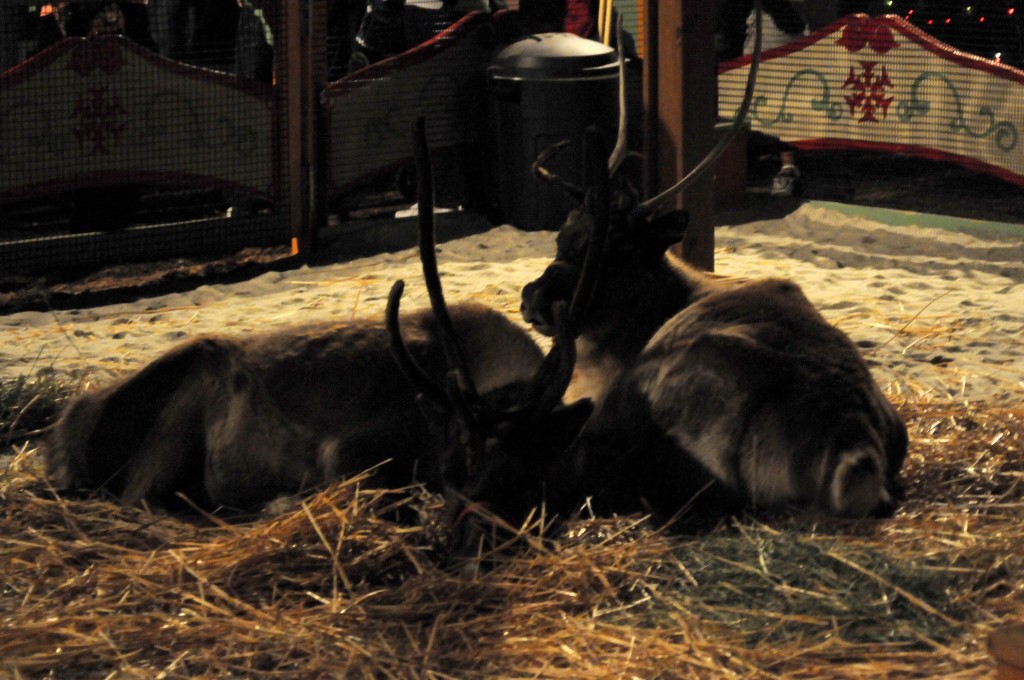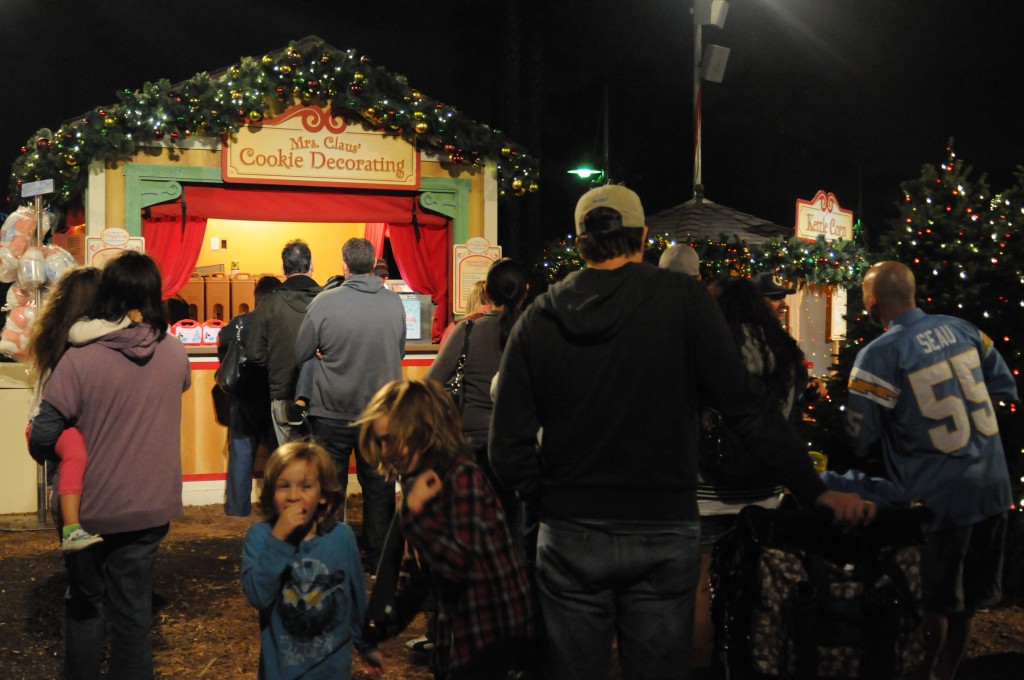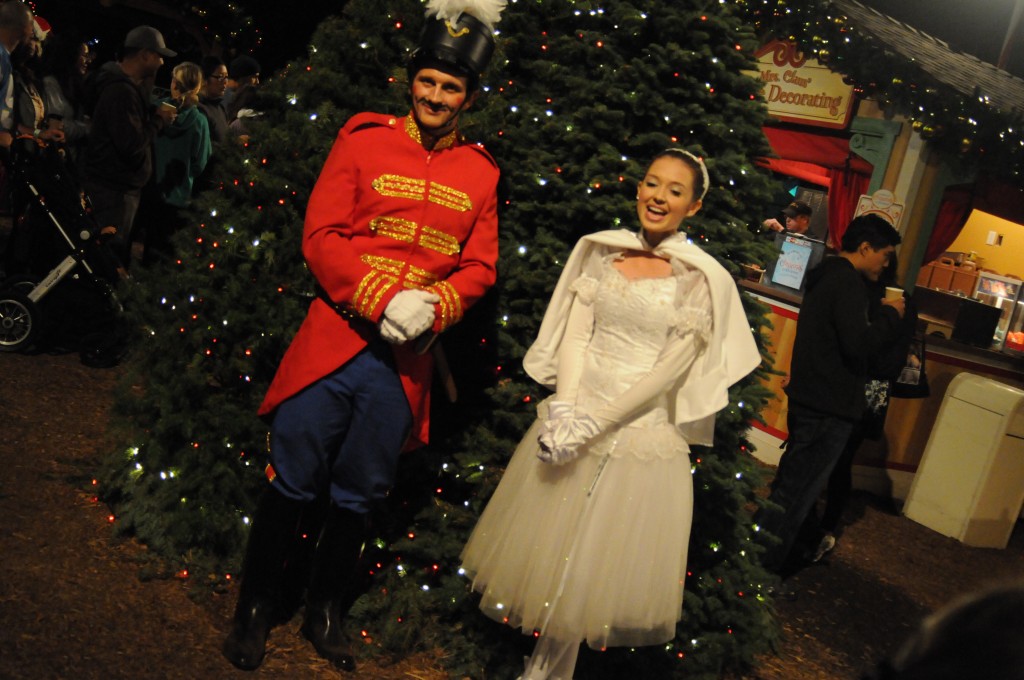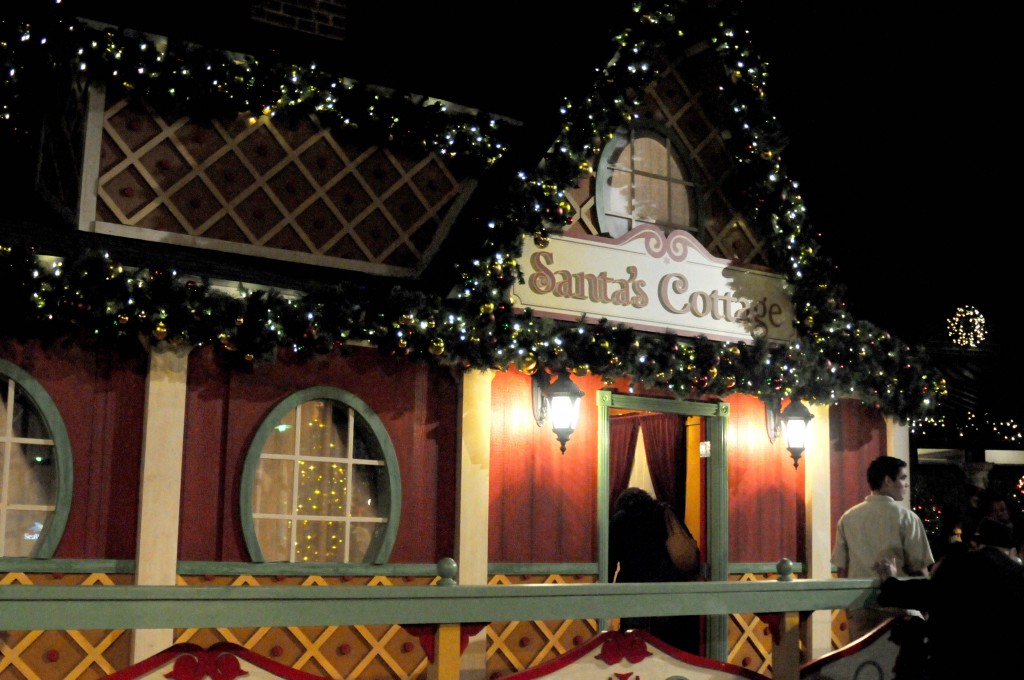 And of course this year marked the return of the popular Snow World area, a large scale now play area that includes a sledding hill, more holiday food offerings and lots of other activities.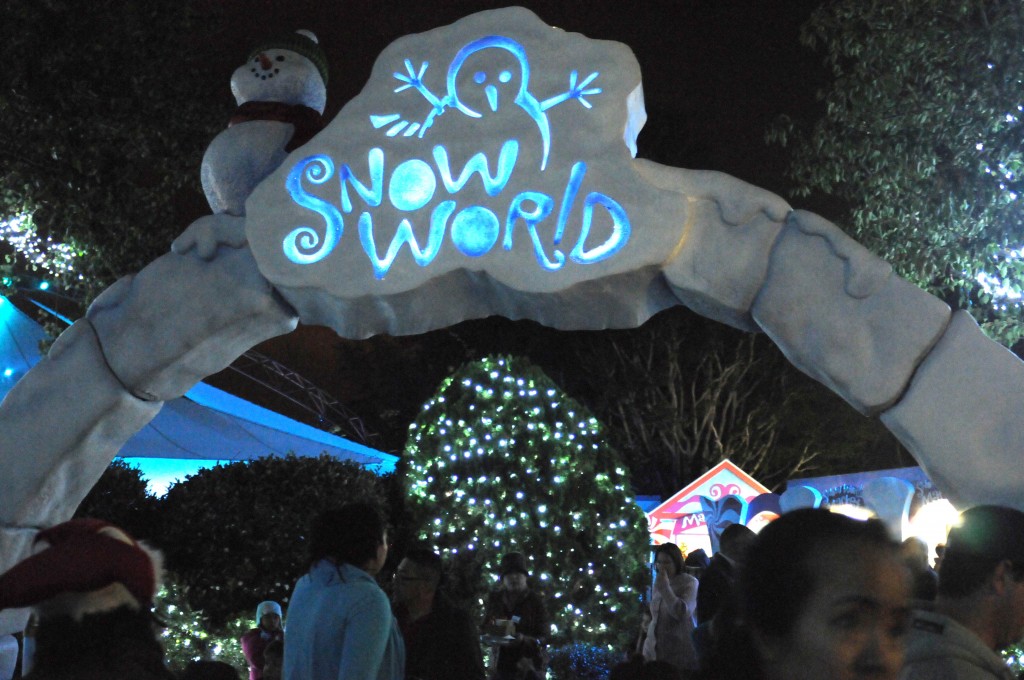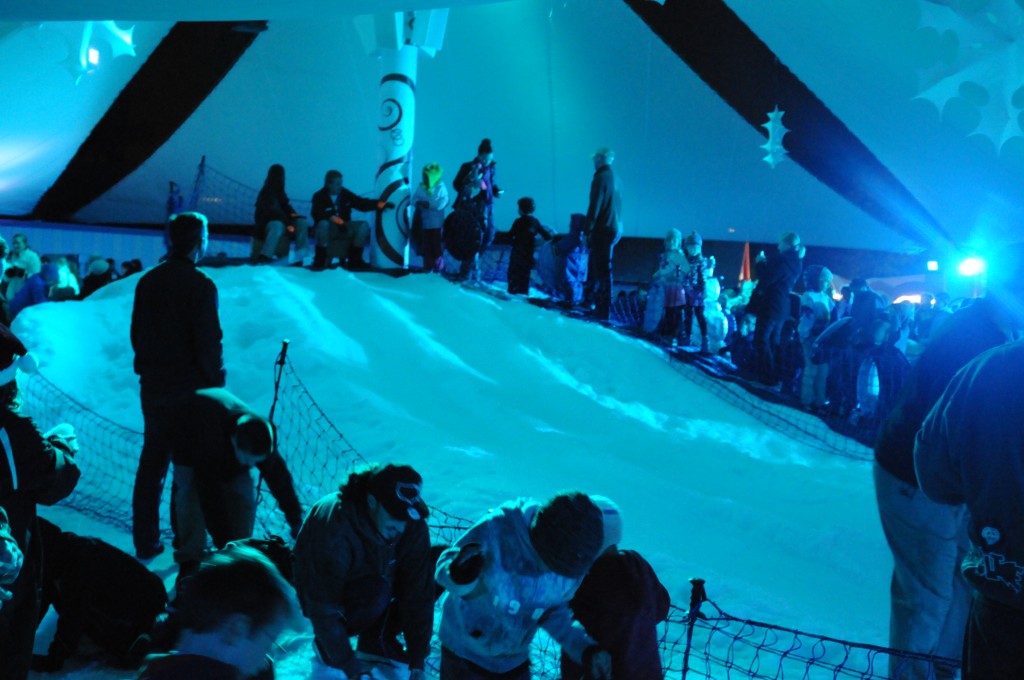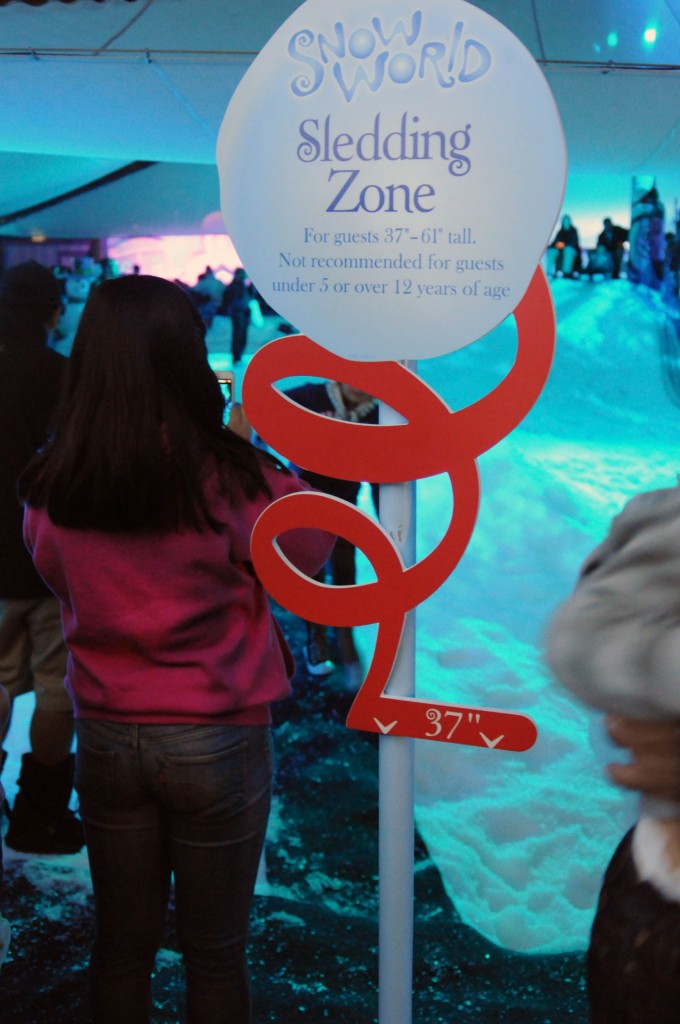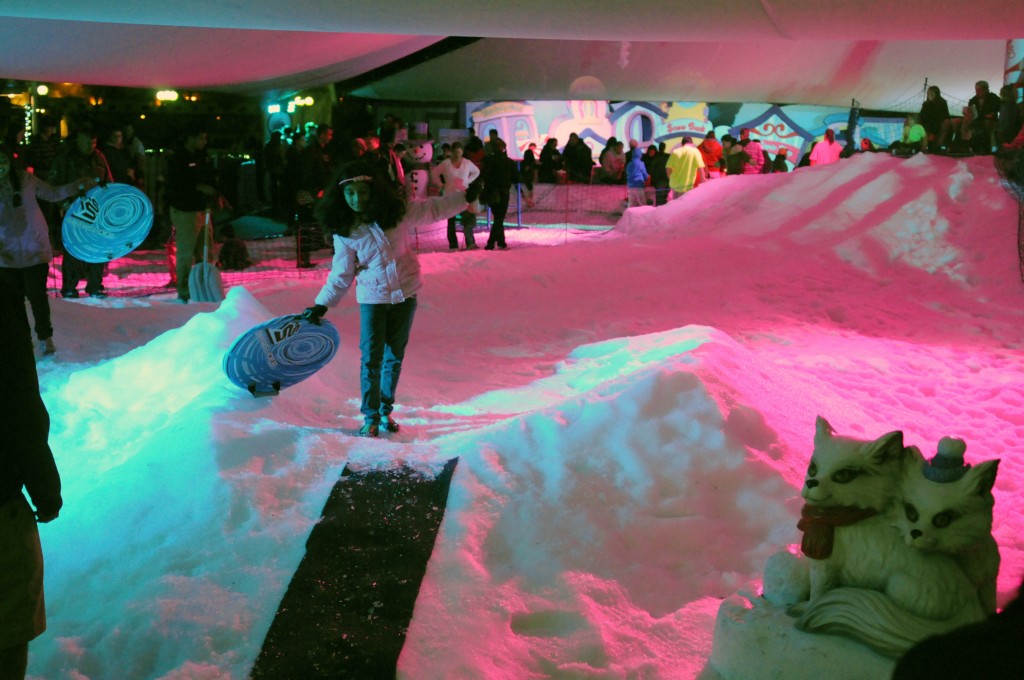 In terms of entertainment and the new holiday offerings, I only had time to see Shamu's Christmas which is the best way to end your night at SeaWorld San Diego, the show is just as lovely as it's ever been. No large changes have been as far as I am aware. You can check out this year's edition below.
www.youtube.com/watch?v=BOfFCvcUayU
Other holiday shows that can be found during the holidays include Clyde and Seamore's Christmas Special, and Madagascar Live! Operation: Christmas Vacation which are being offered on select nights the holiday season.
If you're looking for a traditional, old school holiday outing on a grand scale then SeaWorld's Christmas Celebration is the place to go. It's not trying to promote or advertise characters, it's just plain classic holiday fun for the whole family. Despite heavy construction the park was also able to continue their huge Christmas event without making any major cutbacks or alterations, something many theme park fans can appreciate. We want to thank the SeaWorld crew for inviting us out and look forward to coming back to check out the rest of the holiday offerings.
SeaWorld's Christmas Celebration runs from November 16 – January 4. For more information and where to buy tickets please visit the official webpage here. http://seaworldparks.com/seaworld-sandiego/Christmas
Get social with us!
Follow us on Twitter @BehindThrills and like us on Facebook @BehindThrills.