The boy who lived is getting an all new themed area at Universal Studios Florida. While Diagon Alley will most definitely open in 2014, an exact date as to when we'll see Trains, dragons and goblins become a permanent fixture at Universal Orlando is still up in the air. With the release of the 3rd Quarter Earnings report from parent company Comcast, however, we can now narrow that down just a little, and planners can pull out their Marauder's Map and start planning everything out!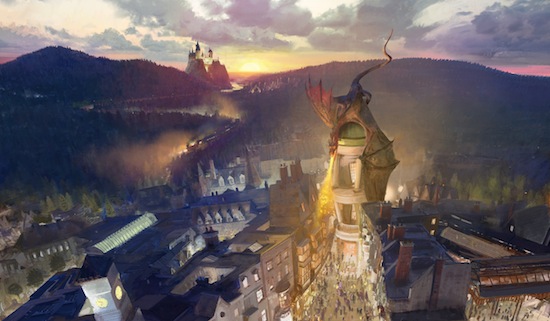 On Thursday, Comcast Executives shared several key details about Universal Orlando in a conference call with investors and analysts, according to Orlando Business Journal. Among those details are the facts that the Universal theme parks are a good business match for Comcast. The parks are bringing in a good cash flow, thanks in large part to Universal's aggressive build schedule on projects like Transformers, Springfield and Despicable Me. Other key notes from thw conference call include the fact that Universal plans on keeping this momentum going in the future, and growing the properties that they have. While executives did not mention the new deal with Legendary Pictures, or the rumored partnership with Peter Jackson and the Lord of the Rings franchise, it stands to reason that any new attractions based on those properties would be included n future investments.
The real question on everyone's mindn however is when will Diagon Alley open at Universal Studios Florida. The conference call reaffirmed that the new section will open "shortly after Cabana Bay Beach comes online" in Spring of 2014. When exactly will that be? During a preview of the all new 1,800 room resort being built by Universal and Lowe's Hotels this past June, we were told to expect a first quarter 2014 opening.
That means that we could expect a March 2014 opening of Cabana Bay Beach, and a possible Memorial Day weekend grand opening of The Wizarding World of Harry Potter:Diagon Alley. The first Wizarding World section opened in late spring of 2010, June 20th (one day before the Official start to summer to be exact) so it's a possibility that the new section could share that date.
With the speed of the project, and the rumored round the clock construction, it's very likely that Diagon Alley could see a April or May opening.
Not a very definite date, but at least it's some kind of target.
Speaking of Harry Potter, the new section is rumored to contain an all new coaster that will feature a whole new array of elements never seen before on an existing coaster. While Dynamic is not the company who is rumored to be building the new coaster, this video showcases what we could possibly see on the all new Gringott's Mine Coaster.
https://www.youtube.com/watch?v=r56nK9PwtEo&feature=youtube_gdata_player
Again, this is not the company rumored to build the coaster, but just an idea of what might be expected.
Diagon Alley is expected to open at Universal Studios Florida in 2014. Be sure to stay tuned for all the latest information as we hear it.Also folllow along with us on Twiiter @BehindThrillsfor the latest updates.
For more information about the Wizarding World of Harry Potter, including tickets, visit the official website by clicking here!