When you're talking about a perfect escape to paradise, where it's always 5 0'clock and the drinks are flowing, you really can't get any better than Margaritaville. The restaurant is the destination for all Parrotheads, or those who simply love the carefree lifestyle of owner Jimmy Buffet. Hard to believe, but it just got better as Margaritaville Orlando just rolled out with an all new menu, featuring 15 new or updated offerings. From fresh seafood, to bigger juicer steaks, and even bites and boat drinks, the new menu has a little something for everyone, and a volcano full of flavor. We take a look at the new menu, and soak in the atmosphere of Margaritaville at Universal Orlando's Citywalk.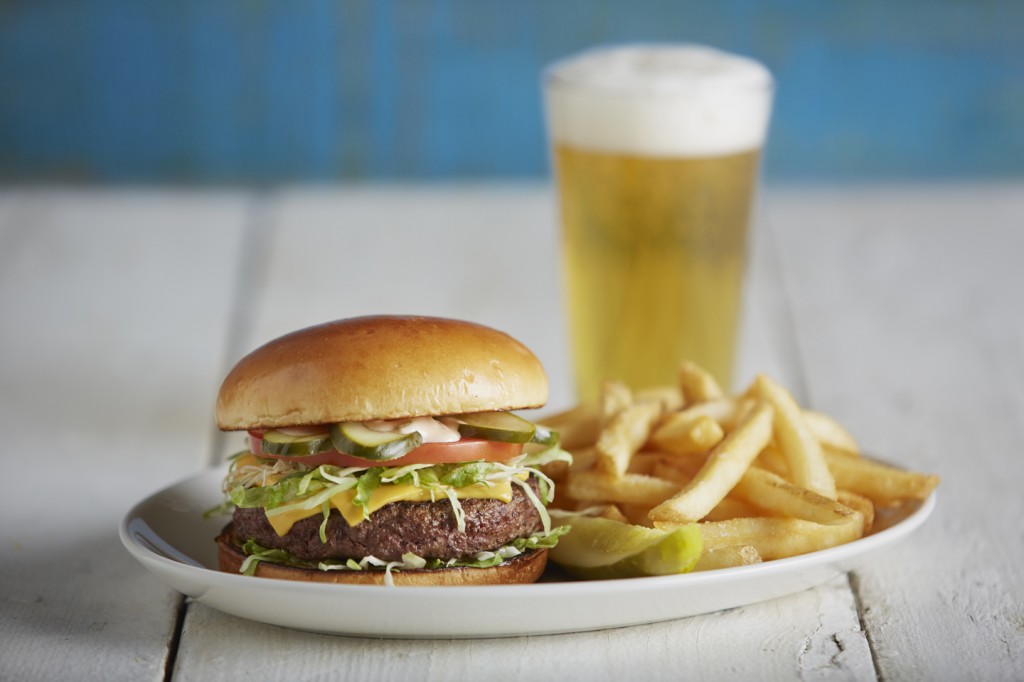 While a good portion of the menu has changed, the staple of all who venture into Margaritaville hasn't gone away. The Cheeseburger in Paradise, named for the famed Jimmy Buffet song, is still on the menu, only now it has a little something extra. It features an all new Paradise Island sauce that gives it a little more zing than before. But we're getting ahead of ourselves!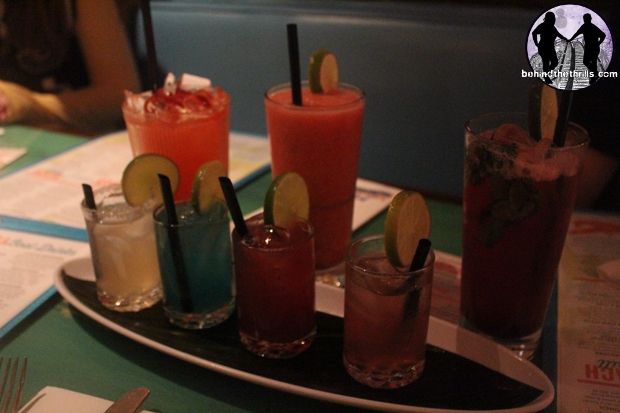 The perfect start to any meal at Margaritaville is, of course, with Boat Drinks! A few all new drinks have made their way on to the menu, including new margaritas like the Blueberry Pomegranate Margarita. Many of the new drinks (as well as some old favorites) can be made in "virgin" form for the kids, or non drinkers. The other new addition, that we absolutely loved was the Margarita Flight. Four "sample" sized margaritas of all different flavors, including our favorite Blueberry Pomegranate. It's a way to sample everything and enjoy a great drink. The new drinks are full of flavor, using fresh fruit and ingredients like fresh mint, adding to the already potent flavor.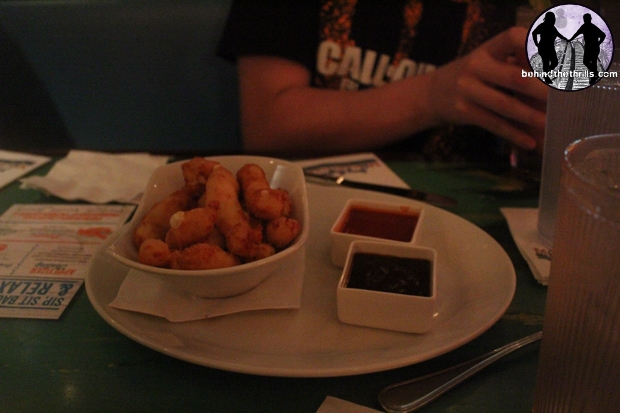 Appetizers have taken a decidedly more delicious turn, with new takes on old favorites. White Cheddar Cheese Curds look like ordinary cheese sticks, but are very lightly battered and so unlike the traditional mozzarella cheesesticks that it takes you by surprise. The curds are served with traditional marinara, and Landshark Lager BBQ sauce. The other amazing appetizers include a drunken shrimp skillet, marinated in tequilla butter and Asagio Crab Dip. Both are great for sharing, though with the creamy crab dip, you may want to get a bowl to yourself.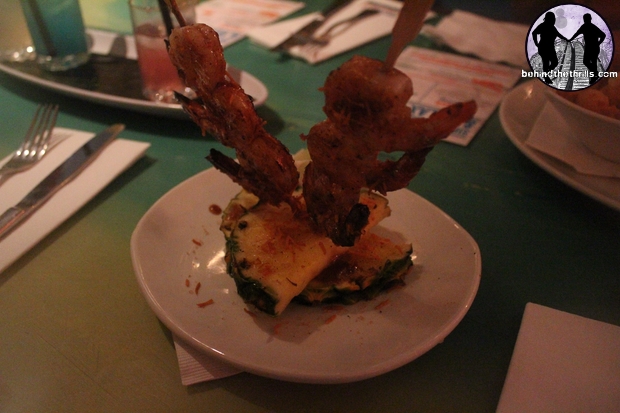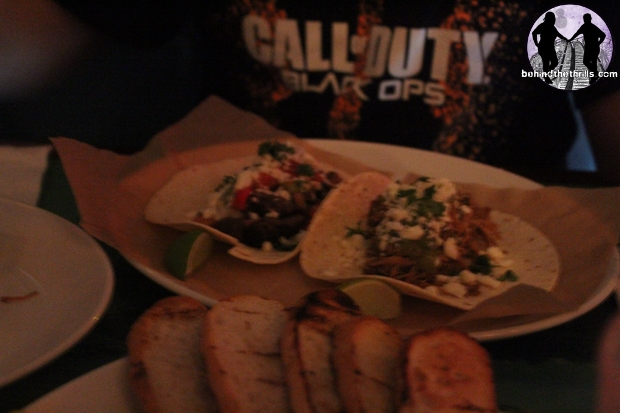 Another new feature on the menu is the inclusion of the all new Bites section. The Bites menu takes guests back to the old fashioned beach bars, with small plates and portions of freshly prepared quick eats. Grilled shrimp skewers with a tangy jerk sauce and crusted with coconut are absolutely to die for, as are the beach tacos. Beach tacos were a huge hit with our crowd, and can come with your choice of chicken, steak or pork. Fresh cilantro and crumbled blue cheese make the flavors absolutely pop.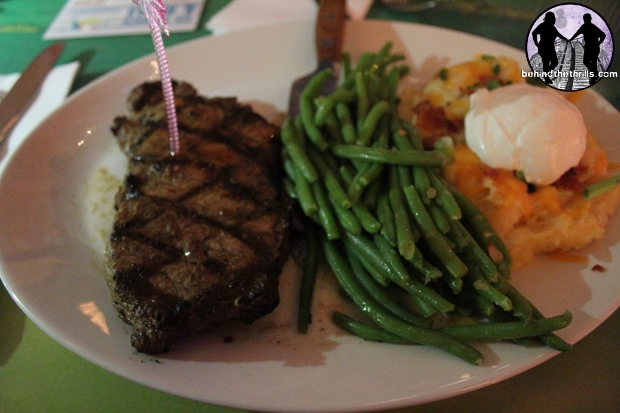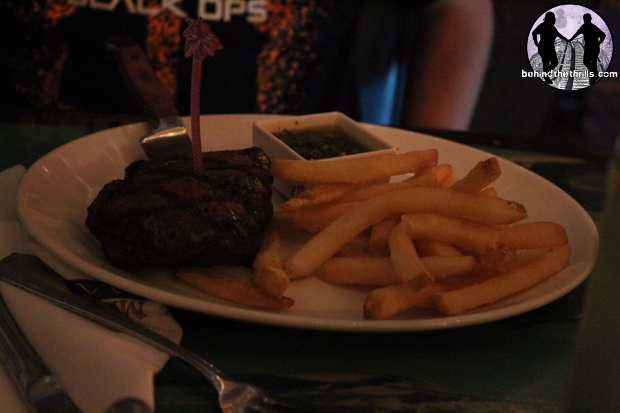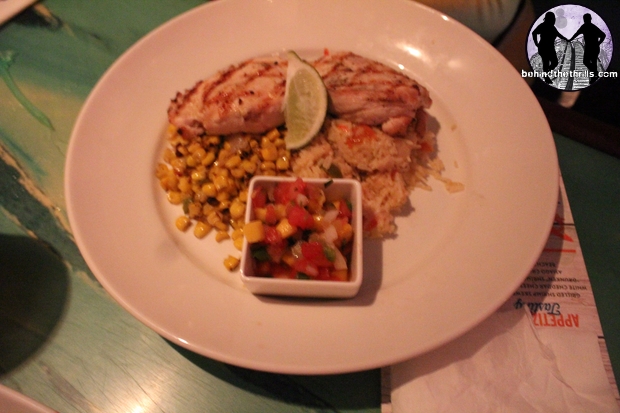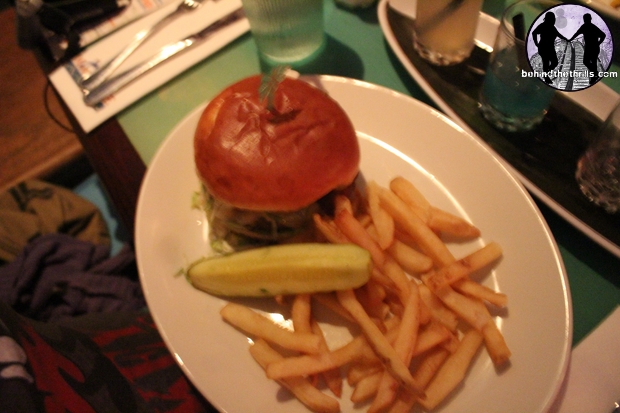 All new entrees are also overflowing with flavor. While a lot of the new menu is seafood, some just aren't seafood lovers. Margaritaville has put a new spin on some old favorites. New York Strip Steak, and potatoes topped with Applewood bacon and cheese is a spin on an old standby. If you want more Latin Flair to your steak and potatoes, the Chimichurri Flat Iron Steak is a flavorful take on a Latin classic. Then of course plain grilled chicken, which could be no fun. Margaritaville makes it pop with mango salsa, rice and fire roasted corn. If you're in the mood for a burger, the all new Rancho Deluxe burger is topped with Monterey Jack cheese, bacon and ranch sauce. Other new menu items include a Landshark Lager battered fish and chips, Shrimp Trio and a delicious seafood mac&cheese.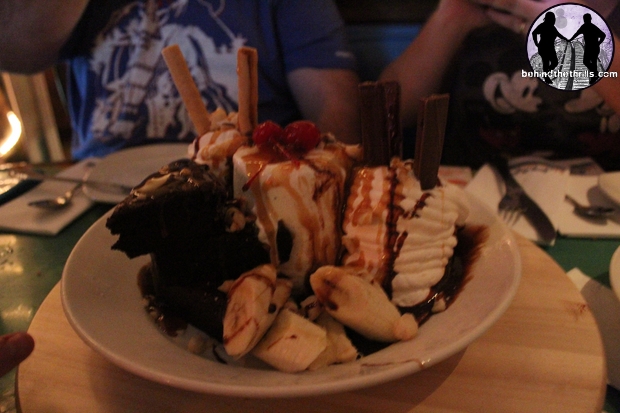 No meal would be complete without something sweet to top it off. Perhaps you just want to skip the meal and go straight for sweet? Either way, You're covered with delicious new offerings. Key Lime Pie is a Florida standard, and there's not really any better than Margaritaville's own slice of heaven. Made with fresh Key Limes, and a graham cracker crust that just pops. There's also an all new Chocolate Banana Bread Pudding…yeah, wrap your brain around that. It's unreal, and delicious. The other huge new dessert is the Chocolate Hurricane, pictured above. The wait staff comes out to your table with a lazy Susan, and a plate full of brownies, bananas, a pint of ice cream, a good chunk of whipped cream, kit kats, cookie pieces, and then….the hurricane starts churning. Chocolate and caramel are drizzled to perfection all over the dish. You may have had desserts that throw everything at you like a kitchen sink, but this takes the cake…and makes it better, but using such fresh ingredients that the flavor in it just pops.
Want a little more? Take a look at this week's BTTWeekly for a tour of all the delicious food, and a chat with Executive Chef Dan Murray, who helped to make all the new flavors possible.
The all new menu will be coming to all Margaritaville restaurants, and it's just one of the many new options coming to Universal Orlando's Citywalk within the next year. The area is undergoing major renovations, with several new projects under construction right now. While you'll have to wait for all of those, Margaritaville is open now with their all new menu, just in time for the Holidays. What better way to celebrate the holidays than with Boat Drinks, great friends and some non-traditional eats?
Check out even more pictures from around Margaritaville:

Of course, you can have all the best food and flavors in the world that you want, but if you have bad service, the whole experience can be ruined. It's that very key factor that make Margaritaville stand out. Our server was very attentive, even though it was a busy Friday night. She took her time to make sure that we knew the new items on the menu, and most importantly kept the drinks flowing with a smile. Yet another reason to make Margaritaville stand out for the holidays.
Stay tuned as we bring you more holiday good eats, and be sure to follow along with us on Twitter @BehindThrills for the latest!
For more information about Margaritaville at Universal Orlando's Citywalk, including reservations and gift cards, visit the official website by clicking here!