The Macy's Thanksgiving Day parade is an 87 year old tradition that families share, with tons of balloons, floats and surprises. This year SeaWorld is launching a surprise all their own at the Macy's Parade! In fact, SeaWorld will launch a sea of surprises next year, but not before the debut of their all new float during the holiday tradition!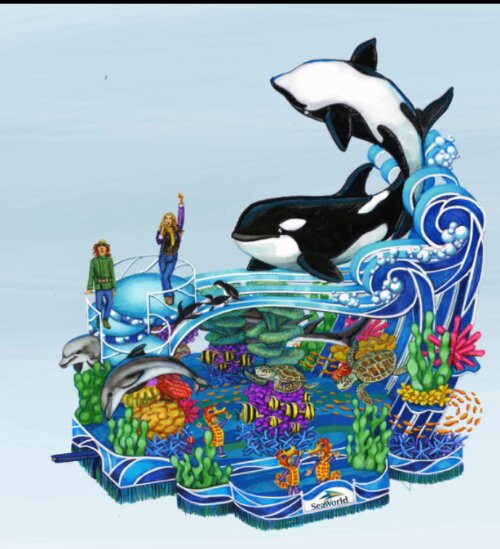 The all new Sea of Surprises float will make it's debut this Thursday during the 87th annual Macy's Day Parade.
"We are thrilled to debut our SeaWorld "A Sea of Surprises" float in the Macy's Thanksgiving Day Parade as a tribute to SeaWorld's 50th celebration," said Jim Atchison, President and CEO of SeaWorld Parks & Entertainment. "Next year the parks will commemorate this milestone with a year-long celebration at the three SeaWorld parks in San Diego, Orlando and San Antonio. We hope this festive float represents the fun, inspiration and surprises that guests will find during a visit to SeaWorld."
Fish of many varities, sharks and sea turtles will adorn the all new float as it drives down the streets of New York City.  The centerpiece will be the Iconic Killer Whale Shamu, who has been entertaining and educating guests all over the world for almost 50 years. Shamu will be breaching through the waves at 27 feet above the streets.
"The magicians of Macy's Parade Studio have outdone themselves yet again with the awe-inspiring and entertaining design of the new SeaWorld float," said Amy Kule, executive producer of Macy's Thanksgiving Day Parade. "With its diverse and majestic depictions of sea creatures transformed into larger-than-life form, the 'A Sea of Surprises' float is sure to inspire millions of children and adults to learn more about, appreciate and enjoy all forms of aquatic life."
Next year SeaWorld will celebrate 50 years of bringing guests closer to the majestic animals of the sea. To celebrate, every single SeaWorld park will roll out several new surprises, including new attractions, shows and animal interactions.
The Macy's Day Parade will kick off at 8 a.m. thanksgiving day on NBC.
Stay tuned for the latest holiday cheer, and be sure to follow us on Twitter @BehindThrills for the latest updates!
For more information about the Sea of Surprises coming to SeaWorld, visit the official website by clicking here!