If you're looking for something to do on Black Friday that doesn't involve shopping or fighting crowds, Lowes Portofino Bay might have just the thing for you. This year they are offering "Holiday Harbor Nights", which includes food, wine, and music. It comes at a cost, but there will be plenty of food, wine, and a relaxing environment to get away from all the Black Friday chaos.
Holiday Harbor Nights will be taking place on Black Friday (November 29, 2013) from 6:30pm – 9pm at Lowes Portofino Bay (On Universal Orlando property). The event will include savory food, select wines, complimentary hand-rolled cigars, and live entertainment – a band called I-4. Guests will also be able to experience the illumination of the Portofino Christmas Tree under the majestic lighting of the Harbor Piazza.
Here is the Holiday Harbor menu: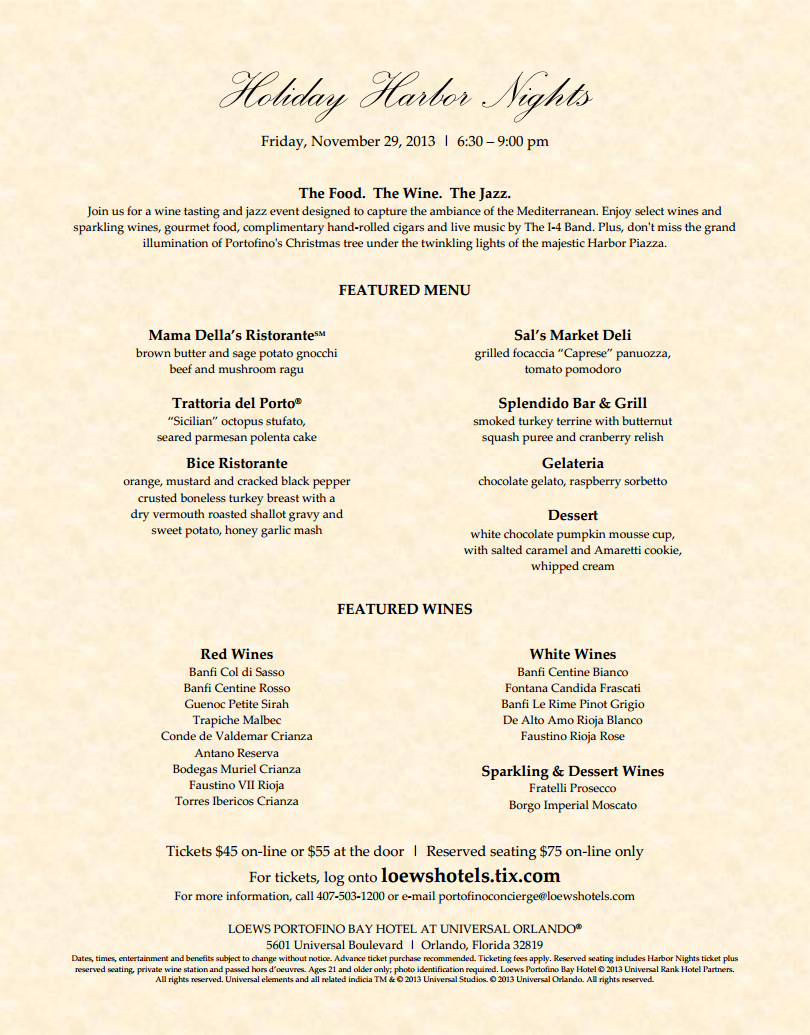 Tickets are $55 at the door, but you save $10 when you purchase your tickets in advance online or over the phone. You can purchase your tickets for inquire for more information by calling (407) 503-1200 or by clicking here. Attendees must be 21 years or older to attend.
Get social with us!
Follow us on Twitter @BehindThrills and like us on Facebook @BehindThrills.
For more information about Universal Orlando, visit the official website by clicking here.
Need to get tickets? Click the banner below to get your tickets today!