Christmas Town at Busch Gardens Tampa is back this year for more wintry, Yuletide fun as the holiday season swings into full gear. The surprise hit of the Christmas season from last year is back this year, and is bigger, better and snowier than ever. On Friday, Busch Gardens Tampa opened the Christmas extravaganza, with a larger Snow World, more Christmas treats and of course more Santa!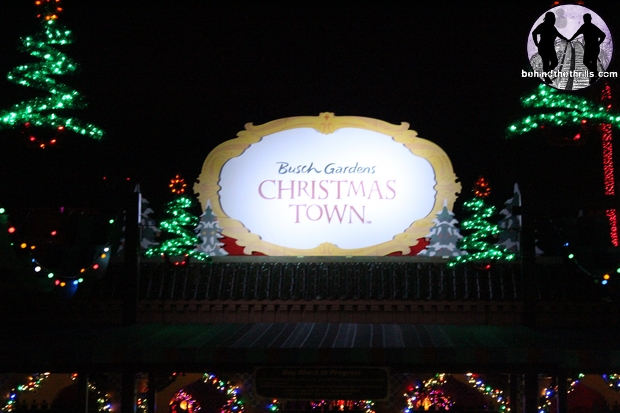 Last year Christmas Town surprised us with it's millions of beautiful lights, holiday themed shows, and just amazing amounts of Christmas cheer. The upcharge Christmas event engulfs the entire park, and gives guests a huge new playground full of new experiences after dark, full of Christmas cheer. From roving carolers, elves and elaborate stage shows, the event has more to offer than ever. Missing from last year, however, is the nightly concert by Christian group Jars of Clay and the Christmas show tunes by the Osmond family, but it's not missed or noticed with the amount of new shows and activities happening in the park.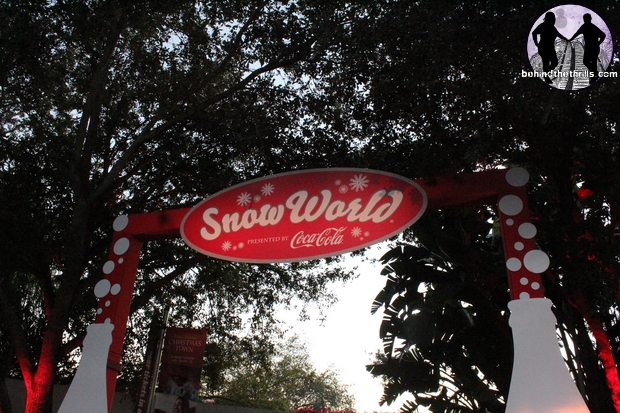 The biggest addition to the entire event is Snow World, presented by Coca Cola. Snow World was a very popular destination last year, with lines being huge at times. Snow World has expanded by leaps and bounds, and has taken some of the most popular aspects of the area, and made them much bigger.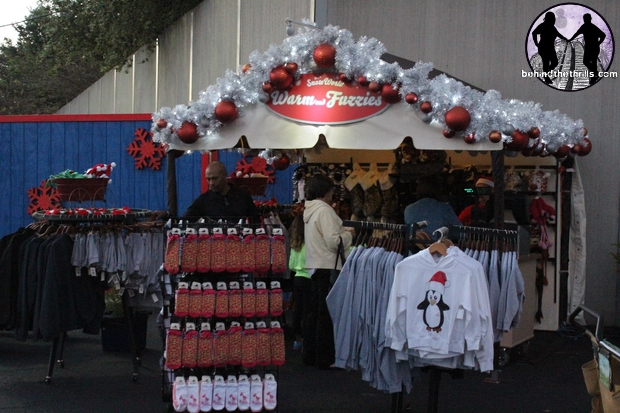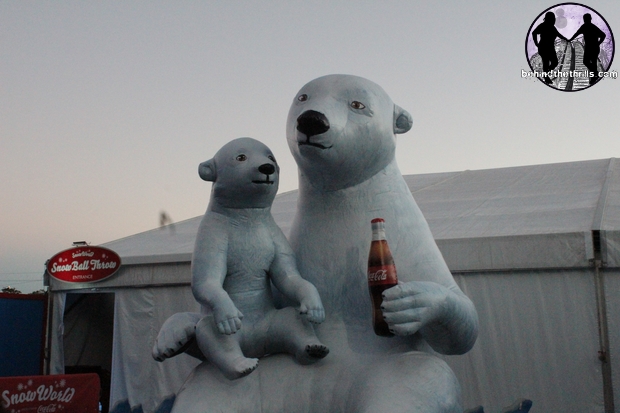 It all starts on the outside, where there are huge inflatable Coca Cola Polar Bears, and little booths to purchase things like souvenirs, food and warmer clothes. The area is made to be more comfortable to wait in, as the area will be packed.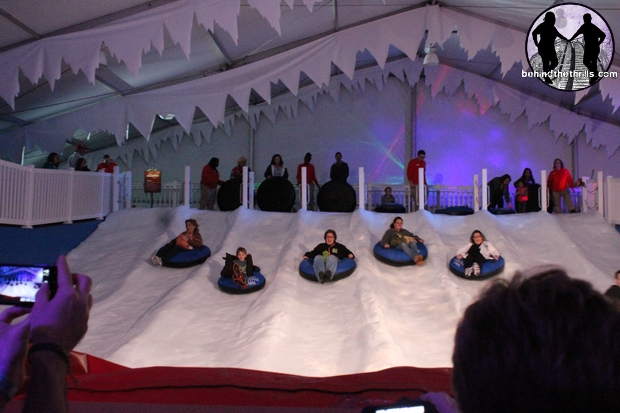 The biggest addition are the snow slides. The smaller sliding area proved to be the most popular aspect to the attraction. Instead of integrating it all in one area, the slides, snow play area and snowball throwing areas are all separate lines, but still under the same roof. The slides are also much bigger, and can now handle guests at a time.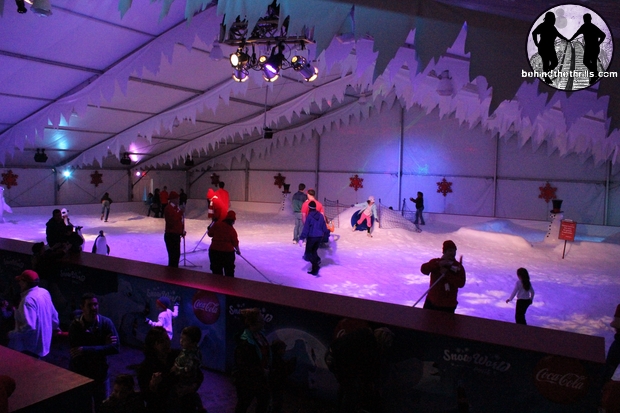 The snow play area is much bigger, and is still made for the smaller guests. While you can build a snowman, or even tunnel through a snow fort, there's not a lot to do besides just play in the snow and get cold. Guests are not allowed to throw snowballs in the area, that is saved for the actual snowball practice area.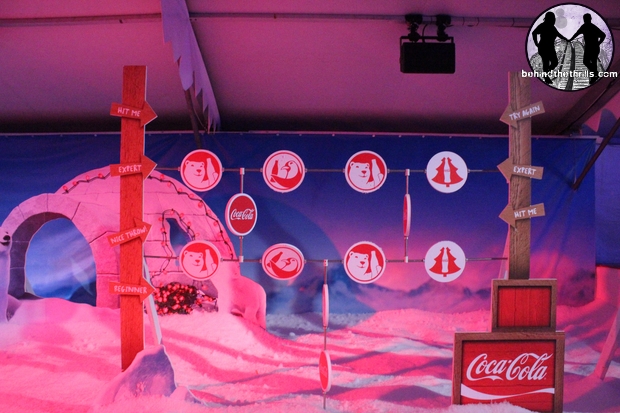 In the snowball area, guests can get a bucket full of snow, mold their own snowballs and take aim. It's not the fun and frivolity of having a snowball fight with your friends, but then again, if you have an actual snowball fight…you could shoot your eye out kid. It's still a fun and playful way to enjoy something cool that you won't find too much of in Florida.
Take a spin through Snow World in our all new video:
The other major changes at Christmas Town are three all new light areas, which give guests more picture opportunities, and more chances for fun.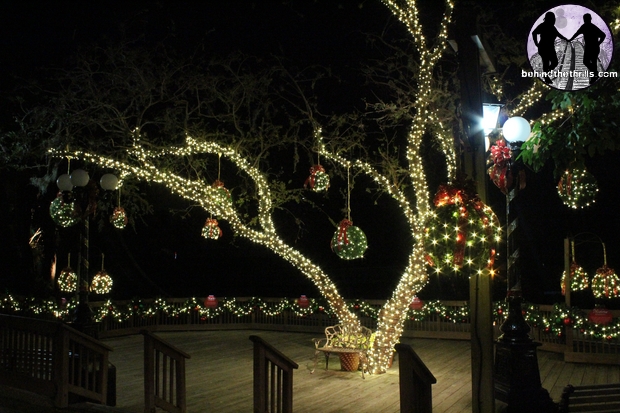 Mistletoe Memories is a collection of the most romantic plant on the planet. Stroll along the pathway, and steal aside to grab a kiss from your loved ones, or just pose for a picture under the gorgeous lights.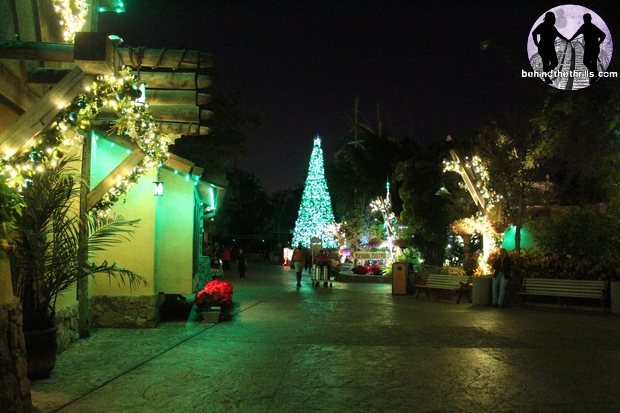 Located in Jungala, Christmas Time Terrace takes a 40 foot Christmas Tree and sets it ablaze with lights and music every 15 minutes. Some of the most famous Christmas Carols accompany this huge display of lights, which makes it one of the tallest in Florida.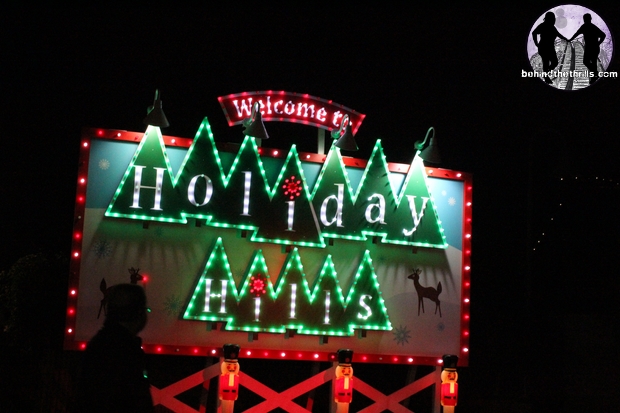 Holiday Hills is a very special place, located in Timbuktu (what will soon become Pantopia) and is a fun little slice of Americana at it's best. Plastic statues glowing bright, store displays and of course Santa Claus everywhere.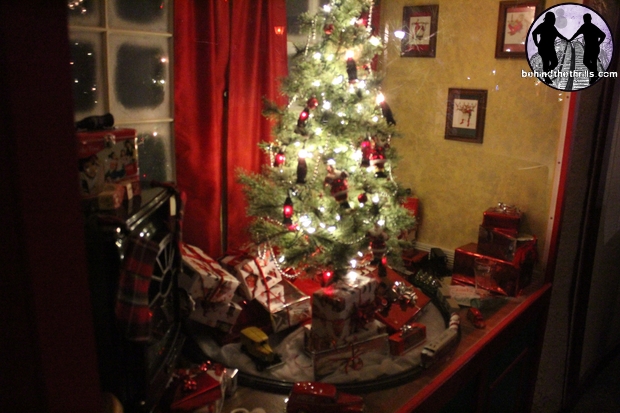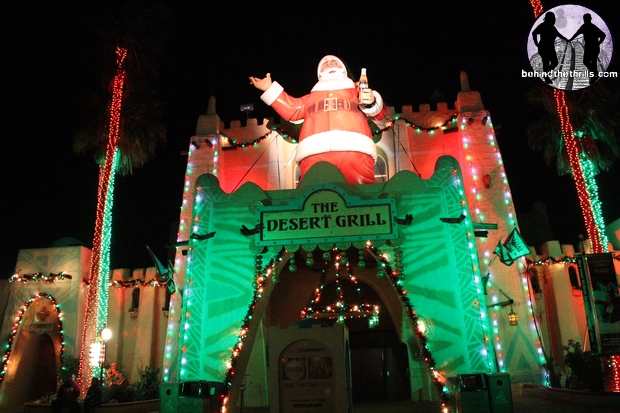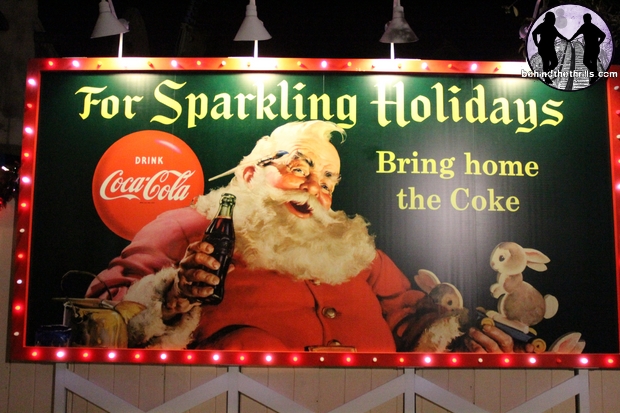 The classic Coca Cola version of Santa is one of the many different images that make Holiday Hills distinctly American. It's ripped directly out of a Norman Rockwell painting, and gives you the same warm fuzzy feeling that you used to get driving around your neighborhood looking at Christmas lights with your parents, or peaking into a department store window. It's home.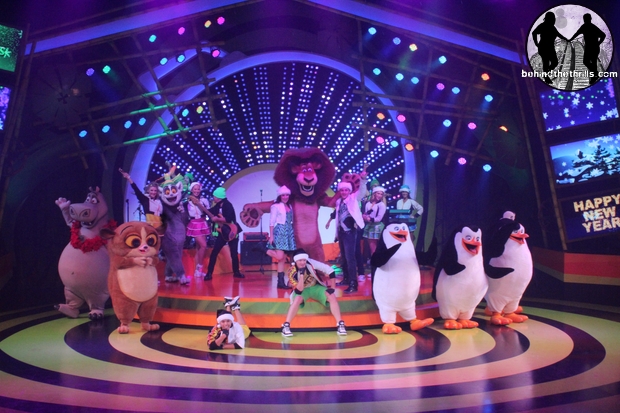 Also new this year is the energetic Madagascar Live:Operation Christmas Vacation. The Penguins, Alex, Gloria and of course King Julien are all here to have the best Christmas vacation ever. It's the same wacky fun you come to expect from the Madagascar gang, only with a Christmas twist.
The other new show this year is Elmo's Christmas Wish, in Sesame Street Safari of Fun. It's a fun little show all about the favorite red monster, Elmo.
Also new this year is inclusion of the park's Skyride as part of the ride line up. It gives you a great break from the trek through Christmas Town as well as gives you a birds eye view of the park, and all the great lights.
Take a ride over Christmas Town on the Skyride!
In addition to all of the new shows and features at Christmas Town, tons of favorites have returned for a second year as well. Last year the event was so huge, that it was very difficult to see everything in one night, so many of the things we saw this year were firsts for us. Also, many of the returning areas were expanded.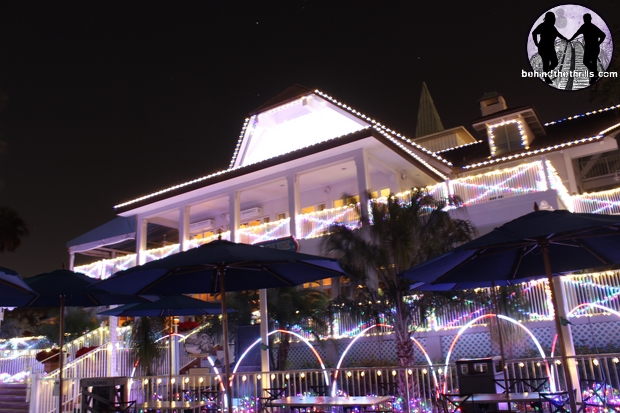 Crown Colony once again serves two purposes this year. One, they serve amazing Christmas treats, such as roast beef, pumpkin cheesecake and hot chocolate. There's also a Christmas dinner buffet for a reasonable price that provides a great view of the park. Then it's yet another amazing light show. Every 15 minutes the Carol of the Bells rocks over the entire building, turning it into one giant, brilliantly colored dancing pavilion.
Another returning favorite that received tons of praise last year was the Angels of Peace Ice Skating Show. The show usually gets a long line forming, and all seats fill rather quick, so you'll want to get to the theater at least 20 minutes before hand.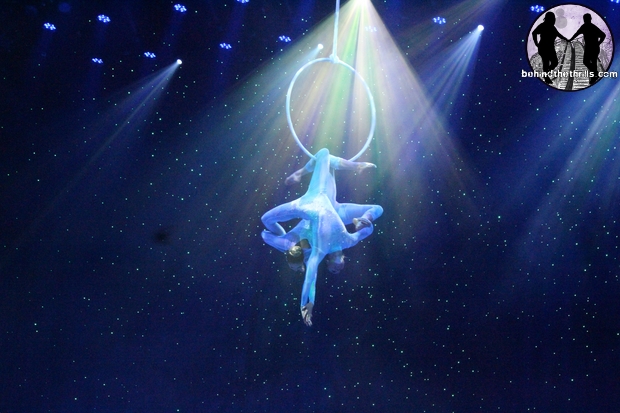 Angels of Peace is a stunning celebration of religion and beauty on ice. It's full of gorgeous costumes, beautiful music and even acrobatics.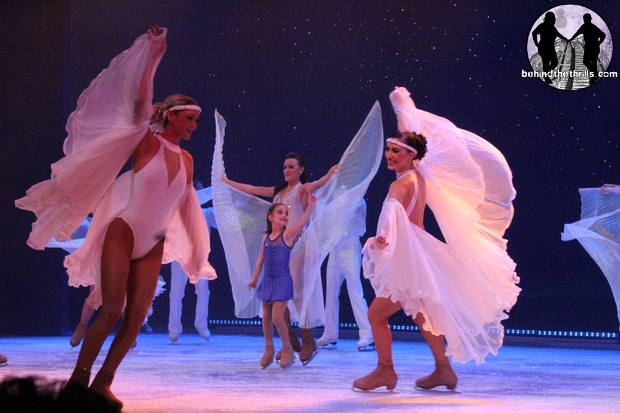 The show is definitely one of the highlights of the event, and combines the majesty of the Christmas story, with the artistic expression of figure skating.
See the whole show below:
If you're looking for animals, Christmas Town only has one major animal display. The only animals that really matter at Christmas…Penguins! Penguin Point has returned and is bigger than ever this year.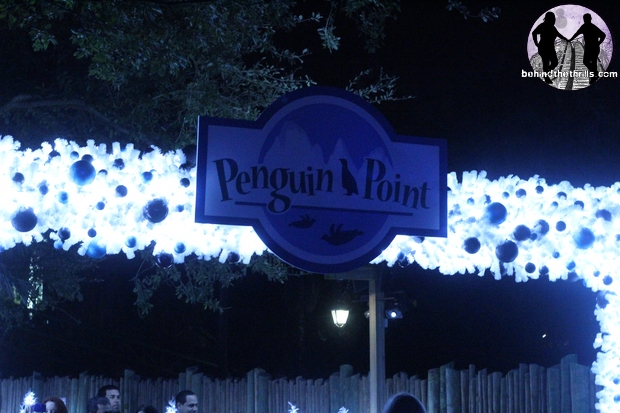 More black and white lights and decorations fill the pathway and give guests a chance to walk and look like a penguin with tons of fun new activities.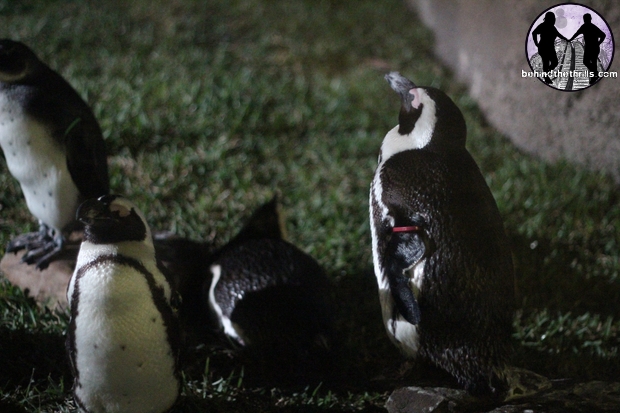 Now if these penguins don't look like they're too cold, that's because they aren't! They are not your typical cold and chilly penguins that trod on miles of snow and brave freezing temps. They are African penguins, found on the rocky, warm coast of Africa. While their cousins at SeaWorld love the cold temperatures, these guys are just fine with getting some sun.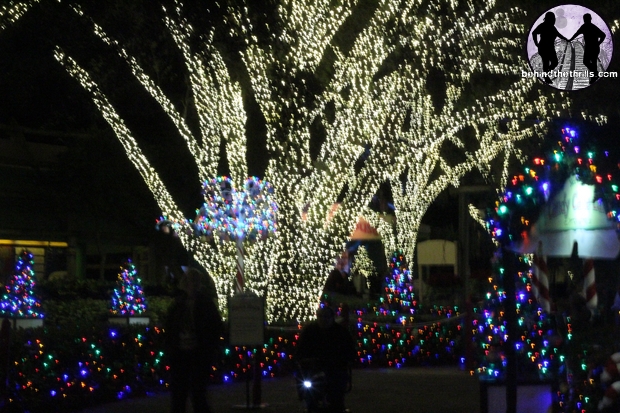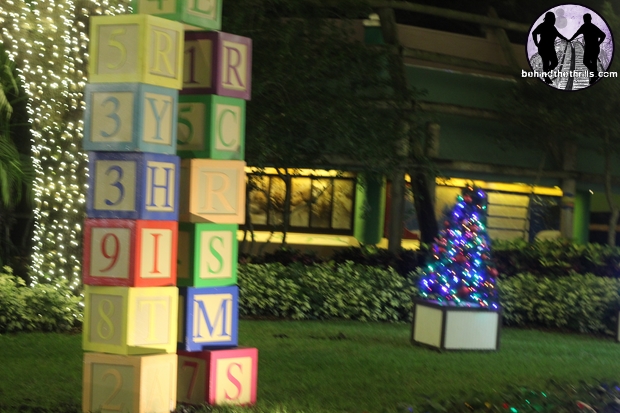 Santa returns yet again this year, and he's just as popular as ever. You can't have Christmas without the big man after all! His house an the surrounding area is a wonderland filled with gumdrops, lights and tons of fun. Once you're inside, the fun continues with cookies, elves, and hot chocolate. It in itself is a mini show, with the extra interactive element that you get to make a Christmas wish with the jolliest of elves.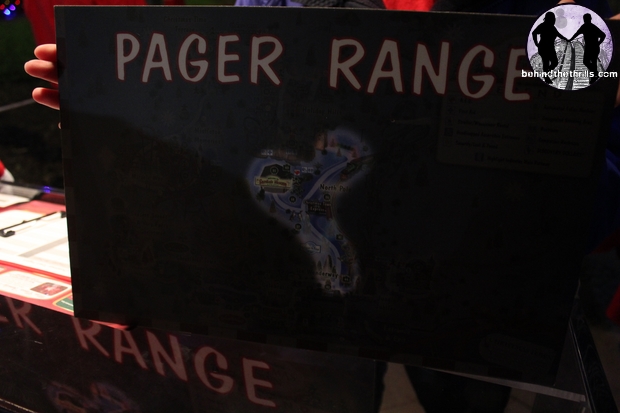 Speaking of Santa, Santa's house and Snow World are both immensely popular, creating huge lines for both. There is so much to do at Christmas Town, that if you spend too much time waiting for one thing, you could miss many things. With that in mind, Busch Gardens has come up with a pager system. When waits get too long, simply get a pager, and wait for your turn to come up. Once your pager goes off, you will be moved to the front of the line, which is the spot you would have been had you waited in line. You are free to shop, and enjoy other activities in the area until your spot is ready. The range is marked off with signs so guests don't miss their reserved times. It's just one way that guests can get the most out of their time in Christmas Town.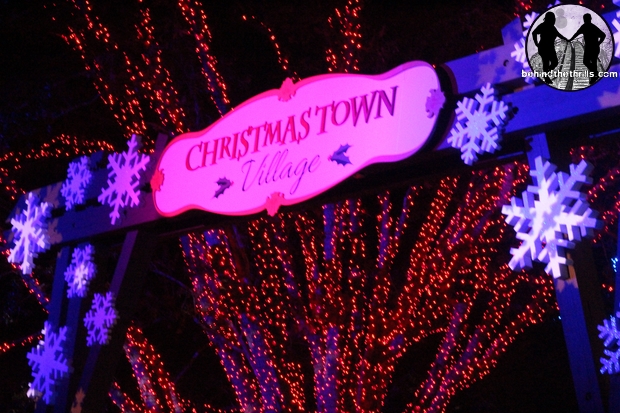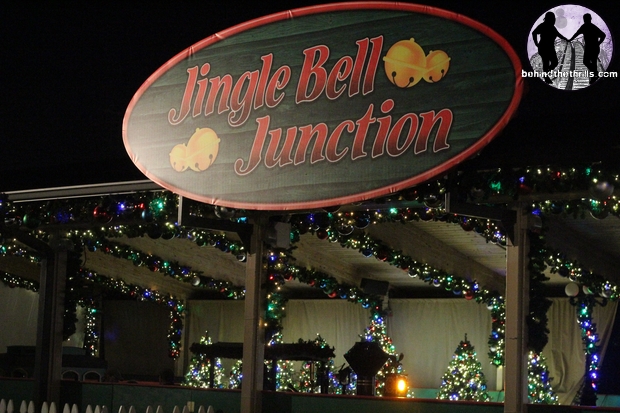 Looking for sime special holiday treats? Christmas Town villlage is home to a variety of shops, food vendors and games. You can get the special signature drink "Candy Cane Delight" which is a mixture of Sprite, mint syrup and garnished with a candy cane. You can also get hand held turkey dinners, hot chocolate or egg nog. Guests can also purchase gifts, and chat with artisans who are on site crafting gifts by hand. If you want to take a fun trip by railroad, take a ride at Jingle Bell junction. Little guests can ride the rails on this miniature train. For everyone else there's the full size train which takes guests on a Christmas carol safari around the park.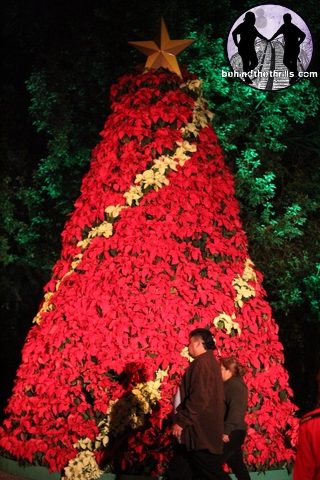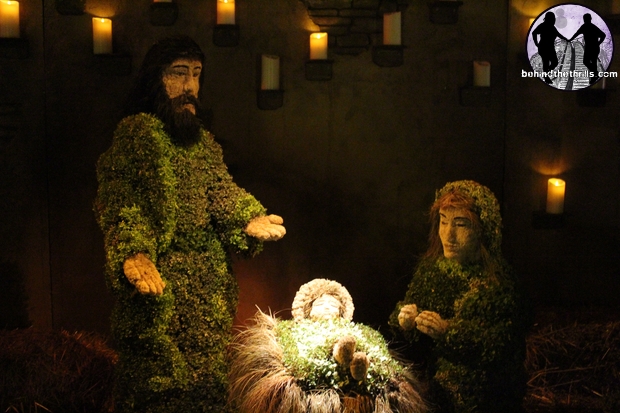 Other returning favorites are Poinsettia Parkway and Miracle Way. Both bring Christmas traditions to life in all new ways, while bringing home that warm familiar Christmas feeling.
Want more Yuletide goodness? Check out even more pictures in our huge gallery below:
Christmas Town happens only on select nights, and is an upcharge event, meaning it is not included in regular daily theme park admission. Christmas Town is so huge, and has so much to see this year, that it's next to impossible to see everything in one night.
Here are a few tips to make the most out of your trip!
-Passholders get early admission into Santa's house at 3p.m., and can access Snow World as early as 5p.m.
-Those who book Mrs. Claus' s Fireside Feast can also get early admission to Santa's house at 3 and Snow World at 5.
-Those who have a day ticket can also get the same early access
-Take the skyride from Cheetah Hunt to Jungala to get a birds eye view and save your feet. This is the fastest way to get from one side of the park to the other.
-Plan your activities around show times. Do everything else in the area first, before the show.
-Save coasters and shopping for last. The lines for coasters tend to drop as the lights around the area gets brighter. Waiting until later will give you near walk ons for most coasters.
-Do Snow World and Santa's house first! The lines get huge, so make a beeline for these two attractions first thing.
-Get an Christmas Town pass and come back often. Like we said, it's nearly impossible to see everything in one night, but a Christmas Town pass gives you all nights for one price.
Busch Gardens Tampa once again surprises with a Christmas event that not only is a ton of fun, but takes old fashioned family Christmas expectations and turns them on their ears. It's a great night with something for, quite literally, the entire family.
For more holiday cheer, be sure to follow along with us on Twitter @BehindThrills for the latest.
For more information, or to book your Christmas Town tickets at Busch Gardens Tampa, visit the official website by clicking here!