Central Florida is a great place to be for Christmas! With so many attractions in the area, there is so much to see and do during the Holiday Season. Gaylord Palms is up there at the top of our "must see Christmas festivities" list. Gaylord Palms isn't your typical Christmas event – they offer something much more unique than the rest of Central Florida – something that you're going to need to break out the winter wear for.
One of our favorite things about Gaylord Palms is that they are truly a one-stop shop when it comes to Christmas activities. The best part is that you don't even have to be a hotel guest to participate in these, although I highly recommend staying at Gaylord Palms for a least a night if you've never done it before.
So what does Gaylord Palms offer?
Check out this week's edition of BTT Weekly where we take a look at some of the Christmas festivities Gaylord Palms has to offer:
ICE featuring Frosty the Snowman
ICE is something that you're not going to find anywhere else in Central Florida. Gaylord Palms brings in a crew of talented artists who carve ice into breath-taking and beautiful displays, recreating a story. The theme of ICE changes from year to year, so it's never the same and it's something you'll want to go back and do every single year.
This year features the iconic "Frosty the Snowman", which all began as a song back in the 1950's. Since it has become a classic and a beloved book, and short-film. Frosty the Snowman is extremely well recognized and was requested by guests over the last several years for Gaylord Palms to do.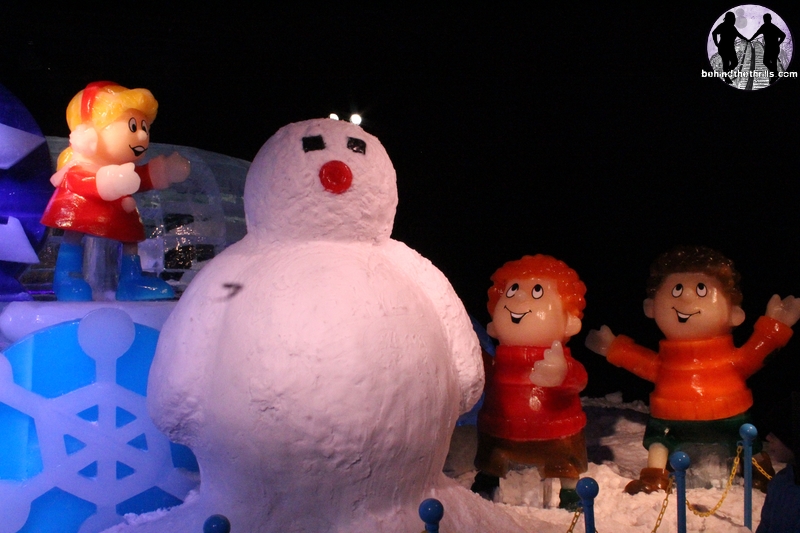 It takes 40 artists 30 days to bring ICE to life. It's amazing, really. In order to keep the ice from melting and such, Gaylord keeps ICE at a chilly 9 degrees Fahrenheit. Because ICE is kept at such a frigid temperature, there are some things that you should keep in mind before you head out to Gaylord Palms to experience ICE. Although Gaylord Palms will let you borrow a parka, it's recommended that you come prepared with your own winter-gear.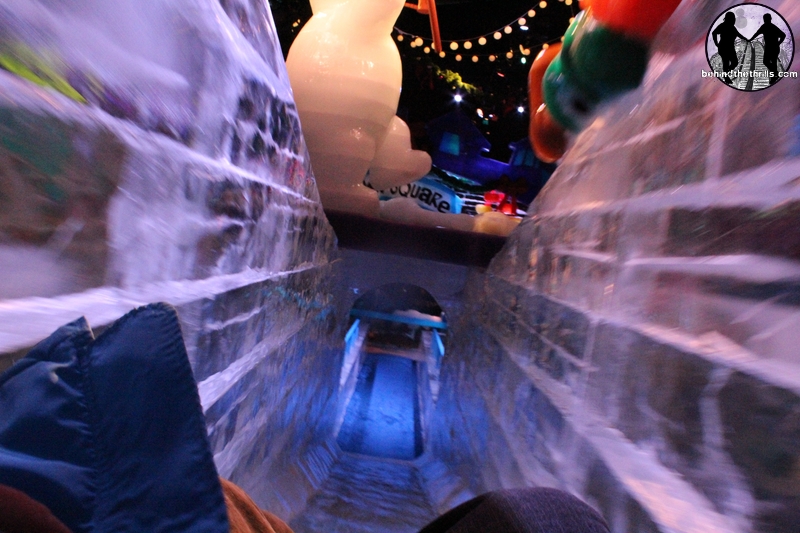 Here's some tips on how to make a better experience out of ICE.
Tips:
Wear closed toe shoes and pants (leave the flip flops and shorts at home)
Bring a jacket, hat, and gloves – scarf is optional but I recommend it
Keep your time inside ICE short
Go first thing in the morning or later in the evening to reduce crowds
Take a ride on the slides! It'a s lot of fun!
Bring your camera – but keep in mind cameras and glasses will fog up when you exit ICE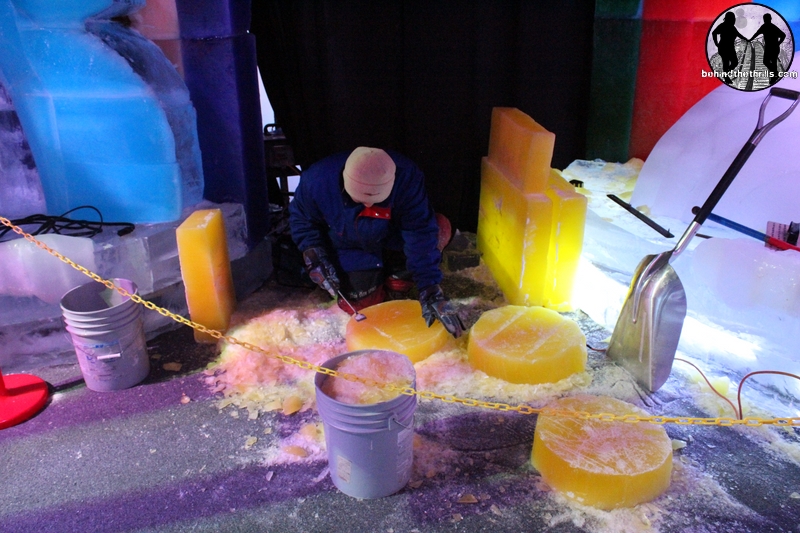 Brand new this year at ICE is the Frostbite Factory. This room is specific to Gaylord Palms in Orlando. In this room, you can view live ice carving through out the event. Artisans will be working on three different ice models during the course of ICE. "How it's done" has been one of the biggest questions from guests and Gaylord Palms has put it right into the middle of ICE. It's a nice touch and it gives you an idea of what really happens and how ice is really carved. It's amazing to see the talent that these guys have and how they create such beautiful works of art!
We also chatted briefly with Randolph Borden, the Director of Entertainment at Gaylord Palms about some of the Christmas festivities going on at Gaylord Palms.
Luminescence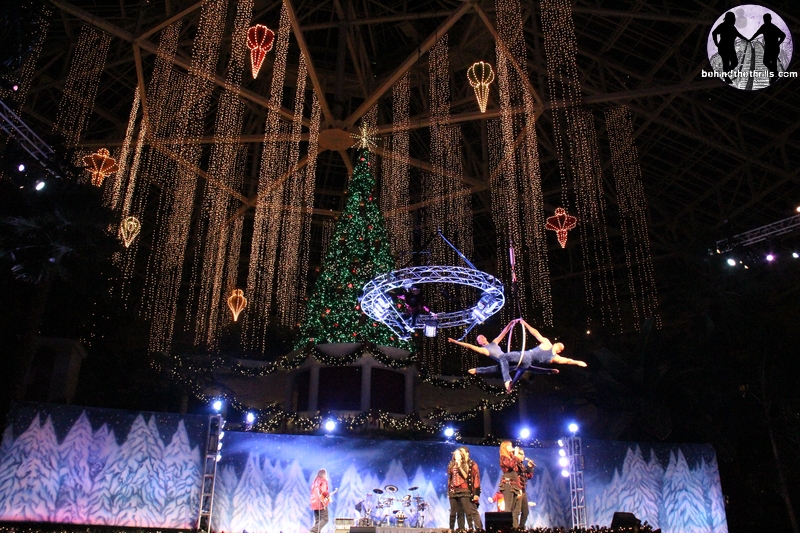 Gaylord Palms really knows how to put a Christmas show on. They offer a live stage show called Luminescence on select nights at Gaylord Palms. If you're interested in seeing Luminescence, I highly recommend checking out Gaylord Palm's event calendar before you head out to make sure that the show will be happening on the night you plan to visit as well as what time the show will be taking place.
Luminescence is also a pretty short show. If you plan on grabbing dinner at Gaylord, you can watch Luminescence around your meal time and then head over and experience ICE.
Click here to check Gaylord Palm's event calendar.
Christmassy Dreamworks Experience
Gaylord Palms offers a lot of Dreamworks related things to do that your family is sure to love. You can meet and greet with Dreamworks characters like Shrek, decorate ginger bread cookies at Gingy's, dine in with some of your favorite Dreamworks characters, or participate in a scavenger hunt.
The Dreamworks Experience is where staying at Gaylord Palms comes in handy, as some of the items are included with your overnight stay. Some are not included, but many are.
Click here for more information.
See more pictures from our experiences of Christmas at Gaylord Palms:

If you are unable to view the slideshow, click here.
Christmas festivities are happening now through January 5th. For more information, visit the official Gaylord Palms website by clicking here.