Southern California, get ready, because it's only going to happen one night! Knott's Merry Farm is ringing in 2014 in a big way, big fireworks and big new shows. The park is going to be open late with all the same fun, plus some added new twists to end the year with a bang. Just what does Knott's have in store? Stilt walkers, parties and of course all the regular rides that you've come to know and love.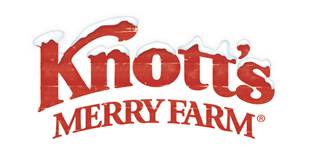 This year, it all ends with a huge party on the midway, as Knott's rolls out the party hats, noise makers and music for everyone. The park will be celebrating from 10 a.m. New Years Eve until 1 a.m. New Years Day for all the festivities. Plus, this year the Knott's Sky Cabin will be decked out with tons of holiday lights as it makes it's way to the top of the K tower. At the stroke of midnight, the tower will reach the top and the sky will come alive with a huge fireworks display.
If that's not enough, there's tons of shows and events happening throughout the night just for New Year's Eve!
Krazy Kirk & The Hillbillies!  From the deep country hills of Anaheim, these boys will have toes tappin' hands clappin' and guts bustin' during the best darn musical comedy show ever performed on the Wilderness Dance Hall stage.
The Reflexx, the ultimate 80's party band, headlines the Calico Square Stage with a blast to the past of radical music from Depeche Mode, Flock of Seagulls, A-Ha, and more.  And before The Reflexx take the stage, DJ REESSO spins popular high energy music in the Calico Square.
Comedy Magic of Dana Daniels will fill the Boardwalk Ballroom with uproarious laughter as he combines clean comedy, astounding magic, and a psychic parrot in his show.
Sharp Turn Ahead will headline the Camp Snoopy Theater with the up-and-coming teen duo's fresh combination of energetic acoustic guitar  and smooth keys, playing original tunes and covers of today's pop hits.
Salsa Dancing with Louie Angon, DJ JC & Snoopy invite you to show off your dance moves at Fiesta Plaza and groove to the beat of this spicy music scene that's Hot Hot Hot!
Party in the Dance Hall is home to boot scootin' line dancing and two-stepping good times led by Dusty, the line dance caller on the Wilderness Dance Hall stage (between Krazy Kurk sets).
It's Christmas, Snoopy will present encore performances into the evening.  Join Snoopy and his pals as they skate their way through the joys of the Holiday season.
Snoopy's Magical Nights of Lights features thousands of sparkling lights and holiday music throughout Camp Snoopy all night long, beginning at dusk.
What an amazing way to kick off 2014! Knott's New Year's Eve is included with daily theme park admission, and is appropriate for all ages!
Be sure to follow along with us here for the latest holiday celebrations! Also follow along with us on Twitter @BehindThrills for the latest updates!
For more information, including tickets, visit the official Knott's Berry Farm website by clicking here!