Universal Hollywood has had one amazing 2013, from the "Summer of Survival" to huge events, and even the 20th birthday of Citywalk. 2014 promises to be even bigger, but before we start looking forward, why not send 2013 out with a bang? Universal Hollywood is going to do just that with a huge New Year's Eve celebration that will include tons of music, movies, and of course fireworks!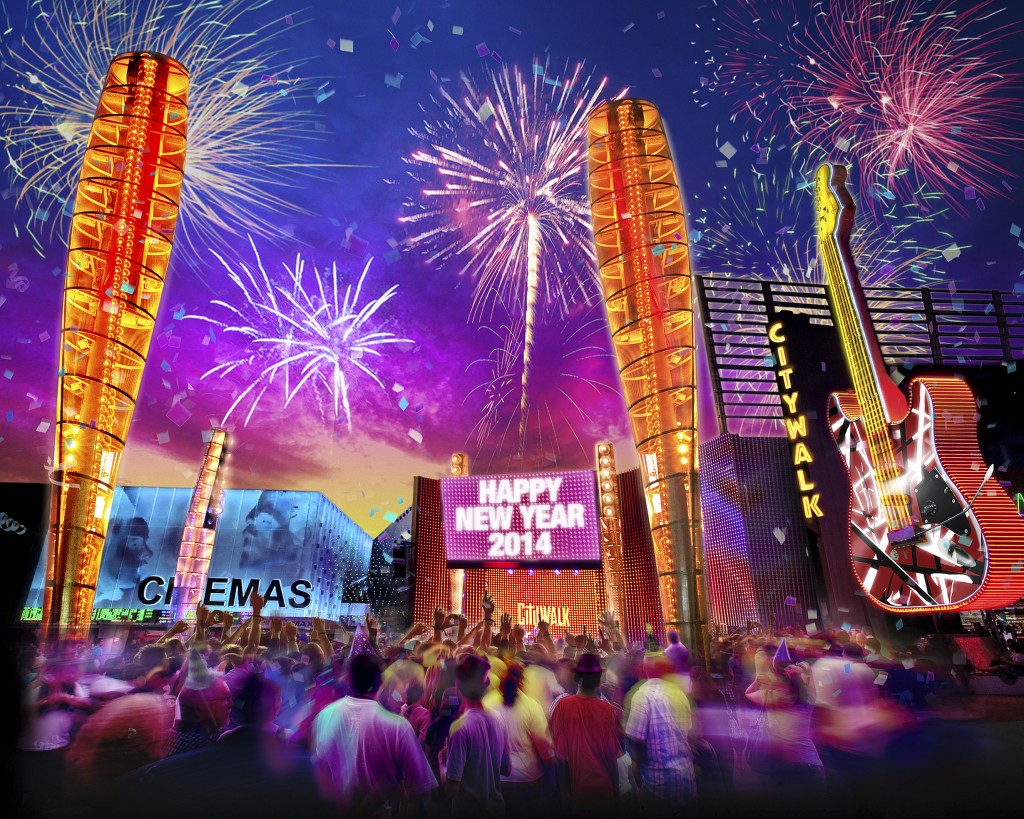 The fun will kick off at Universal Studios Hollywood with a non stop series of concerts and entertainment at the Globe Plaza Stage,
located adjacent to the theme park's main entry, will feature Air Dubai, renowned for their highly energetic performances mixing R&B, jazz, alternative rock and hip-hop; and 7 Lions, a band whose music fusion blends hip-hop with electric pop rock.
Universal Studios Hollywood's all-new open air Universal Plaza – located in the center of the theme park – will provide a theatre-in-the-round environment for Ricky "Rocks" Lorek, an innovative musician whose distinctive sounds combines DJing and live drums / percussions with a variety of house, electric, hip-hop and rock to deliver an explosive new form of entertainment.  A staple entertainer in the A-list social scene, Ricky "Rocks" Lorek has performed at special events and after-parties from MTV's VMAs to the Grammy® Awards.
There will be a huge fireworks display shot from three different locations, including the Waterworks stadium, which will also double as a family friendly fun zone with balloon artists and more. The fun will continue at the outdoor 5 Towers stage, with performers Travis Garland, an R&B / pop musician who's performed to sold out crowds at top L.A. clubs, including the world-famous The Roxy Theatre and The House of Blues; and Latino recording artist Eddie Gomez, who first rose to fame as a prolific street performer at Universal CityWalk.
The party starts at Universal CityWalk at 9p.m. where party goers will be treated to a large screen viewing of the iconic Ball Drop from Times Square in New York City. Clubs will be open with tons of special pricing and entertainment throughout the night. At midnight, there will be a huge confetti drop, where over a thousand pounds of confetti will pour onto CityWalk. If you're looking for something a little more low key, but still full of fun, you can catch the latest Hollywood holiday blockbusters at Universal's CityWalk Cinema.
The fun begins this New Year's Eve at 4p.m. at Universal Hollywood.
For the latest celebration news, be sure to follow along with us on Twitter @BehindThrills for updates!
For more information about New Year's Eve at Universal Hollywood, visit the official website by clicking here!