It's almost like Hermione tapped her wand against the construction wall and performed a revealing charm. The scaffolding around the newest portion of The Wizarding World of Harry Potter, Diagon Alley has come down revealing the London side of the new area. This comes just a week before the huge announcement of what the area will hold, and more importantly, just ahead of the huge "Celebration of Harry Potter" which kicks off next weekend.
As the scaffolding comes down at the all new Wizarding World of Harry Potter-Diagon Alley, it reveals a picturesque view of the London skyline. Of course, it's the London Skyline condensed, and as seen in the Harry Potter films and books, but it's there none the less. Fans of series will immediately recognize Grimmauld Place, and of course Kings Cross Station.
Once completed, and all the walls and cranes are removed, Muggles will not be able to see Diagon Alley from the outside. You'll have to take a journey behind The Leaky Cauldron, and tap the brick that's up three and over two-from the garbage can, in order to gain access. We've heard rumors that guests will actually have to do this, and that it's going to be an amazing show in and of itself.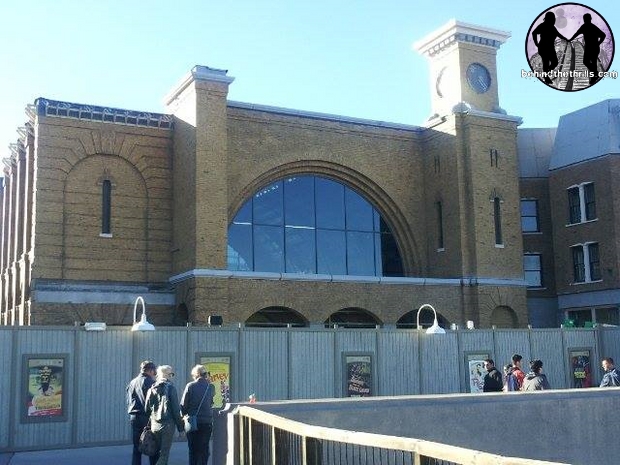 The amazing attention to detail that made the Wizarding World of Harry Potter-Hogsmeade a success is still present here. Brickwork, vaulted glass, and the crazy angled roofs with chimneys that look like they're growing towards the sky, instead of being built, are all peeking out from behind the walls. But what exactly can guests expect?
Besides London, guests can expect to see all of the familiar stops along Diagon Alley. While we don't know everything…yet, we do know we can expect to dine in Leaky Cauldron and most likely a much larger version of Ollivanders Wands. There is already a wand shop in Hogsmeade, though it is small and makes for long lines. We also know that in Diagon Alley, guests will be able to board the Hogwarts Express and ride through the Scottish countryside and over to Islands of Adventure where they end up at Hogsmeade Village. There guests can experience Harry Potter and the Forbidden Journey which opened in 2010.
Other unconfirmed, but strongly rumored attractions include an all new joke shop-Weasley's Wizarding Weases which uses a huge animatronic head of the Weasley twins, as well as an all new roller coaster themed to Gringott's Bank. The coaster is said to have an actual firebreathing dragon, and design elements that guests have never seen on a coaster before. Then there's other areas, such as Knockturn Alley and even more shops.
If you can't wait until the summer to figure out what's happening, there will be a webcast this Thursday, January 23rd at 10:30 am in which all the details will be revealed. Click here to sign up!
In addition, there will be a huge celebration of all things Harry Potter at both Universal parks from the 24th-26th. Cast members from the films, artists and a huge Harry Potter Expo will all be part of the festivities. For more information, click here to get the complete rundown!
Want more Harry Potter goodness? Stay tuned as we take you where few Muggles have gone, and be sure to follow us on Twitter @BehindThrills for the latest updates!
For more information about The Wizarding World of Harry Potter at Universal Orlando, visit the official website by clicking here!