It gnaws in the shadows, waiting for the chance to spring out when you least expect it. Just because you can't see it, doesn't mean that it can't see you, and it certainly doesn't mean that it's not already planning. Horror never sleeps, and neither do the demented masterminds behind one of the biggest halloween events in the country. It's January, which means there's only eight months left to panic before Universal Orlando's Halloween Horror Nights 24 is breathing down your neck.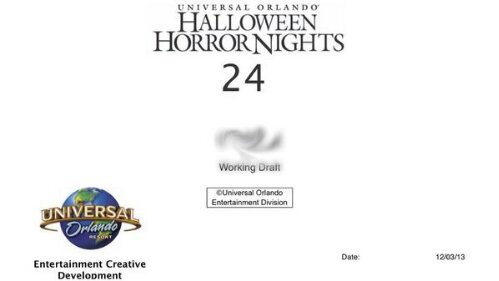 The official Halloween Horror Nights Orlando Twitter feed (@HorrorNightsORL) started the new year off with a tease for all the horror fans who are eagerly counting down the minutes until HHN 24 comes roaring back to life. Mike Aiello, Assistant Creative Director and official Twitter captain, has started the teases early with a cover page for one of the new mazes the team is working on this year.
We are well underway with our original maze development and are currently in talks with some amazing horror opportunities. No specifics yet.
Aiello later commented that this first maze will be a completely original, and all new maze. It will not be a property, and it will not be a sequel.
So is this really news? Not really. This is how the season always starts, with drafts of mazes, and sketches. Last year there was three original houses (though La Llorona was based on a Horror Nights Hollywood House and Havoc was a sequel to another house) and this is just one house of many. It is a bit of a big deal for hardcore fans, who feel that original houses are always the best. However, Aiello and crew did say they were in talks with some amazing horror opportunities. That means more houses based on movies, or video games or even T.V. shows, all of which will be kept under tight lock and key until the time is right (or some over zealous fans crack the codes).
So with a new year, let's talk about some rumors on what we can expect to see this year at Halloween Horror Nights 24. Please keep in mind that these are mostly rumors, and a bit of speculation. Until Universal announces it, it's not happening and it's just a bit of fun at this point.
More Video Games-Silent Hill was based on both the games and films. Last year's Resident Evil was based strictly on the video games. While it wasn't a personal favorite, it did have the fans and it did break new ground. Horror Nights was able to recreate the video game almost scene for scene, albeit in a small scale. It's a pretty safe bet that there will possibly be a return to Raccoon City with another Resident Evil House, and even possibly bigger than ever. We are hearing that there will be several different games on taps this year. But what? Halo isn't scary enough, though Gears of War could be. BioShock is another game ripe for the picking, but fans will argue that it was done already with "Saws n Steam:Into the Machine" back in 2011. However, Saws n Steam isn't as big a name as Bio Shock, which would most likely bring flocks of gamers to HHN.
Iconic Pop-Halloween Horror Nights first introduced the idea of an "Icon" to the event officially in 2010. The Icon would be the central focal point of the story that the creative team wanted to tell. It also gave the general public, who knew nothing about the story, a focal point to fear. They didn't know that Jack the Clown was a ghost clown, serial killer who was trapped in a Jack in the Box…they knew that clowns were effing scary. With the inclusion of more Intellectual Properties (IP's) the icon was needed less and less. Why create an amazing new character that no one knows, with a huge backstory that the general public doesn't care about when you have Chucky, Saw, The Walking Dead and other characters that everyone already knows? Granted, it's the story that hooked so many people, and kept them coming back, but times change.
Story?-HHN 23 proved that you really don't need a deep story to keep the audience engaged, just crazy ass haunted mazes. Last year was a banner year, with mazes such as Cabin in the Woods, An American Werewolf in London, and even La Llorona. While it's cool to try and link them all together, if the houses are amazing…is it really necessary?  Look for HHN 24 to really blow your socks off with the mazes, but not a lot of intertwined story in all of them.
The Walking Dead-And here's where all the fans groan. Yes, it's quite possible that there will be The Walking Dead once again in 2014. If you thought that wasn't possible, just look at the numbers for the mid-season finale. Over 12 million viewers. It's a juggernaut kids, whether you want to admit it or not. Is it a definite to return? No. But don't count it out either….and if it does, don't expect to see a complete park take over like last year.
Classic-An American Werewolf in London was a smash hit. Who would have thought that a 30 year old film could make such an amazing house. Here's the secret-The guys who made the house? They're huge fans of the film. Someone told them "hey go make an AWIL house" and it was instant nerdgasm. With that much success, you can bet your ass that the gang will get the chance to bring another modern classic horror film to life. Maybe something from John Carpenter?
Boob Tube-We've heard rumors in the past that shows like American Horror Story and True Blood were slated to be mazes, but never made it. With the popularity of American Horror Story, and the last season of True Blood on the horizon, it would not be a surprise if it happened this year.
Urban Legends-Mike Aiello and crew said last year that La Llorona could be the first in a series of Urban Legends. Universal Studios Hollywood had El Cucuy, it's quite possible we could see the boogeyman make the trip to the East Coast. There are also tons of other urban legends to deal with as well, such as Japan's Kuchisake-Onna, England's medieval Elisa Day or Scotland's White Death. Of course, we prefer making a sequel to Penn&Teller's house, and dismissing all the Urban Legends. That's right kids-BULLSHIT:Urban Legends. Each scene shows a famous Urban Legend, and of course Penn&Teller telling you why each one is Bullshit. Of course, the final scene would have to be Penn&Teller realizing that some legends are true as they (and you) are attacked by every single one at the same time. Just a thought.
Two Parks-This rumor comes up every year, and every year it's proven wrong. This year it comes up yet again, because of the Wizarding World of Harry Potter. It's reasonable to believe that Diagon Alley will be open during HHN. Diagon Alley will feature a ride on the Hogwart's Express to Hogsmeade Village at Islands of Adventure. IF Potter is open, it stands to reason that both parks will be used for HHN 24. It's very unlikely, but the rumor is once again out there.
That wraps up this edition of Rumor Mill. While we hear a great many things, remember it doesn't always mean it's true. Please keep in mind that until a park officially announces something, it's still a rumor.
For more rumors, news and more be sure to stay tuned! Also be sure to follow us on Twitter @BehindThrills for the latest updates!
For more information about Halloween Horror Nights 24, be sure to check out the official website by clicking here!