The revealing charm has been cast, and the Wizards at Universal Orlando have revealed what so many have been waiting for. In a webcast earlier this morning, Universal Orlando along with help from James Phelps, Evanna Lynch and Matt Lewis from the Harry Potter films has given us a look at what we can expect when we tap the bricks…Three up, two across from the garbage can, later this year.
In 2010 Universal Orlando opened the Wizarding World of Harry Potter which changed the theme park world and how the world saw theme parks. Four years later Universal is setting out to do it again with The Wizarding World of Harry Potter- Diagon Alley later this summer. Will they be able to?
In the 30 minute webcast this morning lead by Matthew Davis who stars as Neville Longbottom in the Harry Potter films, it certainly looks like it.
The new area will be an all new journey with several new journeys for guests in many new areas.
Here's the highlights:
London Waterfront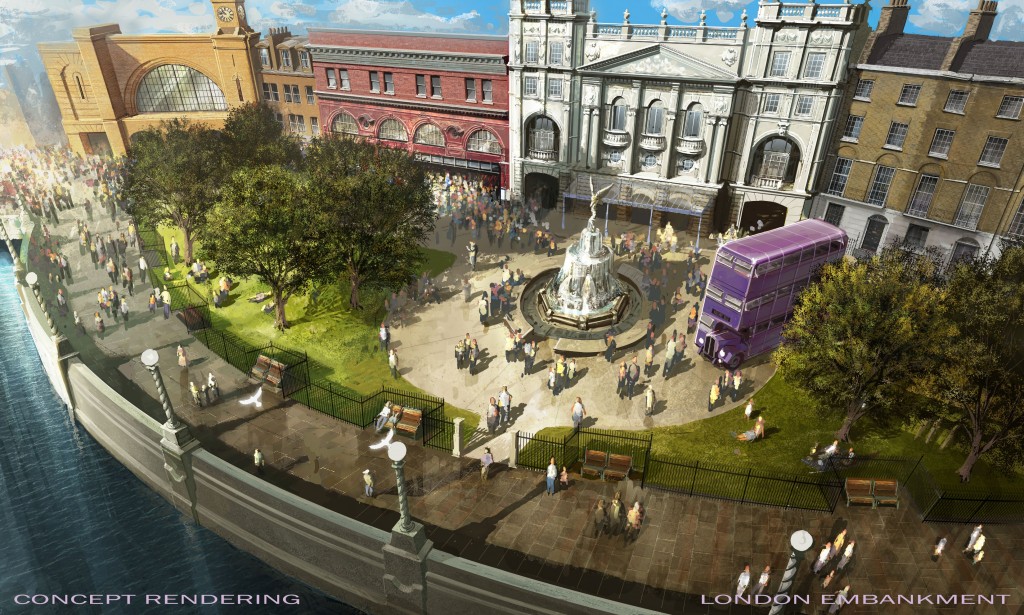 The area that we can see now is going to be part of the waterfront in London, visible to all Muggles. The area will resemble some of the iconic areas in London including a huge reproduction of Eros Fountain from the Picadilly Circus area. Other facades will include the facade of the London Underground, Grimmauld Place, Wyndham Theater, Charing Cross Road, and Kings Cross Station. Charing Cross Road will lead to The Leaky Cauldron and a group of bricks leading to Diagon Alley. There is no word on how guests will enter Diagon Alley but they will pass through the brick wall. There will be no signs pointing to Diagon Alley in London but the Knight bus will let you know you're on the right track.
Diagon Alley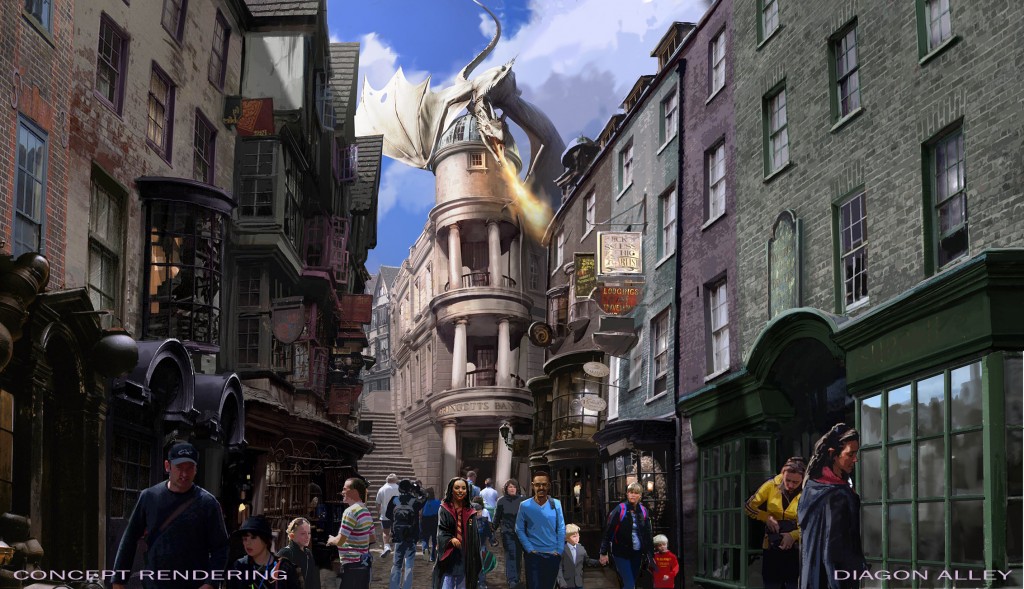 The Alley itself will have tons of new shops and experiences around every turn.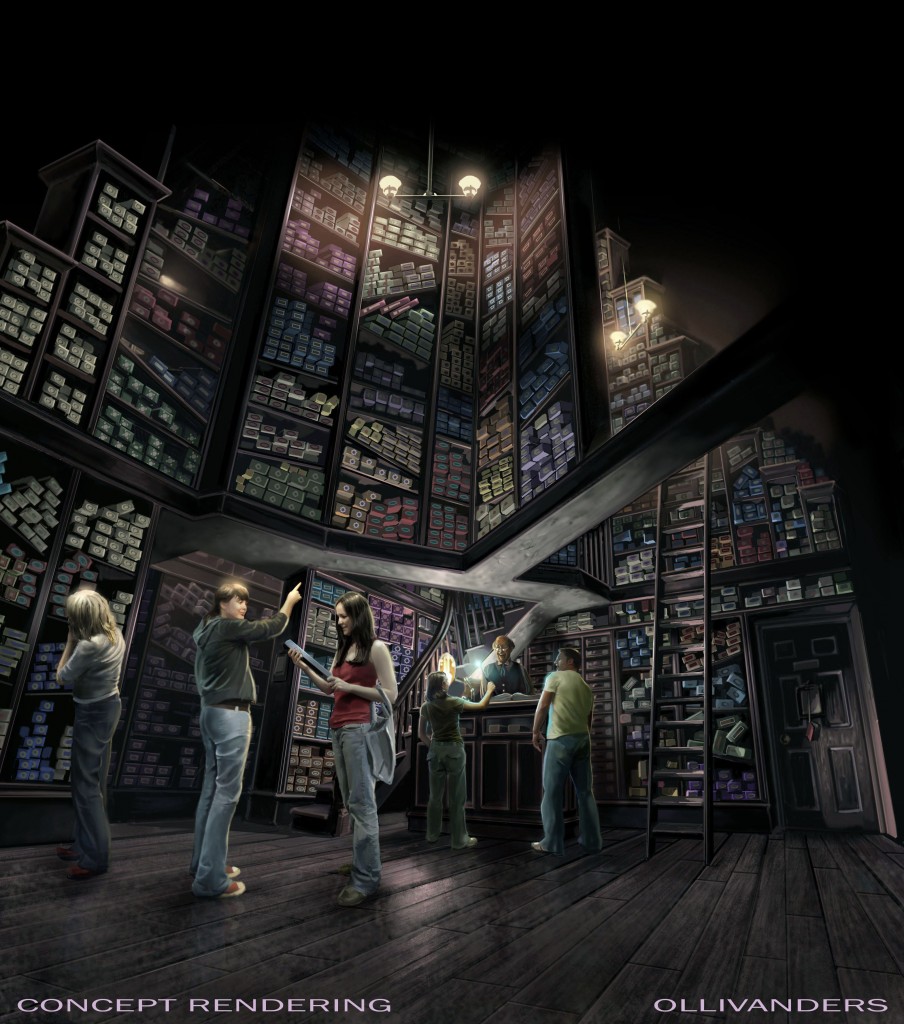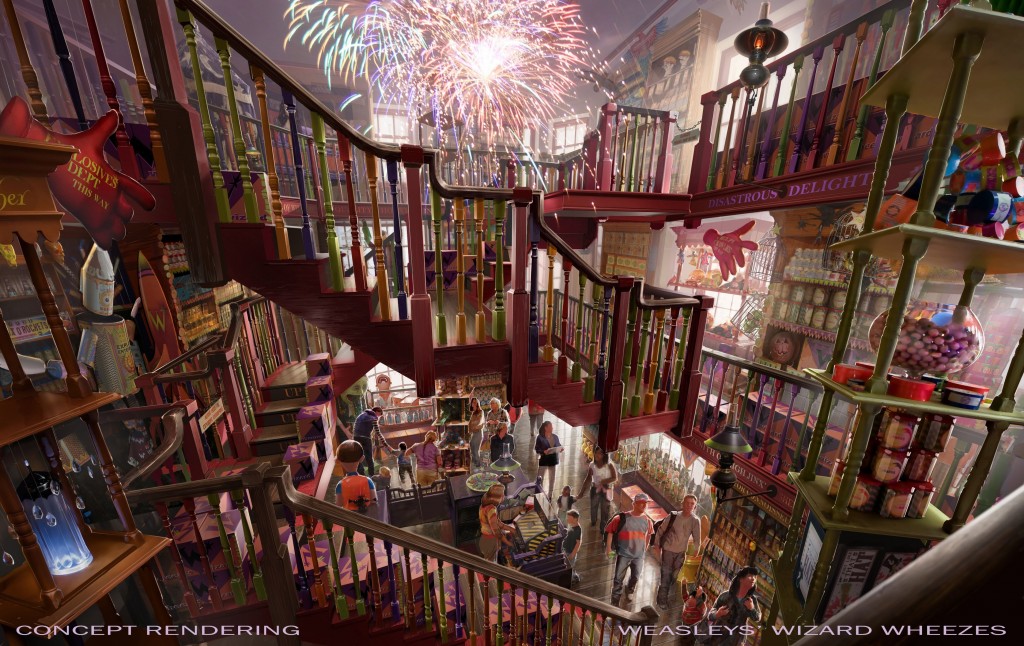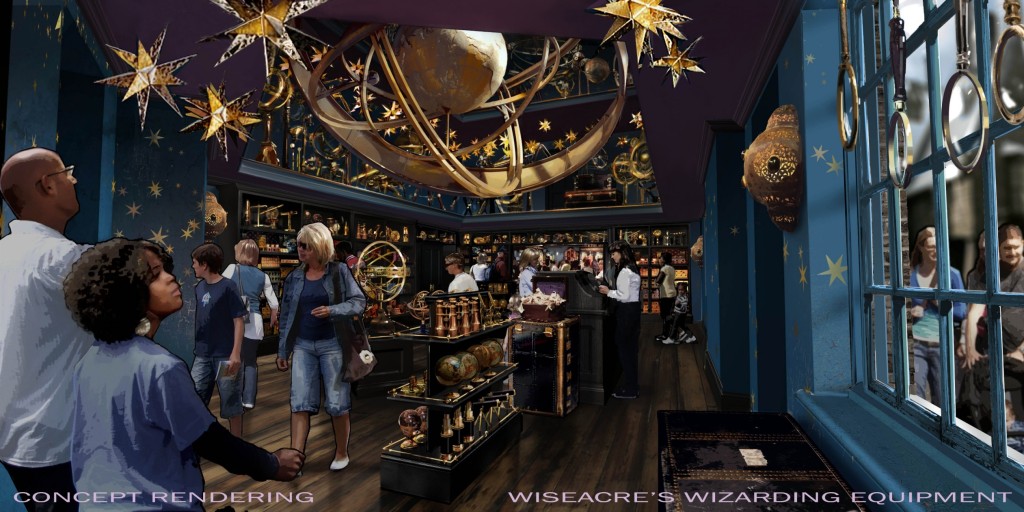 Here's the highlights:
Ollivander's wands: A much larger version of the legendary wand shop that is already open in Hogsmeade.

Weasleys Wizarding Wheezes: A 3 story tall joke shop with tons of gags and interactive elements. Unfortunately Zonko's will close and Honeyduke's will expand.

Wiseacre's Wizarding Equipment:Telescopes, hour glasses and more

Florean Fortescue's Ice Cream Parlour:Unique ice cream flavors including strawberry peanut butter

Scribbulus:Writing instruments, stationary and more

Magical Menagerie:Stuffed versions of magical creatures

Madam Malkins Robes for all occasions: Robes and scarves, schools uniforms

Quality Quidditch Supplies:Brooms, bludgers, sweaters and all your Quidditch supplies

Leaky Cauldron: A different menu than 3 broomsticks like Bangers and Mash but still London pub fare
The darkest Wizards hang out in Knockturn Alley, so it will be a bit darker and just off to the side of the bright Diagon Alley. Bourgin and Burkes will be the main shop where you can buy Death Eater masks, shrunken heads and everything for your dark purposes.
The shopping area will have even more that hasn't been announced yet so stay tuned.
Harry Potter and the Escape from Gringotts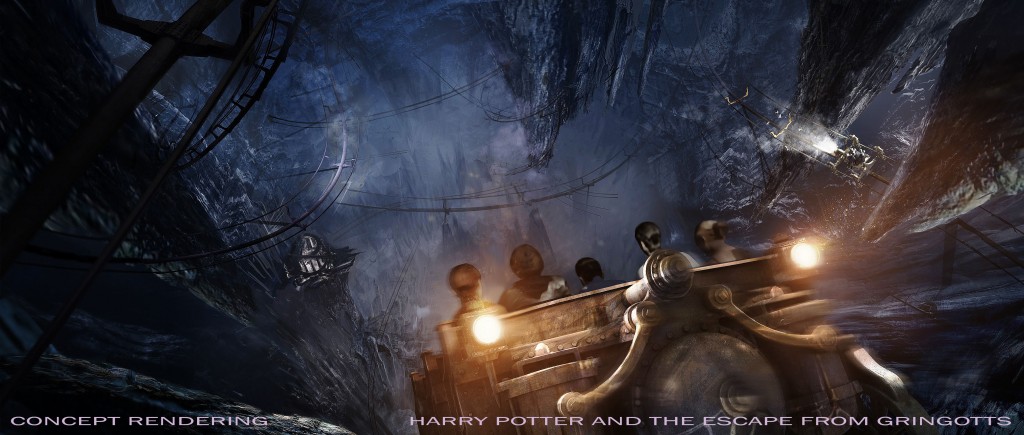 The signature attraction in the area will be a multi sensory, multi dimensional ride that will take muggles into the vaults of Gringott's Wizard Bank. No real details were given but we can expect to see familiar and new characters in the mine ride. It will be more family friendly than Forbidden Journey but still very thrilling. Guests will walk through the bank and see goblins hard at work. The queue will be more immersive than Forbidden Journey. Outside a fire breathing dragon will be perched on the massive building as guests walk in.
Hogwarts Express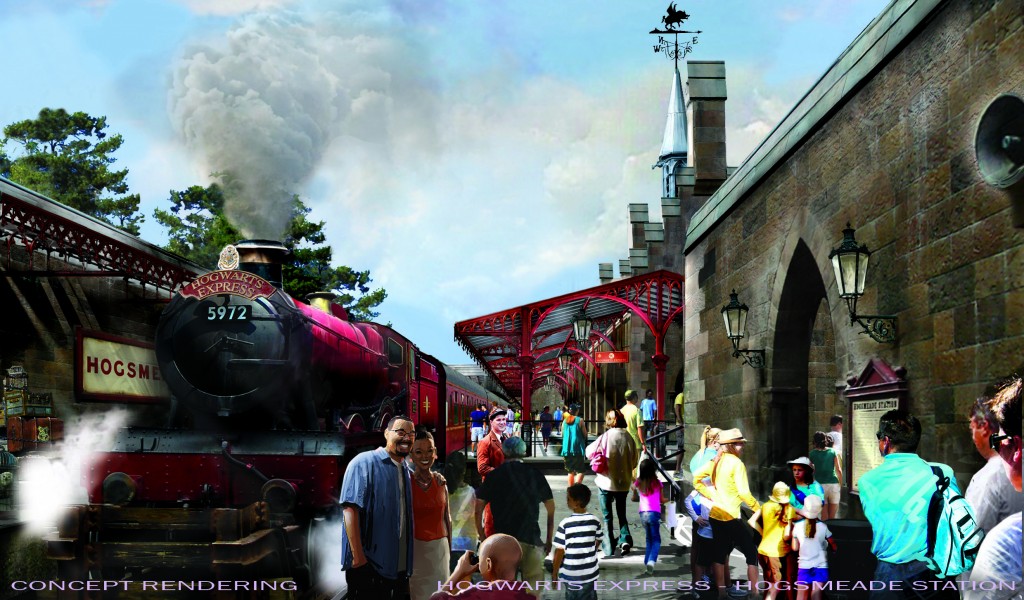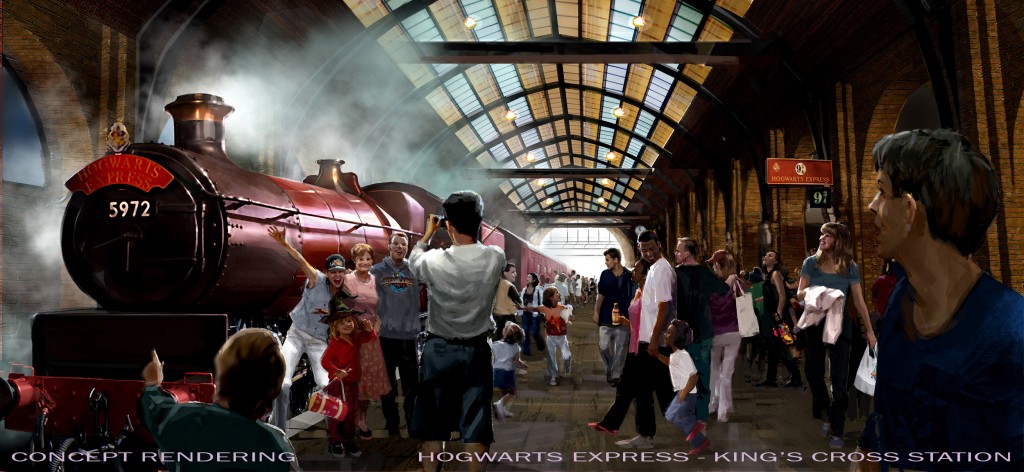 The most talked about part of the new addition is if course the Hogwarts Express. The train will take guests with a park to park ticket through the London Countryside. It won't be just transportation, but an experience as guets will not be able to see the back lot area the train will travel through. Guests will board at either Hogsmeade station at Islands of Adventure or at Kings Cross Station in London. Kings Cross will be a replica of the actual station and will feature the fabled platform 9 3/4 complete with a magical entry. No word on how it's going to work or what else we can expect in Hogwarts Express, but it will be an adventure the likes of which guests have not seen.
A few news agencies were taken behind the scenes and given more details about the area. Carkitt Market and Horizont Alley are said to be two areas that will be featured along the exit of Diagon Alley and will feature new shops, markets and live entertainment. The area is said to be named and inspired by J.K. Rowling herself. Other minor details emerging include the nocturnal nature of Knockturn Alley. The place where dark Wizards shop will be covered, giving a feeling of a darker more sinister area. Other details revealed to other agencies include that there will also be a huge mechanical fire breathing dragon. Also we will see Harry, Ron and Hermione in the Gringott's ride as well as animatronic Goblins.
Did you miss the announcement? You view the webcast in it's entirety below!
Universal Orlando has also updated their official Harry Potter website, which gives you a look around Diagon Alley.
Check out our video walkthrough of the website below, and click here to visit the site for yourself and explore!


The website gives you just basic glimpses of everything coming to Diagon Alley, but it does give you a good feel of the entire area, which is going to simply be massive. The definite favorite of the area so far is Knockturn Alley, which seems to have a very creepy vibe. There's a little more to explore on the official website, such as ticket packages, and of course you can send an Owl to your friends.
So much going on that 2014 is going to be an amazing year for Universal. Are you excited yet? Stay tuned as we add art, and more details as we get them.
Of course, there is even more Harry Potter good-ness taking place this weekend at Universal Orlando. Beginning tomorrow, Friday January 24th and going through Sunday January 26th there will be a huge Harry Potter celebration between Universal Studios Florida and Islands of Adventure. The celebration is included with your park admission, so there's no need to purchase a special ticket, but you may still want to purchase a park-hopper ticket to see everything that Universal Orlando has to offer, including the Wizarding World of Harry Potter – Hogsmeade and the beautiful London facade for the Wizarding World of Harry Potter – Diagon Alley, which will be opening later this summer.
Be sure to follow along with us all weekend for coverage of the Harry Potter Celebration at Unviersal Orlando.
Get social with us!
Follow us on Twitter @BehindThrills and like us on Facebook @BehindThrills.
Need to get tickets? Click the banner below to get your tickets today!