Things may be better, down where it's wetter, but Thursday night Arielle, Sebastian and even Ursula were hotter under the water when fireworks were a little too close for comfort. Fireworks from the nightly show, Wishes, caused a small piece of the ride in the New Fantasyland to catch fire.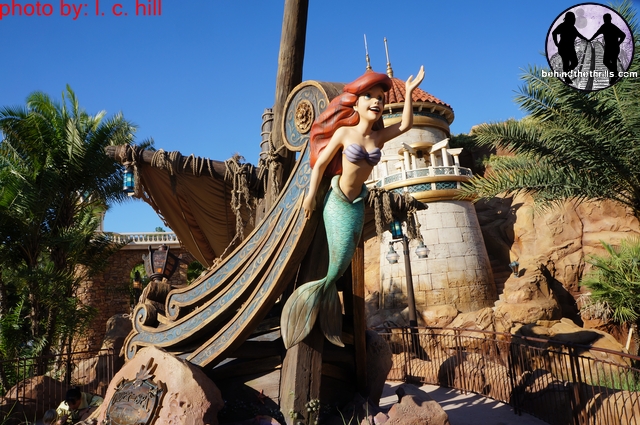 Every evening before the fireworks start, the roofs of new Fantaslyand are soaked down. They are extremely close to the ignition point of the fireworks in the park, which can be seen from both in front of Cinderella Castle, and in New Fantasyland. The Disney Blog reports that a new sprinkler system was installed when the area was built to help prevent sparks from the fireworks becoming a problem.  Witnesses said that Thursday night a small fire started on the roof, and then jumped to some of the rockwork before firefighters were able to put out the flames.
It's not the first time that fireworks have caused fires in the park. The brush area behind the park tends to catch small spot fires, while in 2001 one of the castle spires caught fire. Fire crews are always on hand to prevent the spread of the flames, and to prevent any damage or injuries in the park. The fire in New Fantasyland was put out quickly, and there were no injuries. It seems the dragon who was spotted at the opening didn't get a chance to roast the village after all.
http://www.youtube.com/watch?v=ZhTmBpZtExk
No word on whether or not the ride will be open for guests over the weekend, or if there was any damage that would prevent it.
Stay tuned for more updates, and be sure to follow along on Twitter @BehindThrills for the latest news.
For more information about New Fantasyland at Walt Disney World, visit the official website by clicking here!