Theme park designers help create some great stories. They work their magic to bring those stories to life, and let theme park guests from all around the world live those stories. It's only appropriate that the designers should have some great stories of their own. If you're interested in hearing those stories, as well as getting the chance to own rare theme park memorabilia, and props, then you won't want to miss this year's Fifth Annual Entertainment Designers Forum. This year's forum will feature designers who have worked at some of your favorite theme parks, films and even a "star" of AMC's hit show Walking Dead.
March 7th, designers from Disney, Universal, SeaWorld, Warner Brothers and more will come together at the Orlando Repertory Theatre for the fifth annual Designers Forum. The forum will feature artists, designers and more sharing intimate stories about what it's like to work behind the scenes at some of your favorite theme parks, shows, attractions and even movies.
There will be two sessions, each with different guests. Tickets are $25 dollars per session, or $45 dollars for both. In between each session there will be a chance to bid on several pieces of theme park memorabilia.
Here's some of the items you can have the chance to win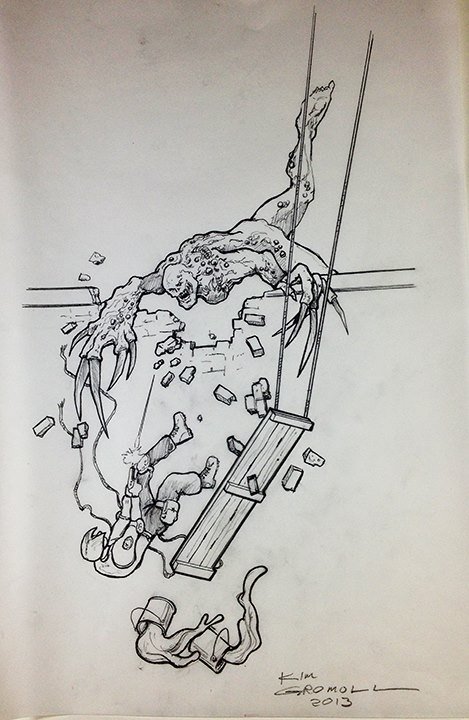 This isn't your typical theme park memorabilia that is available to guests. These are one of a kind pieces of concept art, and props that have been used in such events as Mardi Gras and Halloween Horror Nights. If you want to get a look at some more of the items, head over to the official Entertainment Designers Forum (click here), but we are told that the best stuff will be revealed at the forum, so expect tons of surprises.
Who can you expect to see at the Designers Forum?
6:30 Session
Laura Tyler: Makeup Artist, Winner, Face Off, Season 5
Eric Baker: Senior Prop Master, Diagon Alley, Universal
Gene Columbus: Executive Director, Orlando Repertory Theatre
Nick Collins: Scenic Designer, Universal Studios, Nickelodeon
Cindy White: Designer, Illustrator
Brian Morrow: Sr. Director, Attraction Development & Design, SeaWorld/Busch Gardens
Buy tickets for that session by clicking here!
9:30 Session
Bryn Court: Lead Sculptor, Diagon Alley, Universal Studios
Robbi Lepre': Director of Theatrical Services, Busch Gardens
Charles Gray: Assistant Show Director, Halloween Horror Nights, Universal Studios
Michael Roddy: Sr. Show Writer/Show Director, Walt Disney Parks & Resorts, US(and zombie in an episode of AMC's The Walking Dead)
Mark Hervat: Manager, Art & Design, Creative Entertainment, Walt Disney Parks & Resorts
Michael Burnett: Designer, Special FX & Prosthetic Makeup, Universal Studios
Buy tickets to that session by clicking here!
Of course, there's so many great stories that you'll want to attend both sessions. Attend both and save five dollars. Click here to buy tickets to both sessions.
Again, for the fans of The Walking Dead, a zombie will be in attendance from the show.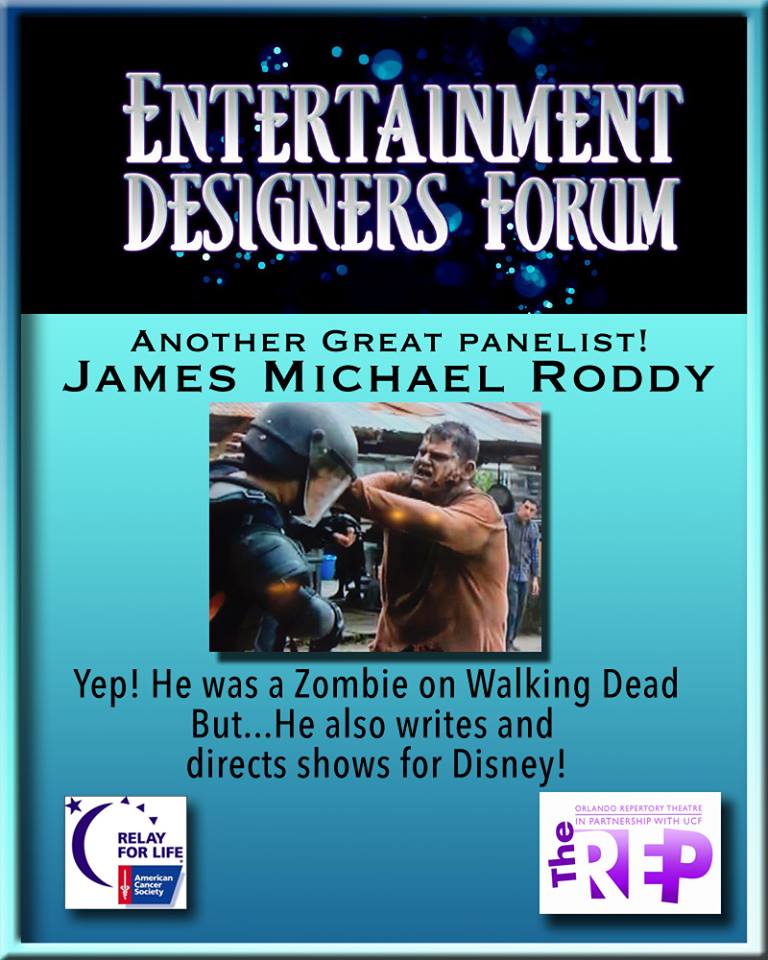 Not only does Michael Roddy make a formidable biter, but he also is a writer and director for Disney shows. He's also had a hand in creating some of the scariest figures from Halloween Horror Nights.
All of the proceeds from ticket sales, and the silent auction will benefit the American Cancer Society, in honor of Stephanie Girand. Stephanie was only 49 when she lost her battle with cancer, but in that time she worked on Universal's Halloween Horror Nights, Grinchmas, Universal Dubai and was a art director and set designer for many feature films.
Both sessions will be moderated by Assistant Director of Entertainment/Creative Development Universal Orlando Resort, Mike Aiello and Universal Orlando Designer Kim Gromoll, both with great stories to tell all their own.
For more information about how you can attend, and help with the fight against cancer and learn some great inside stories, visit the official Entertainment Designer's Forum website by clicking here!