Nearly 30 Haunted House tours in January? Tradeshow floor sales? Halloween social activities? Education from the industries top professionals? HAuNTcon presented by darklight successfully combined the best of all 4 into one amazing haunt convention!

HAuNTcon 2014 was a huge success! This year's con was the largest show the HAuNTcon team has ever produced! The Halloween trade-show is held annually in a different city, but 2014 was a bit unique.. For the 1st time ever, HAuNTcon was co-located with the gigantic Halloween & Party Expo which is held annually in January. The show took place in sunny Houston, Texas from January 23-28 at the George Brown Convention Center in conjunction with the Halloween & Party Expo! Moving HAuNTcon into the January time frame was a bold, but smart move. This gave vendors an opportunity to debut their new product lines for 2014 to thousands of haunted attraction buyers and retail store buyers from both HAuNTcon and the HPE show. In the past, most vendors had to wait until March to debut their new products. By showing them off in January, this gives vendors much more time to move their current stock and take orders before planning for the next big show even starts! Distortions Unlimited had a massive amount of new props and animatronics on display and sold EVERYTHING they brought with them as cash and carry items!


HAuNTcon is also known for hosting the best haunt tours in the industry. The 2014 tours were no exception. The tour buses made stops at nearly 30 of the best attractions Houston has to offer! The pre-show tours offered transportation, meals, and a combination of both lights off (complete with live actors, fog, lighting, and music) and lights on tours (guests were allowed to take photos and video during the tour). Some of the attractions even offered a look behind-the-scenes at their costume rooms, makeup station, and actor prep areas. In addition to the tours offered during the pre-show tour, HAuNTcon also featured 5 live-actor evening haunt tours between Friday, Sunday, and Monday. The haunt tours are a MUST DO if you plan to attend any future HAuNTcon shows.


HAuNTcon always stays on the cutting edge of what attendees want to see in the perfect trade show for haunters. The show floor provided businesses and enthusiasts the opportunity to shop for professional quality Halloween related products and meet some awesome celebrities from the hit TV shows Face Off and Making Monsters!
The 2014 Costume Ball was officially the largest of all time! Haunt owners, actors, makeup artists, and Halloween fanatics from around the world collaborated for one kick-ass evening of networking, dancing, drinking, eating, prizes, and haunting fun. Since the majority of haunters work every day in October, they never have the opportunity to dress up in freaky costumes for the fun of it. The costume ball gives attendees a chance to get back to what got them into haunting in the first place: Halloween! Included in the ball ticket was party favors, a t-shirt toss, prom photo, Texas Bar-B-Q buffet, free beer sponsored by Froggy's Fog, a cash bar, and even surprise kindle giveaways (won by Rebeca Rose & Karen Murphy)! Haunters put on their costumes and boogie shoes, and danced the night away to some awesome music played live by DJ Brian B. The costumes were AMAZING but the costume ball is all about SOCIALIZING AND FUN! Therefore, there is never a competitive costume contest at HAuNTcon.

Results from a recent survey revealed that education is the number one factor why haunters attend HAuNTcon. HAuNTcon featured over 50 hours of business seminars, creative sessions, demonstrations, and hands on workshops. Unlike many tradeshows, education at HAuNTcon IS INCLUDED FREE with paid admission to the show. For 2014, HAuNTcon increased the level of knowledge by adding more advanced classes with more accomplished speakers. Furthermore, some presenters were outside of the haunt industry, which brought fresh, cutting edge information to attendees. The 2014 education program was rock solid and featuring instructors from many top vendors, Face Off contestants, and well known haunts such as Universal's Halloween Horror Nights!


Another favorite event of HAuNTcon is the annual Haunted Garage Sale! Hundreds of props and haunt related items were sold in a flea market style fashion. Within the first hour, most of the items were sold to lucky buyers. In fact, several of sellers completely sold ALL of their items. Some of the attendees even got fantastic deals on rare items that are no longer in production. The garage sale took place in the convention center next to the trade show floor. This is an event that will surely return in 2015!

Haunters from around the world attended the celebration of the life for world-renowned face and body painter and master make-up artist Brian David Wolfe! A huge supporter of HAuNTcon from its conception, Brian passed away last October after a brave and valiant battle with cancer, leaving behind his wife Dara, daughter Trinity, and twin brother and business partner Nick Wolfe. Not to mention a million devoted fans whose lives were touched by this amazing talent through his award winning and all too short life.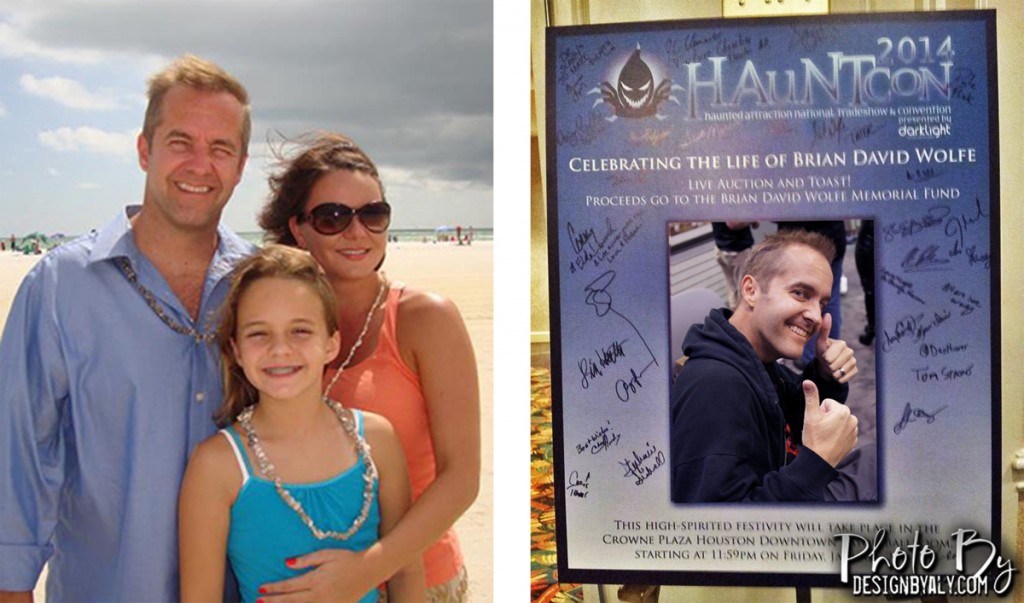 The event offered an opportunity say farewell and toast the devoted contributor to the Haunt business. While everyone was heartsick at Brian's passing, he would not want anyone to grieve. Instead, everyone showed their support to the Wolfe family with a special Midnight celebration. Brian's full but all too short life was memorialized in pictures, celebratory beverages and a live auction featuring high quality props, special effects systems, and more donated in support by major players in the Haunted Attraction industry. The auction raised $2,720 for Brian's wife Dara and their daughter Trinity!
HAuNTcon was in conjunction with the annual Halloween & Party Expo which increased the caliber of exhibitors! The Halloween & Party Expo featured a massive trade show floor with 1,400+ vendor booths spanning over 600,000 sq. ft. One of the highlights of HPE was their "Style Show", which is a runway show that features the industries newest costumes. Some often refer to this massive production as "The Grammy's of Halloween"!


By hosting HAuNTcon in January, this has set the bar high for the rest of the year! The upcoming trade shows will have their work cut out for them to keep up with everything HAuNTcon and the Halloween Party Expo had to offer!
On a side note, we would like to point out HAuNTcon still has some left over 2014 event shirts available online for only $20.00 while supplies last! Once these shirts are sold out, they will be gone for good, never to be printed again! Click here to purchase yours today!
 One of the best things about HAuNTcon is there was ALWAYS something to do from morning until night with transportation to and from the events. Some of the events even offered meals. At many other trade shows we attend, once the trade show floor closes for the day, your on your own the rest of the evening. HAuNTcon always makes sure there is something entertaining to do. Even late nights, they offer the famous "HAuNTcon Hospitality Suite" to kick back, relax, have some drinks, and socialize with haunters while you wind down from a long day of activities. We can't wait for HAuNTcon 2015!