Hey, hey, hey! Mardi Gras at Universal Studios Florida is going on strong this weekend, as more beads, more food and this weekend "blurred lines" as Grammy nominated performer Robin Thicke will be on hand. The performer who's hit single "Blurred Lines" made it's debut at the top of the Billboard Music Charts, and hit the top spot in over 100 countries worldwide, will be performing as part as the annual Mardi Gras celebration that is happening now until May 31st. While you should stay for the concert, it's the food, and parade that makes it worth going back for.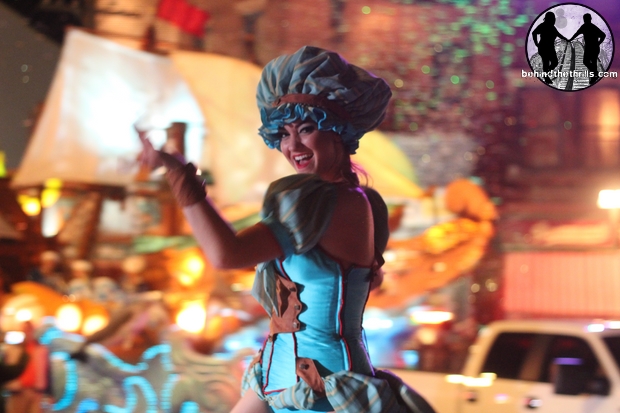 While the first weekend of Mardi Gras at Universal was wet, it didn't stop the party from happening. However, it did keep a lot of the performers on the ground and out of the weather. During this past weekend's event, the weather was gorgeous, which allowed for all the performers to not only come out before the big parade, but also meet with guests before the event.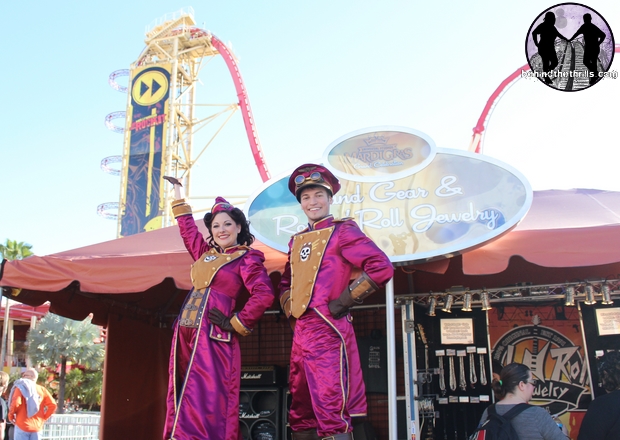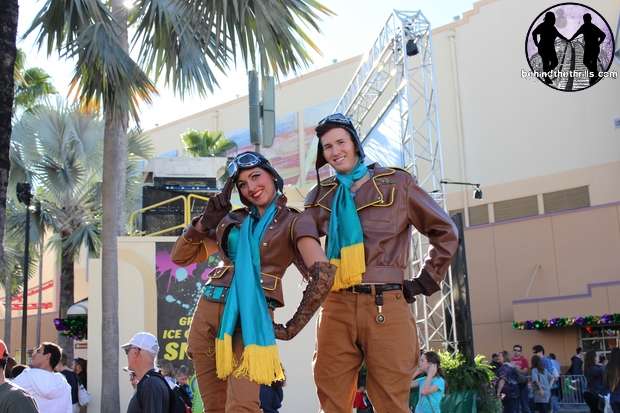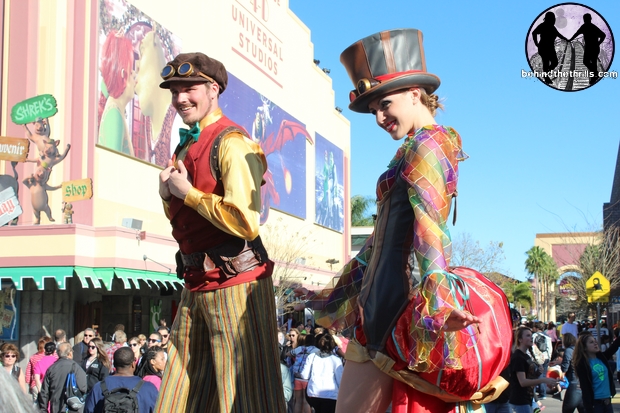 Every year Universal changes up some of the floats, adding new floats and getting rid of others. This year is no exception as the park added three all new floats inspired by the Jules Verne Classic-Around the World in 80 Days. The costumes of the characters match each of the floats. For example, the characters for the "Take Flight" float look like airplane pilots or even pilots of Zeppelins (blimps). They have a very retro 20's and 30's look, and the costumes are just as gorgeous as the floats.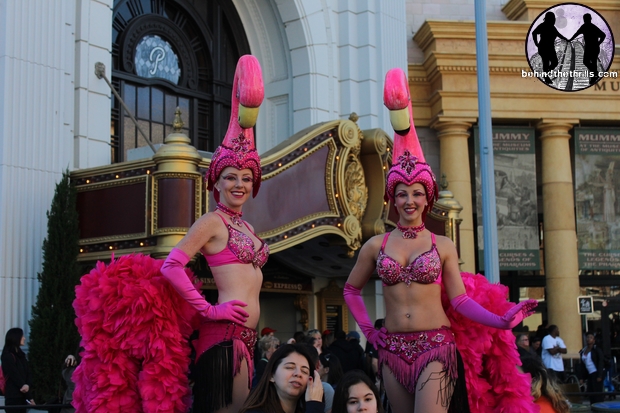 Of course, favorites return, such as the Royal Court, birds and of course the Flamingos. The parade will happen at 7:15 this weekend, and will start at Pantages theater before wrapping down Hollywood, and pass by the Universal Music Plaza. At 8p.m. Robin Thicke will perform on the main stage at Universal Music Plaza, right under Hollywood Rip Ride Rockit.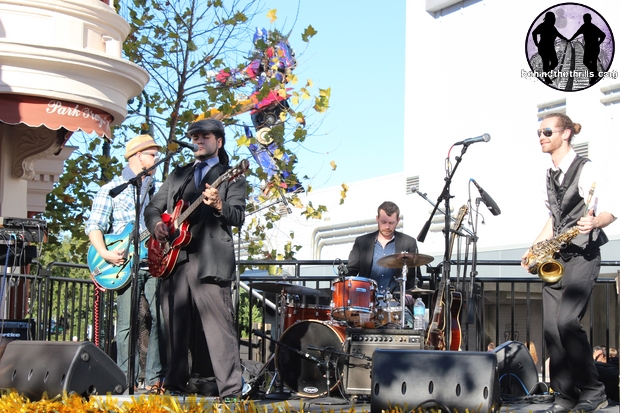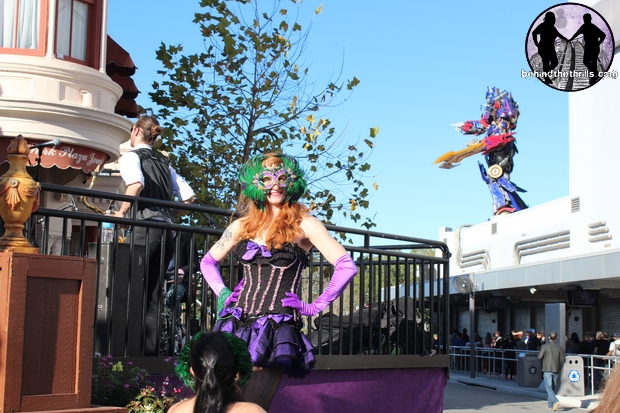 If you're looking to catch a little music before the parade, and perhaps get some authentic New Orleans cuisine, the French Quarter serves up many different kinds of Cajun and traditional Mardi Gras dishes. It's also the place to catch bands direct from New Orleans.
Here's the line up for the rest of  the Mardi Gras concerts at Universal Orlando:
2014 Mardi Gras Talent Line-Up

Mardi Gras Event Dates

Headliners

(performing in the Music Plaza)

February 22
Robin Thicke
March 1
Collective Soul
March 8
Prince Royce
March 14
Cody Simpson
March 15
Foreigner
March 21
A Great Big World
March 22
Gavin DeGraw
March 28
Kelly Rowland
March 29
Weezer
April 5
Skillet
April 12
Lynyrd Skynyrd
April 19
Kool & the Gang
May 3
Nelly
May 10
The Wanted
May 17
The Roots
May 24
Cher Lloyd
May 31
Huey Lewis and the News
 Here's the remaining line up for the bands performing in the French Quarter
FEB 22-ROCKIN' JAKE
MAR 1-BIG AL & THE HEAVYWEIGHTS
MAR 8-DADDY MACK BLUES BAND
MAR 14-MISSISSIPPI RAIL COMPANY
MAR 15-MISSISSIPPI RAIL COMPANY
MAR 21-THE BIG EASY PLAYBOYS
MAR 22-THE BIG EASY PLAYBOYS
MAR 28-DIRTY BOURBON RIVER SHOW
MAR 29-DIRTY BOURBON RIVER SHOW
APR 5-JOHN LISI AND DELT FUNK
APR 12-BETH MCKEE & THE SLIDERS
APR 19-GRAVY
MAY 3-CHRIS O'LEARY
MAY 10-T BIRD & THE BREAKS
MAY 17-GRADY CHAMPION
MAY 24-CHA WA
MAY 31-NAUGHTY PROFESSOR
Slideshow-Check out all the characters and floats at Universal Orlando's Mardi Gras

Can't view the slideshow on your phone? Click here to view pics of all the characters at this year's Mardi Gras!
The parade, beads, and concert are all included with your admission to Universal Studios Florida. The park has a lot happening in 2014, from the largest Mardi Gras ever, to The Wizarding World of Harry Potter-Diagon Alley opening this summer!
Update 2-21-14
Robin Thicke has cancelled his Atlanta performance tonight and his Mardi Gras performance for Saturday night. Apparently it's a case of Larengitis.
From Universal's Facebook page:
Robin Thicke has cancelled his performances tonight in Atlanta – and tomorrow at Universal Orlando Resort. We are happy to share that Robin has agreed to reschedule his performance at Universal Orlando for a future date.

Mardi Gras will continue as scheduled tomorrow night. There will be a great Mardi Gras parade, authentic Mardi Gras food and a performance by an authentic New Orleans band. We are sorry for any inconvenience.

Please see the below note from Robin Thicke:
"I never want to let down my fans but I have unfortunately lost my voice and cannot perform tomorrow night. I have been looking forward to going to Universal Studios in Orlando, and am very sorry that my concert there tomorrow now has to be canceled. I apologize to everyone".
Silver lining, Robin Thicke will perform sometime in the future, just maybe not for Mardi Gras…either that or Universal may add yet another Mardi Gras performance date. Still, the REAL draw is the characters, the beads and the parade..there will be a performance from an authentic New Orleans band so, there will be music.
Stay tuned for even more updates from Universal Orlando. Be sure to follow along with us on Twitter @BehindThrills for the latest updates!
For more information about Mardi Gras at Universal Orlando, visit the official website by clicking here!