Frozen is pretty much the best Disney movie to come out in a very long time. It's a nod to the classic Disney films, while taking things in a fresh new direction. The film has been nominated for Oscars, and other awards. It's even been released in Sing a long form on movie screens. Tomorrow, however is your chance to sing a long with the entire nation.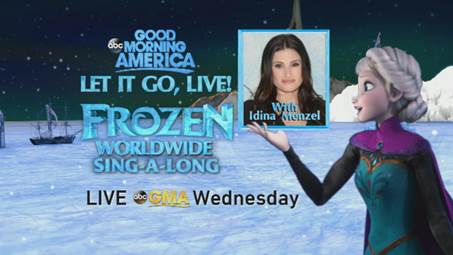 Good Morning America will broadcast a live sing a long with Idina Menzel of the hit song Let It Go from Frozen. If you're in the New York area, you can join the crew in Times Square, just be in Times Square by 7:45. For the rest of us, the event will be broadcast live on television at 8:30 and will feature not only Idina Menzel, but also surprise cameos from celebrities, You Tube versions from kids around the world, and "Frozen" character's Princess Elsa and Princess Anna from Disney World.
Set your DVR's and follow the official hashtag on Twitter #FrozenGMA for all the fun!
Update
Thousands flocked to Times Square to brave the frozen temperatures and sing a long with GMA. The song has become an anthem for girls and grown ups alike. The soundtrack knocked Beyoncé's latest album off the top spot, and shows no sign of slowing just yet. The song, and the film has been nominated for an Oscar. Let it go is nominated for bestvsong, where it will most likely win. Best animated feature will be a bigger battle between Frozen and the legendary Miyazaki and his film The Wind Rises.
The film has just had it's digital release, and will hit DVD very soon.
Click here to watch the GMA sing a long of Frozen
Stay tuned as we bring you more Disney goodness, and be sure to follow along with us on Twitter @BehindThrills for the latest updates!