It's a very different type of Disney parade that we're used to. It has all new floats, new characters and costumes that were printed instead of using traditional methods, and a brand new score made just for the parade. The official Disney Parks Blog has also given it an official opening date, and the fantasy is a lot closer than you might think.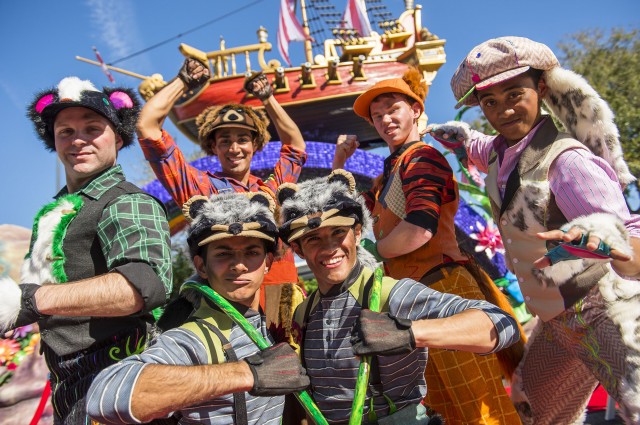 The costumes are brand new and feature characters from your favorite Disney stories that you've never seen before. From a better look at Lost Boys to some characters inspired by the all new film, Maleficent, there is a little bit of every side of Disney.
Some of the all new costumes weren't made by traditional tailors. Instead Disney costumers made special pieces using 3D printers. Things like beaks if the raven characters were printed out, then fleshed out to complete that steampunk look.
Video-Check out all the new costumes from Disney's Festival of Fantasy Parade
Fans have also gotten a sneak peek at the music, and what it's taken composer to bring that special new Disney sound to life. Composer Mark Hammond has previously worked on World of Color at Disneyland, and the Flights of Fantasy Parade at Hong Kong Disneyland.
Video-Take a listen to the all new music for Disney's Festival of Fantasy Parade at Magic Kingdom

The all new parade will make it's debut on March 9th. The parade, while not your typical Disney Parade, will feature some of your favorite Disney characters, many new characters and things that you know and love from every other Disney Parade. Choreography is always a big part of the parade, with performers not only walking in the parade, but actually dancing. It's a difficult task to bring all that together.
Video-Watch as dancers rehearse to get everything right in the all new Festival of Fantasy Parade

We're sure there will be more surprises as Disney counts down until the big parade debut on Sunday March 9th.
Slideshow-Check out all the new costumes from the Festival of Fantasy Parade


Click here if you can't view the slideshow
Stay tuned for more Disney fun, and be sure to follow along with us on Twitter @BehindThrills for the latest updates!
For more information about the Festival of Fantasy Parade at Magic Kingdom visit the official website by clicking here!