Mardi Gras at Universal Orlando is back and bigger than ever in 2014 with more bands and more beads! The annual celebration brings in national artists from different genres and this year is no exception. From pop, rock, classic rock and even some Christian choices, this year's Mardi Gras at Universal Studios Florida is the biggest mix if music this side if the bayou.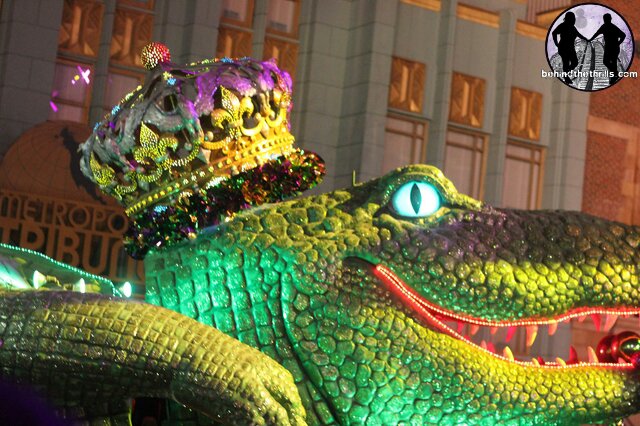 On select nights beginning February 11th, Universal celebrates with the biggest party this side of the Mississippi with authentic food, a massive parade and music direct from the Big Easy.
The highlight, however, are always the concerts. Universal brings in more artists this year to celebrate the biggest Mardi Gras to date. The park has already announced Robin Thicke and The Wanted,  but today has added to that line up.
Here's the line up so far:
-Feb 8th Daughtry
-Feb 15th Barenaked Ladies
-Feb 16th Thomas Rhett
-Feb 22nd Robin Thicke
-March 1st Collective Soul
-March 7th Prince Royce
-March 14th Cody Simpson
-March 15th Foreigner
-March 21st A Great Big World
-March 22nd Gavin DeGraw
March 28th Kelly Rowland
-March 29th WEEZER
-April 5th Skillet
-April 12th Lynyrd Skynyrd
-April 19th Kool N the Gang
-May 1st Nelly
-May 10th The Wanted
-May 17th The Roots
-May 24th Cher Lloyd
-May 31st Huey Lewis and The News
There's still a lot of missing artists, so it will be interesting to see who fills in the missing spots. Also very interesting is the choice of Barenaked Ladies who recently boycotted SeaWorld Orlando after giving into pressure following a petition urged them not to perform at the park. They were scheduled to perform on February 15th at SeaWorld Orlando, the same day that they will now perform at Universal.
While the concert line up is a big reason to visit, the most fun and probably the best reason to visit is the parade. Each year Universal Studios has a different theme to the parade. Of course, there are some traditional floats that are always a part of the line up, but each year Universal tends to change up about three of the floats to fit the theme of the year. This year's theme is the Jules Verne classic, Around the World in 80 Days. The story goes around the world in many different modes of transportation, and this year at Universal Orlando you'll see them all. Guests will take to the Air, Land and Sea in each of the three new floats.
What will the new floats look like? We were able to get a sneak peek back in August when we took a trip to, ironically enough, New Orleans, home of Mardi Gras and more importantly Mardi Gras World. Mardi Gras World is the home of Blaine-Kern Studios, the makers of all things Mardi Gras. Click here to get your first glimpse at this year's new floats!
The line up seems to go in many different directions this year. Who are you most excited to see? All concerts are included with theme park admission, and are performed immediately after the huge Mardi Gras parade. Also worth noting, there doesn't seem to be an event planned for April 26th.
Update 1-23-14
The Wanted has just announced that they are calling it quits after their tour ends on May 17th. They will break up to pursue solo projects for now but will still collaborate with each other and may get back together to record more in the future. So what does this mean for the performance at Universal on the 10th? The band is still scheduled to appear, and the performance at Universal will be one of the last. Fans should probably expect a huge show.
Update 1-28-14
Universal has just officially added three new artists to the line up.
A Great Big World will be saying something March 21st
WEEZER will be in the perfect situation on March 29th
And Huey Lewis and The News will be back in time to wrap up the event in May 31st
Update 2-3-14
Universal has announced that Cher Lloyd will be performing on May 24th.

Cher Lloyd is the latest on the growing line up for Mardi Gras.
Update 2-11-14
The final two TBA spots have been filled with some huge names. Kelly Rowland, formerly of Destiny's Child and now a huge star on her own will take the March 28th spot as part of a double line up weekend that already includes Weezer. On May 17th the very talented hip hop group The Roots will round out one of the final performances of the Mardi Gras season. They are Jimmy Gallons house band for Late Night and will continue as he makes the transition to The Tonight Show. They've brought style and talent to many of the skits and musical acts and have proven to be entertaining and talented.
Want get a glimpse of this year's Mardi Gras? Check out our coverage from the opening night of Mardi Gras by clicking here!
Stay tuned for more info as we get into the season of coasters and concerts! Be sure to follow along with us on Twitter @BehindThrills for the latest updates.
For more information about Mardi Gras at Universal Orlando visit the official website by clicking here!