Memorial Day weekend is just a few more weeks away and that means big things for Busch Gardens Williamsburg and Water Country USA. Memorial Day is pretty much the official start of the summer – colleges are finishing their Spring semesters, kids are just a few weeks away from summer vacation, and more importantly the hot weather is finally back! Busch Gardens and Water Country both have big plans for this coming Memorial Day. Opening on May 23rd is both Colossal Curl at Water Country and London Rocks at Busch Gardens. Busch Gardens has given us a sneak peek behind the scenes at the all new show that will not only change the musical line up of the park, but will also change the entire opening area as well!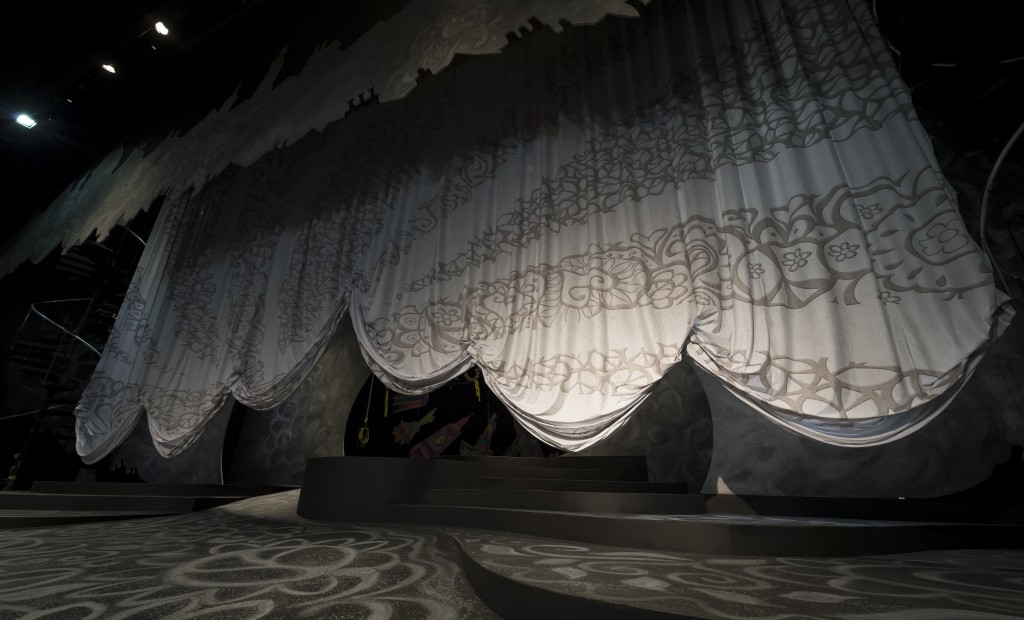 London Rocks is the all new show that not only showcases the British music that helped to change the face of music history, but will also take guests on a journey of the power that music has in people's lives. In the photo above, you cam see that Busch Gardens has made a lot of changes to the stage that existed prior to London Rocks. It is quite a beautiful set up.
The show will feature a brand new stage plus a monochromatic set which represents London's pre-rock era. The Globe Theater will be turmed into a rock-and-roll mecca for music fans of any age with 2,000 audio speakers and powerful video projectors. In the photo above, you can see some of the bright colors that will be used in the show.
Video: Sneak Peek at London Rocks with Scott Gasparich

"We are returning the Globe Theatre to its rightful place as Busch Gardens' premier live performance space," said Scott Gasparich, vice president of Entertainment for the Williamsburg theme park.
By the numbers, London Rocks will feature:
18 Performance platforms
76 Miles of audio, video and electrical cables
150 Wigs used during the show
323.5 Vinyl records used in set
900 Costume pieces in show
876 Hidden peace signs used in the set design
1,839 Speakers inside Globe Theatre
24,440 Musical notes in the show's 27-minute score
54,000 Video animation cells used during the show
1,541,765 Feet of rigging inside the Globe Theatre
For more information about Busch Gardens Williamsburg, click here to visit the official website.
Need to get tickets? Click the banner below to get your tickets today!