When it comes to turning Disney movies into attractions, Disney usually hits it out of the park. When it comes to turning attractions that weren't based on movies into movies, the results are mixed. Disney is going to once again try it's hand at spinning silk into gold with a big screen adaptation of it's classic attraction, It's a Small World. The film has gone as far as to get a director attached. While the idea definitely seems doable, could a world of hope and a world of fears be made into a world of success for the mouse?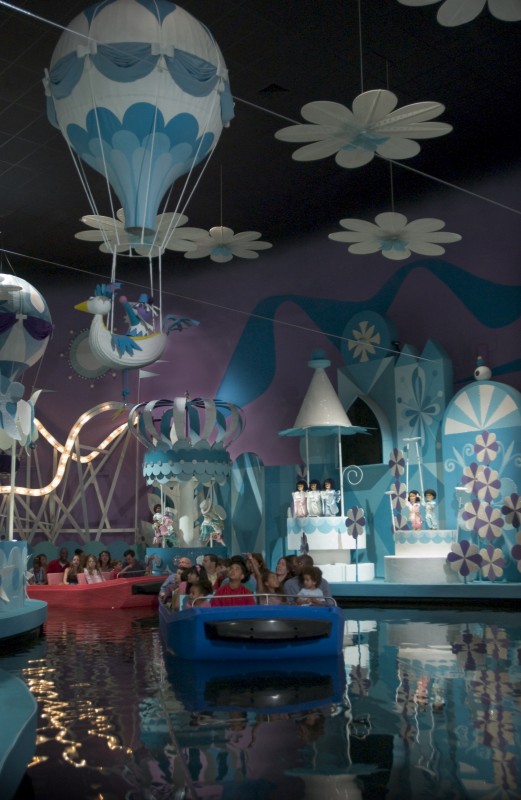 According to Deadline the studio has tapped Jon Turtletaub to direct the film, with Jared Stern pitching and writing the screenplay. Stern is helping to write the Lego Movie sequel, and Turtletaub's last film was Last Vegas. The director has also directed hits for Disney like the two National Treasure films, and Cool Runnings.
It's a Small World has just celebrated it's 50th anniversary, and is a mash up of kids from all over the world singing about unity. The ride is being eyed as a franchise, like Pirates of the Caribbean, and like Pirates does not have a set story. It's very possible that the story could be based on something else completely, with little nuggets of the ride sprinkled in…just like the Pirates films have had. Of course, there's that song…
This isn't the only Disney theme park property that is being looked at for a film. Currently the Mouse House has several projects in the fire, while several others have come and gone.
Here's a list of films based on attractions that have either been made, are being made, or have been scrapped:
Pirates of the Caribbean-Four highly successful films with a 5th in talks
The Haunted Mansion-One film starring Eddie Murphy that bombed. There were talks with Guillermo Del Toro directing and writing, but that has fallen flat
Matterhorn-This film would be loosely based on the roller coaster, and concentrate on the Yeti that lived in the mountain. It was announced and shelved
Country Bears-Big bear suits…it was a box office failure, and did nothing to help the Country Bear Jamboree
The Jungle Cruise-Was going to be a film about finding a cure for a huge disease on the four great rivers of the world. The Jungle Cruise itself is inspired by The African Queen. The film has been shelved
Space Mountain-This film would have been based on the roller coaster…we don't know how…but it's been shelved
Tiki-A film based on the enchanted Tiki Room was announced, and shelved.
Tower of Terror-This film was a direct to video movie that starred the Olsen Twins. It has it's following, but is pretty dismal
Mission to Mars-Based on the classic attraction of the same name, the film was a mild success, but did not feature much of the ride in it
Magic Kingdom-This has been in the works for a while, with Jon Favreau directing. The studio insists it's still alive, but there has been very little movement on it
Tomorrowland-The super secret film starring George Clooney and directed by Brad Bird is apparently still filming. No release date has been set
It's likely that Small World could end up like several other Disney films, and end up being shelved. Will Disney take a risk on making the film if it's not a sure fire hit? The biggest question is, if the film is made and is a hit…could we expect to see animatronics made to look like the film's stars added to the ride?
Stay tuned as we find out more about It's a Small World, and be sure to follow along with us on Twitter @BehindThrills for the latest updates!