Saturday SeaWorld Orlando kicked off their annual celebration of Latin heritage, music and food with the 2014 Viva La Musica! The annual celebration combines some of the hottest Latin bands, with the fun and education of SeaWorld, and tops it all off with delicious Latin and Caribbean inspired food, with a menu created by SeaWorld Orlando's own Executive Chef-Hector Colon.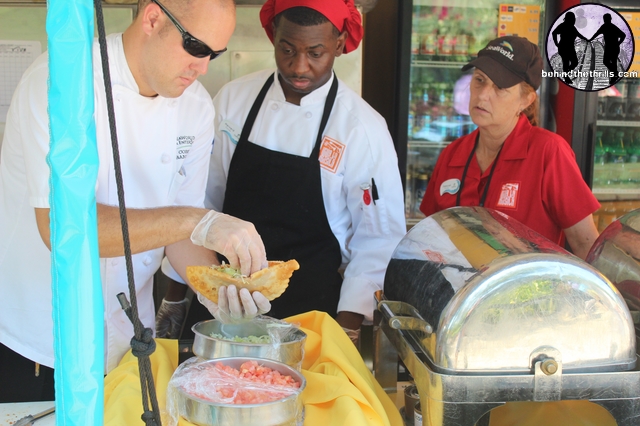 While huge Latin and Reggaeton bands are the main acts, the headliner here is the food. This year all food is prepared in house by SeaWorld chefs, with the menu created by Chef Hector Colon. There are three different tents, each with different flavors and dishes. In one tent you might find empanadas, arroz con pollo, while another you can purchase habichuelas rojas y maduros, and in the third churrasco and bacalaítos.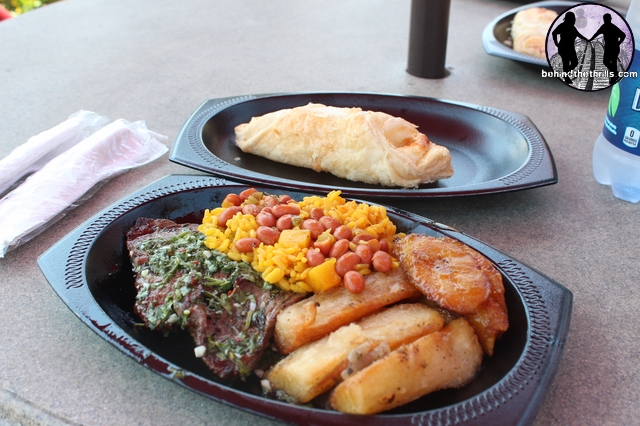 Our favorite has got to be the churrasco with chimichurri, fried yucca, plantains and rice&beans. The flavors of all the dishes just pop out. If you're looking for chicken, they have a great selection of BBQ chicken pork, as well as beef. This isn't Taco Bell, the flavors of the food really stand out. The portions are a good size, and range in price from around $6.00 dollars up to around $14.00 dollars, depending on menu selections. Passholders do get discounts at all tents and stands.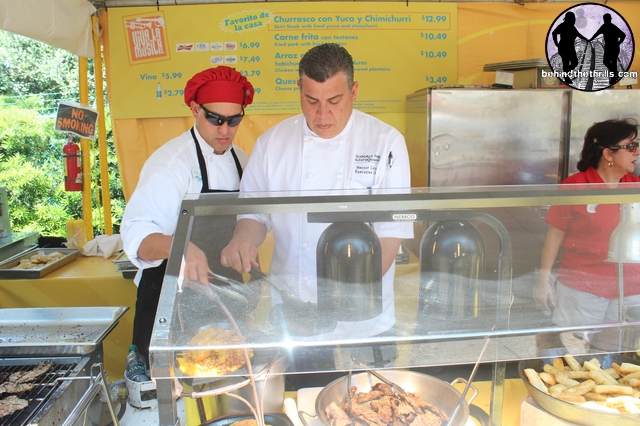 Chef Hector Colon is truly a rockstar when it comes to this event. He has over 20 years experience creating different Latin and Caribbean based dishes for various restaurants, and has of course been perfecting the food and style his entire life. While he helps create dishes year round for the rest of SeaWorld Orlando, Viva La Musica is where he is given room to truly shine and create a unique menu.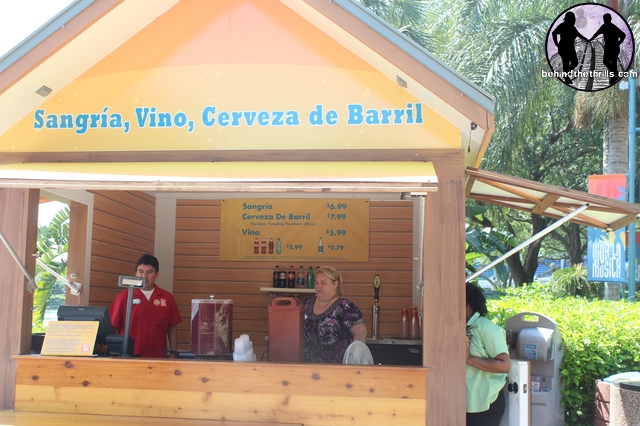 There are also different stands for things like piraguas (Puerto Rican shaved ice) and of course cerveza (beer) and mojitos. Merchandise stands and tent showcase different flag decorated memorabilia, as well as well as different snacks.
Video-Dance and eat at Viva La Musica at SeaWorld Orlando
Music is also the key of the celebration, and Viva La Musica, naturally supplies plenty of it, as well as tons of different activities for the family.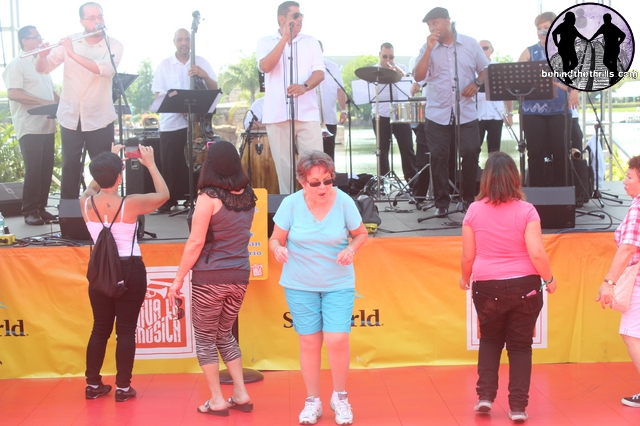 Periodically throughout the day DJ's spin the top music from the biggest Latin, Samba, and Reggaeton stars. Also live bands come out to perform several times daily. Guests can watch dancers while enjoying food and cocktails, or join in themselves.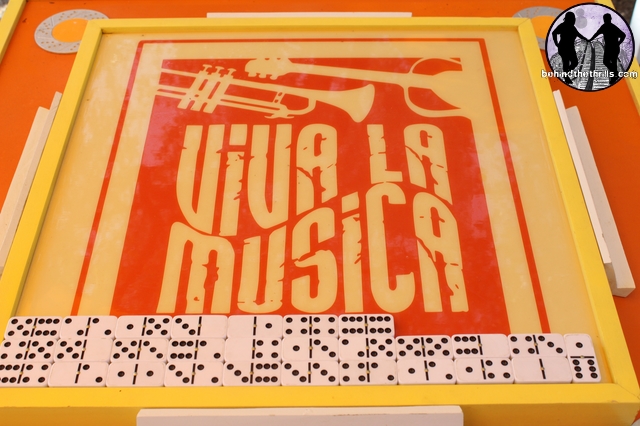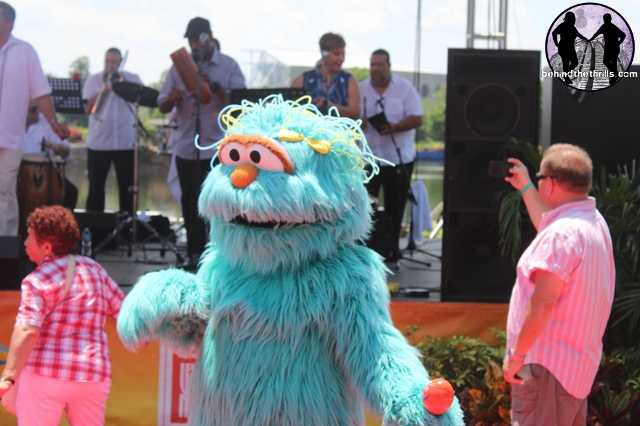 There are different games for the whole family, including education stations for the kids in which they can earn prizes while they learn. Guests can also relax and play a game of dominoes. Characters such as Shamu, Dolly the Dolphin and Pete the Penguin come out in costumes designed specifically for Viva La Musica, while Sesame Streets own bilingual monster, Rosita.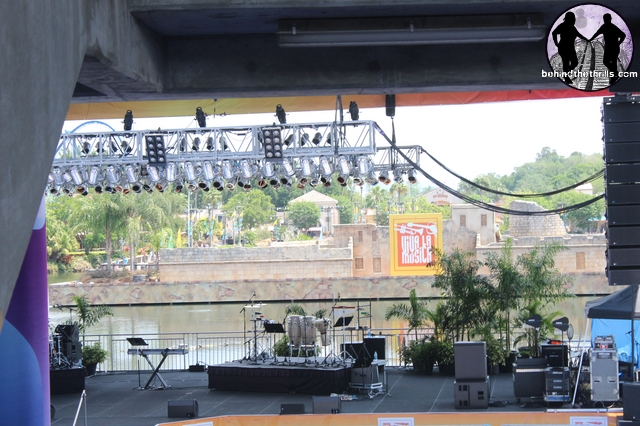 For the biggest names in Latin Music, open seating is available at Bayside Stadium. Concerts are included with theme park admission, and are on a first come, first serve basis. This week Chino and Nacho were the musical guests, and it was a packed house.
Here's the remaining line up:
May 3 La India
May 10 Victor Manuelle
May 17 Olga Tañón
Seats can fill up fast, so make sure to get to the stadium early to make sure you get the best seats. If you want guaranteed seats, or to make sure you get even closer to the action, you can book a VIP package. Packages start at $19.00, and sell out quickly.
Slideshow-Check out even more Viva La Musica! At SeaWorld Orlando

Viva La Musica happens every Saturday until May 17th. With the exception of the food, all activities are included in theme park admission.
Stay tuned for more from SeaWorld Orlando, and be sure to follow along with us on Twitter @BehindThrills for the latest updates!
For more information about Viva La Musica at SeaWorld Orlando, including tickets and VIP Packages, visit the official SeaWorld Orlando website by clicking here!
All photos courtesy of Clif Yates.