For 19 years, TransWorld's annual Halloween & Attractions Show has created the ultimate marketplace for the Haunted Attraction industry. Every year in March, attraction owners, operators, and designers gather from around the world in St. Louis, MO to network, get fresh ideas, and purchase new products for their attractions. With hundreds of the worlds best haunt vendors and professional make-up artists all in one location, this is "THE" show for haunted house owners and operators. Here you will see some of the world's top pneumatic props as well as the latest and greatest high tech attraction gadgets.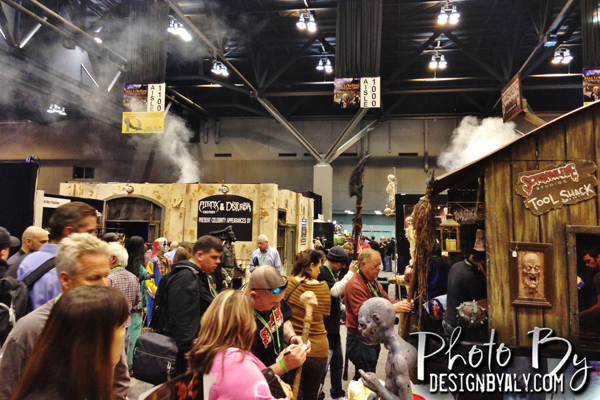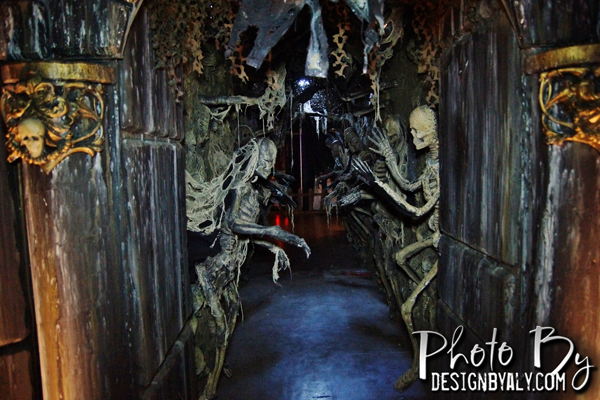 The show brought some amazing new products and a glimpse of what to expect for the rest of the year. If you're longing for the smell of fog, or the sounds of screams, you don't have to wait until October. We have hundreds of pictures and videos of this year's HAA Show packed in bloody bite size morsels.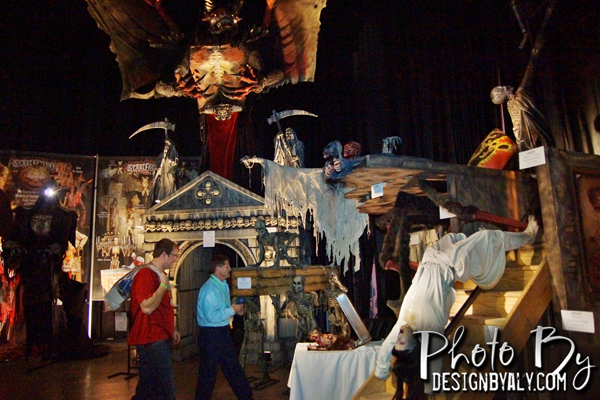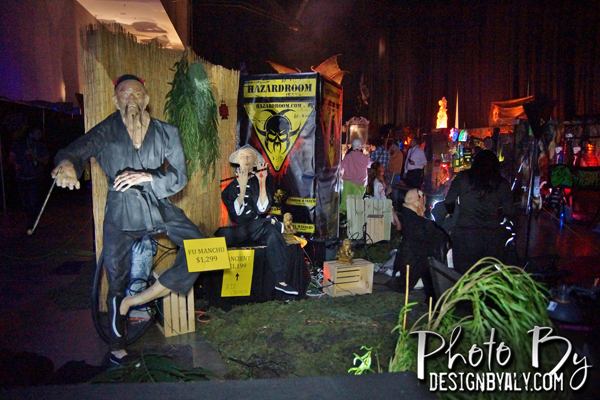 One of the staples for any good haunted event or attraction is of course the fog. Froggy's Fog is the industry leader in creating fog and fog additives. This year they have gone an extra step with creating new "edible bubbles"! Edible Bubbles…you read that right. Just imagine going through your favorite haunt event, or even better a kids event. Bubbles come flowing right over head, and instead of just walking past them, you open your mouth and catch them on your tongue…like snowflakes… but they don't stick in your hair. "Yum-Me! Bubbles" are available in various flavors including cherry, tutti frutti, and our favorite, bubblegum! More flavors are set to be released later this year. The crew at Froggy's have also just released a bran-new state of the art website worth checking out as well. Their new "fluid finder" makes selecting fluid for any machine and any effect a breeze! www.froggysfog.com.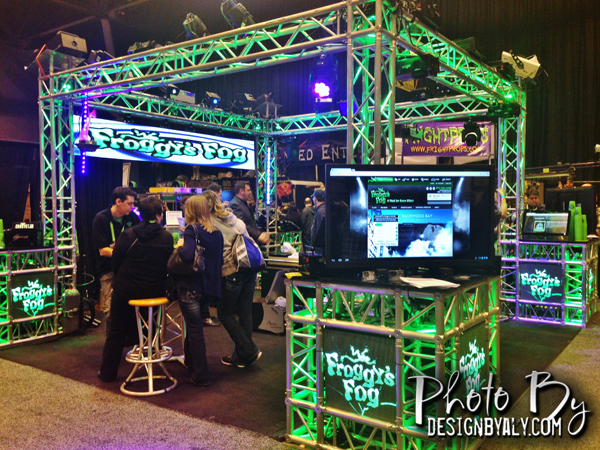 Gore Galore released a really cool GIANT actor-matronic called Skulliath. The reason it's called "actor matronic" is due to the fact that it's an animatronic moved around from behind by a real actor. The new prop features a nasty giant skull and hands, mounted on 3 independent tracks capable of grabbing at or biting your customers. There is also a glowing clown version available called "Pogoliath". Skulliath is featured in the video below which also highlights various 2014 Gore Galore products. www.gore-galore.com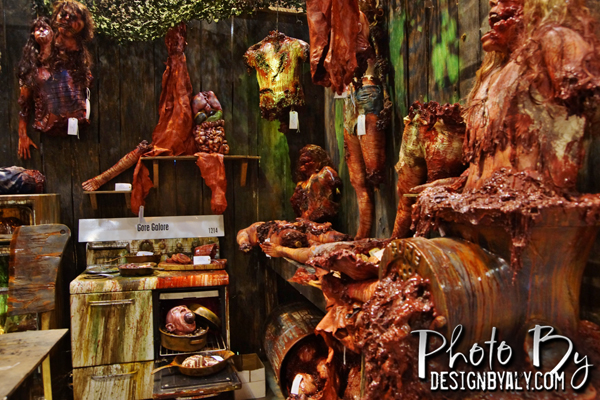 Creepy Collection was back again with a huge presence. They provide movie quality bodies to haunts, movie productions, and TV Shows. For 2014 CC released a new "Necro" line of products. These were the first products to be nearly 100% fabricated in house by Creepy Collection. They also debuted a bunch of new Fear Flex Doll props and torso props at TransWorld. We spoke with the team, and they also mentioned that they plan to release a mid-range flex props line this year as well, so be on the watch for the mid-range lineup soon! Many of these detailed, gory characters can be seen in a variety of haunted attractions and horror flicks world wide. www.creepycollection.com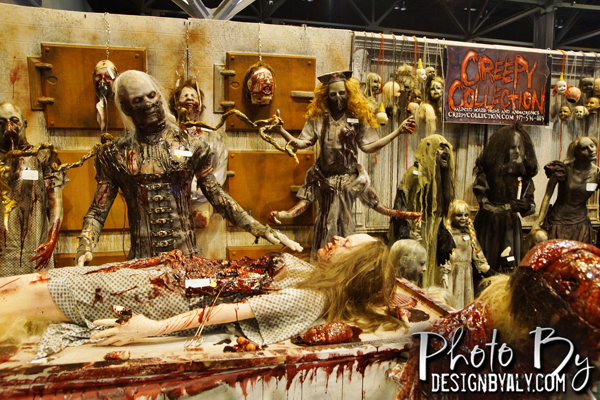 A new vendor this year that made a big impression on the show floor was MN8-Foxfire. This was the company's first time vending at TransWorld and they "wowed the crowd" with their illuminating paints and decals. What makes their products completely unique is the capability to serve as its own light emitter. Other high visibility products and reflective striping on the market do not work in a dark environment unless an active light source is present. MN8-Foxfire won the 'Best New Product' award for their innovative illuminating products that promote safety in attractions and events. www.mn8products.com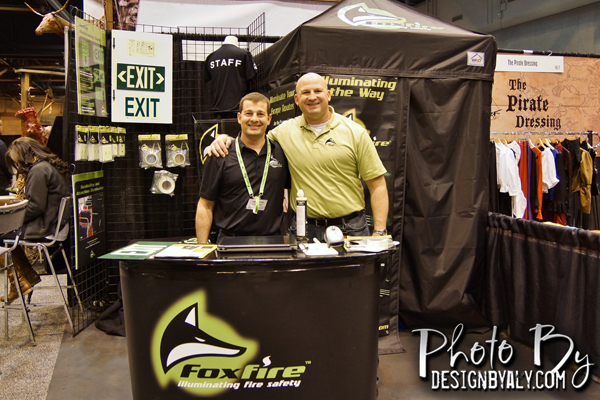 Another product that has been game changer in the Halloween and horror industry is Zombie Skin. This is an amazing ammonia-free, super fast drying latex being used in many top haunts, TV shows, and now even on movie sets! It has the consistency of whipped butter or whipping cream and can be used alone for cuts, gashes, wounds, bites, claw marks, and the rest is up to your imagination. Zombie Skin can also be used to blend prosthetic edges on foam latex, latex, silicone, netting and clothing. This stuff is truly the future of the special-fx industry. The best part is ANYONE, YES.. even the general public can buy Zombie Skin! For more info visit their site at www.zombie-skin.com.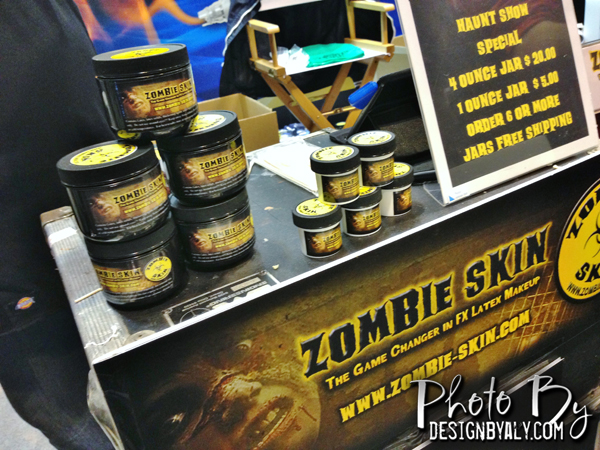 Also new this year for TransWorld was Monster Makeup Wars. Similar to the makeup wars competition that takes place annually at Midwest Haunters Convention (Columbus, OH), this was an all-out battle as makeup artists competed to win the title as the 1st annual MMW Champion!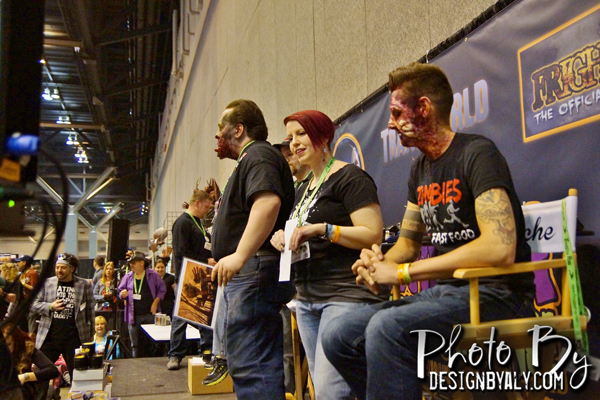 The show floor wasn't the only place where the action was happening. With all the sponsored parties and events, it was enough to wake the dead. One of the event highlights was the Haunted Attraction Association's 2014 OSCARES Awards Banquet. Similar to the famous "Oscars aka Academy Awards," the HAA OSCARES awards ceremony showcased and awarded haunters and vendors who excel with excellence in the industry.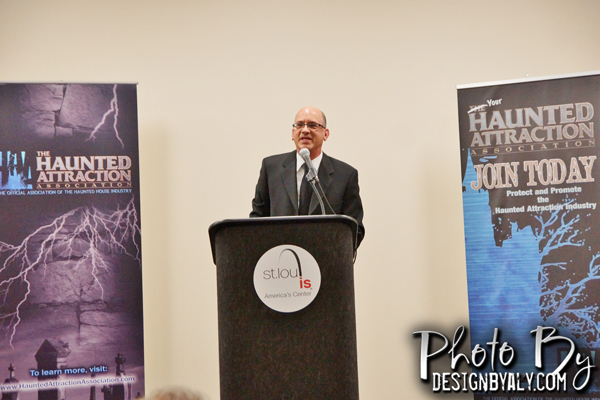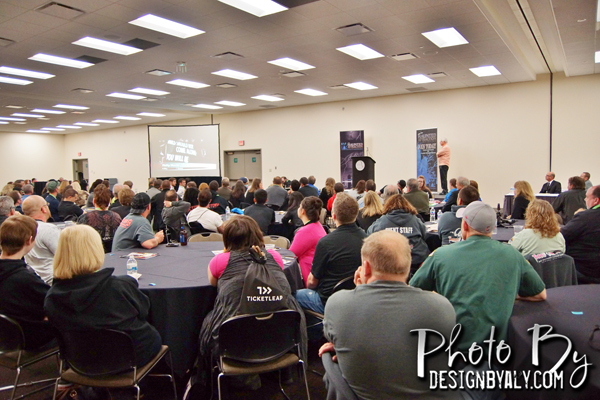 The association acknowledged Ellen DeGeneres by giving her an award to kick off the ceremonies. The Board of Directors took to social media as they shot out a similar selfie to Ellen's famous Oscars twitter photo.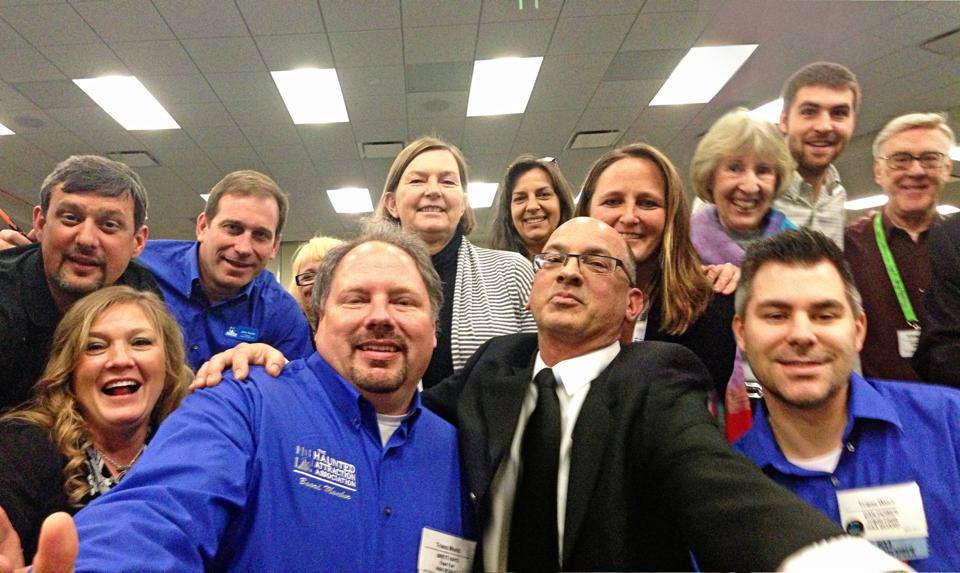 2014 Award Winners:
Lifetime Achievement Award
Vendor Excellence Awards:
Board of Directors Awards
Best New Product
Presidents Awards
2014 winners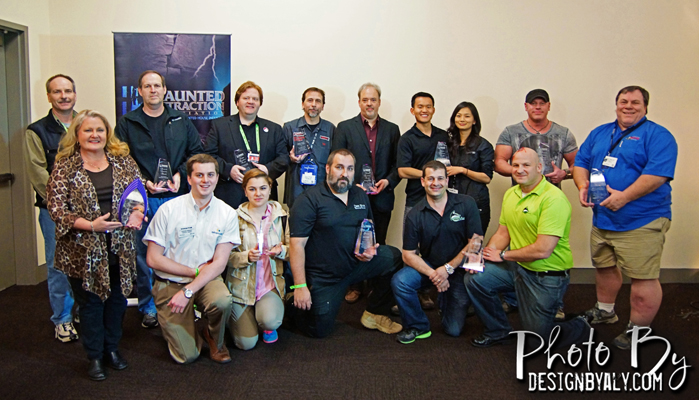 One of the great offerings at TransWorld is their seminar series. TransWorld offers educational seminars the entire weekend of the show. The seminars are led by some of the industries top professionals covering everything from getting started in the haunted attraction industry to more advanced classes for seasoned veterans. With so many to choose from, the classes hold a price tag of $60 per class at the door, so attendees must select wisely on which seminars to attend.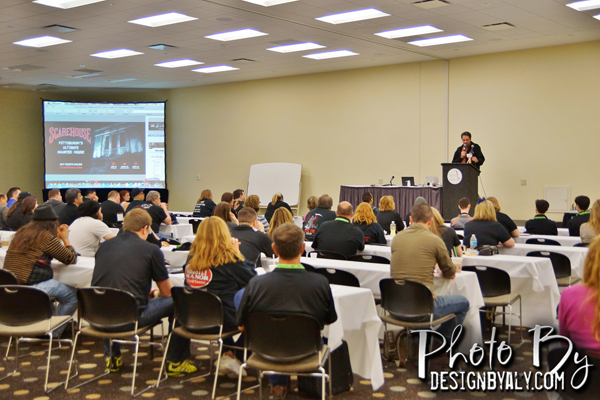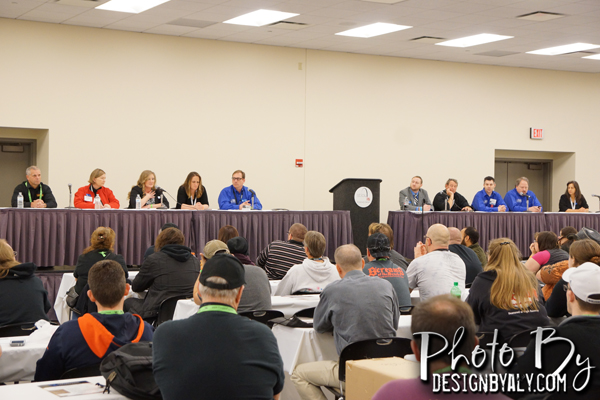 As if that wasn't enough, The Darkness haunted house opened it's doors once again for their annual off season tours. If you aren't familiar with "The Darkness", it is recognized as one of the world's best haunts. The scenes and set pieces are constructed with the highest amount of detail and realism money can buy. Over the past five years, The Darkness is said to have spent over 2 million dollars renovating their haunted house for the industry trade show attendees. In 2014, they completed their most daring renovation yet, creating several new sets with FX and animations that directly interact with customers. Two notable highlights on the tour included giant Venus Flytraps that grabbed customers and a room where a massive saw blade cut through the entire roof of a scene!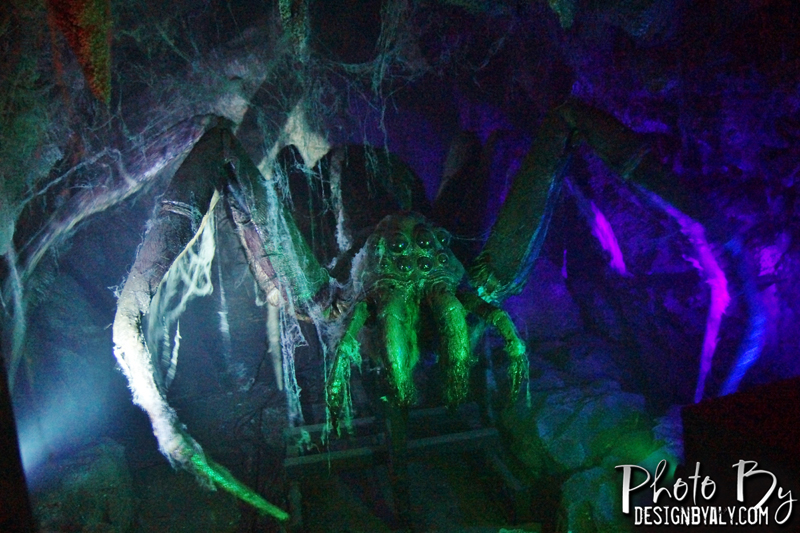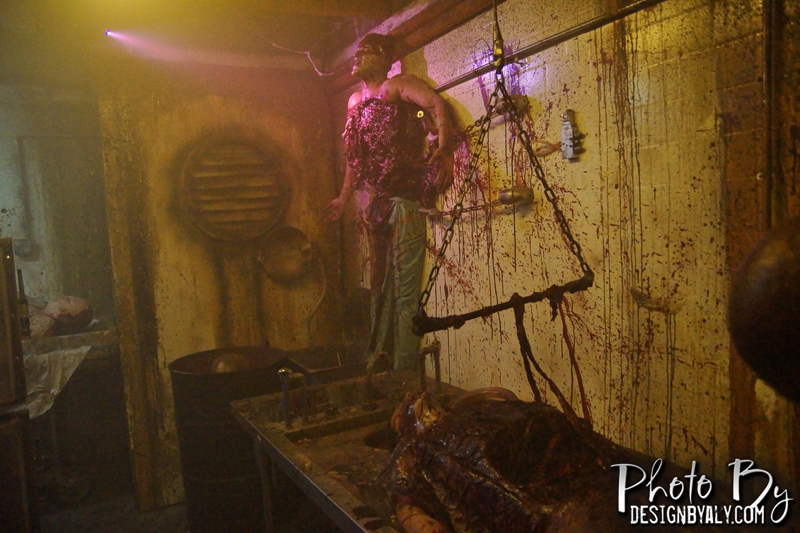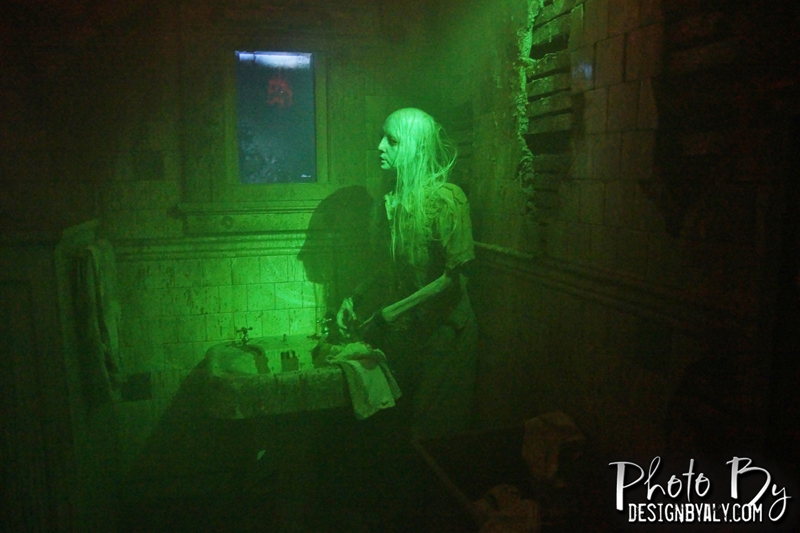 There was so much packed into this amazing week of haunted goodness that we couldn't fit everything into just one article! Over the next week we will be releasing more articles with exclusive videos of the show and events. Stay tuned!
Slideshow: Check out some pictures from the show in our TransWorld gallery!
Click here if you can't view the slideshow
For more information about TransWorld's Halloween & Attractions Show, visit the official website by clicking here!
The fun is just getting started with haunt season. There are several more haunt related shows happening this year…even before haunted attractions open!
While most of these shows aren't open to the public for the full run, TransWorld are now the producers of the "Midwest Haunters Convention" which is open to the public. MHC will offer home haunters and Halloween enthusiasts the chance to see, and most importantly buy the same things you see in your favorite haunted houses. This is a once in a lifetime chance to get educated by the industry leaders while buying some of the most gruesome and gory things for your local haunt. Make your home the most popular house on the block! In addition to the trade show floor, TransWorld will be offering a full weekend of haunt tours, events, and parties celebrating all things horror this June!

For more information about Midwest Haunters Convention, visit the official website by clicking here!
Follow us on twitter: @BehindThrills
Facebook: facebook.com/BehindThrills