In preparation for the grand opening of the all-new Legends of Chima Water Park at Legoland California, Mt. Cavora was erected. The Legoland California and the Lego Legends of Chima Water Park are set to open Memorial Day Weekend on Saturday, May 24th. The all-new themed area will transport guests right into the World of Chima, which will include iconic sights like the floating mountain, Mount Cavora.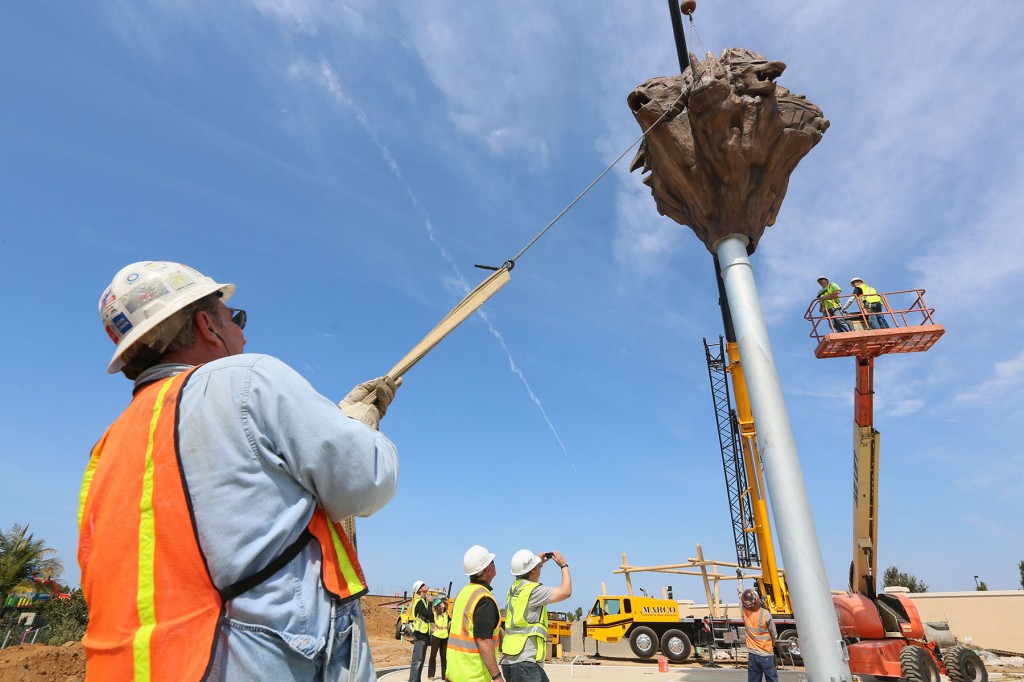 Mt. Cavora is one of the largest features within the Legends of Chima Water Park. The mountain will be able to be seen from anywhere within Legends of Chima as it floats 40-feet above the wave pool. The mountain is 23 feet tall, 13 feet wide, and weighs more than 11,000 pounds! Mt. Cavora will release 400 gallons of water per minute into the wave pool below where guests can splash about and have fun. The mountain is known for providing an energy source, called 'Chi', to eight different animal tribes – a lion, an eagle, a crocodile, a gorilla, a bear, a rhinoceros, a wolf and a raven – all of which are featured on Mt. Cavora.
Mt. Cavora will appear as if it is literally floating above the wave pool.
Video: Installation of Mt. Cavora at Legoland California

Other areas of the Legends of Chima Water Park includes:
Lion Temple Wave Pool – The centerpiece of the new Water Park where guests make their way through a LEGO® archway and into an interactive wave pool designed for families with young children.

Cragger's Swamp – This hands-on water play area invites guests to ride water slides, blast water cannons and jets and slide through the head of a massive crocodile. More than 50 interactive water play features will delight young guests in water that is only one foot deep.

Eglor's Build-A-Boat – Following in the unique interactive play experience introduced with Build-A-Raft River at LEGOLAND® Water Park, Eglor's Build-A-Boat gives children the opportunity to use their creativity and bring their imaginations to life. Young guests can build their own boat and race against their friends and also build their own LEGO scene in Chima on any of four base plates set in front of model scenes.

Wolves' Den – This is the place to grab a bite when guests get hungry! Enjoy tasty food surrounded by collectibles gathered by the clever wolf tribe. Explorers Forest- In this lush and tropical forest, guests will be greeted by Gorzan the Gorilla in his 15-foot tall mech suit.

Rhino Beach – This sand filled oasis offers guests a place to get some shade, lounge and rest.

Speedorz Arena- This interactive play area lets guests race their Speedorz through unique obstacles.

Forever Rock- Featured just outside Cragger's Swamp, the iconic rock contains a smaller rock acting as chalk board for kids to tally their achievements just as Cragger and Laval did. For those that want to kick back and stay awhile, 15 new cabanas surround the area for rent.
Check out more pictures of the installation of Mt. Cavora at Legoland California's Legends of Chima Water Park:

Click here if you are unable to view the slideshow.
For more information about Legoland California, visit the official website by clicking here.
Get social with us!
Follow us on Twitter @BehindThrills and like us on Facebook @BehindThrills.