It infected Halloween Horror Nights in 2012, and in 2013 it spread uncontrollably through both Universal Studios Hollywood and Universal Studios Florida. The Walking Dead has proved to be a huge hit with fans of the show, bringing many to the event that had never heard of it. Now, it appears that the virus is ended, and sanctuary is close. Either that, or we're all just waiting to be devoured by cannibals….either way, we won't know until at least August.

While the general public loved the Walking Dead at HHN, the fans weren't so keen on it. Many fans were okay with the event last year, but when it comes to a third year, they'd rather move on. According to the official Walking Dead Twitter page from Skybound Entertainment (the company that is the home of the Walking Dead comics) the Walking Dead at Universal's Halloween Horror Nights is done.
Now we must point out that the tweet says "on the AMC side", and "I believe" which does not count it as an official statement. This could simply mean that there are not talks going on with Halloween Horror Nights and Walking Dead..at the moment. Also keep in mind that this is NOT the official Twitter page of AMC's Walking Dead or Halloween Horror Nights…so while the Walking Dead could be gone, they aren't gone until we hear it from one of those accounts first.
Video-Check out The Walking Dead:No Safe Haven at Halloween Horror Nights Orlando
Video-Check out the Walking Dead Backlot Experience at Halloween Horror Nights Hollywood!

Speaking of what we could see at Halloween Horror Nights, specifically Orlando..on April 1st a screen cap was posted to Halloween Horror Nights Updaters (click here).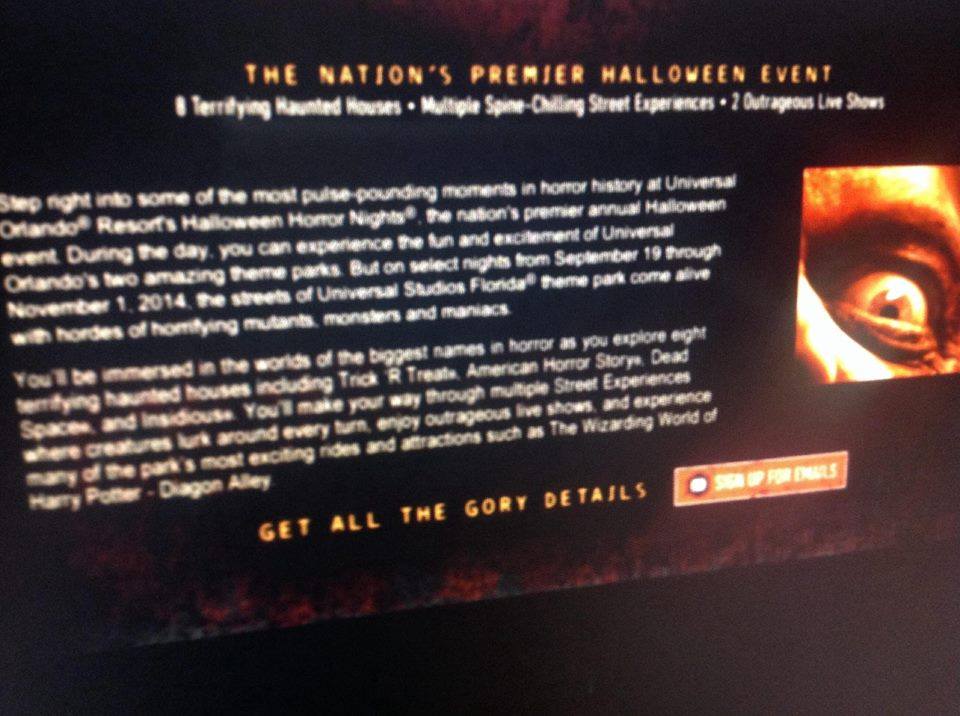 No mention of Walking Dead, but Trick R Treat, American Horror Story, Insidious and Dead Space all are mentioned. That matches up with some of the rumors that have been floating around, and it matches with the new tradition of bringing a house from Halloween Horror Nights Hollywood, which was popular. So, why don't we believe it? Well, for one it was posted on April Fool's Day…that's the biggest reason. For another, only one person saw it. Only one. It was up for just a few moments, and then POOF, gone. While the screenshot looks legit, it's amazing what you can do in Photoshop…so, we're going to mark this as a prank, a rather good one, but a prank none the less.
Halloween Horror Nights in Orlando goes from September 19th until November 1st. We will hear many more rumors, clues and more in the coming months.
Stay tuned as we bring you even more from Halloween Horror Nights, and be sure to follow along with us on Twitter @BehindThrills for the latest updates!
For more information about Halloween Horror Nights, including tickets, visit the official website by clicking here!