It's been the subject of debate for the past few weeks. It s also the second most highly anticipated opening in theme park history. The Wizarding World Of Harry Potter – Diagon Alley IS expected to open this summer, but that date is a broad range. We've learned today that on Friday Morning…Muggles will finally know when the charm will be lifted, and when we can expect to see the opening of The Wizarding World of Harry Potter – Diagon Alley at Universal Studios Florida.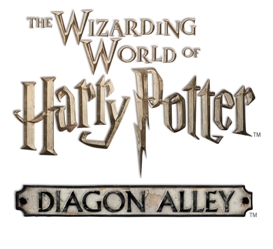 The Orlando Sentinel reports that the Today Show will be airing live from Universal Studios Florida on Friday April 25th. Al Roker is expected to be in park, and a very special announcement will be made. We will learn, via the Today Show, when the Wizarding World of Harry Potter – Diagon Alley will open.
We don't know any other details at this time, or if there will be an open call for people to be able to watch the show live from the park. In the past guests have been allowed to watch and participate in the taping the show, so it is likely.
The Wizarding World of Harry Potter – Diagon Alley will feature several new shopping and dining areas, a huge new Ollivander's wand shop, and the thrilling Escape From Gringott's ride.
Guests will also be able to board the Hogwarts Express at Platform 9 3/4 and take an adventurous ride over to the Village of Hogsmeade.
There will be wands, dragons, and of course Butterbeer!
Update
The Today Show will be taping during regular park hours, and while guests are encouraged to come out and get a glimpse, the audience will not be a huge part of the show. Due to limited space where the filming (and announcement) will be taking place, guests in the park will be kept at a distance. Guests will be able to view the production, but unlike the filming in the past, they will not be able to get as close to the cameras as usual. Still, the good news is that there is no sign ups, and guests will still be able to see the Today Show in production.
Update 4-23-14
According to several sources, including the Today Show, the segment filmed at Universal Orlando has been canceled for Friday. No word on why, or if there will still be an announcement on the opening date if Diagon Alley. It's still a safe bet that we will see an announcement on the opening date, but it's still a rumor at best.
Update 4-25-14
Al Roker was in park in Thursday at Universal Orlando, from several sources, but was in studio at the Today Show Friday. TampaBay.com reports that the announcement has been postponed by a week. It makes perfect sense, as Disney is reported t o open their all new Seven Dwarfs Mine Coaster next week, or at least have a media preview of it. Universal could come down and completely steal Disney's thunder by announcing the opening day for Diagon Alley the very same day.
It's not the first time Harry Potter has taken the limelight away from The Mouse. In 2011, Disney was scheduled to release a huge New Year's Eve announcement, but a plan of the new Diagon Alley was "leaked" to a theme park website, effectively drawing all attention away from Disney's "One More Disney Day" announcement. It could happen once again.
Stay tuned for more from Universal Orlando, and be sure to follow along with us on Twitter @BehindThrills for the latest updates!
For more information about the Wizarding World of Harry Potter – Diagon Alley at Universal Orlando, visit the official website by clicking here!