Cabana Bay Beach is, simply put, a throwback to a simpler time. It was a period in American history where families were closer than they had ever been, and the family vacation was special. Universal Orlando's newest onsite hotel not only is designed to make you feel like you've been transported back to that time, but also to give you the closest family vacation that you've had in years. The Loews managed property takes that elegance and charm of the 50's and 60's beach-side resorts, and brings it into our era with every creature comfort and activity you can think of, all while bringing you and your family closer to have more fun on your family vacation.
From the moment guests pull into the parking lot they are transported into another era. The huge "monument" sign out front is something straight out of the 50's, a huge beacon beckoning guests to come in with steel and neon lights. The front is also lined with an array of classic cars, all restored and in pristine condition.
The cars range from street rod, muscle cars all the way to your standard family station wagons. They are all in working order, and were all driven on site, but don't expect to go for a test drive. They serve only as a photo op, and something to drool over.
Once guests step inside the lobby, they are taken back immediately to a time before cell phones, computers and iPads. The lobby is huge, and wide open. It features a huge atrium, that is directly inspired and designed after the original Loews Hotel that opened in Miami, The Americana. In fact, the entire resort has a similar layout. There are five different buildings, each one taking the name of a classic hotel that used to dot the landscape. While we made the comparison to Holiday Inn, or Howard Johnson (for those of you from the 70's and 80's) those hotels took their design from the original beachside resorts like The Starlight, Thunderbird, Castaway and Continental. Those hotels were all huge names that created the look that many hotels mimicked. It's those hotels that Cabana Bay Beach pays tribute to with not only the look and feel of the hotel, but also the names of the buildings.
Video-Take a quick tour around the lobby at Cabana Bay Beach..with Minions!
Rooms
Currently there are 600 rooms open at Cabana Bay Beach. Those rooms all open to the outside hallway, and either pool views or views of the theme parks. The plan is for another 300 family suites, and 900 standard guest rooms to all come online this summer. The guest suites in the expansion will not open to the outside, but into a hallway. The outdoor walkways were something that was done in the 50's, as most of the hotels were along ocean highways and scenic routes. It gave the guests a refreshing view to walk out to as they left their room.
The rooms themselves are spacious enough for everyone to have enough room to themselves, while not being huge. The kitchenette area features a microwave, and sink, as well as coffee maker. The sofa pulls out to a full bed, and unlike most sofa beds, is actually comfortable, thanks to not having the cross support bar. These sofa beds were designed specifically for Cabana Bay Beach.
The queen size beds are your standard beds, and while they are comfortable, feature the same throwback patterns and designs. The functionality of the suite is also very important. The dressers are tucked away to take up less space, and there are plenty of outlets for various chargers and devices, so you're not fighting for charger space. The bathrooms are also designed to full functionality so that three people can get ready at once.
Video-Take a quick tour of the family suites at Cabana Bay Beach
One of the coolest features of the room, is the fact that they use retro shampoo and soap in the bathrooms. It's a minor detail, but the labels are even from the same era. It's just one of the coolest little things that should make fans of nostalgia go nuts.
Amenities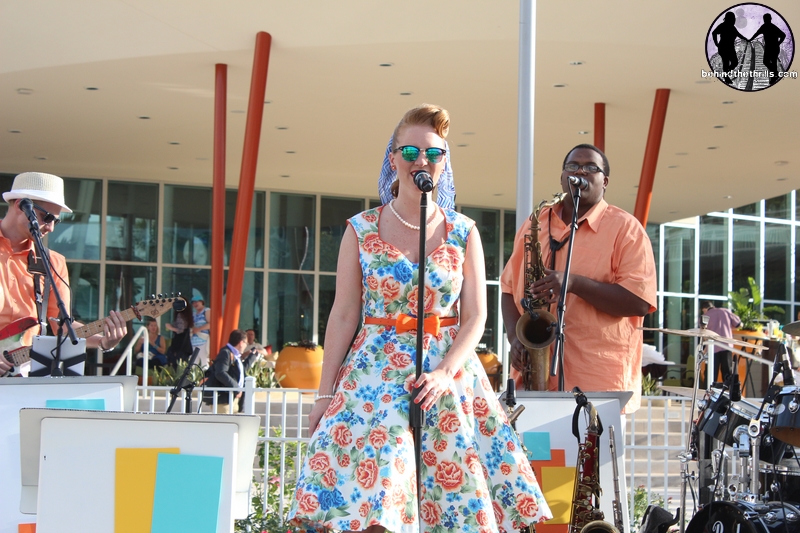 Video-Live band at Cabana Bay Beach performing Dock of the Bay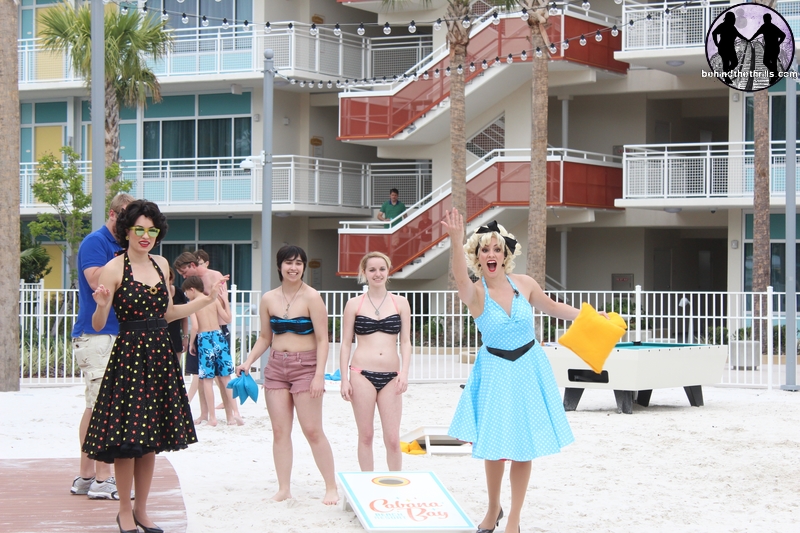 While the resort is within skipping distance to Universal Orlando, it's a destination of it's own. The pool is a zero entry pool with a huge water slide. The area also has a huge beach with a volleyball court, and different beach style games. The area also features a kids area featuring a playground. The pool area plays an eclectic mix of music ranging from the in house speaker system, to a live DJ spinning various different music, as well as a live band.
It wouldn't be Cabana Bay Beach without Cabanas, which are available to rent. The area will also feature food trucks, and phones where guests can order pizza from the diner to be delivered as they share a picnic, or just hang out.
A huge feature is the ten lane bowling alley, which also has a restaurant. Guests can order food as they bowl, and have it delivered t0 their lane. The cost is $15 dollars per hour with shoe rental being $4 dollars per person. The bowling alley is open from 11 a.m. to 11p.m. If you are a bowler, you can bring your own shoes and ball, though they have to meet the alley's own requirements. As for food, we highly recommend the Galaxy Burger, and specialty drinks like the Kingpin. The restaurant does have a full bar, and the menu is along the side of your typical fare, such as burgers, fries and sandwiches.
Video-Get a quick look around Galaxy Bowl at Cabana Bay Beach Hotel
The hotel also features the world's first Jack LaLanne Fitness Center, which pays homage to one of the world's first fitness guru's, the legendary Jack LaLanne. You probably know him from his juicer infomercials. He was a staple in the 50's and 60's, creating the first ever fitness show where he instructed people on workout routines and a healthy lifestyle. The fitness center also serves as a museum, full of pictures and memorabilia to the man who made fitness his life. The fitness center is open until midnight, and is included in the cost of your resort.
Video-Walk through the first ever Jack LaLanne Fitness Center at Cabana Bay Beach
http://www.youtube.com/watch?v=k9DawRjZ6oY
For those who love your coffee, there is indeed a Starbucks located in Cabana Bay Beach. The design is somewhat typical, but it does have a throwback flair to it. The photos on the walls resemble Wiki Watchee Springs Mermaids, a staple in Florida Tourism until the opening of Walt Disney World in 1971. There are also different color coffee beans, and old coffee cups used as decoration.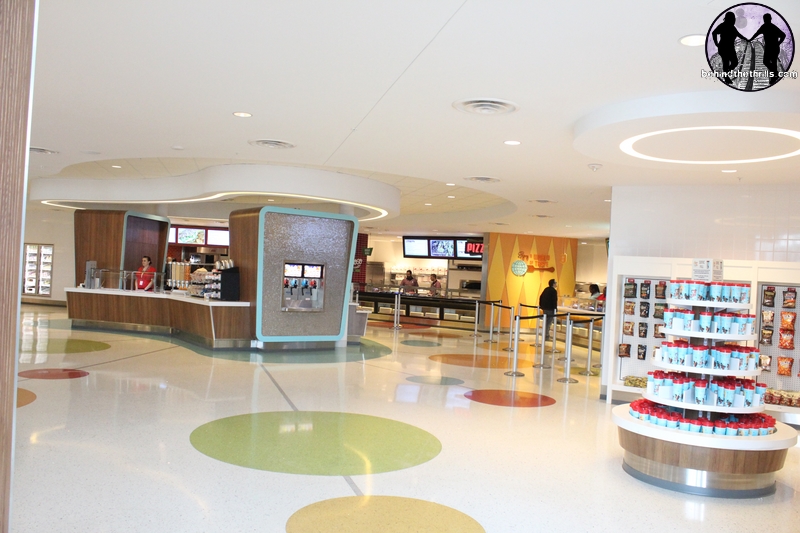 The Bayliner Diner takes the cafeteria up a notch with several different stations offering several different food types. There's pizza, burgers, an international section serving Asian and Mexican, as well as a dessert station. Being a hotel themed to the days gone by, there are signature dishes inspired by that time as well. Guests can get a Tuna Casserole dish, as well as Swedish Meatballs with mashed potatoes. There's also Brazilian Steak, with black beans for those who aren't into the American standard of burgers and fries. The hotel offers Sonic Cups, which allow you unlimited refills during your entire stay. Whether it's for a day, or a month, RFID chips in the cup allow guests to use the Coke Freestyle machines, as well as the old soda machines anywhere on hotel property.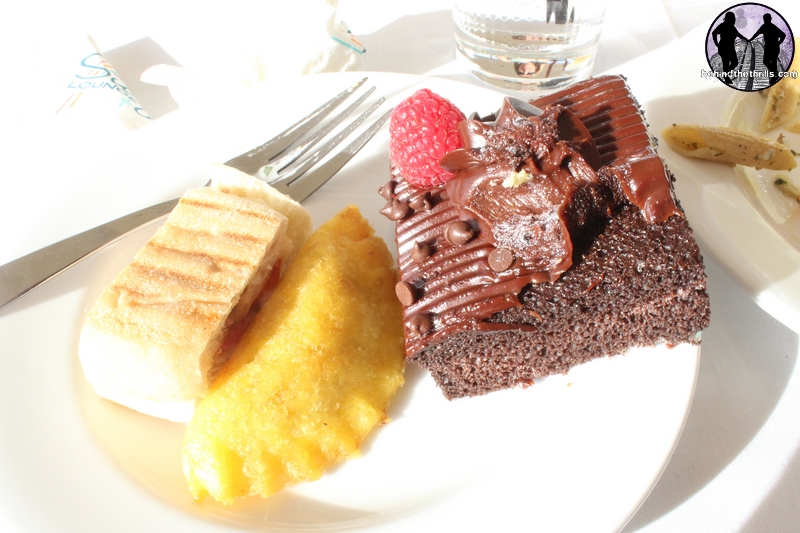 Food trucks (as mentioned above) will make their way in and out of the hotel property as well, parking near the pool. Guests will get a variety of different food trucks throughout the week. During our stay there was a cupcake truck, but there will be many different varieties in the future.
There is a 600 seat dining room right across from the Diner as well, which not only has places to sit but also showcases retro commercials featuring classic cartoon characters. Guests will see the Trix Rabbit, and Woody Woodpecker.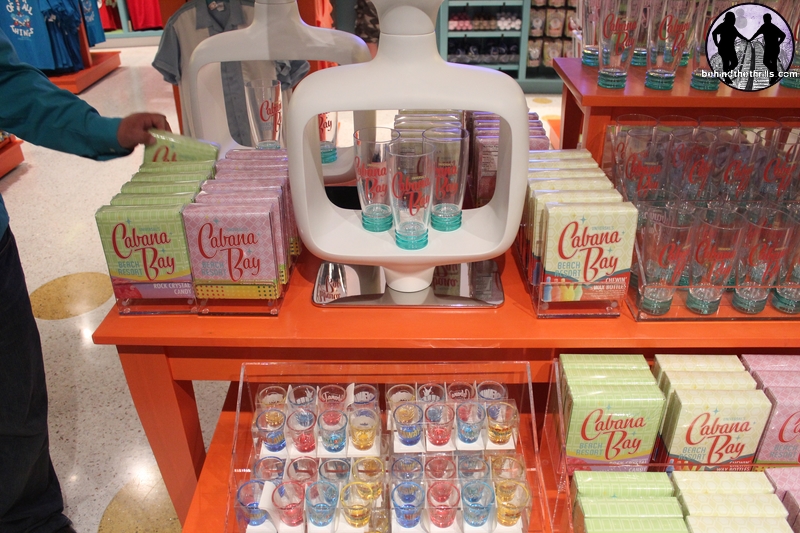 For those looking for unique souvenirs, it can truly be said that Cabana Bay Beach offers unique gifts. The place is full of it's own design in retro candy, a few toys, and shot glasses. Of course there's also bowling shirts, key chains, and if you want to grab some stuff without braving the theme park lines, there is also Harry Potter and other Universal items as well.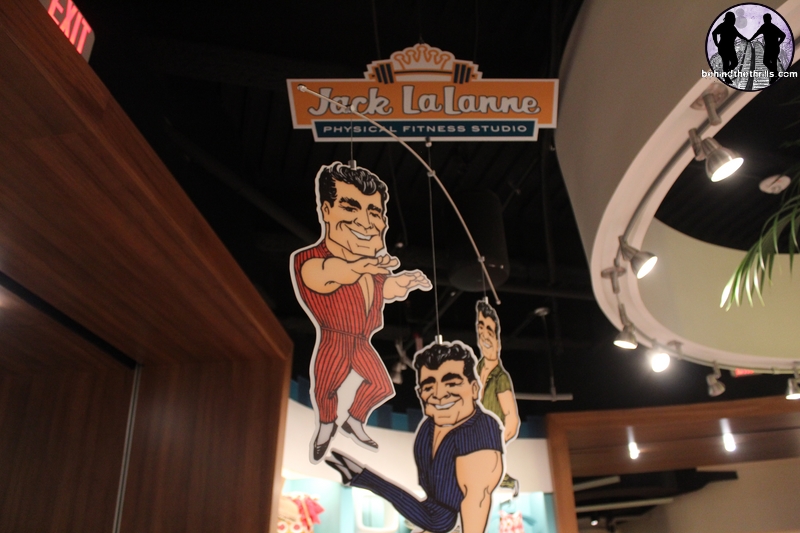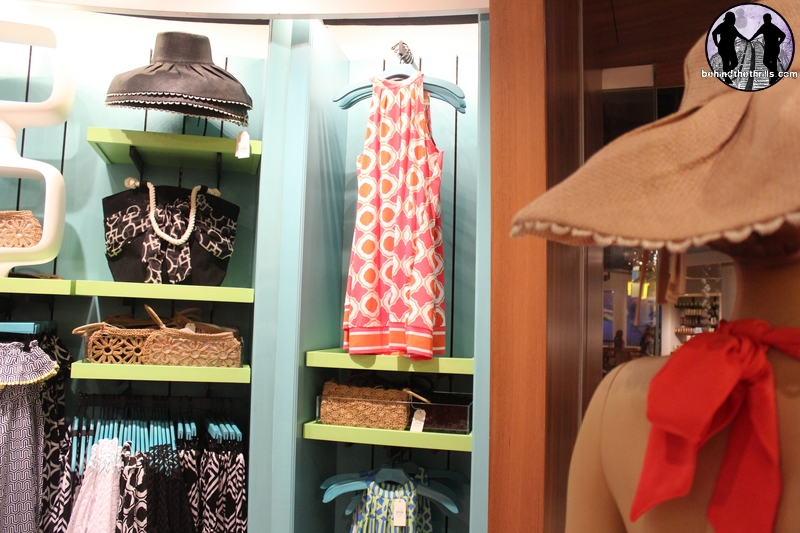 The hotel also sells Jack LaLanne merchandise and DVD's as well as 50's inspired sundresses, shorts and hats. It was a time that fashion started to come into it's own, and it shows in the gift shop with these items that lets guests go back to those days.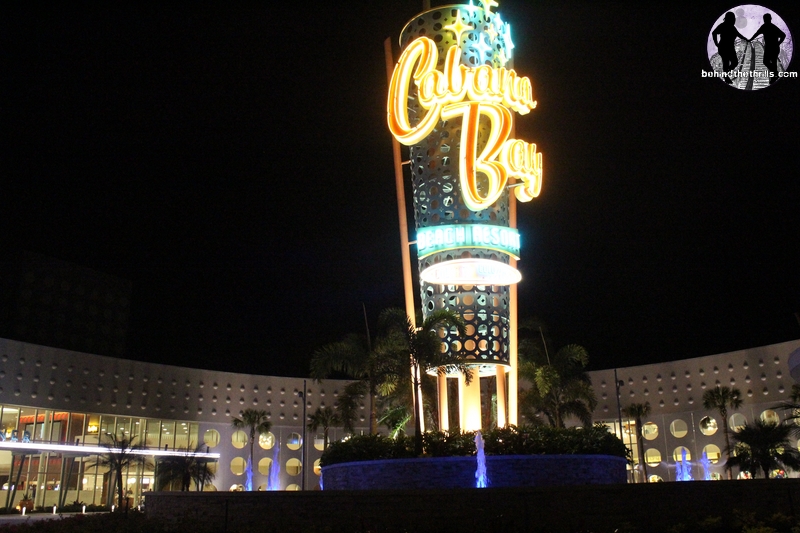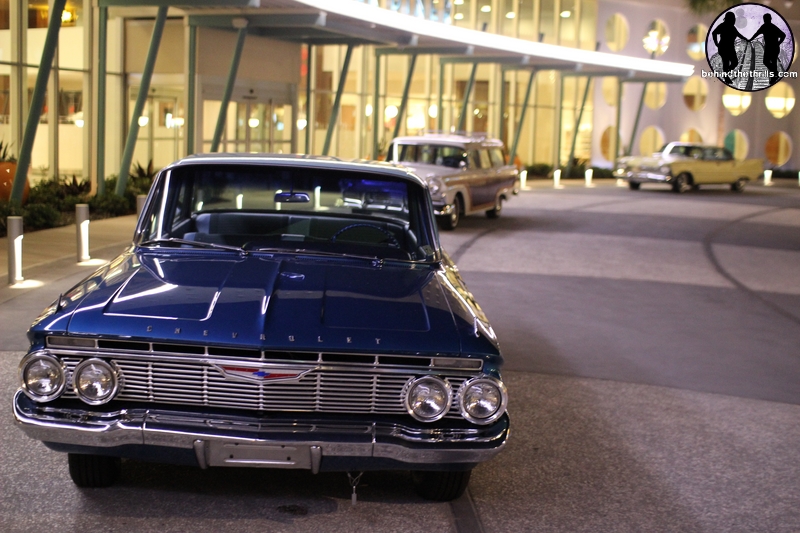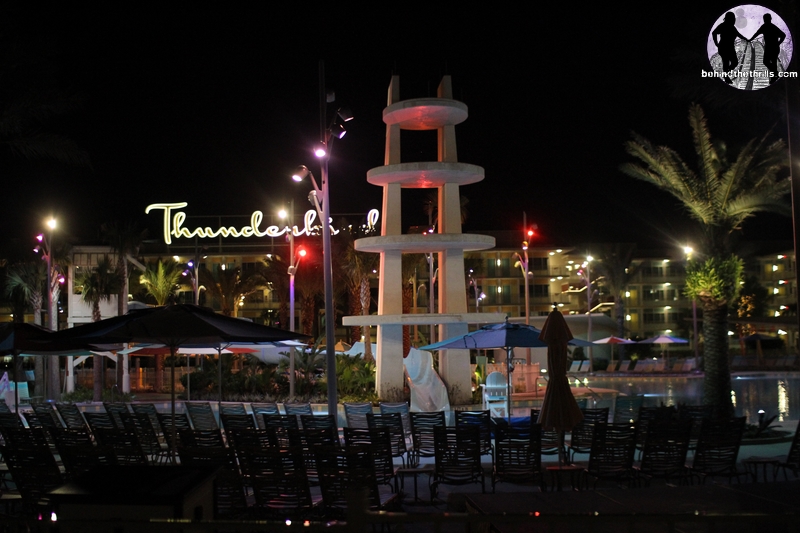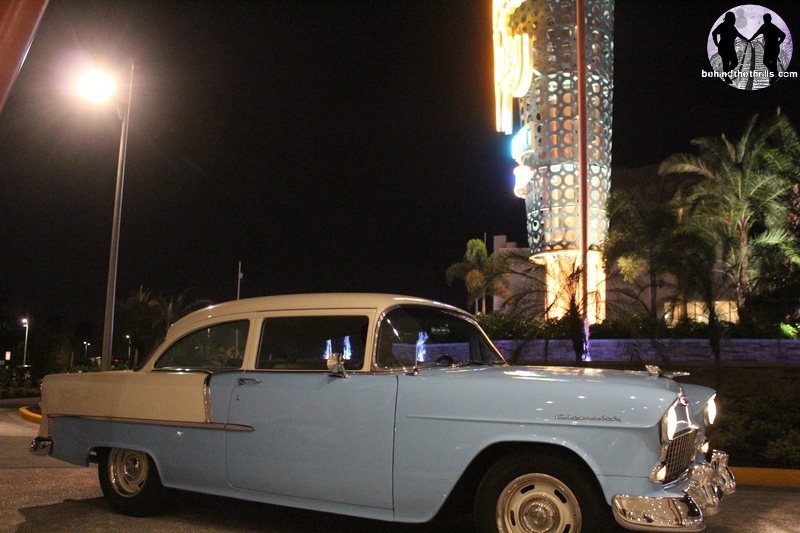 The resort positively sparkles when the sun goes down. The neon glow of the lights starts right at sunset, and the entire place seems to come alive. Soft orange and blues illuminate the Central Florida nights. The pool stays open until ten most nights, allowing for night swimming. While we were onsite, a 1956 Chevy Belle Air drove up, it couldn't have been more perfect. It fit right in with the decor and the time.
Video-Watch the sunset over Cabana Bay Beach, and the lights come on!

The rates for the family suites begin at $174 per-night, and can run as low as $134 per-night depending on the length of stay, and time of year. Rates for the standard guest rooms (available this summer) will begin at $119 per night, and can go as low as $93 per-night depending on the length of stay, and time of year.
Slideshow-Check out even more pictures of Cabana Bay Beach at Universal Orlando

Can't view the slideshow? Check out the entire gallery by clicking here!
Guests should remember that Cabana Bay Beach does not offer Universal Express, Front of the Line access with your room key. However, Express can be purchased from the hotel. The real treasure, however, is the fact that guests can get early access to the Wizarding World of Harry Potter one hour before park opening. When Diagon Alley opens, this will also apply to Universal Studios as well as Islands of Adventure. Boats are not available for guests of Cabana Bay Beach either, but really cool retro buses will take guests to the park. Drop off and pick up is at the guest drop off area in CityWalk, and buses run until 2 a.m. If you feel like taking a walk instead, it is currently about a 15 minute walk. The resort is building a walkway that will help to cut the time down, which will be open Summer.
Stay tuned as we bring you even more photos and video from Cabana Bay Beach, and Universal Orlando later in the day, and be sure to follow along with us on Twitter @BehindThrills for the latest updates!
For more information about Cabana Bay Beach Resort, including reservations, visit the official Universal Orlando website by clicking here!