SeaWorld Orlando started the year off in a huge way with it's huge Bands, Brew BBQ event, bringing the smells of amazing food and  the sounds great live music to help drive away the winter blues. Beginning April 26th, SeaWorld will once again tantalize your senses with great Latin Food and amazing music to help kick off the summer the right way. Viva La Musica will return for a four week run that will give the park a decidedly Latin flavor.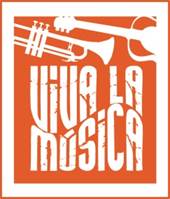 The stars of the festival, are of course the bands, but it doesn't hurt that the event will also have special Latin cuisine prepared by SeaWorld Orlando's Executive Chef, Héctor Colón. With more than 20 years experience – and a lifetime enjoying countless Caribbean and Latin dishes – Chef Colόn has added his touch to the traditional Latin favorites such as empanadas, arroz con pollo, carne frita and bacalaítos.
Of course the music is the root of the celebration, and with Viva La Musica different varieties of Latin Music will be featured by different bands.
Here's the band line up:
Saturday, April 26 – Chino y Nacho (reggaeton)

Chino & Nacho is a Venezuelan pop duo, consisting of Jesús Alberto Miranda Perez (Chino) and Miguel Ignacio Mendoza (Nacho). In 2010, the group won a Latin Grammy for Best Urban Album for "Mi Niña Bonita."  Formerly, the two men were part of the Venezuelan group, Calle Ciega.

·         Saturday, May 3 –  La India (salsa)

India, also known as the new "Queen of Latin Soul," made her debut in the music business in the '80s, with the popular dance group TKA, one of the first Latin free style groups to take over the streets of New York. She is a multi- Grammy Nominee, and has collaborated with renowned vocalists such as Oscar De León, Gloria Estefan and Michael Stuart.

·         Saturday, May 10 – Victor Manuelle (salsa)

Originally from Puerto Rico, Victor Manuelle is an international star who has sold out concerts at Madison Square Garden and Carnegie Hall.  "Si Tú Me Besas" reached number one on Billboard's "Hot Latin Songs" chart.

·         Saturday, May 17 – Olga Tañón (merengue)

Olga Tañón is a Puerto Rican recording artist whose singing career began when she joined a group called "Las Nenas de Ringo y Jossie" (Ringo and Jossie's Girls) in the '80s. A short time later a very popular group in Puerto Rico called "Chantelle" noticed her mezzo soprano voice and recruited her. Over the course of her career, she has earned two Grammy Awards, three Latin Grammy Awards, and 29 Premio Lo Nuestro Awards.
All concerts are free with theme park admission, and seating is on first come basis, so be sure to get there early. If you want to make sure you get the best seats in the house, SeaWorld does have a variety of VIP Packages available.
Front Row VIP seating –Front Row seats can be purchased starting at $39.
Viva la Música VIP Package — Starting at $29, this special package includes a meal (entrée and any one item from a selection of side salads, side dishes or desserts, plus a regular-sized non-alcoholic beverage) at any Viva la Música food sampling area or SeaWorld cafeteria-style restaurant, plus reserved seating — Center Stage!
VIP seating – Want to make sure you get a good seat to your favorite show?  Purchase this package to buy your reserved seats for $19.  
Video-Check out our video from last year's Viva La Musica at SeaWorld Orlando!

Viva La Musica kicks off April 26th, and runs all the way to May 17th this year. The Latin Food, drinks and music kicks off at noon every Saturday of the event, and concerts usually start at 4p.m.
Stay tuned for more from SeaWorld Orlando, and be sure to follow along with us on Twitter @BehindThrills for the latest updates!
For more information about Viva La Musica at SeaWorld Orlando, visit the official website by clicking here!