Watching the progress happening on the Seven Dwarfs Mine Train Coaster happening this week has been an emotional…roller coaster. The coaster was seen testing earlier in the week. Then the walls came down and there were people riding it! Granted that was for a commercial, but people were still riding it! The very next day, the walls went back up and any hopes of getting an opening date went up as well. Now…the walls are back down. More details than ever can be seen, and it's got to be getting close…right?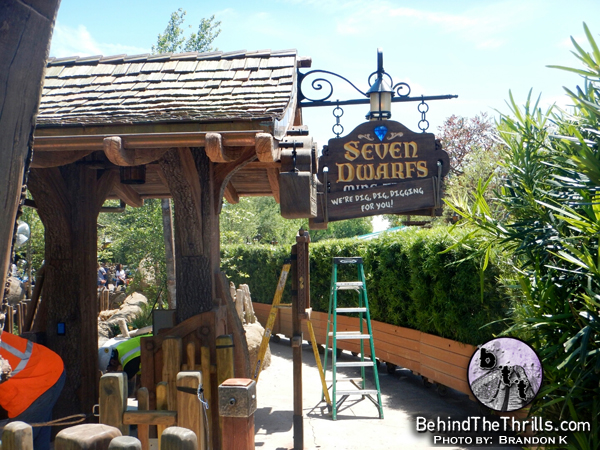 As the walls around the Seven Dwarfs Mine Train coaster came down, more details have gone up. The official ride sign can now be seen in full view, and it's a quaint little wooden sign that belongs in the movie. A small sign right under indicates that "We're dig, dig, digging for you!". That sign is temporary, and looks like it can be removed and replaced with any number of messages.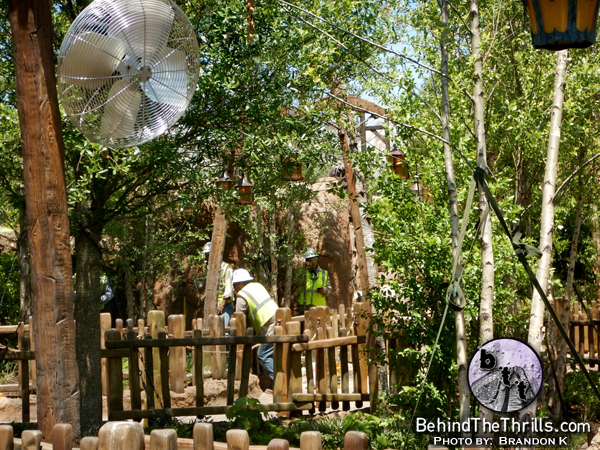 Lush trees can be seen as a wooden fence winds around construction workers…deeper and deeper into the forest. Just beyond the trees, guests can spy the cottage of the Seven Dwarfs, where Snow White should be waiting to greet them. The crews were in and out of the area all day, doing things like cleaning, walking the tracks and doing various tests. No major work was being done, so it looks as if the crews are getting things ready for inspections.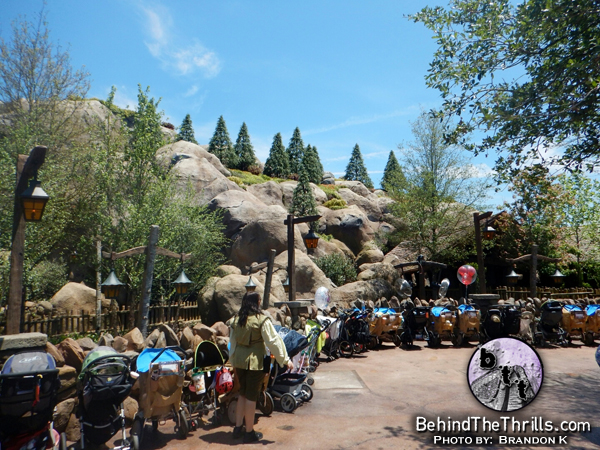 On the outside of the coaster, the absence walls makes for a much larger area, which of course is great for parking strollers. The trees grow right up tot he fence, and on top of the mine itself.
Slideshow-Check out even more photos from Magic Kingdom and the Seven Dwarfs Mine Train Coaster
There is no official opening date on the coaster, but it's looking like it could be any day now. Next week select members of the media will be doing something with the coaster…though EXACTLY what isn't sure. Cast members have been telling guests that it will be open in a month, but that could just be the standard response.
The all new coaster completes The New Fantasyland at Magic Kindom, which also includes The Little Mermaid and Be Our Guest.
Stay tuned as we bring you even more from Disney, and be sure to follow along with us on Twitter @BehindThrills for the latest updates!
For more information about the New Fantasyland at Walt Disney World's Magic Kingdom, including tickets, visit the official website by clicking here!