SeaWorld is celebrating 50 years of bringing people closer to the sea than ever before. From their amazing rides, to world class shows, there are so many things that SeaWorld parks have to offer. Over the next few weeks, however, we will be focusing on the most important aspect of the park, the animals. From world class shows, to getting up close and personal with animals that you may have never seen, the connections that you can make in a SeaWorld park are some that you can get nowhere else. Despite what you may have heard, or even what you may think about the parks, the goal is to get you closer to the animals and make a connection that will last a lifetime. Come with us now and make a connection as we get you closer to the animals of SeaWorld.
Dolphin Cove at SeaWorld San Antonio is one of the hidden gems of the park nestled deep in the heart of Texas. It's home to several of the park's Atlantic bottlenose dolphins, and the only place in the park that you can get close enough to these animals to interact with.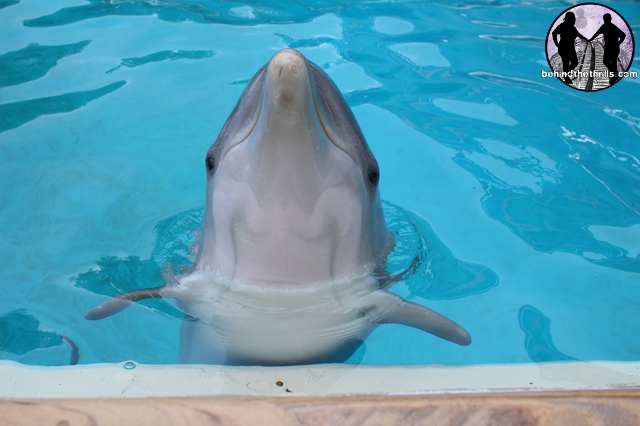 This particular species of dolphin is the most well known, and it's the type that we think of when we think of dolphins. They are highly social creatures that live in family circles known as pods. Sometimes the pods can range in size, anywhere from 5 to as many as 30 dolphins. They eat fish, and use a series of clicks and whistles to not only communicate with each other, but to also hunt for food. Each dolphin is different and has a unique personality, just like people.
At SeaWorld they interact with each other and with the guests at Dolphin Cove. The trainers at the park with the dolphins in several enrichment activities, which may include playing with special toys, special food treats and even just letting them interact with guests.
While we were visiting SeaWorld San Antonio, we were able to interact with several of the dolphins in a very unique way. In the video below, we had gotten to the park very early and made our way directly to Dolphin Cove. While the dolphins all showed some level of interest in everyone, there was one in particular that a very sharp interest in me. It would circle around the cove, and out of the seven of us that were there, it would come directly to me. As I would walk around the cove, it would follow me, never taking it's eyes off of me. Keep in mind that this was an unplanned stop, and we had no food. This dolphin was just naturally curious about me. I started off with splashing with it, then playing "peek a boo" by ducking down below the edge of the pool. The real test came as I decided to jog around the cove. See for yourself in the video below!
Video-Interaction with dolphins at SeaWorld San Antonio's Dolphin Cove

Talk about a very surprising experience! Again, we had no food, and this was an unplanned stop. The dolphin was just naturally curious about me. It made such a unique impression on me personally, simply because in any other park, dolphins are usually on interested in you if you have food. This dolphin, on that particular day just wanted to play and wanted that interaction with me.
Slideshow- Check out even more photos from Dolphin Cove
There are several ways to interact with the dolphins at Dolphin Cove at SeaWorld San Antonio. The biggest is, of course, the dolphin feedings. At designated times throughout the day, guests can purchase food for the dolphins and feed them by approaching the edge of the cove. Other ways include Dolphin Encounter, which gets you exclusive access to the dolphins in dolphin cove, and the Dolphin tour. The dolphin tour not only gives you access to the dolphins in the cove, but takes you behind the scenes at the park to see what goes into the care of these amazing animals.
Stay tuned as we bring you even more Animal Connections from SeaWorld, and be sure to get social with us on Facebook, and follow along with us on Twitter @BehindThrills for the latest updates!
Fore more information about this, and the many other animal connections at SeaWorld San Antonio, visit the official website by clicking here!