When the Wizarding World of Harry Potter-Hogsmeade first opened in 2010, it changed the theme park industry with not only the immersive themeing and state of the art attractions, but it also revolutionized how the industry looked at food. With the soon to open Diagon Alley, the sequel of sorts to Hogsmeade, Universal not only added to the food line up, but they took things in a much different direction. Now instead of just one unique item, the resort has taken what they've learned from Hogsmeade and pushed the envelope on what fans can taste, and drink.

Two of our favorite people to talk to, Ric Florell and Chef Steve Jayson took to the stage during a special media Q&A session. Florell carried a copy of Harry Potter and the Prisoner of Azkaban in his hand. The book looked like some sort of deformed peacock as many different colored tabs shot out of it.
"Everything you see and taste today came from the books." Florell exclaimed. Everything from butterbeer, to the feel of the pub is either in the books or inspired by something in them. Chef Jayson fell into his groove as he start listing all the different new concoctions he and his team worked on for Diagon Alley. He spoke about the food like he would a favorite sports team, or how a grandparent would rattle in about their kids. There is a definite sense of pride there, and it's completely earned. Butterbeer became an instant success when it made it's debut in 2010. Sure, there were great new sweets, and amazing pastries, as well as authentic English Inn fare, but Butterbeer…There was nothing like it in the world. Within the first six months the park sold more than a million cups of the stuff. People who hated it still tried every version of it.
So with Diagon Alley, how do they top the beast that is butterbeer? They turned it in ice cream.
But butterbeer isn't where it stops. There are seven new drinks in all available only in Diagon Alley. Some are just regular drinks, others have alcohol, and others still are bizarre. We tried them all.
Video-Q&A Session with Ric Florell and Executive Chef Steve Jayson about the various new food in Diagon Alley

The biggest surprise (food wise) from Diagon Alley is The Leaky Cauldron. When Universal Orlando announced it, there was an overall sense of "great, another pub". That is thrown out the window the moment you walk in. The pub does have a bit of the same feel of Three Broomsticks in Hogsmeade Village, but that's where it ends. Where The Three Broomsticks has more of a country Inn feel to it, Leaky Cauldron definitely has more of a busy city restaurant vibe. The food is also a lot different. There's definitely more comfort food in Leaky Cauldron that Three Broomsticks.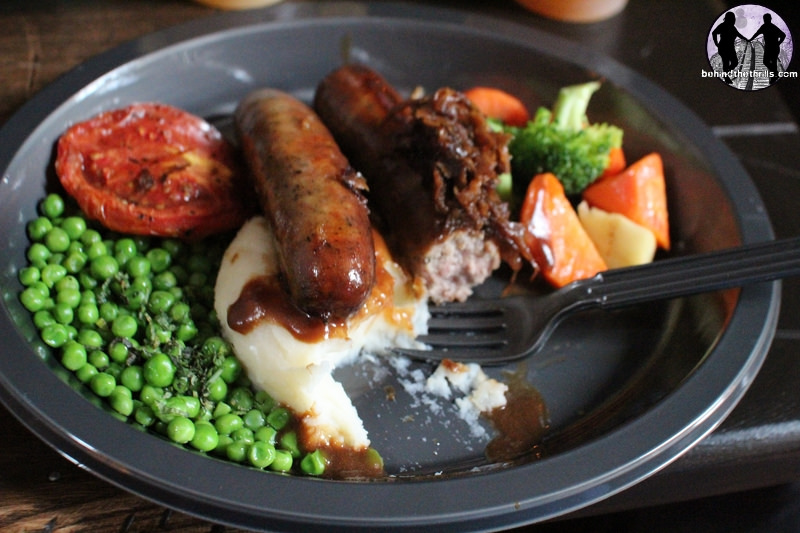 Things like Bangers and Mash are just real home cooked feeling dishes that stick in your belly and keep you warm. Of course, Universal makes it a little less heavy, but all the filling and tasty.


Toad in a hole is another staple that was brought to life. The ingredients taste fresh, and the food is brought out very quick.


A wide variety of dishes make up the Leaky Cauldron, including the Ploughman's Plate. While there is standard fish n chips, there's also many different options as well, including burgers and sandwiches.
Three new drinks also make their home in Leaky Cauldron – Tongue Tying Lemon Squash, Peachtree Fizzing Tea, and Fizzy Orange Juice. The lemon squash is very sweet and subtle lemonade, while the Peachtree Fizzing Tea is a mild peach tea that has a touch of carbonation. Same with the orange juice which is sweeter than normal, mostly due to the sugar covered rim. All three are refreshing and very tasty.
Video-Walk through The Leaky Cauldron Pub and get a taste of the different food offerings

The food doesn't stop in Leaky Cauldron. Like Hogsmeade, there are sweet shops, and places to get food and drinks all over the alley. The one that will have people stopping the most, however is Florean Fortescue's Ice Cream Parlor. This is where you can find butterbeer ice cream. Its served soft serve style, either in a cone or cup. It's very sweet, and like drinkable butterbeer, it mixes butterscotch and cream soda flavors. However, it's not the only flavor in the shop. Harry Potter's favorite flavor, peanut butter strawberry is also there as well as unique flavors like Earl Grey Lavender, and our favorite the chocolate chili. That one has a rich chocolate flavor, followed by a kick in the face bite of hotness. It's not mouth scorching, but it is very flavorful.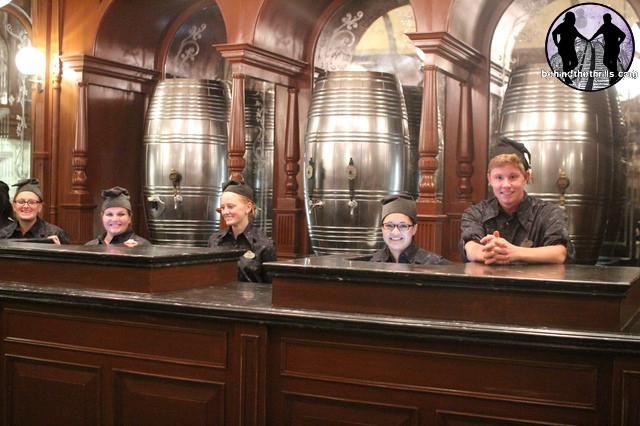 The fountain of good fortune is home to many of the different drinks in the area, most notably, butterbeer. It's set up like a classic soda fountain from the drug stores of yesterday. Guests can get butterbeer, as well the new drink selections and the alcoholic beverages as well.


Fishy Green Ale is non alcoholic, and looks as disgusting as it sounds. A sickly green drink with something waiting at the bottom…fish eggs. No, Universal isn't trying to make you lose your lunch. The Ale is a refreshing drink with a subtle mint flavor, while the fish eggs are actually blueberry filled gelatin eggs. Think Gushers fruit snacks for kids. It's a unique, and daring drink that will definitely have some turning up their noses.


For those with a taste for something a little stronger will want to try the all new beer selection. There are several beers on tap, but the two that matter are Dragon Scale Ale, and Wizards Brew. These two beers are brewed only for Diagon Alley. For fans of Guinness, Wizards Brew is especially dark with a subtle coffee hints. Dragon Scale Ale is lighter and more of an ale. Both are worth trying, and add a huge compliment to Hog's Head beer in Hogsmeade.


In the streets of Diagon Alley there are other vendors. There's a counter service vendor selling quick snacks, in London there's a stand selling potatoes, and beer. The other major drink station brings Gillywater. Guests purchase the bottles, then choose how the special potions they want to add. There are potions for passion, wealth, and even a fire proof potion. Of course the Ministry of Magic has decreed that the strength of the potions be decreased, so any magical results are unlikely.

The food offerings don't stop with specific shops either. Guests inside Weasleys Wizarding Wheezes will find a wide variety of tasty treats waiting for them. From the jars of "You-No-Poo" to the various different snake and bomb themed candies the joke shop has a bit of everything for the mischievous young wizard. The surprising items are those included in the Skiving Snackbox. Puking Pastilles have been teased since the "puking girl" first made her way into Hogsmeade's Zonko's. Fever Fudge, Fainting Fancies, and Nosebleed Nougat all have the gross factor, but don't worry…they're actually very tasty. The Puking Pastilles and Fever Fudge in particular are our favorites.
SlideShow-Check out about a thousand pictures from this week's Diagon Alley Preview at Universal Orlando

Food is very much a character in Diagon Alley. It's something that the creative and culinary teams have stepped up immensely since the opening of The Wizarding World of Harry Potter-Hogsmeade four years ago. While that area still has great food, Diagon Alley almost adds a personality to everything you eat and drink. The park has had plenty of experience as well. Last year Universal Orlando opened Springfield-Fast Food Boulevard based on the fictional world of The Simpsons. The area is defined by the food, and they also have some pretty great rides as well. Diagon Alley is sure to be a hit for Potter fans, and foodies alike.
Stay tuned for more from the Diagon Alley Preview, as we bring you every aspect of the all new Wizarding World of Harry Potter-Diagon Alley. For more from the Diagon Alley Preview, click here!
Get social with us on Facebook and be sure to follow along with us on Twitter @BehindThrills for the latest updates!
For more information about The Wizarding World of Harry Potter-Diagon Alley, including tickets, visit the official Universal Orlando website by clicking here!