Standing in front of London at Universal Studios Florida, it looks like many of the other elaborate city pieces in the park. The park has mock ups of Hollywood, New York, and San Francisco, many hiding rides and other fun little aspects. However, the newest addition at Universal Orlando isn't the "Great London Experience", it's The Wizarding World of Harry Potter-Diagon Alley. So where is Diagon Alley? Where's the magic? Where's the rides? The only hint of a world of magic you get is a purple triple decker bus parked out front. While that's not altogether an odd site, the fact that there's an odd young man outside talking about witches and wizards, and the fact that he's interacting with a talking shrunken head makes things a little suspicious. No, to get to the magic of Diagon Alley, you have to first tap the bricks and find the entrance. Once you pass that point, that's where your magical journey begins.


Diagon Alley is the natural progression to The Wizarding World of Harry Potter at Universal Orlando. The resort opened the first part (now with the monicker Wizarding World-Hogsmeade) in 2010, and four years later, to the date we were able to get  a very special sneak peek at the all new addition. What a difference four years makes. The all new addition is a world in itself, and completely blocked from the view of Muggle eyes. You are truly transported to an all new magical realm where dragons guard goblin gold, and flavors pop out from every direction.
For the special preview, some of the cast was on hand for the huge reveal to the public, including Helena Bonham Carter and Domnhall Gleeson. They could not describe what we were about to see, simply because it just blew them away as well.
Video-Go inside Diagon Alley and chat with some of the cast of the Harry Potter films
Guests are greeted with a fire-breathing dragon, that spits out real fire down on everyone walking by. That dragon guards the gold hidden deep within the vaults of Gringotts. Gringotts holds the areas signature attraction-Harry Potter and the Escape from Gringotts…only you wouldn't know it by looking at it. In fact, you wouldn't know that this was a theme park area at all if you didn't already know better. Guests can stop anywhere in Diagon Alley and spin 360 degrees, not once will see they see any indication that they are in Universal Studios. In fact, if it wasn't for the intense heat and humidity, guests might forget they are in Florida at all.
That complete immersion was completely by design. The wizards that created Diagon Alley included Alan Gilmore, who also worked on the Harry Potter films. The feel that the team wanted was one that was directly from the movie…a feeling that no Muggle had ever set eyes on this hidden mystery world. The hidden fun doesn't stop at just Diagon Alley. There are several hidden surprises around every corner. One such surprise is the mysterious Knockturn Alley. The alley where dark wizards and witches hang around is, quite literally, dark! The area is devoid of any sunlight and lit dimly by lanterns and a starry sky. The alley is home to all kinds of dark magic, and trinkets. In fact it's home to what is sure to be one of the most popular shops-Borgin and Burkes. The shop is littered with dark artifacts and homages to the villainous Death Eaters.
Magical Shopping
While most theme park areas have gift shops, Diagon Alley is very unique in that it is a shopping district. You can get your standard theme park souvenirs, such as hats and t-shirts, just like everywhere else in the park, but Diagon Alley offers a selection of several unique shops with items just as unique as the shop windows they peer out of. All of these items were created exclusively for Universal Orlando, specifically to sell in Diagon Alley.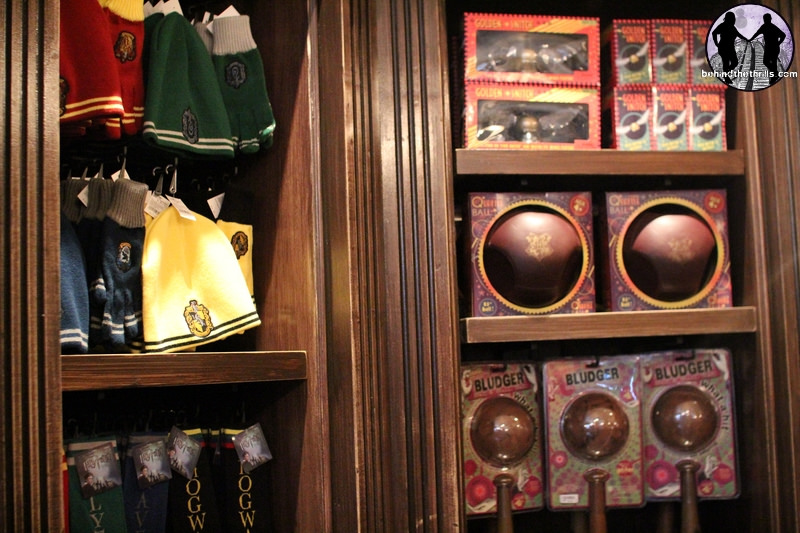 Quality Quidditch Supplies offers beaters, quaffles and of course golden snitches for your home versions of Quidditch. The store even sells replica brooms. Of course there's also the replica quidditch field (in the form of a chess set) and scarves in your favorite house colors.
Weasley's Wizarding Wheezes gives all the fun of a magic shop, with the twist of having a lot of edible fun as well. The "Skiving Snackboxes" are going to be a huge hit with tons of gross sounding, but tasty candy all in one box. Of course, it's not just the merchandise you venture in for. The huge hat tipping Weasley with the rabbit under it draws you in, but there's tons to just stop and look at…even indoor fireworks.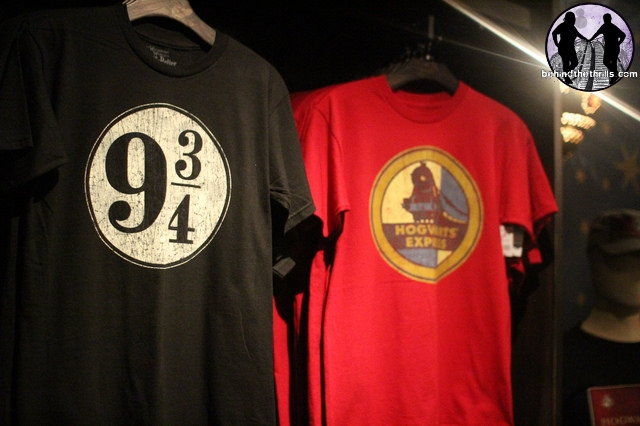 Ollivander's Wands are a familiar stop to those who have been to Hogsmeade, but here the experience (and space thankfully) is expanded, giving guests more room and more chances to look for their wands. With something around 11,000 wands taking up residence, there is bound to be a wand for everyone.
Magical Menagerie is another very unique shop that draws guests in. The animatronics in the window are just one of the many in the store. Once you walk in, it looks like something that inspired the warped drawings of Dr. Seuss as many of the colorful creatures surround the area. Here you can also get t-shirts, and of course very unique stuffed animals based on the popular animals in the Harry Potter Series.
Wizarding Food
The one thing that the Wizarding World did when it opened in 2010 was bring a unique taste, with the introduction of Butterbeer. How can you top a world wide phenomenon? By kicking it up a thousand notches, and cooling it off. Florean Fortesque's Ice Cream Parlor is home to Butterbeer Ice Cream. It's a very sweet, cold version of the popular drink, rich in flavor and served only in soft serve. Other great ice cream flavors include Earl Grey Lavender, Apple Crumble, and our favorite Chocolate Chili.
While Three Broomsticks brought the food of English country Inns to life, The Leaky Cauldron gives pub food a fair shot. The park's take on favorites like Scotch Eggs, Bangers and Mash and Toad in a Hole are tasty and filling additions. The pub also offers signature drinks like a Lemon Squash, Fizzing Tea and Sparkling Orange Juice. Then there's Fishy Green Ale, a sickly green drink with fish eggs in the bottom. While it's appearance is as gross as it's name, it's one of those drinks that surprises as the unique flavors of mint and blueberry combine. For the wizards that need a little more kick in their drinks, the beer also gets a little more flavorful with Dragon Scale Ale and Wizards Brew. Both have unique flavors and both are brewed in Florida specifically for Universal Orlando. And of course Gilly Water is a must for the little wizards who like to watch the magic transform their drinks.
The Living Streets
If you're not into the shopping or food, there is plenty in the streets of Diagon Alley as the streets literally come to life. With special wands bought at Ollivanders, the window displays and props in the streets are brought to life with a flick and swish. While the idea is also coming to Hogsmeade, it's being perfected and in larger numbers at Diagon Alley. There's also three different stage shows periodically throughout the day. Two shows are amazing new puppet shows, while one is a very unique singing show. Don't forget that there's a dragon above head, and she spits fire about every 20 minutes or so.
Rides of a lifetime
Of course it wouldn't be a new theme park area without amazing new attractions. While the shopping and shops themselves are attractions, we need rides. There are two new experiences in this area that takes guests further into the Wizarding World. While one technically isn't IN the Wizarding World, the other was one we didn't get to experience.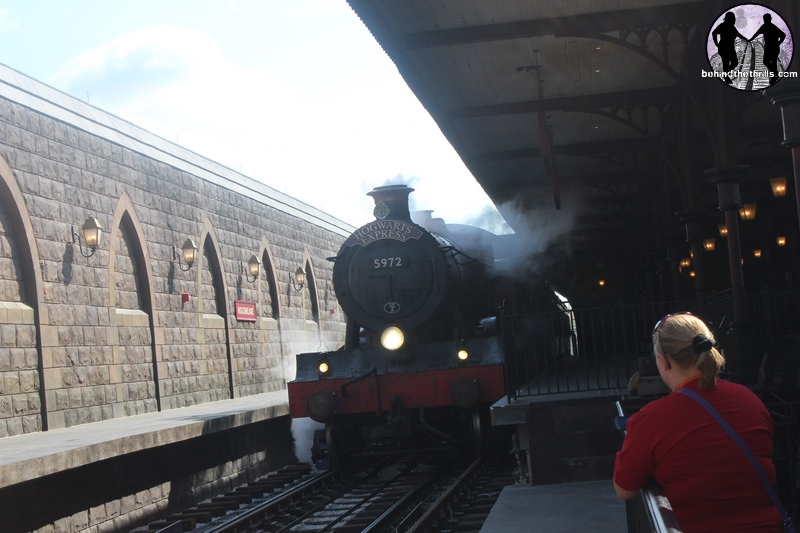 The Hogwarts Express
Guests board the Hogwarts Express in London…not in Diagon Alley. There is no way to board the train once you slip behind the walls of the magical shopping district. Guests go through the London station of Kings Cross, and into Platform 9 3/4 where they find the gorgeous Hogwarts Express waiting for them. This magical train ride takes guests on a journey through the city and countryside, past Death Eaters and Dementors and on a magical journey to Hogsmeade Station where they can venture further to Hogwarts Castle. The return trip is just as magical, if not a little less dangerous. No height requirement means that Muggles of all sizes and ages can ride, and it really is a safe trip for everyone.
Harry Potter and the Escape from Gringotts
The all new signature attraction is actually IN Diagon Alley (well, below it) and it takes place during the quest for the Horcrux in the vault of Bellatrix LeStrange. While we did not get to experience this ride (the dreaded technical difficulty spell) we did get to experience everything else about it, including the two pre-shows and the queue. The story is set up as you venture through the lobby of Gringotts bank, which is absolutely stunning. Then you go through a Wizards office, see some familiar faces, hear some familiar voices, and then it's down to the lifts. We've been told that the ride uses amazing 3D screens, some fun drops and sharp turns. The ride also uses tons of special effects, and while it may be a little frightening for smaller Muggles, it's still a great fit for the family.
SlideShow-Check out about a thousand pictures from this week's Diagon Alley Preview at Universal Orlando

Stay tuned for more from the Diagon Alley Preview, as we bring you every aspect of the all new Wizarding World of Harry Potter-Diagon Alley. For more from the Diagon Alley Preview, click here!
Get social with us on Facebook and be sure to follow along with us on Twitter @BehindThrills for the latest updates!
For more information about The Wizarding World of Harry Potter-Diagon Alley, including tickets, visit the official Universal Orlando website by clicking here!