It's beginning. Can you feel it in the air? It's hanging over us like a plague, waiting for the right time to strike. Whatever you do…don't…fall…asleep. It appears that Universal Orlando and Hollywood is preparing to make a huge announcement regarding this year's Halloween Horror Nights, and this year they are taking to different forms of social media to spread the word. Don't Sleep…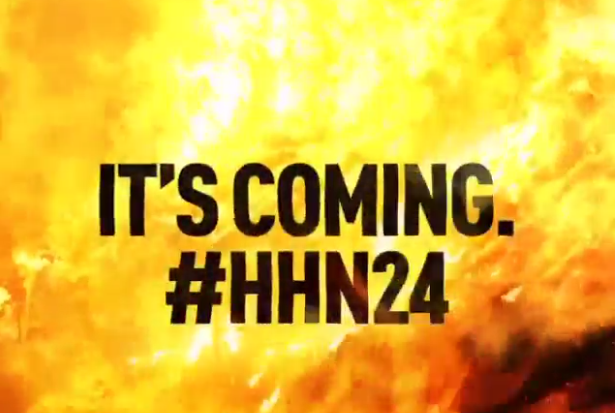 The first hint came just about 9p.m. on the HHN Orlando Instagram page (click here). A wall of fire, swirling with the simple words…It's Coming. What's coming? Is there something hidden in the flames? Most likely. One the official HHN Orlando Facebook page the warning said "Don't Fall Asleep". Of course that's a famous line from A Nightmare on Elm Street. Could the franchise be coming back to HHN? Not likely. The house last appeared in 2007 in Orlando, and for several years in Hollywood. It may happen…but it's not likely.
A similar message appeared on the HorrorNights Snap Chat account. This time it wasn't fire, but woods. Don't Sleep. Then on the official Facebook page, a video appeared urging us not to sleep.  This message was filled with the sounds of screams and eyeballs.
It's already 9p.m. on the East Coast, and we are being urged not to sleep. What is coming? We can only guess that it's a huge announcement that will cover both parks. During the past few years it's been very common for Universal on both coasts to share a property. Last year it was Evil Dead, the year before it was Silent Hill. What will it be this year? We have some ideas, but we'll share those later.
Stay tuned. Stay awake. We'll let you know.
Be sure to get social with us on Facebook, and follow along with us on Twitter @BehindThrills for the latest updates!
For more information about Halloween Horror Nights, visit the official website by clicking here!