Friday the 13th is synonymous with bad luck. It's a day where nothing good usually happens. Friday, June 13th your luck could be a little better as Central Florida's only year round haunted attraction is packing their haunt with 13 lost souls. Can you survive, or has your luck run out?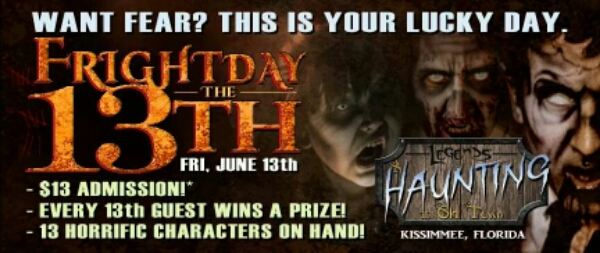 For one night only, Legends will be kicking things into high gear with a twist on their normal haunted attraction. While there are usually a number of Twitchlings roaming the halls of Ashdown & Sons, on Friday the 13th, 13 horrific and terrifying characters will come out… and they're ready… for you. They will feast on your fear, and could possibly even feast on you!
If you're looking to scare up some fun this weekend, Legends a Haunting in Old Town is the perfect place to go. Afterall, where else in Central Florida will you find a haunt that's open in the middle of June? Legends a Haunting in Old Town is open year round at Old Town in Kissimmee, Florida. On top of 13 horrifying characters, Legends is also offering discounted admission on the 13th, plus every 13th guest will receive a prize!
Admission to Legends a Haunting in Old Town is normally priced at $15 per person. On Friday, June 13th, admission will be discounted to $13 per person. This limited time discount is available only June 13, 2014. Tickets may be purchased at Legends a Haunting in Old Town directly or you can purchase your tickets in advance online by clicking here.
Join us and several other Central Florida bloggers as we will become one of those horrifying 13 characters and let us scare the living daylights out of you. Afterall, death is how Ashdown & Sons make their living… and business is good!
For more information about Legends a Haunting in Old Town, visit the official website by clicking here.