Transformers started out as a worldwide toy phenomenon in the 80's, which later became a huge movie franchise. After three movies that were hit and miss for a lot of audiences, Universal launched a series of attractions that were definitely hit for many guests. The story and success of the attractions at Universal were said to be the inspiration for Michael Bay to return to Transformers for a fourth installment. Now, fans can celebrate the "Robots in Disguise" with two huge celebrations next weekend.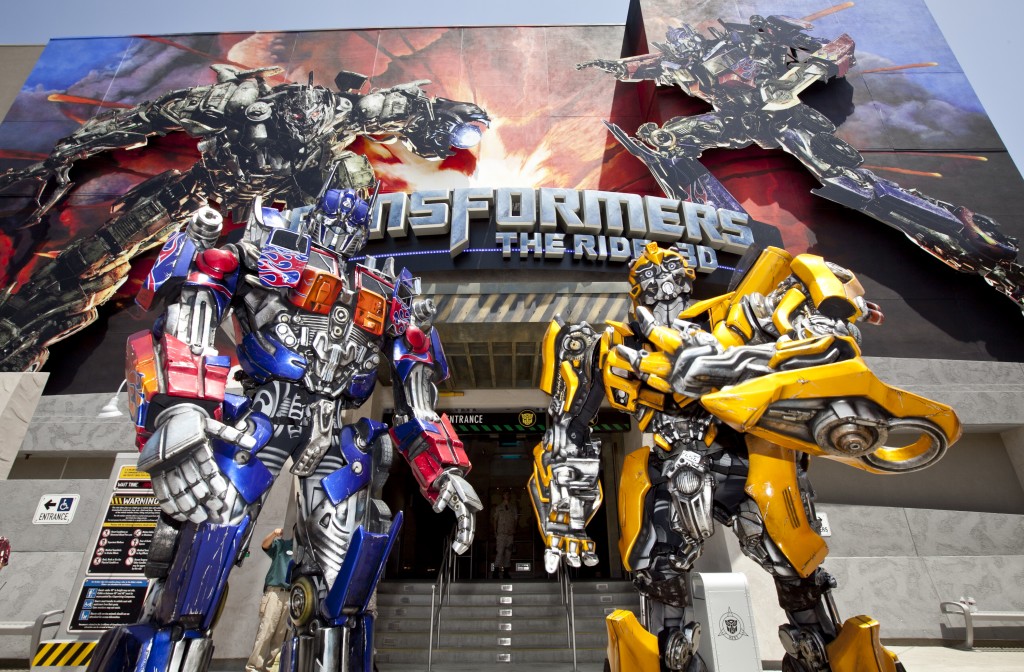 There will be two huge Transformers Celebrations in Southern California beginning Friday June 20th. The first is hosted by Universal Studios Hollywood and includes exclusive access to the ride, merchandise and even a concert! Here's all the details:
When: Friday, June 20th from 3:00 p.m. to 11:00 p.m. Where: 100 Universal City Plaza, Universal City, CA 91608 Cost:    $75, includes admission to all rides and attractions, in addition to the breakthrough thrill ride, "Transformers: The Ride—3D," as well as after-hours access from 8:00 p.m. to 11:00 p.m. Tickets:  https://ushtix.com/Transformers Includes:

Exclusive after-hours access to Universal Studios Hollywood's award-winning thrill ride, "Transformers: The Ride—3D"
Panel and interactive workshops led by Hasbro's TRANSFORMERS brand team, including new inductions into the TRANSFORMERS Hall of Fame
Photo opportunities with popular TRANSFORMERS characters – Optimus Prime, Megatron and Bumblebee
Musician Stan Bush (TRANSFORMERS: The Movie) live in concert
Props from TRANSFORMERS: Age of Extinction, including the Optimus Prime movie vehicle from the new film
Commemorative event lanyard, free limited edition memorabilia poster (while supplies last) and 10% off select merchandise
If that wasn't enough, there's a huge two day event happening in Pasadena beginning Saturday. That event will include voice actors, costumes and more! Here's the details:
When: Saturday, June 21, 2014 – 10:00 a.m. to 5:00 p.m. Sunday, June 22, 2014 – 9:30 a.m. to 3:30 p.m. Where: Pasadena Convention Center | 300 East Green Street, Pasadena, California 91101 Cost:    Adults: $20; Children 5-12: $10; Children 4 and under: Free Early Bird admittance is available for $60 on Saturday beginning at 9:00 a.m. Parking is available at the Paseo Colorado shopping center for a daily rate of $9 Tickets: Available on site. For more information: www.BotCon.com | questions@BotCon.com Includes::

Autograph session with TRANSFORMERS voice actors and special guests
Opportunity to buy, sell or trade TRANSFORMERS merchandise from throughout the franchise's 30-year history with hundreds of dealers
Enthusiastic fans decked out in unique, homemade TRANSFORMERS costumes
TRANSFORMERS Fan Film Extravaganza and TRANSFORMERS Custom Toy Contest and art contests as BotCon showcases the creativity of the fan community
The huge celebration comes right before Transformers:Age of Extinction hits movie theaters on June 27th. The new movie looks to feature a revamped Optimus Prime, Dinobots and a whole lot more new robots. Check out the latest international trailer for the latest look at Age of Extinction: http://www.youtube.com/watch?v=Nwd5OOVVB58   Transformers: The Ride 3D is now open at Universal Studios Hollywood and takes you on a battle through the city as Megatron tries to steal the All-Spark. Stay tuned for even more from Universal Studios Hollywood, and be sure to get social with us on Facebook and follow along with us on Twitter @BehindThrills for the latest updates! For more information about Universal Studios Hollywood, including tickets, visit the official website by clicking here!