"Enter, stranger, but take heed of what awaits the sin of greed. For those who take, but do not earn, must pay most dearly in their turn. So if you seek beneath our floors, a treasure that was never yours, thief, you have been warned, beware of finding more than treasure there." Those are the words that are engraved on the very walls of Gringotts Bank. It's a warning to all that enter that you can look, but don't touch. It's a forboding message at the beginning of the all new Escape from Gringotts ride in Universal Orlando's Diagon Alley, and if you've learned anything from the Harry Potter series, it should be that things will go wrong very quickly. The all new state of the art attraction takes you through the lobby of Gringotts and into the vaults on an adventure that drops, thrills and amazes.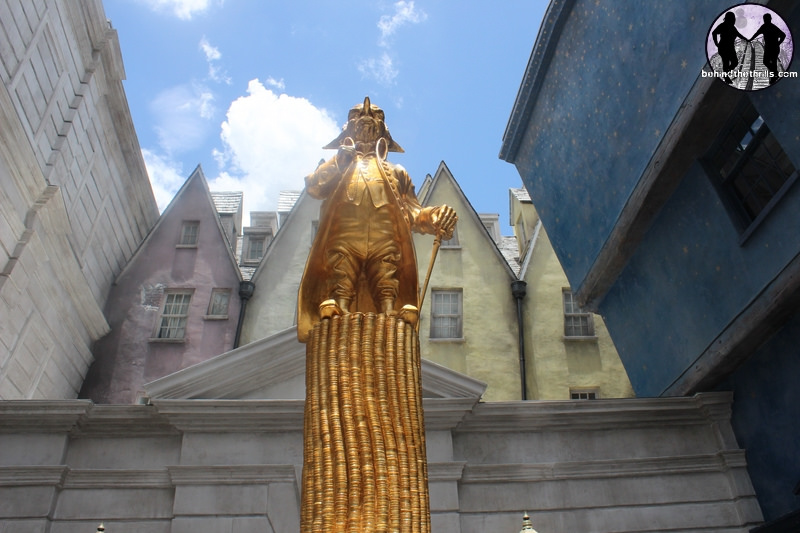 Warning There are minor spoilers ahead
When you walk into the bank, the sheer grandeur of the marble columns give you a little chill, but it's not until you turn the corner and are in the lobby that your breath is taken away. The ride tells the story of a group of Muggles (yourselves) going on a tour through Gringotts. All the while this is happening you are unwittingly part of a huge plot being carried out by Harry Potter, Ron and Hermione. The trio are trying to steal the Horcrux from the vaults of Bellatrix LeStrange, all the while you are on your tour. Of course things go wrong, and you end up running from dragons, trolls and the dark lord himself.
The entrance is the first spot on the tour, then you have to pass through security to get your "security clearance". It's a great spot for a photo op, and a great way to get that little bit out of the way. Then you move on pass newspapers, and wanted posters, declaring Harry Potter as Undesirable No. 1. He's a wanted man, and the entire Wizarding World is looking for him.
As for the rest of the queue, you'll see Harry, Ron and Hermione silhouetted in the doors of the offices that line the corridors. From here you pass many artifacts, including armored goblins, and security checkpoints. Then you are pushed into the first of two pre-show rooms.
In the first pre-show room you run into a goblin and Bill Weasley who are looking to take you on a tour of the vaults. The effect is very well done with the use of Musion technology, which basically puts a hologram on a screen and has it interact with live action items such as drawers and keys. The effect is very life like and very effective.
Guests are then taken to the depths of the Gringotts vaults by way of elevators. Those familiar with the old version of The Living Seas will recognize the technology and will squeal in delight as you are taken down level by level, until you are "nine miles underground".
From there you get your goggles (3D glasses) and are sent into the caverns above to board your mine car. Here's where our expertise ends, as we did not get to ride, due to the dreaded "technical difficulties" spell. Those dastardly dark wizards did their best to stop us, and they succeeded this time. Hopefully we'll get a chance to try again before the grand opening.
Video-Go through a walk to the vaults of Gringotts and face clever as they come Goblins!

We've heard that the ride is stunning. It's not as thrilling as Harry Potter and the Forbidden Journey, and even the height requirement is lessened a bit, being only 42″ inches, instead of the 48″ at Forbidden Journey. The level of detail and technical prowess in the ride is supposed to be awe inspiring. The ride does some interesting things at various stages, and is a great mix of coaster and simulator technology.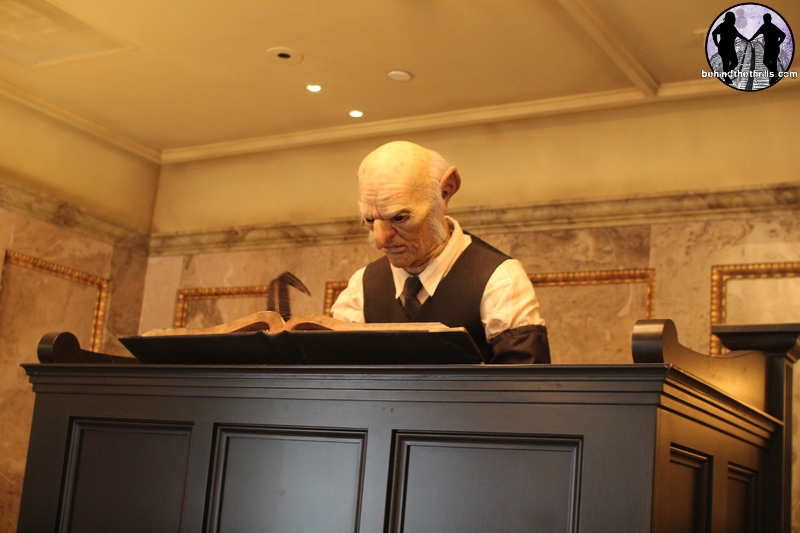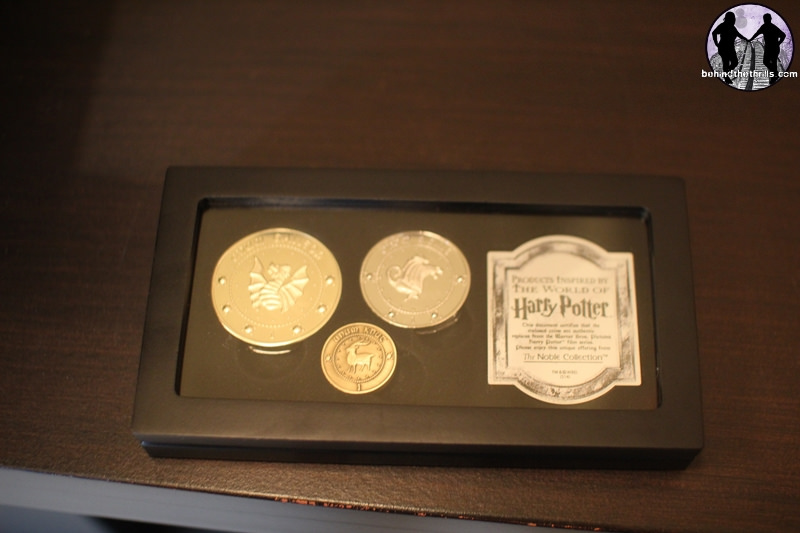 However, the ride isn't the only place where you can try and get some Goblin Gold. Right next door is the Goblin Exchange. Here guests can go in and see a goblin teller. Of course, being a goblin, he pretty much ignores you. However, you can pick up your very own bars of Goblin Gold, get collectible Harry Potter coins, and even exchange your Muggle Money for Gringotts Bank Notes. The bank notes are just as good as cash, and can be used all over Universal Orlando, just like a gift card. It makes an amazing souvenir, so it's worth it to just put a dollar on it and take it home…seeing that once you spend it, you get change back and not a Gringotts note.
Video-Take a walk through the Goblin Exchange

The Goblin Exchange is one little detail that really adds to the whole Gringotts Experience, and kind of takes it to the next level. It's also a great place to get up close and personal with a goblin.
SlideShow-Check out about a thousand pictures from this week's Diagon Alley Preview at Universal Orlando

Stay tuned for more from the Diagon Alley Preview, as we bring you every aspect of the all new Wizarding World of Harry Potter-Diagon Alley. For more from the Diagon Alley Preview, click here!
Get social with us on Facebook and be sure to follow along with us on Twitter @BehindThrills for the latest updates!
For more information about The Wizarding World of Harry Potter-Diagon Alley, including tickets, visit the official Universal Orlando website by clicking here!