With new ownership, the 2014 Midwest Haunters Convention, also known as MHC, was the largest MHC convention ever produced! MHC is held annually in Columbus, Ohio every June and serves the primary audience of Haunted Attraction Producers, Halloween Enthusiasts, Actors, Artists, and Home Haunters. Haunt tours, vendor booths, educational seminars, hands-on workshops, celebrities, parties, socials, costume contests, and a body painting show are all part of this event! Held June 7-9, this was MHC's 11th annual convention and it WAS AWESOME!
Things were a bit different and supercharged for 2014. TransWorld Exhibits purchased MHC after the 2013 10th anniversary show.  Some haunt industry individuals were worried that TransWorld would change the show too much by making it more of a formal "business-like" show and less like a relaxed, casual show. Well, After MANY months of careful preparation, TransWorld & Netherworld pulled off one of the best conventions to date! The show floor seemed larger than previous years and was packed full with some the industry's high profile vendors. The seminars were filled with top quality speakers, and the parties / events were incredibly fun!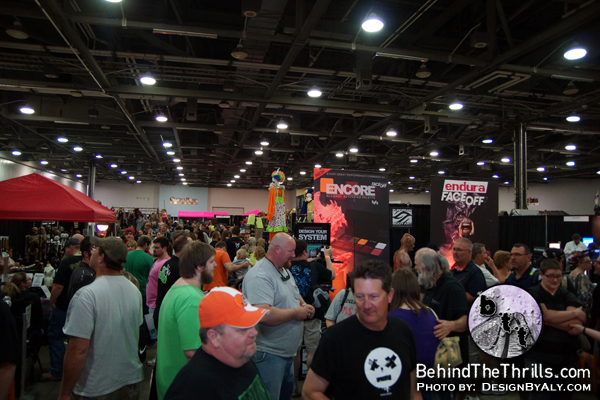 Before the convention took place over the weekend of June 6-8, MHC held the annual Pre-Show Bus Tour. The tour consisted of two days (June 5th and 6th) touring some of Ohio's best haunted attractions. Most attraction producers and actors are working during October, therefore, the MHC bus tour provides them the opportunity to see what other haunts are doing to entertain people. Each year, the bus tour travels to and tours different attractions in the Midwest. This year, the Pre-Show Bus Tour visited the following attractions:
Haunted Schoolhouse & Labratory, Akron, OH
Factory of Terror, Canton, OH
Bloodview Haunted House, Broadview Heights, OH
Ohio State Reformatory and the Bissman Building, Mansfield, OH (paranormal tours)
The ScareFactory Columbus, OH (production facility tour)
ScareATorium, Columbus, OH
In addition to the live actor tour at the Factory Of  Terror in Canton, Ohio, they also performed a live burn test! The FOT crew put on a great demo about the effectiveness of various flame retardant products on typical construction items used in the Haunted Attraction Industry. This was a great way for set designers and haunt build teams to see first hand how different flame retardants react with common haunt props. Below are some of the sets that were burned during the demo.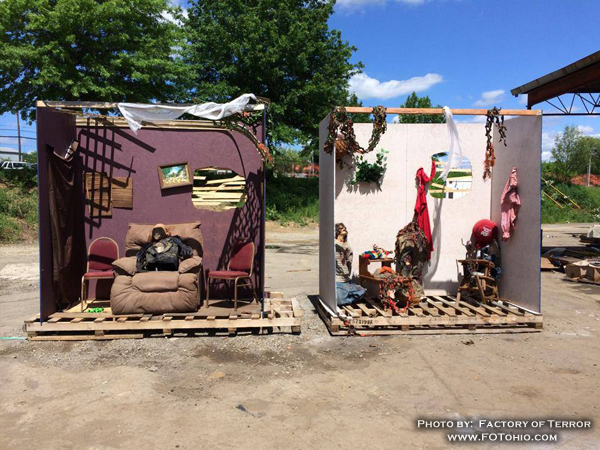 If you missed the Pre-Show Bus Tour, You should definitely sign up next year! It's the ultimate mini vacation for haunters!
The Friday Day Tour took guests to visit two truly haunted buildings. Guests toured the Ohio State Reformatory and the old Bissman Building in Mansfield, Ohio. The entire day was devoted to searching for ghostly inhabitants at these two truly haunted destinations.

To kick off the Friday night tours, buses departed the convention center and headed to ScareFactory for an open house tour of their massive production facility. ScareFactory is one of the most popular prop makers for the haunt industry as well as television shows and movie sets. They offered a complete tour of their entire workshop and warehouse, which included sneak peek looks at some custom props that will never be for sale!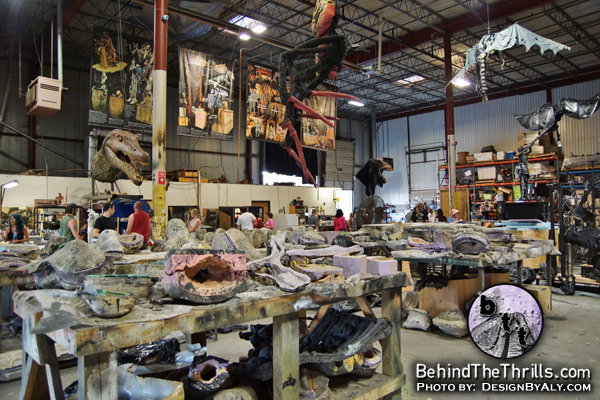 The second stop of Friday night was a full actor tour of ScareATorium, located in Columbus, Ohio. This attraction has re-located a few times and is now housed in an old grocery style store (which makes for a great location)! The tour was all housed indoor with nicely lit sets and quality props. The actors had highly detailed costumes and makeup,  and did a great job at scaring us haunters! The haunt was using a brand-new product from Darklight called "BlinkFX", which is a small transmitter you wear that illuminates different colors depending which scene you are in (similar to Disney's Glow with the Show ears). This was the 1st time we have ever experienced this type of technology in a haunted attraction and it was VERY COOL to say the least! The color changing lights definitely added more drama and emotion to the whole experience. One of the scenes was completely dark, but with the help of Darklight's BlinkFX, the scene was filled with a really cool strobe effect! Another set was propped like a freezer while our groups BlinkFX transmitters all synchronized and shined bright blue. After touring ScareATorium's two attractions, guests were offered a lights-on tour of their makeup / costuming area. By surprise, White Castle was on-site with their mobile food truck offering all attendees free sliders!
Once the Friday night tours concluded, haunters were shuttled to the 1st annual Friday Night Kick-Off Party hosted by the 13th Floor Entertainment Group. This was hands down one of the funnest kick-off events at any Halloween trade show! The event offered drinks, dancing, food, a tee shirt toss, skeleton carved ice chillers, and awesome games (such as a twister, beer pong, and a giant version of Jenga!)  This was a great new event that we would love to see return again next year!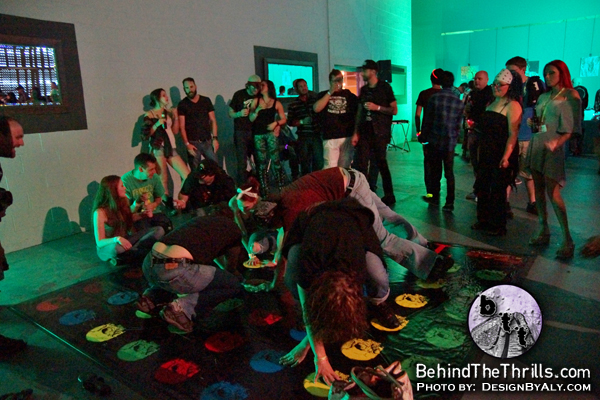 The 60,000 square foot trade show floor was rearranged this year, which made it seem much a lot larger. The show floor was packed with vendors providing regional businesses and residents the opportunity to shop for professional quality Halloween related products. Everything from custom masks to props to pnematics to lighting was available over the weekend. Even though much of the show floor consisted of high quality vendors, everything was reasonably priced. We purchased some really cool movie quality skin masks for only $20!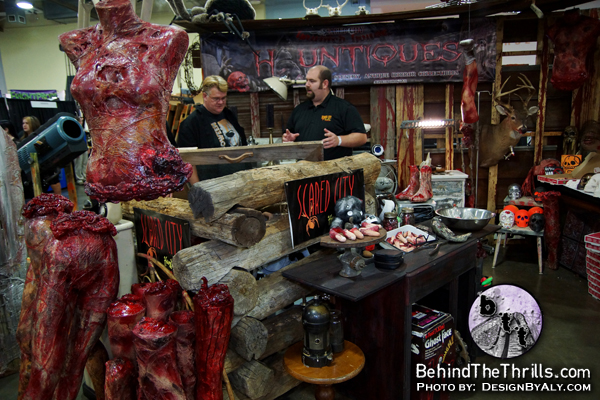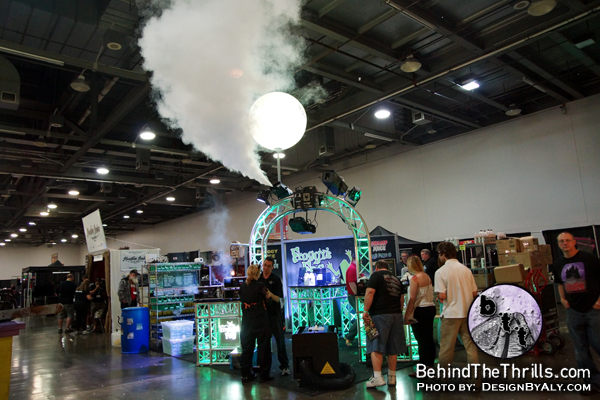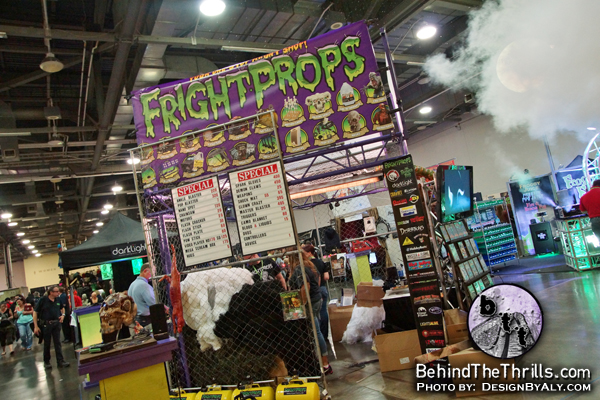 Held on the trade show floor, a crowd-favorite event was the Bloody Mary Monster Makeup Wars. With only thirty minutes and a bag of surprise Bloody Mary makeup materials, makeup artists showcased their talent in unbelievable speeds. Artists form teams of three (two apply makeup, one is the model) battled on stage to complete a monster makeup in front of a live audience. The teams' models were then judged on completion, detail, and speed by haunt industry professionals to be crowned as the winner. The winners were Team Mystery Manor which were the group of Todd Seibe, Sophia Smith, and Donna Smith.
New this year was the MHC Mystey Box challenge. Teams (or individuals) had to create a terrifying prop in one hour using provided materials and HAD to include the contents of a "Mystery Box"! Once the challenge started, the teams scrambled gathering tools and materials to create their own unique pieces. One team even went as far as creating a full costume! By the end of the challenge, most of the participants were covered in paint, stage blood, and "great stuff" aka spray foam, but everyone said they had a lot of fun. The audience cheered and enjoyed watching the contestants create custom props right before their eyes… in only 30 minutes!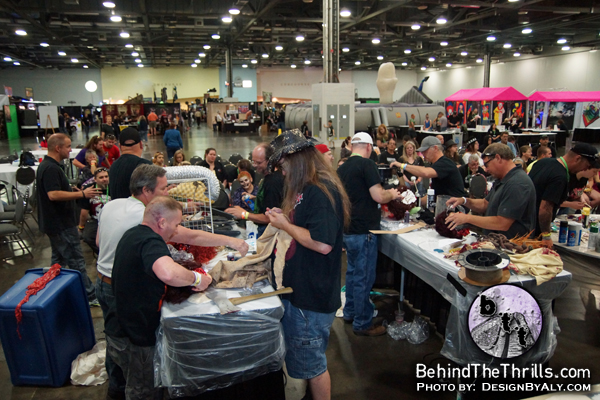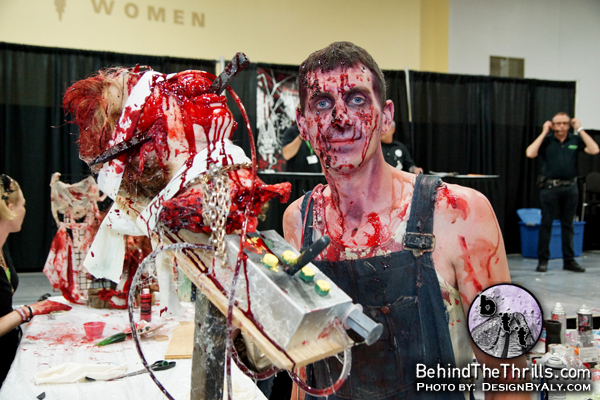 Throughout the duration of the convention, MHC also includes educational seminars, hands-on workshops, and networking activities for haunted attraction professionals as well as beginners just starting out in the haunt industry. This year's seminars featured some of the most well-known speakers in the industry. We stopped in for a peek at quite a few of the seminars. Some of our favorites were Detailing Tips, Tricks, & Secrets by Mike "Tattoo" Krausert, Designing Scenes for Outdoor Events by Ed McLauren, & Creepy & Effective Lighting by Jake Farmer. Three completely packed days of classes were offered! These seminars teach and help individuals understand the ins-and-outs of the various techniques used in the haunt industry.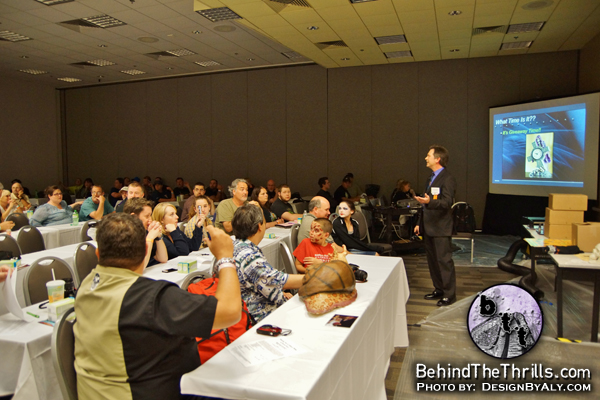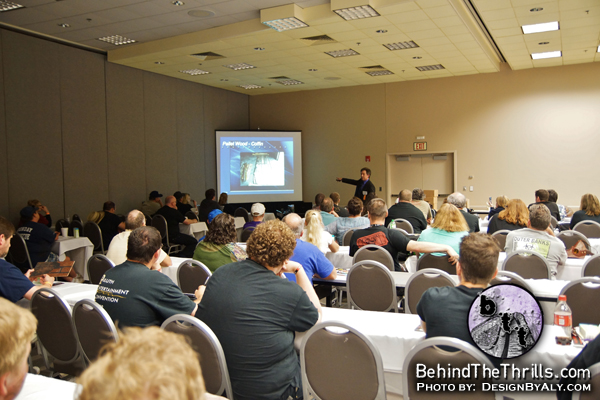 Saturday night was the 2014 Monster Masquerade Costume Ball! Included with your ticket was delicious hors d'oeuvres, a live DJ, dancing, stage entertainment, contests for prizes, and a place to network and party with lots of Halloween fans in costume. This was once again "THE" social event of the year for haunters! The costume ball brought some of the haunt industry's best actors and costumes together into one place for an amazing contest!
The Body Art Fashion Show was the kick-off to the Monster Masquerade Ball! The BAFS is an invitation only event for select Body Painting Artists to showcase their makeup artistry talents in spectacular fashion.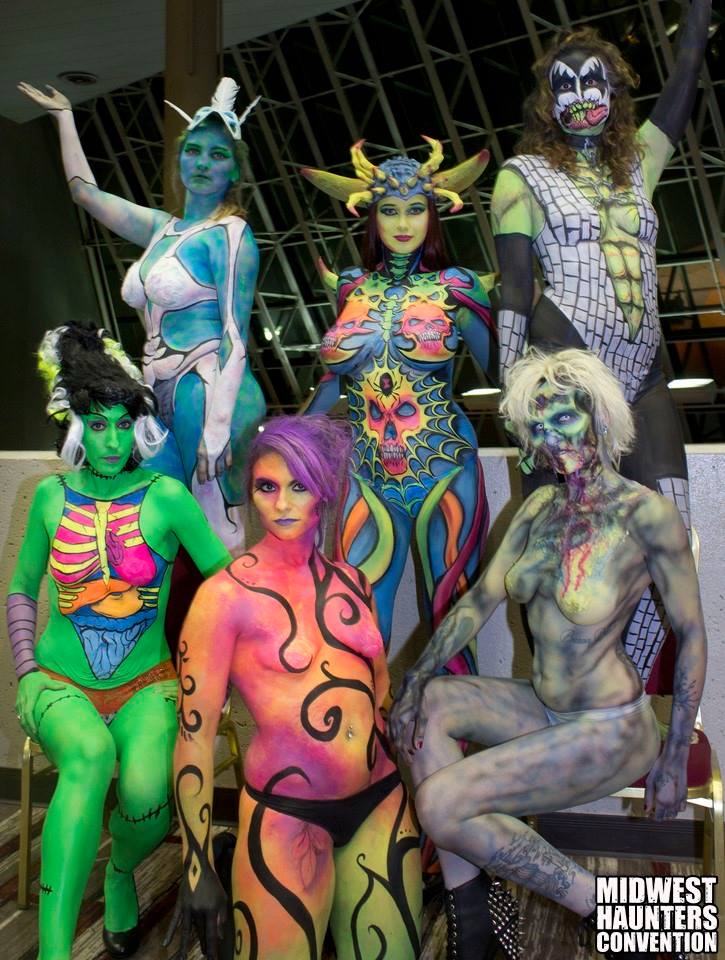 The two contests featured at the Masquerade Costume Ball were the Scariest Character Contest and the Miss Scary Midwest Pageant. Judges roamed through the crowd handing out invitations for characters to compete in the "Scariest Character Contest". Ten contestants competed on stage for cash and prizes. Haunted attraction actors from around the country competed for this coveted award. Hollywood type special effects and movie quality character costumes provided fantastic photo opportunities. The 2014 Scariest Character winner (shown below) was called "J.P. Mackerny" by Ben Blair representing Nightmares Gate Haunted House in Douglasville, GA.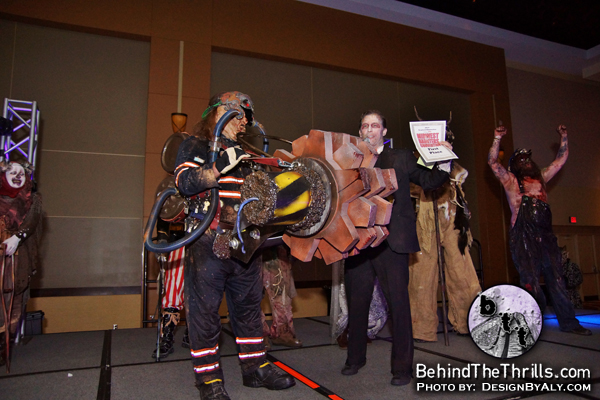 This year's Miss Scary Midwest contest is always loaded with the most elaborate costumes in the industry! This year's winning costume (shown below) was called 'Ruckus' by Sophia Smith representing Mystery Manor in Omaha, NE.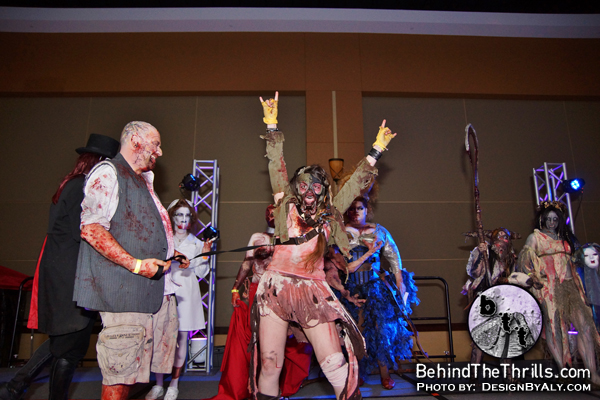 On Sunday, the show had a lot to offer including the show floor, hands-on workshops, kids zone, and educational seminars.
All of these events were jam packed into one awesome weekend at the Greater Columbus Convention Center in Columbus, Ohio. MHC had everything a haunter could possibly wish for at a tradeshow. The convention expands bigger and better every year and has even bigger plans to amp up the show for 2015. The dates have been set for May 29-31, 2015! So make sure you mark your calendar; it's a show you won't want to miss!

For more info check out the official MHC website at: MidwestHauntersConvention.com
Stay Connected with Behind The Thrills!