Diagon Alley promises to be the biggest and most detailed area that Universal Orlando has opened to date. The immersive world of Harry Potter will cone to life with dragons, Goblins and of course trains. While many of the details are being released, many are being closely guarded. With so many details not yet revealed, it makes it a little difficult to plan your vacation. We're going to run down a list of both what we know, and what we don't know about the all new Wizarding World of Harry Potter – Diagon Alley at Universal Studios Florida to help you plan your magical getaway.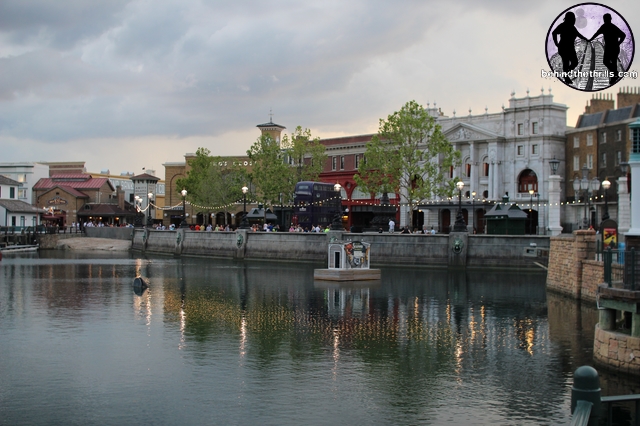 Opening Date
The first thing we don't know is the opening date. There's a clip on TV Guide that shows a "Live from the Red Carpet" at Universal Orlando which is scheduled to air on Friday June 20th. This is leading everyone to believe that guests will be able to go inside on the 21st, the following Saturday.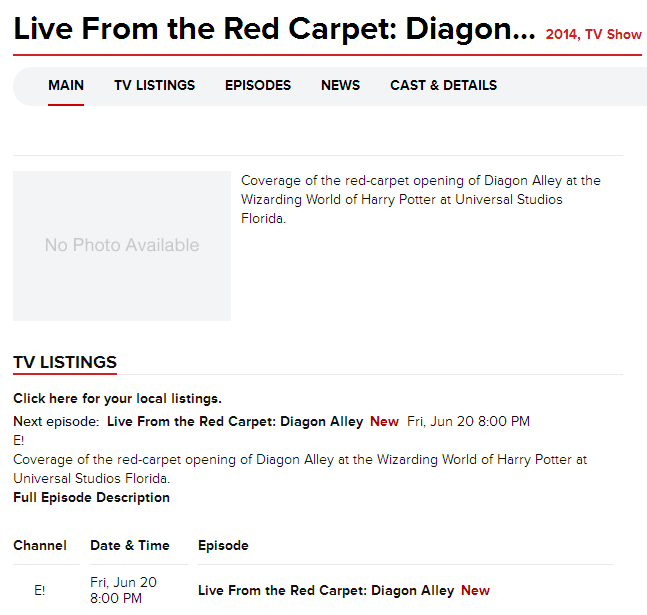 However, and we do hate to be the bearers of bad news, the media preview itinerary shows that the red carpet event is happening Wednesday June 18th. While there very well could be a second, we aren't counting on it. What you will see on E! will be a rebroadcast. So where does this leave the opening date? We don't know. It's POSSIBLE that it could happen on the 20th, the 21st…or anywhere in there. But looking at everything, we're going to say that no…a Grand opening will not happen until a later date. It's not entirely unprecedented for a theme park to have a media preview, and a huge event weeks before a grand opening.
It recently happened with Disney's Seven Dwarfs Mine Train Coaster. The media had a huge preview about a month before the grand opening happened. While that may not be the case for Diagon Alley, don't be surprised if it is. The celebrities and media could have a big preview of Diagon Alley, while an opening date is announced later in the month. The reason this may happen is to iron out any bugs, or kinks that aren't working the way they should be. It would be absolutely terrible for the ride to open early, and then be closed half the day due to technical difficulties. So when will Diagon Alley open? We really don't know. It's possible it could open on the 21st, but that doesn't seem likely. Universal has started to sell vacation packages that are good for travel beginning June 29th. Those guarantee access into Diagon Alley. When Hogsmeade opened in 2010 the park also sold vacation packages which would get guests into the park early. Those guests would be allowed into the area, and no one else. Eventually it settled into soft openings, and the grand opening was held at a later date.
Update
Many are reporting radio reports and files that state Diagon Alley will open on June 30th. Universal has actually gone on the defensive and called this information not true. So, keep your eyes peeled!
From the official Universal Orlando Facebook page 6-13-14
We have not yet announced the official grand opening date for The Wizarding World of Harry Potter- Diagon Alley. We promise to tell you as soon as we can. Incorrect information was wrongfully circulated today and we wanted you to know it's not true. We're sorry for any inconvenience.
Update 6-26
We now know that the Grand Opening will be July 8th at Universal Studios Florida.
Soft Openings
It's not uncommon for Universal to have what's called "Soft Openings" or technical rehearsals before an attraction has it's grand opening. These openings are unannounced, and unscheduled. People will often ask when an attraction will soft open, and the answer is…we don't know. There are forecasts out there that will tell you the likelihood of an attraction being open, and while they could be right, the real story is that they generalize and guess just like the rest of us do.
So the big question is, when will Harry Potter soft open? The answer is Okay.
There's no telling if or when Diagon Alley will soft open. We all listen to rumors, to team members who hear things and I even sacrifice a fried chicken every week to try to gain insight. There's a good chance that Diagon Alley will soft open around the 14th of June. There's an even better chance, since no opening date has been announced, that the soft opening will be after the June 17th-20th media preview.
The thing about Soft Openings is, again, no one knows except the people higher up. They kind of just say "Okay everyone come in today and get ready like we're going to open" and if everything is right they open. It's literally one minute they're not open…the next minute "hey go ahead and let everyone in". So if you ask someone "Are you soft opening today?" the answer is always going to be no. What do you do? If you're that dedicated to being the first one in…you wait. Plain and simple.
Update 6-26
As of June 25th Diagon Alley was in Employee Previews. The previews will last until June 28th. After that, the special packages that guests can still purchase, will begin. Those packages get guests exclusive access to Diagon Alley. The packages include tickets, souvenirs and three night hotel stays.
Hotel guests staying on site will NOT get early access to Diagon Alley before July 8th. Only those with the Harry Potter packages will be able to gain access.
Soft openings could happen as early as Sunday at 11 a.m. though, once again, Soft Openings are never announced, they just happen, and could stop at anytime.
Hogwarts Express
Hogwarts Express will be a huge immersive train ride from one park to the next. You'll see characters from the films during the ride, including Hagrid and the Weasley twins. There may be stops along the way, there may be monsters or wizards on the train…we don't know everything yet.
What we do know is that the trip takes about 3-4 minutes, and takes you from Kings Cross Station to Hogsmeade Station. It does not take you to Diagon Alley. That's important. Diagon Alley is in the Wizarding World, Kings Cross is in London. If you thought you were going to bypass the lines by riding from Hogsmeade to Diagon Alley you won't. You'll have to wait in line once you get off the train to get into Diagon Alley.
In order to ride the train you'll have to have a park to park ticket. That means, yes, you'll have to either have an annual pass or buy a two park ticket. No two park ticket, no train ride.
The ride will be open to all ages and sizes, there are no height or weight restrictions. The kids will be able to ride, grandparents will be able to ride. Everyone will be able to ride. The big thing that we noticed is that strollers were stationed outside the station. That tells us that they will NOT allow rental strollers on the train. It looks like you park your stroller, go to the other park, borrow their rental stroller and when you're done return it and hop back on the train.
London
London is a completely different area than Diagon Alley. The area is what the Muggles see before entering the Wizarding World. There are many huge landmarks in the area, inspired by the actual area in London. This is where we find the entrance to Kings Cross Station, and where we find The Leaky Cauldron. The only magical items we will see is the Knight Bus.
Video – Walk around London at Universal Orlando

Diagon Alley Entrance
The entrance to Diagon Alley is hidden. We can't see it so far since the walls are down. There's going to be some kind of huge show to get in, but it's going to be amazing. We're guessing a few dozen people at a time will get to go in and tap the bricks to get in. In the likely event that people there are too many people in the area at once, return tickets will be issued. Like a Fastpass, you will be given a ticket to come back and get into the area. This is not a ticket for the ride, this is a ticket just to get into the area.
Update
The Diagon Alley entrance area is concealed in a fairly clever way. Once the area reaches capacity, guests will be instructed to a return ticket from the kiosks near Fear Factor.
The Ride
Escape from Gringotts will be the all new ride at Diagon Alley. It will feature roller coaster like elements, such as a drop and some turns, as well as 3D screens and glasses. There will be animatronic figures, as well as 3D and the ride will be in the dark. The ride will have a height requirement of about 48 inches, and looks like it will not have too many size restrictions, unlike Forbidden Journey. On that ride, those with larger dimensions can not ride.
The ride could be scary for the little ones, as it will be in the dark and will have things like goblins, trolls and dragons. You also encounter Lord Voldemort…so that can be scary as well. We are not sure of the actual statistics of the ride, though we have heard that the drop is about 60 feet, and is done in a unique new way. Not sure what that means, but we are sure that the track itself moves suddenly.
The line before you get in will be themed to the bank lobby. You will see goblins that move and some even speak. They are very freaky looking and may creep out the little ones…but they do look amazing. There is no word yet if there will be a tour line for those not wanting to ride, but just wanting to see the goblins.
Update
The ride is a roller coaster with 3D glasses. There are a few little launch areas, and a small drop. It is being compared to Seven Dwarfs Mine Train in intensity. However, there are several dark areas of the coaster, and tons of special effects. It provides a good amount of "air time" and should be thrilling enough for older guests as well as younger guests. Height requirement is 42 inches, and larger guests may not be able to ride. There is a test seat out front to try before getting in line. There also appears to be a "tour" line for those that may not want to ride.
Food
There will be tons of food inside Diagon Alley, all of which is based on the film. There will be pub foods, as well as traditional British dishes. There will be a sit down/counter service hybrid restaurant called Leaky Cauldron where the guests will order at a counter, and someone will bring your food to you. Bangers and Mash, Fish and Chips, and many many other things will be on the menu at Leaky Cauldron.
There is no outside soda, so if you are a Coke addict, you'll have to bring it in from the other sections of the park. Instead there will be Gillywater (not sure what that is) Fishy Green Ale (a green juice type drink with gelatin "fish eggs" in the bottom) and of course Butterbeer. Fishy Green and Butterbeer are both non-alcoholic. For the adults there will be two specialty beers available.
Entertainment
There will be two live action shows inside Diagon Alley. A puppet show, as well as a troop of singers. Both are completely family friendly and will be performing periodically throughout the day. The shows will be performed on a stage somewhere in the area. There will also be the Knight Bus. We've seen pictures of a ticket taker-Stan Shunpike in the films and books. The shrunken head from the film will be present and we've heard that there will be interactions between the two. It will be similar to what is already in Hogsmeade with the conductor. Guests will be able to get pictures with the Knight bus and ticket taker…but will not be able to ride the Knight Bus or get on. There will also be a huge dragon that breathes  fire. It is huge and will only make certain movements. It's going to be more of a photo op than anything else…but very very cool to look at.
Express
If the new area is anything like Hogsmeade, expect there to be no Express for the major rides like Hogwarts Express and Escape from Gringotts. The only express lines in Hogsmeade are the ones for the coasters…those existed before the land was there.
What did we miss? What else do you need to know? Let us know in the comments below and we will do our best to get an answer! We will continuously update this guide as we find out more information, and as openings approach. Once the area opens, we will update this guide with more information, videos and pictures.
The new area is going to bring the films and books of Harry Potter to life like never before! It's going to be the absolutely must see theme park attraction while in Orlando.
We have dozens of video and articles showcasing every inch of Diagon Alley! Be sure to check them all out by clicking here!
Stay tuned as we bring you tons more from Diagon Alley, and be sure to get social with us on Facebook and follow along with us on Twitter @BehindThrills for the latest updates!
For more information about Diagon Alley at Universal Orlando, visit the official website by clicking here!