Coming just hours from the official announcement of a July8th opening, we were very fortunate to part of the huge Red Carpet premiere The Wizarding World of Harry Potter. While the celebrities made their rounds on the red carpet, we were there to not only see the celebs, but hopefully walk through the bricks from the Muggle World to the Wizarding World where Diagon Alley awaits. Were we able to? Come with us and find out!
The world of Muggles, while it can be special, is sometimes filled with routine and every day to day tasks that can make it seem…well, a little boring. What if I told you there was a magical place where Wizards roam, Goblins cleverly trade in gold, and Dragons guarded it all. Well, I suppose you'd call me crazy…and I suppose you'd normally be right. However, Universal Orlando has created a world where not only all of that happens, but every day Muggles like me and you can be part of it. When it first opened in 2010, The Wizarding World of Harry Potter at Islands of Adventure changed the theme park industry. They created a world like none we've ever seen. Now, exactly four years later we are getting a peek into another part of that world. With the huge success of the Hogsmeade area of the park, there was doubt that lightning could strike twice, as Universal toiled away on the natural successor to Hogsmeade with Diagon Alley …well, not only does it strike twice, but it's kept in a bottle and come July 8th you'll be able to walk inside that bottle.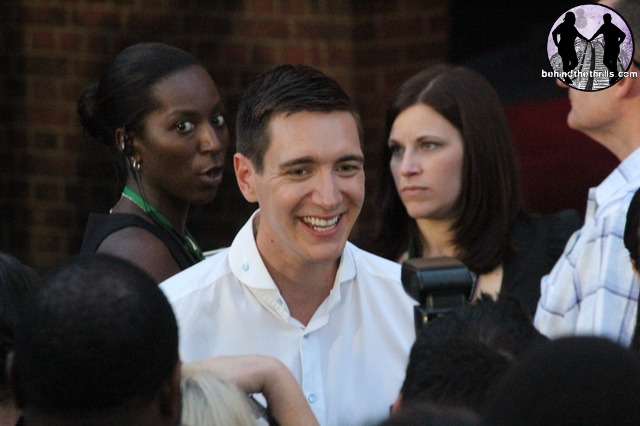 Celebrity Guests took to the red carpet as many of the stars from the Harry Potter films joined the frenzy. James and Oliver Phelps, Domnhall Gleason, Robbie Coltrane, Evana Lynch, Tom Felton, Bonnie Wright and Helena Bonham Carter were all on hand to greet the media and guests as they walked down the streets of London towards a set of conspicuous bricks.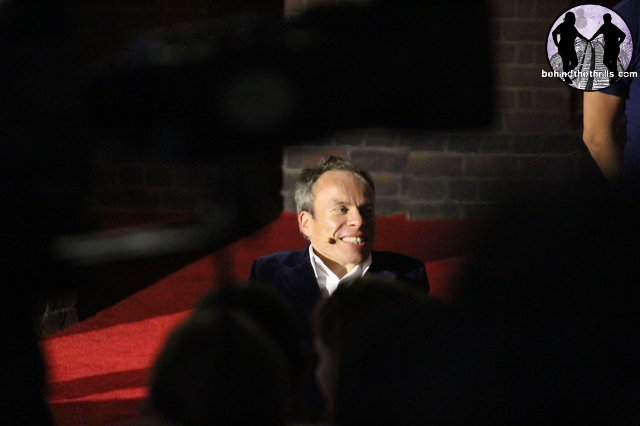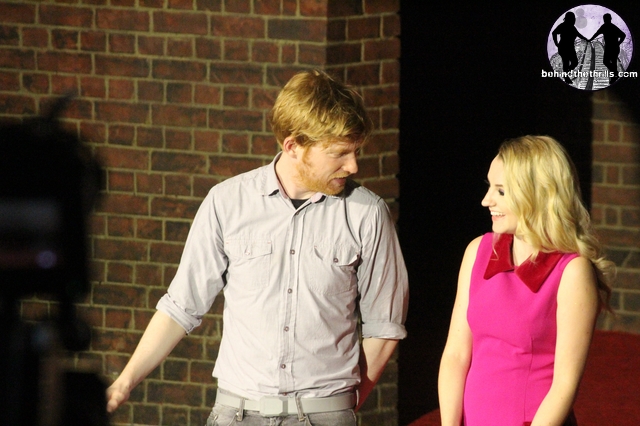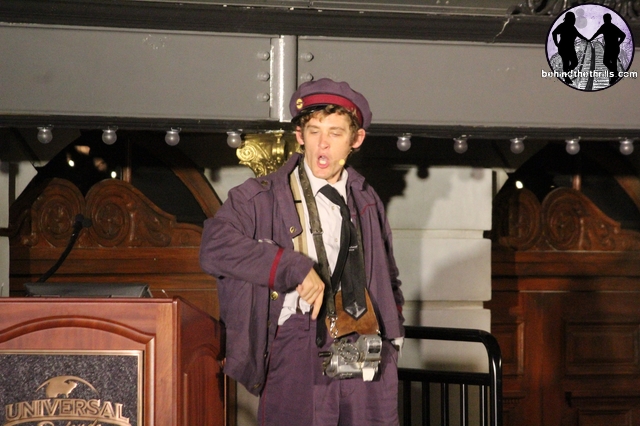 From out of the Knight Bus, a ticket taker and conductor came storming out telling the crowd tales of magic and Dragons. The sky ignited with fire and fireworks and fog filled the air as Robbie Coltrane did as Hagrid in the very first film. As the bricks parted we were able to finally get our first glimpse at Diagon Alley and the magic that awaited within.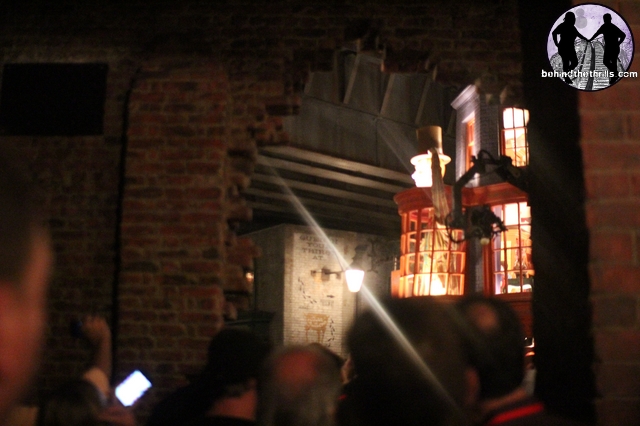 As guests walk through the unassuming walls, they are greeted with the familiar hole in the bricks right behind The Leaky Cauldron. This was just a preview night, so we were not permitted by the Wizards at Universal to take video, but we were permitted to bring our Muggle camera with us. Good thing too, as the first thing you see is a fun and familiar sight as Weasley's Wizarding Weezes comes to life as soon as you enter through the bricks. Immediately you are thrown right into the world.
The first thing you see as you turn a little more down the Alley is of course the amazing Dragon standing guard atop Gringotts Wizard Bank. As you walk down towards the bank you pass all manner of shops, including The Leaky Cauldron, Ollivanders Wands, and several other must stop shops. However, the big focus is dead ahead of you as you make your way down towards the vaults of Gringotts.
The bank is the facade of the signature ride in the area, Harry Potter and the Escape from Gringotts. The ride is a roller coaster ride, mixed with several thematic elements. The ride has a very small 42 inch height requirement, making it a great family addition. As you walk in, of course you must stow your belongings in a locker.  However, it's not the ride you really need to see.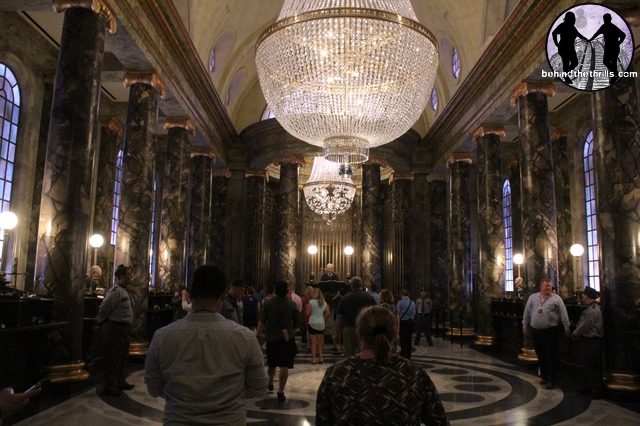 As guests walk through the entrance, they are immediately met with the Goblins of Gringotts, as well as the huge grand lobby. You have never seen such an amazing chandelier that hangs overhead. For fans of the film, it is a scene that is re-created to perfection. The goblins are very seemingly alive, and yes they do look up to notice you, then go right back to their work.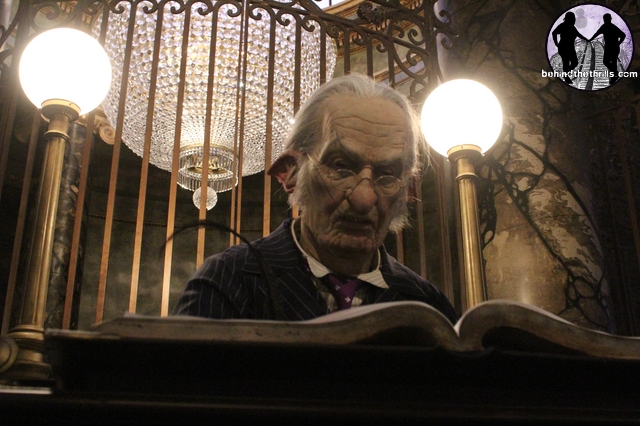 The Goblin Teller is there in all his glory, asking questions, and barely taking notice of the Muggles in the great bank. It's something that Ministry of Magic deemed appropriate, and while he doesn't seem to keen on the idea, he accepts it. The first thing you do as you walk in is get your picture taken, as part of the "Security Screening". It's a great little jab at TSA, and a great way to make sure you get a souvenir photo. The great thing here is that you do not have to get your photo right away, as it's put on a photo connect card, and you can get it later in your day. The detail in the queue is amazing, as newspapers talk about Harry Potter spottings and mass break outs from Azkaban. As you get closer to the vaults, you are put in a pre-show in which you see Bill Weasley and one of the Goblins in their office. It's a rather funny clip, and it's a great way to set up the tours of the vaults.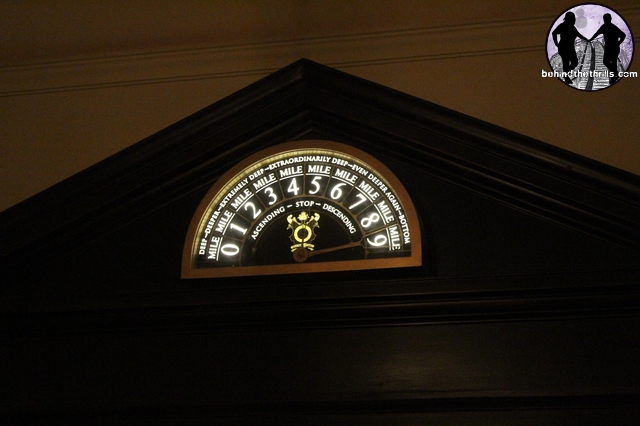 As the tour continues you are brought to some very forboding elevators. The elevators take you 9 miles into the depths of Gringotts and towards the vaults. The effect is very fun, and really builds up the sense of doom coming from the ride. The line continues up stairs and into the caverns of Gringotts. The loading platform has you grabbing your "Goblin Goggles" and getting on the mine cart. A tip, use the test seats as it does get a little snug for bigger guys. The experience up to that point was amazing, and some of the most detailed and immersive work that Universal has ever done…or anyone for that matter. While we did not get to ride (due to the dreaded technical difficulties) we were taken aback at the sheer size and beauty of the whole thing. The build up to the ride is a little dark and gloomy, and may be a bit much for little ones, but once they get on, we've heard that it's an amazing experience.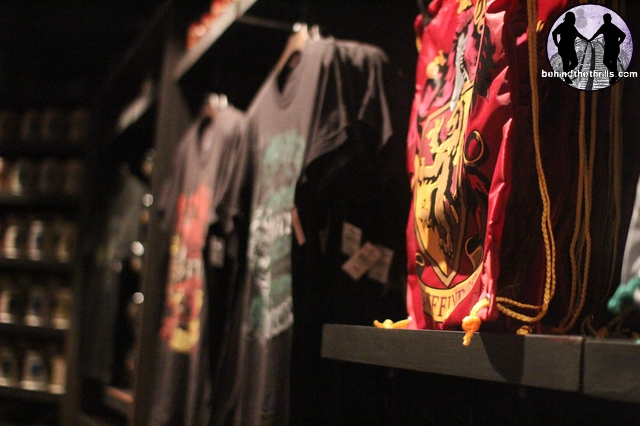 Unlike the experience at Hogsmeade, where Forbidden Journey empties into a gift shop, Gringotts goes right into the shops of Diagon Alley. The merchandise varies from the T-shirts and hats that we've seen, to some really amazing new Platform 9 3/4 hats and shirts, and even some new electronics cases and headphones. The shops here lend themselves a lot more to shopping, as Diagon Alley is the Rodeo Drive of the Wizarding World. Tons of new shops, with a little bit more room to navigate than Hogsmeade. It's that small attention to detail that drives it home everywhere. While Hogsmeade is a quaint little village, Diagon Alley is the bustling metropolis of The Wizarding World.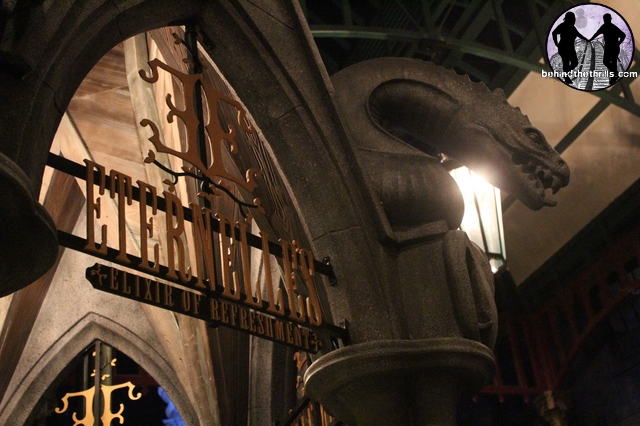 Along with the new shops are all new food and beverage experiences. One of the greatest new experiences is Gilly Water. While the water itself may look and taste like regular bottled water…we assure you that it has magical properties. That becomes apparent when you take your Gilly Water to Eternelles Elixir of Refreshment. Guests can have certain potions put into their water that will give them magical properties. The potions are flavoring with properties such as Peace, Passion, and of course Fire…while they work great on Wizards, and can make you fire proof… they have been scaled down by the Minister of Magic for Muggle consumption. Do not try to set your hair on fire.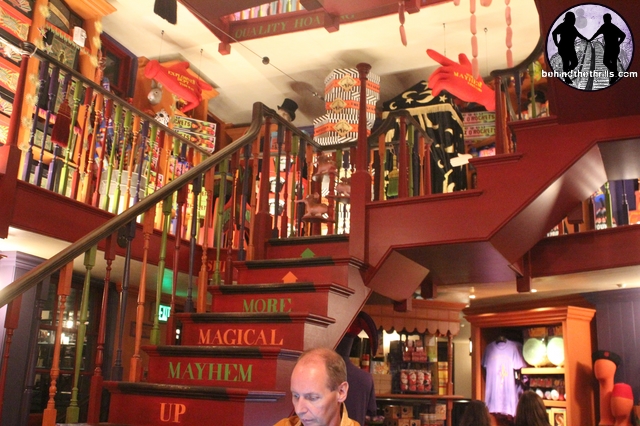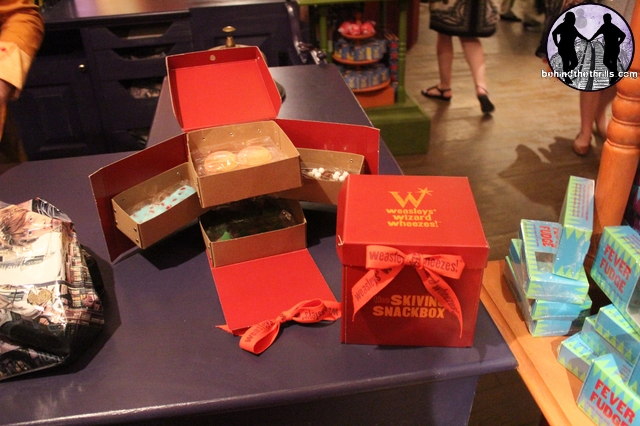 Wealey's Wizarding Wheezes takes a lot of the fun that was formerly at Zonko's Joke Shop at Hogsmeade and amplifies time a thousand. The amount of new merchandise, movie memorabilia and of course the Skiving Snackboxes are just amazing. You can find the balancing Umbridge, tons of new toys and of course big plush hands. The store is so full of energy, that we are told that you can spend at least an hour trying to see everything going on.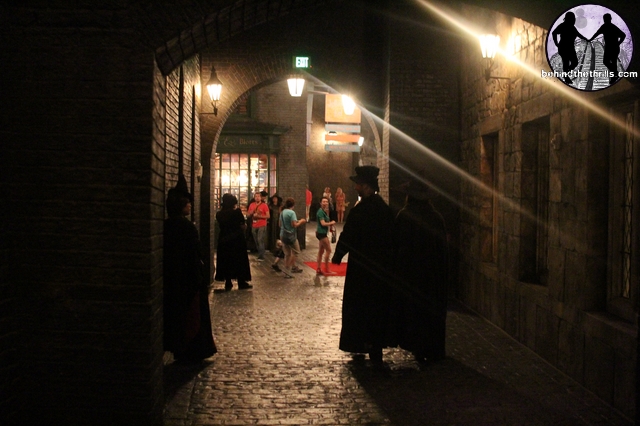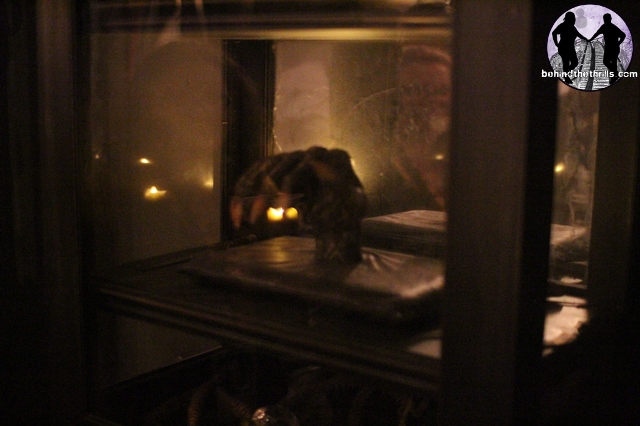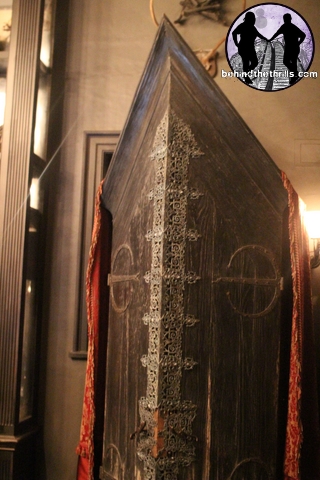 By far one of our favorite areas is Knockturn Alley. This area is meant for dark wizards and witches, and those with a bit of a dark side to them. It's a lot darker, both in tone and in actual darkness! The area features Borgin and Burkes, which specializes in supplies for those who fancy the dark arts. You can see the vanishing cabinet from the sixth film, as well as the hand that grabs Harry from Chamber of Secrets. There are liable to be dark wizards and witches roaming around trying to coax you away from your shopping. There are also several interactive windows in this area where you can practice with the all new interactive wands.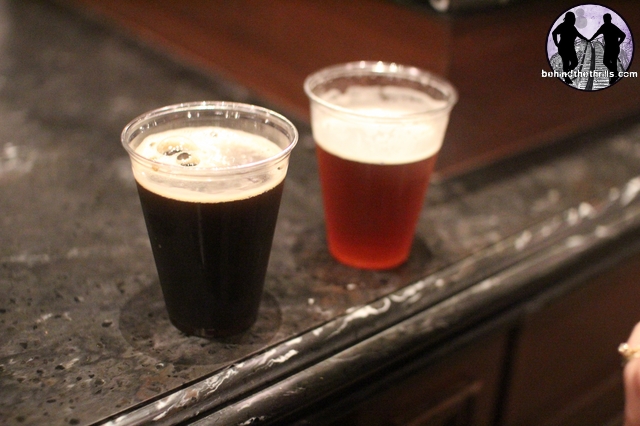 Another must see is the Fountain of Fair Fortune. Here you can get your butterbeer…which is a must. But you can also get the all new creation made specifically for Diagon Alley, Fishy Green Ale. This minty beverage has subtle hints of mint and a sickly green color, with some really gross looking things at the bottom. Those are fish eggs…and you are given an extra large straw to suck those fish eggs up. If that grosses you out, don't worry, the eggs are blueberry gelatin eggs and are delicious. It's a unique beverage designed to push your limits. Also in this area you can grab the two new beers, brewed locally specially for Diagon Alley. Wizards Brew (left) is a very thick Guiness like beer. It has a very strong after taste, and is made to have the true London experience. Dragon Scale Ale is a new favorite, and is a lot lighter, but still thicker than your typical American Beer. It has a rich robust flavor.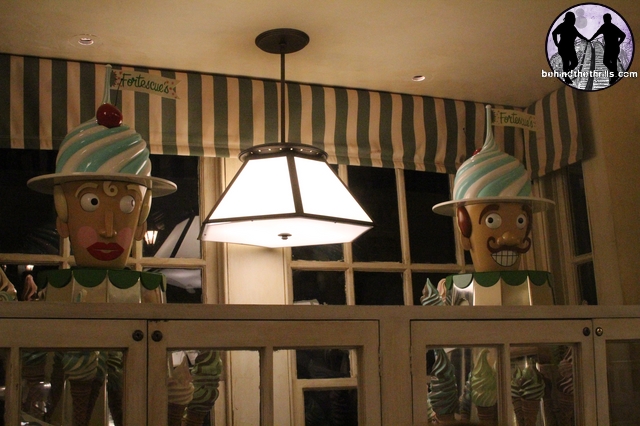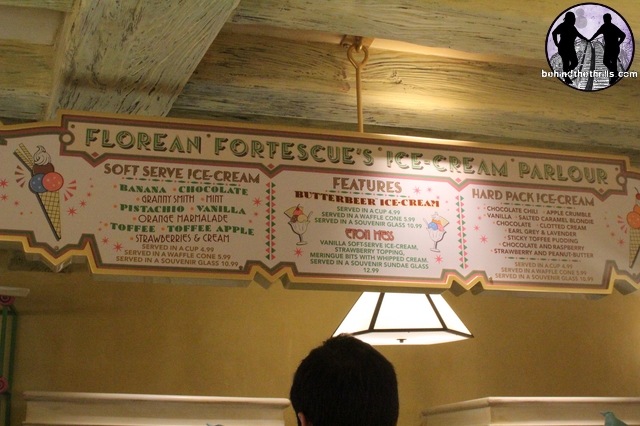 The star of Diagon Alley, especially in hot Orlando is Florian Fortescue's Ice Cream Parlor. This is where you can get some very unique flavors of ice cream, made especially for The Wizarding World. Of course Butterbeer Ice Cream is amazing, and all fans of it will love this new way to enjoy it. The surprising favorite of ours is the chocolate chili. The chocolate is intense, and creamy…and then it kicks you right in the tongue with a great little zing. Other great flavors are Clotted Cream, Apple Crumble and Earl Grey and Lavender. Of course there's the typical Muggle flavors, but you really need to live a little!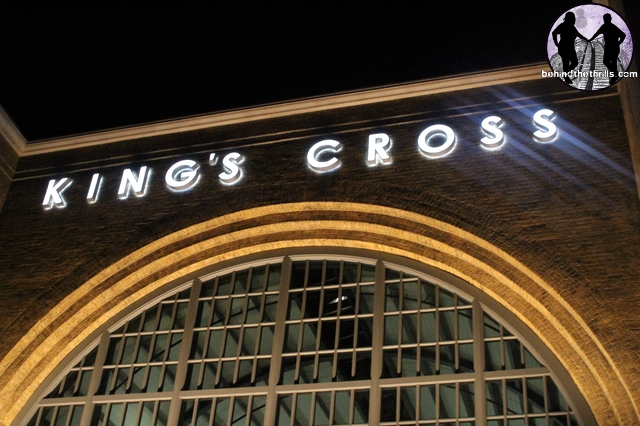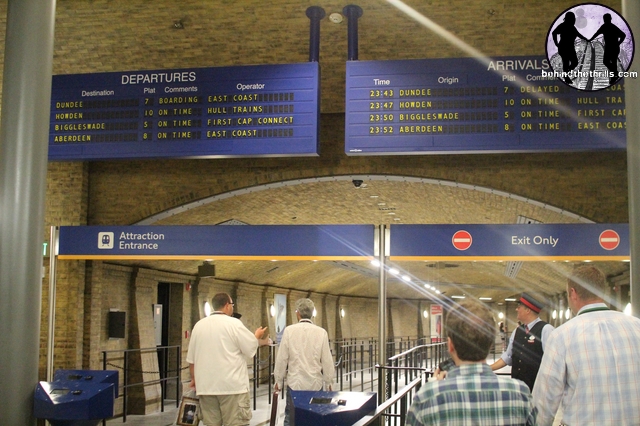 The big, and hands down most immersive experience of Diagon Alley is the addition of the Hogwarts Express. Now, while it's included in the Diagon Alley expansion, you can't actually get to the Hogwarts Express in Diagon Alley. You must travel to Kings Cross Station, which is recreated beautifully. If you want to venture on the Hogwarts Express to Hogsmeade Station, you MUST have a two park ticket. The experience alone is worth spending the extra money, and extending your vacation.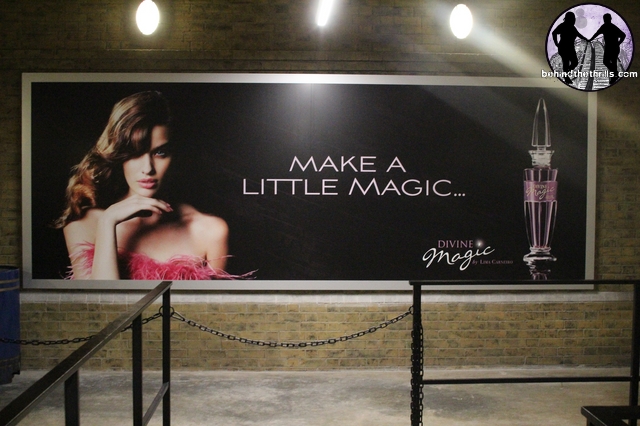 Fans will love the little nods to the films as billboards from the film are used. Platform 9 3/4 is a very unique and clever effect. Guests actually pass through the wall, but not in the way you would think. It's all an amazing special effect that guests on the other side can get a look at. Still, it adds so much to the experience.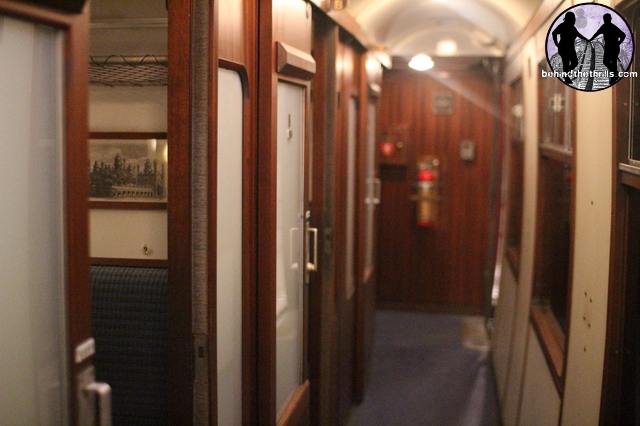 Nothing, however, can prepare you for the Hogwarts Express. Just to see the train pulling into the station is enough. It's such a gorgeous train, and intricately recreated from the films, that any lover of film, Harry Potter and even trains is going to shed a tear at it's beauty. No exaggeration. The cabins can seat up to about 8 comfortably (judging by the size) and the ride lasts around 4 minutes. It's a ride that you wish was a lot longer.
Honestly, there was skepticism as to how effective the experience would be. Looking at, essentially screens, you are riding through the backstage area of Universal…but you aren't, not at all. The screens have such a depth and look to them that you are honestly looking outside through London and the Wizarding World areas. You see Hagrid, the Weasleys and Malfoy Manner…you see Dementors. Ron, Harry and Hermione are on the train. Make sure you look around you as there are things happening in the hall as well. It's the single most amazing experience we have had at a theme park. The effects are subtle, yet so effective. There are scary moments, without even being scary. Little ones should have no problem as the scary moments feel so unique and just in passing that they should have no problem with it at all. It is truly a huge family attraction that the entire family can enjoy.
Slideshow-Check out hundreds more pictures from Diagon Alley

This is just a taste of Diagon Alley. Stay tuned for tons more from Universal Orlando, and Diagon Alley. Check back periodically for more photos, and video.
Be sure to get social with us on Facebook and follow along with us on Twitter @BehindThrills for the latest updates!
The Wizarding World of Harry Potter – Diagon Alley opens July 8th at Universal Orlando. For more information about Universal, including tickets, visit the official website by clicking here!